In a rush? My pick for overall best chef knife is the Wüsthof Gourmet 8 Inch Chef's Knife. If you have a larger budget and don't want to compromise, go for the Shun Classic Blonde 8" Chef's Knife.
Every home chef needs a chef's knife in their kitchen. This multi-use blade works well no matter what tasks you throw at it, and with a good quality product, you might not even need any other knives in your drawer. But in the jungle of Japanese vs. European knives and all the different designs of the blades, how do you pick the best chef's knife?
That's what I'm here to do – I'll guide you through choosing the best chef knife and review our six top products.
Best Chef Knife: Options Reviewed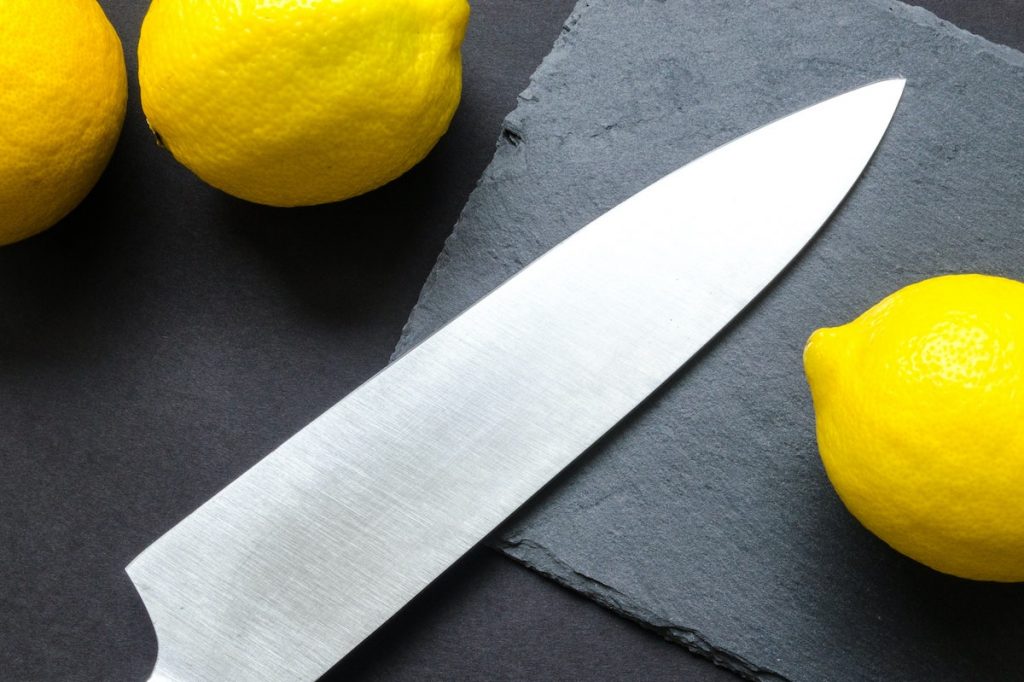 How To Find the Best Chef Knife
Let's go through the features of the best chef knife and see what the differences are in terms of material, shape, and blade length, among other things.
Material
First things first, your knife should be made of stainless steel simply because of its corrosion resistance and long-lasting durability. Most quality kitchen knives consist of stainless steel for this reason, and so do all the products on our list.
However, some blades—especially quality Japanese products—have a stainless steel coating and a blade edge that consists of high carbon steel, or perhaps a modern take on Damascus steel (see our take on Damascus chef knives). This is because the high carbon content makes for softer steel, making the knife razor-sharp and easy to sharpen. The downside is that the edge might be more susceptible to rust and damage since it's not as hard.
Manufacturing Process
Nowadays, there are two common ways to create a blade; either forge the blade or stamp it.
Forged
This is the more durable alternative – forging metal makes it stronger. You forge this type of blade from a single steel rod by heating it up and then hammering it.
A forged blade is great at holding an edge, and both the blade and handle contain metal which gives it a balanced feel. This is also the case for the Zwilling Professional S Chef Knife, a forged blade.
Stamped
On the other hand, a stamped knife isn't hammered or heated but is cut from a flat piece of steel. This means that it's not as durable or strong, nor does it have the same edge retention. However, a stamped blade is more flexible and works well with delicate tasks such as filleting.
Among our chosen knives, the Wüsthof Gourmet 8 Inch Chef's Knife is stamped.
Length
A chef knife is an all-purpose knife that should be versatile and be able to do most kitchen tasks. As for blade length, go for a knife that's between 8–9 inches (20–23 centimeters) since this is a good middle ground – if it's your only chef knife, no need to get something longer or shorter. All knives on our list are 8 inches long, which is the ideal chef knife length.
Naturally, if you often cut larger objects such as melon or cabbage, a longer blade at about 10 inches (25.5 centimeters) might be better. In contrast, a shorter blade is more appropriate for peeling fruit, for example. But at the end of the day, 8 inches is a good place to start, perhaps adding other lengths once you get more experience with your main blade.
Cutting Edge
For a knife that can slice through almost anything like butter, you want a product with a 9.5–16 degrees cutting edge. Note that a more angled blade means a thinner edge, which makes it more likely to chip. The Shun Classic Blonde 8" Chef's Knife has the sharpest cutting edge among the knives on our list.
Knives made from high carbon steel are likely to have a thin cutting edge, which means that they're typically sharper. This is the case for all knives on our list. However, harder steel knives are less fragile.
Double or Single Bevel
A single-bevel blade has an edge on one side, so it gives you a more precise cut and typically has a sharper edge as well. For delicate cutting or filleting fish, for example, this type of blade is superior. However, it's not well suited for left-handed people, and it's not as great for heavy-duty tasks.
On the other hand, a double-bevel blade has edges on both sides of the blade which means that it's more versatile and easier to use. For a chef knife, versatility is a must, so a double-bevel blade is preferable.
Tang
A full tang knife such as the Wüsthof Classic 8 Inch Chef's Knife is your best bet in terms of durability. This means that the blade and handle are welded into one and less likely to break. On the other hand, a push tang means that the blade is glued or pushed into the handle and is more susceptible to falling apart.
Handle
You already know that an ergonomic handle that feels good in your hand is preferable. But when it comes to handle design, German or European or Chinese or Japanese chef knives tend to differ.
The Western handle is typically more ergonomic but also bulkier and heavier. A good example of this is the Mercer Culinary Millennia 8-Inch Chef's Knife.
On the other hand, a Japanese-type handle is lighter, and the weight is tipped towards the blade, making it easier to chop things. On our list, the imarku Chef Knife is a very blade-heavy knife.
In the end, whether you prefer an ergonomic handle that feels good to hold or a blade-heavy knife that's easier to use is up to you.
Reviews of the Top 6 Chef Knives
Now that you know what features the best chef knife has, let's jump into the most exciting part: our product reviews!
The Wüsthof Gourmet is an 8-inch blade, which is the ideal length for a chef's knife. It contains high carbon content steel that's tempered to be as durable as possible, according to Wüsthof. This is perhaps why it's so easy to sharpen, according to users that only spend a few seconds on sharpening until the knife can cut through almost anything.
Wüsthof Gourmet is a full tang knife where the handle and the blade come from the same piece of steel. This makes it less likely to break. As a matter of fact, this blade is super durable, and buyers report using it for years.
Another advantage is that this knife is cheaper than other German-made Wüsthof products, which means that you get a lot of bang for your buck. It still performs well but isn't as luxurious as some other German high-quality blades, which brings down its price.
However, some owners complain that the knife doesn't come with a sheath or a wooden block for storage. Also, the handle is plastic, and the steel is stamped, not forged, making it a little lighter than some home chefs find ideal in terms of how it feels in your hand.
Pros:
Versatile 8-inch length.
Easy to sharpen due to high carbon steel.
Full tang makes the blade durable.
It will work well for years to come.
A lot of value for a low price.
Cons:
Doesn't include a sheath or wooden block.
The plastic handle and stamped steel make the knife slightly off in terms of balance.
---
The Shun Classic Blonde Chef's Knife is a Japanese-style chef's knife that has a high-carbon VG-MAX steel core, making this blade ultra-sharp. It can be sharpened to a 16-degree edge, which can cut through anything in your kitchen. Around the high carbon core is 34 layers of Damascus stainless steel cladding, making the knife more durable and less susceptible to rust.
Handcrafted in Japan, users state that the Classic Blonde is razor-sharp out of the box, and at 8-inches, it's also ideal for most tasks in your kitchen. Furthermore, the light PakkaWood handle looks elegant on your countertop, and the knife is full tang as well, so the handle won't separate from the blade.
Other pros include its curved belly that makes you able to use a rocking motion when chopping herbs or vegetables. This is also a lighter knife that's more blade-heavy than your typical European chef's knife. The Classic Blonde is also a double bevel knife, which makes it very versatile.
However, this is a rather pricey knife compared to other products on our list. It doesn't come with a sheath or storage solution either, which is another downside for buyers.
Pros:
Razor-sharp 16-degree edge.
Stainless steel cladding for added durability.
Versatile double bevel knife.
A curved belly makes it easy to rock-chop.
Blade-heavy and nicely balanced.
Cons:
Pricey compared to other kitchen knives.
No sheath or storage block.
---
While the previous German kitchen knife was stamped, the Zwilling Professional S is a forged knife, so it's durable and strong. According to users, it holds an edge well, which is also a feature of forged knives. It's still very sharp, however, and is laser-controlled to have a 15-degree edge angle.
This knife is the perfect compromise 8-inch length, and its blade is crafted from high-carbon stainless steel. The handle is ergonomic and has three rivets, and it's a full tang design, making it less likely to separate from the blade. Users state that it feels very comfortable to hold as well. Since it's manufactured in Germany, it also implies premium quality – and in this case, we'd say holds up!
However, while you can sharpen the blade to be razor-like, it doesn't come sharp out of the box. The packaging reportedly looks cheap as well and isn't popular among users. Also, note that this knife is rather pricey.
Pros:
Forged from a single piece of steel makes the knife strong.
Holds an edge extremely well.
Can be sharpened up to a 15-degree angle.
Full tang and comfortable handle.
Cons:
Not sharp out of the box.
Cheap packaging.
---
In contrast to the Wüsthof Gourmet chef's knife, the Wüsthof Classic is forged, which means that the steel is stronger and the knife feels sturdier, according to users. Also adding to the sturdiness of the Classic chef's knife is that it's full tang and is very well balanced due to its heavier weight.
This knife is made in Germany and has the go-to versatile 8-inch length as well as a contoured handle, which feels great in your hand. Owners also state that it lasts for a lifetime due to its magnificent craftsmanship.
What's less great with the knife is that the packaging is flimsy and may not protect the product during transport. Some users also feel like the Wüsthof Classic doesn't hold an edge very well and requires constant sharpening to cut through vegetables or meat.
Pros:
Sturdy forged body.
Full tang and well balanced.
Feels ergonomic in your hand due to its contoured handle.
It will last you for a lifetime.
Cons:
Flimsy packaging.
Not great edge retention, according to some owners.
---
The imarku is the second Japanese knife on our list that has a super light handle that's easy to hold, according to customers. In addition, the weight is distributed towards the blade, which makes chopping easy. The imarku chef knife is a classic 8 inches long, so it works well with most kitchen tasks, and it contains high carbon steel for superior sharpness.
As for the handle, it's made of PakkaWood, which looks very elegant and feels ergonomic – and it's slip-resistant to boot. Users report that the knife is also sharp and slices through most food like it's butter. The craftsmanship is beautiful, and the packaging looks nice as well, so you could gift it to someone special.
On the downside, some buyers find that this knife isn't very long-lasting, and a couple even reported that it breaks if you drop it on the ground (although you should avoid that in general!). Also, it's rather sharp at first, but it doesn't have great edge retention and requires sharpening often.
Pros:
Blade-heavy knife.
Very light handle that's easy to hold.
Slip-resistant.
Beautiful craftsmanship.
Cons:
Not the most durable knife.
Edge gets dull rather quickly.
---
For all bargain-hunters out there, we recommend this budget-friendly knife from Mercer. It has a versatile 8-inch blade that's reportedly easy to use, making it a good fit for novice home chefs. It also cleans easily.
When it comes to materials, the Mercer Culinary Millennia is high carbon stainless steel, and due to this, it also has good edge retention. In addition, the blade is made of comfortable Santoprene and durable polypropylene and has textured finger points that are slip-resistant. It also has a protective finger guard.
Users say that this is a thin and lightweight blade that's easy to hold in your hand. While it's not the sharpest blade, it's great for beginner chefs and gives confidence to those who aren't comfortable in the kitchen.
However, the handle is bulky, and some users with small hands have trouble gripping it. It's not very blade-heavy either, which makes chopping vegetables rather tricky and more tedious. Some users also state that the knife develops rust spots after a while.
Pros:
Affordable.
Easy to use and great for novice home chefs.
Holds an edge well.
Slip-resistant and durable handle.
Cons:
Bulky handle and not blade-heavy.
Not the sharpest knife out there.
The blade is susceptible to rust.
---
Conclusion: The Best Chef Knife Is…
Now you know that the best chef knife is about 8 inches long, made from high carbon stainless steel, and has a sharp cutting edge as well as an ergonomic handle. But which knife is the best?
According to us, the Wüsthof Gourmet 8 Inch Chef's Knife is the winner. It's relatively affordable compared to other high-quality knives and has a durable full tang handle as well as a high carbon stainless steel body. In addition, it will last you for years with proper care and can chop through most things well due to its 8-inch length.
However, if you're looking for a razor-sharp knife that feels more luxurious, we recommend the Shun Classic Blonde 8" Chef's Knife with a 16-degree cutting angle. Its curved belly makes chopping vegetables a breeze, and it also feels comfortable and well-balanced in your hand.