Ready to chop? My pick for best Chinese Chef's knife is the With that in mind, my pick for best Chinese cleaver is the Wusthof Gourmet Heavy Chinese Cleaver.
If you are interested in authentically preparing a Chinese meal or wish to broaden your culinary abilities, a Chinese Chef's knife is probably on your wish list.
These knives are built to be good at many tasks, so even if you have a decent set of knives it can be a good all-purpose backup blade.
For whichever reason you're looking for one, below I'll help you select the best Chinese cleaver for your kitchen.
Top Chinese Chef Knives: The Roundup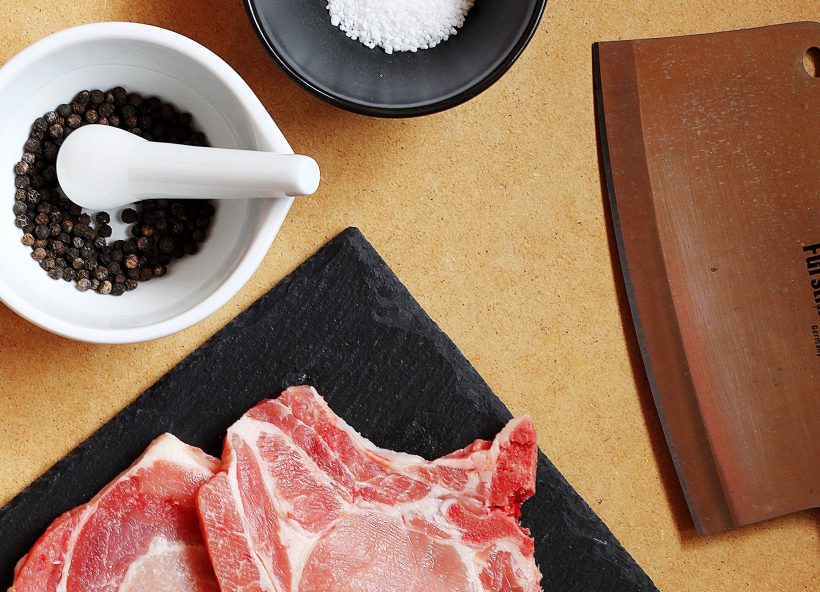 Chinese Chef's Knife Buyer's Guide
What is a Chinese Chef's knife? How is it different from other knives?
Chinese chef's knives appear similar to Western cleaver knives, but they often come with thinner blades..
These knives are generally considered a multi-purpose tool for mincing, slicing, and chopping. (Although the smaller Chinese Chef's knives are not typically used for chopping bones.)
Thick Chinese cleavers (gudao) are well-suited for cutting hard materials – including some bones. Commonplace Chinese Chef's knives (cai dao) are slicers and should not be frequently applied to bones or other very tough materials.
Both cai dao and gudao blades tend to be more rectangular than their Western cleaver counterpart.
Sometimes you'll hear the difference referred to as choppers vs. slicers. This video will help you see the two visually:
How do I choose the best Chinese Chef's knife?
First, determine what style of Chinese cleaver is best for your own purposes.
If you want a multipurpose tool for cutting and dicing, consider a cai dao (slicing) knife. If you want something to work through bone and connective tissue, consider investing in a gudao (chopping) knife.
Next, determine what you are willing to spend on a blade. If you have a bit more to spend, make sure you select a knife that delivers on quality and sturdiness.
If you are on a budget and want to spend a bit less, it's a little harder but you can usually make a good selection. Determine what shortcomings you would be willing to accept in a knife when making your choice.
What makes a Chinese Chef's knife a worthwhile investment?
The best Chinese chef's knife for your budget should have a sturdy handle and a sharp blade that can cut materials without chipping. The blade should be easy to wash. The handle should ideally be water-resistant and should not be weakly attached to the blade.
When evaluating knives, also make sure people are using them correctly! If you hear someone used a slicing knife to chop, for example, discount any complains about brittle blades.
What are some ways I can use a Chinese cleaver in my own kitchen?
A Chinese cleaver is commonly used to tenderize meat, crush ginger and garlic, flatten materials, dice vegetables, and generally perform a litany of kitchen tasks. Chinese cleavers can even be used to create food art.
You can get really good with a Chinese cleaver. Here's an aspirational documentary showing some very talented Chinese Chef's knife skills:
What are some recipes that can be prepared with a Chinese cleaver?
Looking for a few recipes to get you started?
I've got you covered! Here are three dishes I particularly enjoy:
These simple recipes are great to help you get used to your new Chinese cleaver.
Reviews of 5 Top Chinese Cleavers
The Imarku 7-Inch Chinese Vegetable Kitchen Knife is – befitting its name – a 7-inch Chinese Chef's knife with a polished wooden handle and a stainless steel blade. There is a small hole in the top corner of the blade for storage purposes, and it totals around 12 inches long.
Imarku didn't design the knife for dishwasher use – be sure to carefully hand wash the blade and handle after you use it. I suggest you use warm water and a mild liquid soap and you should have good luck.
Additionally, I recommend wooden or plastic cutting boards for the Imarku. If you use a hard board or cut on glass plates you'll dull the knife and need to sharpen it more often.
This is a good option for those who want to buy a fairly inexpensive and solid Chinese cleaver. It's a good option if you're on a budget and can't afford to spend more on a blade.
Pros:
Sharp and lightweight; not too burdensome on the hand
Affordable and very sharp
Attractive packaging: it's shipped in a red and grey box that would make for excellent gift packaging.
Cons:
May need frequent sharpening, especially if you cut on a harder surface
Handle may split over time
This blade is not ideal for frozen foods
---
The Zwilling J.A. Henckels 30795 Cleaver has a 7" blade made in Germany. The handle is an ergonomic polymer handle and the blade is made of stainless steel. The blades are made with Zwilling's signature ice-hardening technique.
Zwilling J.A. Henckels claims this knife is safe to wash in a dishwasher. (However, I always encourage you to wash your knives by hand - dishwashers can be harsh on blades.)
The blade is designed for boneless meat and vegetables. You should try not to use the blade for bones or connective tissue. This blade is fairly heavy in comparison to other slicers, and is more suitable for those with larger hands. Those who have small hands or who do not want to use a heavy blade may find the knife too cumbersome.
Overall, the blade isn't designed in the tradition of other Chinese cleavers, but is an interesting take on a classic design.
Pros:
Can handle dishwashers
Blade can hold a very sharp edge
Heavy-duty and durable
Cons:
Blade may bend
May require frequent sharpening
Knife is heavier than other options and may be more suitable for larger hands
---
The Winco KC-401, 12.541.25 is a good knife for a chef on a budget. The blade is made of stainless steel and – in fact – the entire knife is made of steel. There is no division between the handle and the blade. Winco has made it dishwasher safe, although I suggest you handwash your knives to keep them sharp longer.
The handle measures four inches long, and the blade measures 8.3 inches long. The knife is dishwasher safe. The handle has a grooved pattern to assist with gripping and handling. The stainless steel in the Winco is hard and may not be the easiest to sharpen, but it does make the knife durable. The knife is light and easy to hold.
Although this knife is strong enough to cut through tough materials and connective tissue, try not to apply the blade to anything other than boneless meat and vegetables. The handle may be uncomfortable for some, and the knife may not arrive as sharp as you may like.
You should consider purchasing a knife sharpener at the same time if you choose this blade.
Pros:
Easy to wash and dishwasher safe
Highly affordable
Sturdy blade with waterproof handle
Cons:
Blade may not arrive sharp enough for cutting
Handle may be uncomfortable for some users
---
The heavy Wusthof Gourmet Heavy Chinese Cleaver is built to not only cut through boneless flesh and vegetables but also bone and connective tissue. Its blade is made of stainless steel and is eight inches long.
The Wusthof is more of an investment compared to other selections in this list. However, the heavy-duty structure promises durability and longevity.
Though it's built to cleave bone and connective tissue, you might wish to use it only for boneless meat and plants in order to preserve the knife for longer. If you do want to use it on bone or tougher materials, consider purchasing a sharpener.
When washing the knife, it is wise not to use the abrasive side of the sponge on the blade. This may cause scratches to appear on the steel. It is also prudent not to wash the knife in a dishwasher. I suggest hand washing the blade with soft materials and mild soap will preserve the appearance of the knife.
If you have the budget for an excellent multi-purpose blade that will last, I really like the Wusthof.
Pros:
Strong enough for bone and connective tissue
Can slice food thinly and consistently
Extremely sharp
Cons:
May not last long if routinely applied to bone
Heavyweight and may be hard to hold for smaller hands
---
The TUO Cutlery 7" Chinese Chef's Knife is amazing for those who want to purchase an attractive, versatile, and affordable kitchen tool. The ergonomic handle is made of polished wood and the blade is made of stainless steel.
The packaging is classy and beautiful; those who want to make a wedding gift purchase or a birthday purchase may find this to be an excellent option.
The TUO is a heavy knife and can be uncomfortable if you have small hands. The blade can require frequent sharpening; consider buying a sharpener at the same time.
Since the handle is made of wood, it is prudent to wash both the blade and the handle with a soft cloth and mild soap. TUO warns not to wash this knife in the dishwasher.
This is an excellent option for the price and arrives very well sharpened.

Pros:
Beautiful design and attractive packaging
Heavy-duty and well-sharpened
Affordable and high-quality
Cons:
May be rather difficult to wash
The weight may be an issue for some chefs
---
My Pick for Best Chinese Chef Knife
If you're considering a Chinese Chef's knife, you're really looking at a great all around instrument. You will use it for all sorts of tasks – and you might even skip other knives.
With that in mind, my pick for best Chinese cleaver is the Wusthof Gourmet Heavy Chinese Cleaver. Although more expensive than the other options, the heavy steel, ergonomic handle, and Wusthof quality pushed it over the edge for me.
If you'd like a budget option, the value pick for best Chinese Chef's knife is the TUO Cutlery Vegetable Meat Cleaver Knife. The blade is somewhat heavy, but the overall quality of the knife is just right for a chef who wants to try a quality Chinese cleaver on a budget.