In a hurry? My favorite for best sharpening stone system is the KnifePlanet Complete Knife Sharpening Stone Set.
You may be asking yourself what qualities and attributes constitute the best whetstone. Additionally, you may wonder: how do these stones sharpen your blades?
The secret comes down to the grain of the whetstone and how you care for it and your knives. To that end, there are a few other factors to consider when deciding which is the best knife sharpener stone for you.
In this post, I'll cover some popular whetstone sharpeners you can get on Amazon, and discuss what you should look for when picking one out.
Top Whetstones Reviewed
How to Choose the Right Whetstone
Choosing the right whetstone for you requires a basic understanding of the different grains and myriad benefits for each one.
These levels of grain, or grit, generally range from 1000 to 8000. Some stones have grits that number less than a thousand as well.
To put things simply, the rougher the edge of your blade the lower a grit you use while sharpening it. You use lower grit stones to fix very rough blades or blades with chips.
Even a 1000 grit stone works well on knives that have chipped edges (although you might want to pick up a 160 or 220 or 320 grit). You use a whetstone with 1000 – 3000 grit to sharpen a knife with edges that are just dull but not particularly damaged.
For refining, or honing, a knife that already has excellent sharpness to it, you should use a grit between 4000 – 6000. Depending on taste, to keep an edge on a knife you use often, you'll probably land somewhere between 4000-8000 grit. This is more of a polishing grit range than a sharpening range.
And for people who really know how to handle a super-sharp blade, 8000 grit or higher will transform edges into something you like. Note that as you move up the grit level, you also move up to more expensive stones!
Getting the most from your stones
To get the best use out of your whetstones, you have to remember to use more than one to sharpen a dull blade, and you must use different methods of care when it comes to the different levels of grain.
Whetstones are often known as water stones because some of them work better when they have water or some other liquid on them.
Wetting your stones is especially useful for stones with a grit lower than 3000. You can splash water (or oil, depending) on them until their surface feels wet to the touch. A wet surface ensures a smooth glide of your blade as you run the edge over the stone's face.
However, once your knife is sharpened enough, you need to switch to a dry 4000-8000 grit stone. Also: you need to let your stone dry out completely between uses. If possible, you can leave your stone near a kitchen window where it will receive plenty of direct natural light throughout the day.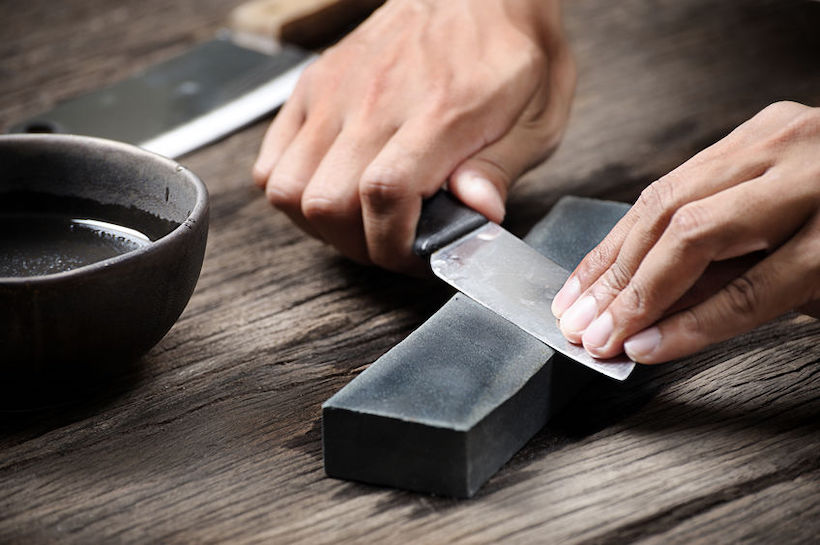 The best way to use your whetstone
To get the best use out of your whetstone, you have to examine the condition of the blades you're sharpening carefully.
Look for things like chips, nicks, bends, and burrs on their edges before you attempt any sharpening.
You should also understand that there's a range within the different levels of grain and grit when it comes to sharpening stones – you don't need to start at the lowest grit for every knife. For example, you don't have to start at 1000 if you don't want or need such a level of abrasiveness. On the other hand, you might be better off using a grit that falls anywhere between 200 -400 for a blade sorely in need of a stone.
Be aware that with the lower grain numbers, the coarseness tends to leave a scratchy look behind. This probably requires you to give your knife another pass over other stone grits after.
Don't move too drastically from one level to another, though. If you start at a 200-400 grit, make your next choice is something like a 700-1000 grain and progress to higher grits from there.
Cautions to know about whetstones
If you are the type of chef or person, who likes to see a gleaming shine and feel a sharp edge on your blade, look for a grain anywhere between 4000-8000 count.
However, be aware that over-sharpening a blade can cause it to bend when it comes into contact with a harder surface.
Bending could happen while you slice your way through a particularly stubborn head of cabbage on to a glass cutting board or your granite countertop. (I don't recommend cutting on any of these surfaces).
Even with the best knife sharpener stone, you need to keep the quality and material of your chopping surface in mind – choosing a good cutting board or chopping block helps you maintain the edge of your blade.
What to bear in mind when using your whetstones
Even though you can makeover that trusted blade sitting around in the back of your knife drawer (or resting safely in its holder), there are some jobs these stones can't do.
Whetstones with lower grains are great for starting the task of sharpening, but they leave behind minuscule imperfections themselves. Grains between 2000-3000 fill the gap nicely – they maintain sharpness without over-wearing on the edge of a blade.
Because they sharpen without too much aggression, stones between the 2000-3000 grain levels tend to be the ones you should reach for most of the time. Any higher grit stone is better used with knives for filleting fish or de-boning meat.
(See our fillet knife roundup or boning knife roundup)
Using a whetstone: an inexact science
Using whetstones is an inexact science – it's a bit of an art.
A simple and honest demonstration goes a long way for clearing any confusion on the subject. This video does an excellent job of explaining the differences in whetstones and how you should be using them to get the best edge on your knives:
Whetstone and Sharpening Stone System Product Reviews
KnifePlanet's Complete Knife Sharpening Stone Set can be used for your basic and expert sharpening and polishing needs. These stones are designed to put an edge on many different types of knives. Moreover, this product comes with online information to help you learn what you need to know to get the best use out of the stones.
In the set, there are four different grits to sharpen your knife with accessories to make sure they last for as long as possible. On the first stone, 400 and 1000 grits are back to back while 3000 and 8000 share the other. A separate color indicates each grain level. Both pieces are water stones.
Each stone comes with a rubber base that looks like a window frame and hugs the stone in place (whether you have them in use or not). These bases also prevent the stones from touching each other while they are left alone.
While you are using whetstones to sharpen knives, the bamboo board holds them in place due to the rubber base at the bottom. The rubber at the base boasts a subtle pattern of little hollowed squares that sort of act like suction cups.
In this kit, there's also a flattening stone that makes sure your sharpening and polish stones keep their shape over time. Each stone has the same dimensions of 7.09 x 2.35 x 1.18 inches which means they stack nicely no matter where you choose to leave them. These stones need a 10-minute soak in water – and only water – before they are put into use.
Pros:
Flattening stone keeps whetstones in optimum condition
Nice rubber base
Well designed storage
Cons:
Stone arrangement doesn't include 1200 or 6000 grains
400 isn't the most aggressive grit for removing chips
---
Not every knife sharpening system is meant for the kitchen... so to speak. If you are the type of person who uses your knives for more "outdoor" uses, Smith's Tri-Hone Sharpening System may be the best solution for you.
Where other stone sets are separated and can lay on top of one another, this product is two designed pieces that work together for you.
In this system, there are three different stones attached to a triangular-shaped block with handles. You can turn the face you need upward. The remaining two sides rest in a trough which is shaped like a "V" and holds it tight.
Each side has its designated grit: 400, 600, and 1000-1200. The trough and stones are designed to make sure that the upward face doesn't move while you sharpen on it. Each face has a synthetic stone with the label coarse, medium, or fine next to it.
These stones are smaller in size than other kits I'm reviewing today. They only measure 5 inches in length.
Because these are synthetic stones, it's ok to use a solution while you sharpen your knives using the system – or use water if you wish. Caring for these stones is somewhat different than that of natural whetstones. You may wash them with liquid soap and water. It's recommended to use a nylon brush and firm strokes while cleaning this system.
Regular cleaning helps keep these stones from damaging your blades while sharpening. It is not recommended you use this system in a dry state.
Pros:
Triangular trough allows for convenient use
Nice rotating system
Cons:
Recommended use of honing oil means repeated trips to vendors
No higher grit option built-in
Smaller surface than with other whetstone options
---
There's nothing wrong with sharpening stones that work in a system included together with other components. But – if you don't need all that, then Whetstone Cutlery has a product you may find pleasantly different from others.
This is a basic stone meant to keep sharp edges sharp. Because its grit is only 400/1000 (depending on the side), use it for the simple repair of your damaged knives. This fact may make you wonder why anyone would want something of presumably limited use. However, there's more to this product than meets the eye.
This stone is made from silicon carbide, which means that it can withstand a serious amount of use before showing any signs of wear and tear – if it does so at all.
Whetstone Cutlery stands by this product and offers a satisfaction guarantee since the stone is so durable. For best results, you need only sharpen your blade at a 20-degree angle after soaking the stone for 10 minutes in water.
As far as size goes, this stone is about average. It measures up at 7 x 2.2 x 1.1 inches and weighs 1.35 lbs. This stone is highly recommended for multiple uses and does wonders for things like garden sheers or hunting gear as well as your kitchen blades.
There's no need for any honing oil with this particular material. Because this product is a simple "block of rock," you merely need to lay it down on a wet towel while using it to sharpen your tools. This way, it will not slide while you run the blade across one surface; and it protects the other side which is not in use.
Pros:
Durable material withstands up to wear and tear
No need for honing oil
Cons:
No base included means unnecessary wear and tear
Bit smaller than other options
Some people might prefer a set to building up stones one at a time
---
When you finally get ready to take your knife sharpening skills to a somewhat higher level, Sharp Pebble has a system to help you with that. It's another complete system which means for many users, the Sharp Pebble is all you need to keep your knives sharp on a day to day basis.
This system does have a single stone, and there's not much it can do for busted up or seriously dull blades. But, the 1000/6000 grain takes something good and boosts it to the next level. Of course, this set also has accessories to enhance your experience and results with it.
Under this stone, a rubber base sets to hold it in place inside of a bamboo wood base. This wood has a nonslip quality itself, so everything stays together.
Just reading the included instructions makes for a good start, but there's more to this product that helps you get the best from your blades in the form of an e-book. This information lets you in on some of the tricks of the trade. What you learn from the book complements the included hand-held angler perfectly; it's like an extra set of fingertips holding on to your blade that guides your hand at the same time!
On top of the e-book, angler, whetstone, and bases included, you should also look into any seller warranties that come along with this product. But as long as you follow the simple instructions included in the system and follow the water-only rule, your 1000/6000 grain stone should last as long as you treat it well.
Pros:
Sharpening guide enhances blade-care expertise
Good range of grits in a single stone for day to day maintenance
Cons:
Stone grains are not suited for blade repair
---
If you happen to have a bigger blade that needs serious sharpening just laying around the kitchen, the Utopia Kitchen Double-Sided Whetstone is a whetstone to help your circumstances. With its simpler look, this dual stone uses a 600/1000 grit that isn't great for polishing but is excellent for repair and sharpening.
This stone is perfect for the minimalist's kitchen. It's just one stone snuggly held in place by a basic, black rubber base. Like any other base, this one is open-faced to let the stone "breathe," and it holds the stone in place while you run your blade over the top.
Except for the fact that this stone has the combined 600 and 1000 grit faces, it's not particularly remarkable. But, that gap up from 600 to 1000 does yield a somewhat better repair and sharpening. The dimensions are well within the average of today's sets, measuring at 7 x 2.4 x 1.6 inches. The base is made of silica, so it doesn't slip.
This stone is made from aluminum oxide. That rock goes by other names like corundum, but whatever you call it, it's an excellent abrasive stone. Unlike for some other stones, Utopia Kitchen recommends you use a honing oil while sharpening. Finally, make sure to use the entire surface of this stone to help ensure that it stays flat. This technique prevents any spots of wear from appearing in your stone.
Pros:
Rubber base keeps whetstone in place
Good aesthetics for minimalist kitchen
Cons:
Use oil for best results
Can show wear if you don't use the whole surface
---
Do you consider yourself a professional in the kitchen? Chefic has the whetstone for you: the BearMoo Whetstone Premium 2-IN-1 Sharpening Stone.
You want a stone of 3000/8000 grit in your cooking area for those blades that simply have to be on point all day long. The aesthetics are great too; this stone and base embrace the saying that "less is more."
The dimensions are 7.09 x 2.36 x 1.18 inches. It's a little on the light side weighing only 1 lbs. The black base is made from silicon and stays put while in use.
This stone makes knives shine and polishes them to the sharpest gleam. It's worth your time to also read into the satisfaction guarantee attached to this product.
Pros:
3000/8000 stone makes an excellent addition to existing sets
Outstanding aesthetics
8000 grit makes knives gleam and shine
Cons:
No guide included for instructions regarding care
Need to supplement with a sharpening stone and maybe a course stone for chip repair
---
Kota Japan has a product that brings together simplicity and expertise at the same time. This whetstone system has the basic 400/1000 grit stone to start with and a few extras that make it worth checking out. (Kota also sells a variety of stones up to a dual 3000/8000 grit when you're ready to supplement.)
To start, the dual stone comes with a rubber and bamboo holder that makes running a blade of its surface smooth and easy. The bamboo board has a rubber base with a textured bottom makes sure everything stays put while in use.
This stone stands out from the rest because it also has a hand-held angler guide that takes the guesswork out of sharpening your knives. Nailing the angle is one of the harder things about using a whetstone, and it was nice to see an angler included.
As a bonus for your safety and protection, this kit comes with an e-book. The instructions show you how you won't damage the angler, the blade, or yourself(!) while sharpening your knives.
The Kota is a slightly bigger stone that measures at 8.6 x4 2.3 inches, so you can use it for all kinds of edge-repair purposes and not just in the kitchen. It does have a little bit of weight to it: 2.25 lbs. This adds up to make it perfect for heavy-duty sharpening of larger blades with longer edges.
Pros:
Angler guides blades over whetstone nicely
Larger size allows blades even outside the kitchen
Comes with a good e-book which includes instructions
Cons:
System only comes with a 400/1000 stone
---
My Pick for Best Sharpening Stone
In my opinion, the best whetstone for most people is actually a set, the KnifePlanet Complete Knife Sharpening Stone Set.
It has everything you need to build on, from coarse grits for repair up to polishing grits. The stones range from 400 through 8000 grit so you can always find the stone you need for the blade you're working on.
The bamboo base with the non-slip bottom makes a difference if you need to share stones between chefs. To put it simply, the other stone sets may be nice and offer their distinct advantages such as triangular troughs, but they don't stack up when it comes to the complete system KnifePlanet brings to your kitchen.