Boat leaving? My pick for the general purpose best fillet knife is the Bubba 7-Inch Tapered Flex Fillet Fishing Knife.
Fillet knives are versatile blades which need to operate under a variety of – often difficult – conditions. The best fillet knives for fish are flexible yet strong, with a sharp edge that easily cuts into fish scales or slices along fin bones.
In this post, I'll look at some of the contenders for best fillet knife. By the end, you'll have a good overview of knives which will be equally home on the boat, on the dock, or in the kitchen.
Let's take a look.
Best Fillet Knives Reviewed
What to Look for in a Fillet Knife
Fillet knives are flexible knives with blades roughly 6-12" long. They usually come with a sharp trailing point blade (curved up in back), useful for probing and slicing along delicate bones.
Fillet knives also usually have a finger guard or protrusion on the handle for your index fingers, and most modern fillet knives use grippy rubber or plastic on their handles.
Handles are an extremely important safety consideration because you often use a fillet knife in slippery conditions. That might include being splashed by water but also just preparing fish in general... which can be slimy.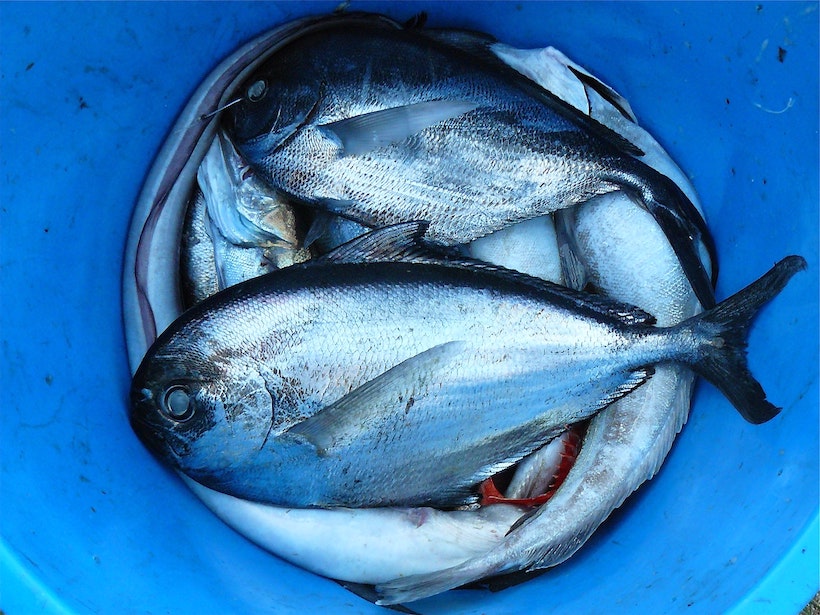 Fillet Knife Features
Blade and Tip
Fillet knives take more abuse than other knives so you want something that won't easily corrode or rust. Most fillet knives use thin stainless steel blades, although you can also find some titanium blades on knives.
On a fillet knife, I prefer a trailing point tip. This means the back of the blade curves upwards and comes to a wickedly sharp point.
.A sharp, trailing point tip makes starting cuts with your knife (perpendicular to the spine) easier. Beyond the starting cut, this comes in handy when running the blade along a bone because it won't catch as easily. It's also useful for cutting away delicate meat during preparation, for example when taking off a piece of meat with pin bones.
Handle and Grip
The most important consideration on the grip and handle of the blade is safety.
You might be using your fillet knife on a boat or dock, or at a barbecue on an ad-hoc preparation surface. I mean, you could even be preparing a slippery fish in the kitchen. You want to find a fillet knife with a very grippy… um, grip.
Also, look for a sufficiently sized finger guard so your finger won't slip forward if you do hang up on something hard. You'll use your knife in tension for some cuts, and I urge you to aim for safety here.
Size
If you go fishing often, you'll want to optimize for the type of fish you fillet most often. A larger blade works better with a larger fish, and vice versa.
However, if you're looking for a good all-around blade, look for something in the 6" - 9" range like the knives below. This gives you a balance between maneuverability while cutting and the ability to cut longer in one stroke.
Flex
This comes down to personal preference, but if you don't know that preference yet go for some flex. Some cuts – such as removing skin – work better with the knife under slight tension (see the video below for an example). This is easier to do with a slightly longer knife that allows enough flex.
Also, as you get better at filleting, you can often get more meat out of a fish using a flexible blade. That's not a universal rule, but I do find it easier with more flex.
How about an electric fillet knife?
If you prepare fish often – I'd say more than once a week – consider an electric fillet knife. We have a roundup of top electric fillet knives if you're interested.
What is a fillet knife used for?
A fillet knife is used to prepare a fish fillet by removing the fish steak along the two sides of a fish. Fillet knives are flexible blades that make it easier to work while under tension and slide along bones such as fin bones or the spine.
Optionally, fillet knives are also great to remove the skin from a fish fillet. With a fillet and attached skin on a flat surface, you can "ride" a bent blade parallel to the skin to remove it.
This video gives a great demo of filleting a fish:
What's the difference between a fillet knife and boning knife?
Both fillet knives and boning knives are similar, but a fillet knife is more flexible and often thinner and longer. This makes it easy to separate fish meat from fish skins and (the often) smaller, more flexible bones. A boning knife is better for separating meat from the larger, stronger bones you'll find in tougher animals.
Boning knives can work to a degree for fillets, but they are semi-stiff or generally less flexible than a fillet knife. They are optimized to cut land animal meat from the bone in meats such as such as chicken, pork, or beef.
So, while you can use a boning knife to fillet a fish, I suggest sticking with the fillet knife. It's safer and you'll get a better yield since during some of the filleting you'll want a bend while working the knife.
Note: I find a long fillet knife useful for times when you need to separate skin on non-fish: think skin on a pork belly or the silverskin on pork or beef ribs.
How to Choose a Fillet Knife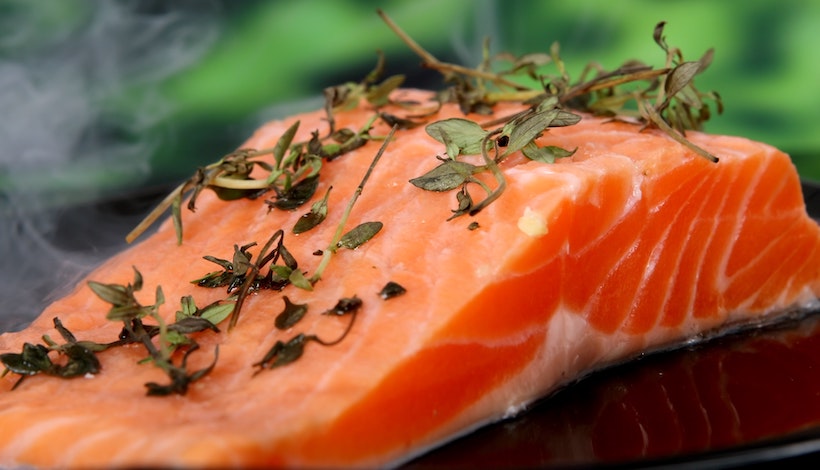 This roundup covers all the features you need to know about five of the best fillet knives, but your ultimate choice will come down to how you need to use the knife.
Are you filleting smaller fish? Larger fish? Are you, instead, using your fillet knife for skinning in the kitchen?
If you aren't sure, you're in the right place.
I'll share my overall favorite fillet knife in this roundup. For bigger fish, check out my best fillet knife for saltwater fish roundup.
Reviews of Five Top Fillet Knives
The Bubba 7 Inch Tapered Flex Fillet Fishing Knife is a popular knife - and it's easy to see why. It features a high-visibility non-slip grip and a finger guard I really like, which helps you both find the knife and use it safely in slippery conditions.
Bubba makes quite a few sizes of fillet knives, but this one has a 7" blade and a 6" grip to total 13" long. It features 8Cr13MoV steel which has a reasonable amount of carbon, so it should keep a sharp edge for a while but not as long as the top (more expensive!) knives. That material also does an acceptable job of fighting off corrosion.
It has a trailing point tip where the back of the blade curves upwards. I like these tips because they are extremely sharp, which helps when you make your initial cut. They also avoid hanging up on bones while filleting.
I really like the Bubba 7-inch fillet knife. While you can find more premium models, this is my overall favorite general purpose fillet knife.
Pros:
High visibility safety grip which minimizes the chance you'll miss it or lose it and protects your fingers from slipping
Trailing tip which comes to a sharp point to help with your initial cut while filleting
Really sharp blade with good flex that makes filleting easier
Comfortable to hold and grip
Cons:
Not the highest grade metal blade, other blades could fight corrosion or dulling longer
Some users didn't like the included sheath because of poor fit
---
The Kershaw 1259X 9" Fillet Knife is one of the longer options in this roundup, and a very versatile tool. It has a black rubber grip and a substantial finger guard which make it safer to hold even in wet or slippery conditions. It also has neon green accents so you can find it easily.
With its 9" blade and handle, it comes to a total 14-¼" long. It has a flexible blade made of Japanese 420J2 stainless steel which should hold a decent edge and fight rust and corrosion. This means it should reliably fillet your fish for a while. The blade is my favorite: it has a trailing point tip, which means the back of the blade curves up to a point. This makes your initial cuts into fish easier.
It includes a locking sheath made out of ABS plastic. Also, it has a holster to clip to your belt. Between the sheath and holster, you can conveniently wear it even when you're using it on a boat or dock.
Pros:
User saw great value for the reasonable price
It comes with a sharp edge and cuts well and users found it good for slicing meat from fin bones as well as removing skin
Users like that it is lightweight and maneuverable
It has a nice finger-guard and rubber grip so you can cut even in slippery conditions
Cons:
Users found that it could dull quicker than expected, and needed sharpening
Some users didn't think the blade was flexible enough and was better suited for boning than filleting
---
The first of two Rapala fillet knives on our list is the Rapala Fish N Fillet Knife which comes with a leather sheath. This variety has a 6" blade, which is a bit smaller than others on our list but a good size to fillet small to medium sized fish.
The Rapala has a flexible stainless steel blade which should fight rust and corrosion and hold an edge for a reasonable length of time. It is a full tang design, which means the blade extends from tip to handle. This is the strongest blade configuration. It also features my favorite tip, a trailing point tip. This comes to an extremely sharp point making it easier to make your first cut.
It features a varnished birch handle and a safety notch. I prefer a full finger guard and a non-wood handle on this type of knife for safety, but most users can stay safe with the notch and varnished wood. There is a brass ferrule which attaches the handle to the blade.
It comes with a single stage sharpener – to sharpen, you merely pull the blade through the sharpener until you get a sharp edge again.
Pros:
Very sharp edge out of the box which makes filleting that much easier
Beautiful looking knife which users report lasts a long time
Users enjoyed the included single-stage sharpener
Versatile and can be used for other kitchen tasks
Cons:
I don't like the finger notch; I prefer a larger finger guard to protect my fingers from slipping to the blade
Wood is a classic choice for a handle, but a rubber or plastic grip can be easier to grip and will never swell or crack
---
Dexter's P94812 is a 7" fillet knife with a good quality high-carbon steel blade. These blades can be quite sharp, and generally hold up for a good amount of time before dulling.
It sports a white (or an optional black) textured polypropylene plastic handle with a shallow finger guard. I prefer a more substantial finger guard to prevent my finger from slipping, but users found the Dexter has a good grip.
The blade on the Dexter is a straight edge blade that comes to a point, but not a trailing point blade. I prefer a trailing point blade since it doesn't get hung up as easily in cutting and is a bit easier for your initial cuts.
With the 7" blade and handle, the whole knife comes to about 12" long which is a good general purpose size for most small and medium fish.
Pros:
A lot of knife for the price, you could buy more than one
Has crossover appeal and users liked it for other purposes than filleting
Users found it sharp enough out of the box
Cons:
Some users felt it was too stiff – this comes down to preference, but often flexible fillet knives are better for increasing meat yield or de-skinning
Users had issues with rust spots on the knife and construction quality
Underwhelming finger notch – I prefer a longer guard so my fingers won't slip
I like a trailing point tip instead of the straight tip, I find it less prone to hang up when filleting
---
Rapala has a second, well-deserved spot in our best fillet knives roundup with the Rapala Soft Grip 6" Fillet Knife. It features a 6-inch stainless steel blade with a trailing point tip. These tips have a curve in back of the blade and come to a sharp point. They are useful to make an easier first cut into a fish when filleting.
The Rapala comes with a sheath and belt loop, so you can keep it handy. It also comes with a single-stage sharpener so you have a convenient way to sharpen it if it loses its edge.
The grip is from Rapala's Soft Grip® series, and is a non-slip soft surface which should be safe under even quite slippery conditions (which you hit often when dealing with fish!). It has a substantial steel finger guard too which should stop you from cutting a finger even if you did lose your grip.
Pros:
Good value for the money
Soft and very grippy grip which is safer when working with slimy fish or in slippery conditions
Users liked that it comes with a sharpener to recover the blade's edge
Buyers of the Soft Grip Rapala find it sharp with a durable edge out of the box
Cons:
Some users had fit problems with the sheath, where the knife would fall out
A few users had blade problems where the knife lost its edge quickly or deformed
---
Conclusion: My Pick for Best General Purpose Fillet Knife for Fish
You have a lot of options when it comes to a fillet knife, I know. And if you're a versatile fisherman you might end up with a variety of knives in sizes from 4" to 12" long.
However, for the best fillet knife for general purposes I recommend the Bubba 7 Inch Tapered Flex Fillet Fishing Knife. The bright, ergonomic non-slip grip and substantial finger guard are good for visibility and safety. It has just the right flex to fillet most small to mid-sized fish, and is a great option as a versatile knife you'll love to use.