In a hurry? My pick for best boning knife is the Dexter-Russell S131F-6PCP Boning Knife.
Boning is a necessary step when you're prepping fresh meat or fish. Can you imagine anything more unappetizing than biting food... only to discover tiny pieces of bone stuck inside?
That's why boning knives are essential (and they're great for removing the skin from fish fillets too).
In this post, I've come up with a buying guide and reviewed eight top-selling knives to help you find the one that'll work best for you.
Top Boning Knives Reviewed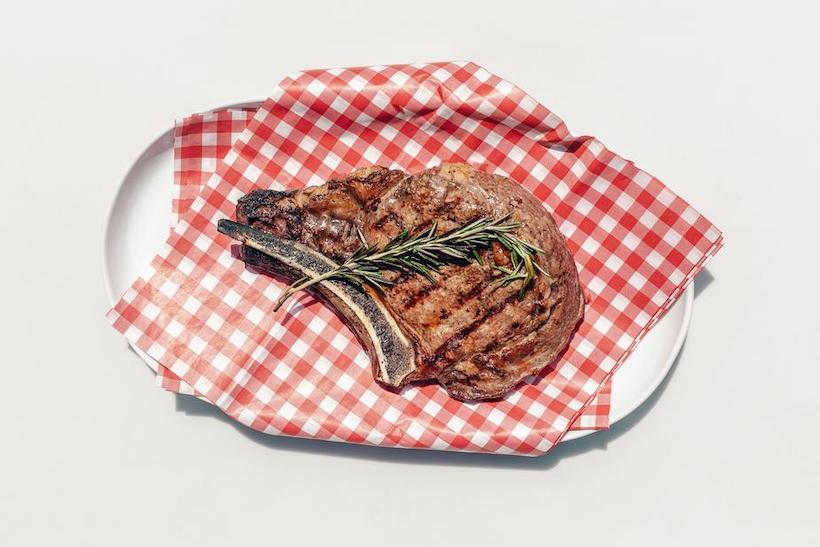 Boning Knives – Buyer's Guide
Finding the right boning knife isn't as easy as just checking out my reviews. Even with the suggestions, it may still help you to understand more about these knives.
Your first step is discovering what features to consider that make for high-quality boning knives.
Flexibility vs. Stiffness
First, search for a flexible boning knife as it offers you more control and allows for effortless cutting.
With boning knives, how much or how little give they have determines what type of meat you can successfully cut.
For the likes of chicken, pork chops, and fish, smaller, flexible knives work best. If you have large cuts like roasts, you might have an easier time using larger, stiffer knives instead.
Size of the Knife
With a boning knife – like with other knives – always consider the length of the blade.
Small knives around 4-inches long or so tend to offer more flexibility for more delicate cuts of meat, while larger knives around 7-inches are more rigid to manage more substantial cuts.
If you don't have a particular cut in mind, a safe size is probably somewhere around 6-inches.
Weight and Balance
Deboning meat isn't a quick task. That's why it's probably useful to look for a lighter blade to avoid developing hand fatigue.
Some smaller boning knives weigh around 5 oz. or less, while larger ones may be closer to 10 oz.
Regardless of weight, balance also plays a factor in how well the knife handles. As long as the handle and the blade have the proper weight distribution, you'll probably find it easier to debone your meat.
Blade Type
You'll usually find boning knives in either a straight or curved style. Both are effective at their jobs, but either can only handle specific methods of removal.
For deboning fish, a curved edge is usually more useful as it can also double as a fillet knife. (If you eat fish often though, I suggest a dedicated fillet knife with a more flexible blade.)
With something like lamb, a straight blade may cut cleaner.
Another aspect to consider about the blade is the type of material used to make it. Usually, boning knives are made from carbon steel, high carbon steel, or regular stainless steel.
Each has its own advantages such as carbon steel maintaining its sharpness for a longer time, to high carbon adding another layer of durability, to stainless steel having higher hardness with less maintenance needed.
Handle
The handle is perhaps just as important as the blade. Without a comfortable grip on your boning knife, you can quickly get fatigued or even lose your hold of the knife while you're working.
Some quality boning knives feature non-slip grips or ergonomic designs so that you may feel more secure while you work.
Tang
With boning knives, there are full and half tang designs.
For those of you unaware, a full tang knife's blade runs from the tip through the handle. If your knife has a half or partial tang, then the blade only runs partially through the handle.
Full tang knives are usually more reliable, offering a robust build that half tang knives lack. At the same time, knives with a partial tang are more affordable.
Top 8 Best Boning Knives Reviewed
The Shun Cutlery Classic Boning and Fillet Knife is a handcrafted, 6-inch Japanese knife with a Damascus-clad blade. Its construction also includes VG-MAX steel.
The Shun is reported to have a rather sharp edge, and with its upward curve design, it can take some time and care to learn to use. Even so, users report it has excellent edge retention so re-sharpening isn't needed as often.
Also, the knife only weighs 7 oz. A lighter weight may allow you to avoid fatigue and improves dexterity. The curved design can further help you make smoother cuts, which can subsequently assist you in finishing the boning job at a faster rate.
You'll find more great design cues in the D-shaped handle. Constructed from Pakkawood, the handle offers excellent grip security so you can feel more comfortable while you work.
Some users reported the blade isn't as flexible as they expected. If that's the case for you, filleting or even de-boning certain fish may require extra care.
Pros:
Lightweight construction for better maneuverability
Excellent edge retention that's simple to sharpen as needed
Quality curve design for smooth cuts
D-shaped handle can offer a more secure grip
Cons:
Users report it doesn't seem flexible enough for fine filleting
May take some time to get used to
---
An affordable boning knife, the Dexter-Russell Boning Knife has a 6-inch curved blade that's designed with enough flexibility to give you smooth cutting action.
The handle design can allow for a more user-friendly experience with this knife. Dubbed Grip-Tex, the handle is textured so you can get a firmer grasp.
Another quality point about the handle is that it's sealed tight around the blade. This way, there's less chance of bacteria getting inside, which can also help the knife last longer.
Users noted the blade is very sharp out of the box. However, the edge itself can appear rather rough. Sharpening it to something more manageable seemed effortless to owners though. Still, there's a chance that you may re-sharpen it more frequently than other boning knives.
This boning knife may still provide you with all you need to handle smaller cuts of meat. It's only around 4.8 ounces, which means you can work with it longer without fatigue. Owners were very impressed with how easy it is to clean.
Pros:
Re-sharpening is quick and easy
Firm seal around the handle and blade
Handle is textured for a no-slip design
Good amount of flexibility
Cons:
Initially might have a rough edge
May not hold its edge for long
---
The Dalstrong Boning Knife features a full tang design using high carbon German steel. Rated with a slightly softer 56+ Rockwell hardness (the softest kitchen knives start around 53-55 Rockwell hardness), the blade is tapered to help give it more durability and flexibility.
Even with the flex, users noted some stiffness in the blade. This combination might allow you to slice finer meats while still getting through tough sections like membrane.
The handle design may offer your fingers some slight protection from the blade. However, owners wished for a more textured grip. As it stands, it could become slippery.
Constructed out of Pakkawood, the handle does seem to hold up as well as the blade. The lamination helps keep things sanitary, but as a whole, the handle might feel a touch uneven at times.
As long as you maintain your hold, the knife will cut smoothly. The weight (around 6.6 oz.) is well-balanced between the handle and the blade. At 6-inches, it's a good compromise length for various types of meat.
When you're finished, the blade seems easy to clean, and you can tuck it away in the included water and stain-resistant sheath.
Pros:
Even weight distribution between handle and blade
Quality blade construction
Good mixture of flexibility and stiffness
Smooth cutting
Cons:
Handle may feel uneven or comfortable
Might benefit from a textured grip
---
The Global Cromova G-21 Boning Knife is an extremely high-quality knife – that might feel a bit advanced. It glides smoothly, but it may be almost too fast if you've never deboned anything before.
Once you learn to use it, the knife has a good deal of flexibility to handle fine movements. It weighs 8.6 oz., and has excellent weight balance between the blade and handle. Global Cromova injects sand into the hollow handle, and this sand flows as you maneuver the knife which helps you move the blade smoothly.
The edge is razor-sharp out of the box as they're ground at acute angles before they're shipped out. The knife appears to maintain its sharpness after you use it thanks to the long, tapered, stainless-steel construction.
The stainless-steel handle comes across as narrow and lacking an ergonomic design for some owners. For others, it because uncomfortable for longer sessions. However, the handle is designed with dimples to improve your grip and help you feel more secure.
More security is found in the finger notch between the blade and the handle. The finger notch may also help if you're not used to the speed and efficiency you may see with this knife.
Pros:
Easy to maneuver
Good weight to manage finer cuts of meat
Dimpled handle to resist slipping
Maintains sharpness after use
Cons:
Handle could be more comfortable
May cut too fast for beginners
---
Another affordable knife is the J.A Henckels International Classic Boning Knife. Crafted in Spain, this 5.5-inch knife is made using German stainless steel. Although it's generally high in quality, it can feel a touch too thin and prone to bending if you're not careful.
This thinness does grant it some excellent flexibility, though. Paired with a sharp edge, you may have an easier time handling tasks such as cutting through chicken or separating muscle.
Despite its relative thinness, users reported the Henckels has excellent durability. It sports a full tang design where the blade runs from blade to handle. The full tang construction also lends the knife good balance, and with an extremely low weight of 3.2 ounces, it's simple to use.
The handle is an ergonomic design, but it appears squared off. If that's incompatible with your hand, it might become awkward depending on how long you spend deboning your meat.
Nevertheless, the triple-rivet construction in the handle adds to the knife's excellent balance. The handle also seems resistant to water, which may give you a firmer, safer grip.
Pros:
Simple to use
Fully forged construction for greater balance
No-slip handle design even when wet
Follows the bone smoothly
Cons:
Squared off handle may feel awkward
Steel may be too thin
---
With the Zwilling J.A. Henckels Professional "S" Boning Knife, you get a 5.5-inch boning knife that offers you versatility in your prep work. You'll be able to de-bone many different types of meats: everything from chicken to fish.
The edge retention seems very long to owners. The blade features a 57 Rockwell hardness, which is lower than many kitchen knives but suitable for a boning knife. It re-sharpens easily and holds an edge well.
Precision-honed, this boning knife not only does a good job staying sharp, but it seems to hold up to frequent use. The steel is also reasonably stain-resistant, so you may have an easier time maintaining it.
Manufactured in Germany, the blade is ice-hardened to help keep it sharp. At 4.8 oz., it is relatively light, and it doesn't take much effort to use the knife.
The handle features an ergonomic design, but some users feel as though it could offer a more natural grip. Nevertheless, the three-rivet handle design aids in keeping it non-slip.
Pros:
Designed for versatile use
Easy to sharpen to a fine edge
Stain-resistant steel
High-quality edge retention
Cons:
It may help if the handle was more ergonomic
Might not be sharp out of the box
---
The Wüsthof Model 4607-7 Gourmet Boning Knife features a long, 6-inch blade that's narrow enough to help you achieve clean, consistent cuts. With it being tapered and pointed, you may also handle finer work such as working on joints of various meats or even filleting a fish.
Sharpening the high carbon steel seems easy, and the full tang blade construction adds a layer of durability and balance. Weighing just four oz., the knife is simple to use, and the even weight ratio between the blade and the handle takes any lingering stress off your hand.
There is a chance that the blade may flex too much to handle cutting through thicker sections such as cartilage.
As for the handle construction, it's made with synthetic polypropylene that's resistant against heat, discoloration, and fading. How well it'll hold up under frequent use compared to other knives with wooden handles seems questionable to some owners though.
The blade is designed to be corrosion-resistant. Users report it holds its own against dulling.
Pros:
Full tang construction for balance and durability
Narrow design allows for cleaner cuts
Tapered and pointed blade for delicate work
Easy-to-sharpen high carbon steel
Cons:
Uncertain how long-lasting the plastic handle is
Some users found it can flex too much
---
If you don't mind something a touch more expensive compared to some other boning knives, then consider the Wüsthof 4603 Boning Knife. It's made with a single piece forged, high carbon stainless steel 6-inch blade.
The steel is resistant to stains, and food generally shouldn't stick to it. With a 58 Rockwell hardness rating, the knife may have a good amount of durability. 58 Rockwell isn't the highest hardness on a kitchen knife, but is a good compromise for a boning knife.
Meanwhile, there's also an added amount of give and flex to this knife. This give can help you achieve quality, clean cuts around bones, which may help in not just deboning, but also for removing skin.
Another aspect that might help your cuts is the triple-riveted design of the handle. The handle appears comfortable and safe. Weighing 4.8 oz., the boning knife can maneuver well even if you've never deboned anything before.
Although it states that it's dishwasher safe, I always recommend you wash your fine knives by hand so they stay sharp longer. Another concern is the logo has a chance to rub off with aggressive cleaning, which would be a sad day indeed.
Pros:
Resists stains well
Good compromise 58 Rockwell hardness
Triple-rivet handle design is ergonomic
Good ratio of rigidness and flexibility
Cons:
Chance for the logo to rub off
---
My Pick for Best Boning Knife
When you want to take the plunge and start prepping your meat, you'll need a quality boning knife to ensure you "get the bones out."
In my mind, the very best boning knife is the Dexter-Russell S131F-6PCP Boning Knife.
The curved blade offers you enough ease of movement to handle the delicate process of deboning various cuts of meat. Re-sharpening the knife is simple, and there's an excellent balance of weight and flexibility. It's a comfortable 6-inches long and weighs only 4.8 oz.
The handle features a textured, non-slip design for safety. There's even a tight seal where the blade meets the handle so no bacteria can get inside. All in all, it's an excellent value for its moderate price.