In a hurry? In my opinion, the best non-stick induction cookware is the Home Hero Copper Pots and Pans Set.
So – you finally bit the bullet and got a new induction stovetop. Congrats! Now, you're looking for the best non-stick induction cookware out there.
Unfortunately, you're in quite the niche – it's hard enough to find good non-stick cookware, but to throw induction into the mix confuses things more. In this post, I'll try to square the circle - find you cookware that fits both your requirements, so you can happily use the induction top and save yourself some cleaning!
Top Non-stick Induction Cookware Reviewed
Why Go With Induction Cookware?
With an induction stovetop, it's the pan that generates the heat, not the induction coil underneath it. An open flame or heat spreading burner will heat up your whole kitchen — an induction burner heats only the magnetic material placed upon it.
That material – namely, your cookware – will then heat up and cook the food inside.
Furthermore, induction cookware is typically made of sturdy, reliable metals and alloys. They need to be high-quality and designed for your cooktop to work.
Why not take advantage of that fact?
Also, be sure to look at our reviews of regular induction cookware as well.
How Do I Clean My Cookware?
Although most manufacturers declare their cookware dishwasher safe, be wary if it says this on the leaflet. It's always better to wash your cookware by hand, just from a durability standpoint.
Washing cookware by hand implies more gentle washing and handling. In turn, this prolongs the life of your cookware – you won't subject them to the abrasive effects of your dishwasher. Try not to use a corrosive sponge on your cookware either, as you may damage the non-stick coating.
Don't forget to keep your stove-top clean too. Buildup on the stove-top can create a barrier between it and the cookware — this will both make everything take longer to heat up, and the residue might damage the cookware and stove-top alike.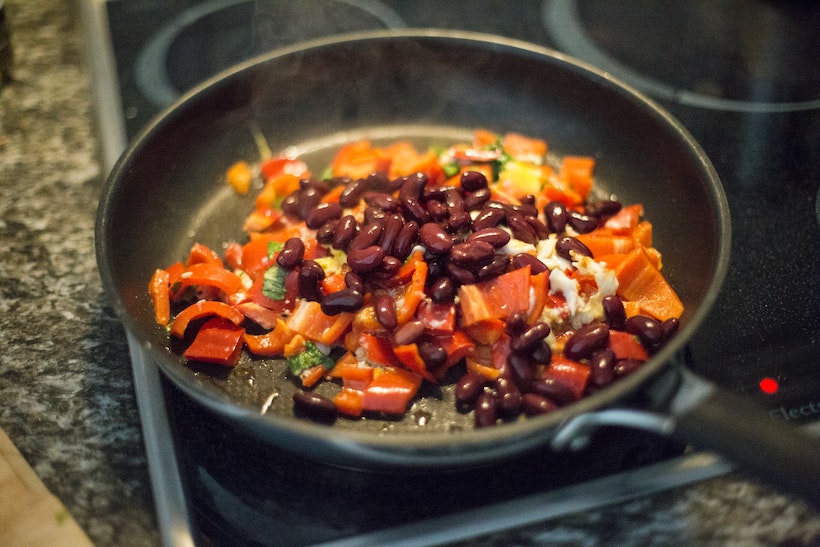 What to Look for in Non-Stick Induction Cookware
Okay, I'll level with you: most of these will apply to any cookware, really. These points are especially important with induction cookware, though. The pots and pans are doing more work than the stove, so you have to know they're doing their job right.
Strength
Looking to cook food? (Yes!)
You're going to want something strong-set and reliable. Something with a good grip is preferable — you don't want to end up dropping your food half-done, and you also don't want to scald your palms when you grab a pan.
Make sure that the handle is attached securely too. Nobody likes it when handles come loose.
No matter what you choose, if your cookware is made of suitable materials like aluminum, stainless steel, or copper, you're golden!
Magnetic Material
The materials in most cookware may be strong, but make sure they're magnetic too.
A pot that's 100 percent copper won't be magnetic, at least not fully — but a stainless steel base will have you on the right path. You're in the right place in this article – I've taken a look at only induction-compatible cookware for your next steps.
Heat Distribution
Heat is the second most important thing in cooking (after ingredients). If the heat isn't transferred from cookware to food evenly, then you'll end up with partially cooked, partially burned food.
Now, who'd want that?
Make sure the heat is spreading around the base of the pot or pan – and up the sides too!
Non-Stick Coating
A non-stick coating is practically a must – for at least some of your pans – so your food creations aren't ruined when it comes time to unload them. I'm not saying it's impossible to make everything in standard pans, it's just that the coating makes some dishes so much more convenient.
The coating makes cleaning a breeze. The food will just slide right out, leaving behind minimal residue to scrub away afterward.
You do want to keep an eye on the non-stick composition, though. There are some nasty substances out there that can impact you negatively.
Reviews of the 5 Best Non Stick Induction Cookware Sets
The copper pots and pans set by Home Hero is a set of 13 pieces. Home Hero's set is one of the largest ceramic-coated non-stick cookware sets available on the market. 
Along with the 13 pieces, you're provided with three bonus pan protectors, two cleaning sponges, and two pan scrapers.
This set is conveniently suitable for all stovetops. So if your neighbor is as annoying as mine and is always after your cooking equipment, never fear. You won't have to quiz them on what their stove is like (assuming you're the type to lend things out!).
Also, put your worries at bay with the heavy-duty, innovative design this dazzling set features. The pan set is designed specifically with the user in mind, giving you the best quality and product-life you can get.
The induction pots and pans are thick, so they'll never warp — even though they're designed for maximal and even heat transfer.
Pros:
Large set with add-ons.
Excellent heat distribution.
Durable and made to last.
Non-stick surface lasts and works.
Cons:
The equipment is light, which some users don't find ideal.
Despite being designed not to, the handles do heat up after a while according to some.
---
This T-fal induction C515SC cookware set comes with an array of sleek, black tools to aid in your meal-prep. T-fal has included pots and pans of varying sizes plus a stockpot and a steamer insert. (And One of these pans is the One Egg Wonder pan, a tiny, cute little frying pan.)
Each pan is durable and non-stick, as well as scratch-resistant and toxin-free. The hard titanium-reinforced interiors will survive even the most rigorous uses you throw at them. Then they'll clean like a dream, leaving no icky food residue behind.
Further quality goes into the vented lids, letting you keep an eye on what's going on under the glass — yet they still trap enough heat to ensure delicious cooking results with every use.
The Thermo spot indicator on each piece helps you make your cooking sublime. The ring around the spot will turn a bold red to let you know when they're ingredient-ready. (As you know, tossing the ingredients in at the right time is key to sealing in the flavor and cooking them evenly.)
Then as you cook, the silicone-coated, riveted handles on the pots and pans won't heat up. They're secure, comfortable, and all have an induction-compatible, even-heat, anti-warp base.
Pros:
Riveted handles for easy gripping.
Oven safe up to 400 degrees Fahrenheit (with the lids up to 350 degrees).
Thermo spot indicator.
Titanium reinforced interior, strong, and reliable.
Vented lids.
A plastic spatula and ladle come with the set.
Cons:
One Egg Wonder pan is not suitable for induction stovetops.
Users reported the non-stick coating starts to peel after about a year.
---
The All-Clad 8400001963 HA108AZ HA1 set is a set of eight black, hard-anodized cookware. It consists of two frying pans, two pots, a stockpot, and three lids.
The anodized construction promotes even heating and easy cleanup. Meanwhile, the bases are stainless-steel bonded and anti-warp for long product life.
The handles are also stainless steel and contoured so you can hold them comfortably. They're secured with stainless steel rivets, so you know they're sturdy and secure. However, their design makes it so they might heat up quickly with your dish – keep an oven mitt handy!
Heat is well-distributed with this set. The lids trap heat and moisture inside, but they're vented so won't fog up. You can check at your food's doneness with a mere glance.
The entire set is safe for use on any type of stovetop, and even work in the oven up to 500 degrees Fahrenheit. The latter specification excludes the lids, so save those for use on the induction top itself.
Pros:
Secure construction.
Lids seal in heat and moisture while remaining clear.
PFOA-free — PFOA (perfluorooctanoic acid) is a health concern in many non-stick coatings.
Oven safe to incredibly high temperatures.
Cons:
Pot/pan and lid handles will quickly get hot.
They're very heavy, even when empty, which some people may not like.
---
This 40051-9910 cookware set by Viking Culinary has ten pieces that come in a subdued, respectable gray. Two frying pans, two pots, a dutch oven, and a sauté pan are part of the deal, with lids for all but the frying pans.
The set is triple-coated with non-stick anodized aluminum, with stainless steel bases, which are exceedingly durable. They're made well for even heat distribution and compatibility with all stove types.
The set is also compatible with metal utensils — don't worry about damaging the coating, it's solid enough to handle it.
This set is optimized for a smooth cooking experience. The lids control evaporation and distribute heat, and the pots have volume markings on the inside. These markings are amazing if you're not a fan of measuring it out in cups (to be honest, like me). It's a real time saver!
Pros:
Handy measurement markings.
Domed, tempered glass lids that will last..
Triple-layer PFOA-free non-stick coating.
Durable stainless steel bases.
Oven safe up to 500 degrees Fahrenheit (350 degrees for lids).
Cons:
The lids aren't ventilated.
Pot lids don't fit the frying pans perfectly according to some users.
---
Utopia's neat Non-stick set is one of the smaller lots I'm reviewing today. It's a set of three frying pans in different sizes — 8 inches, 9.5 inches, and 11 inches.
Like the rest of the sets, these pans are suitable for any stovetop. Meanwhile, the wobble-free bakelite handles are ideal for even the shakiest of hands. They're ergonomically designed and solidly riveted, ensuring they'll never come loose no matter how much you jiggle them.
Though the handles — and the rest of the pan — are made with sturdy, professional-grade aluminum, they're still lightweight. They're perfect for flipping the chocolate chip pancakes I make on Sundays — and perfect for flipping, tossing, and swirling anything you craft in it.(But – check out my pancake pan and crepe pan review, too).
You won't need to worry about any of your edible masterpieces sticking, either. The non-stick material is double-coated inside these pans for easy cooking and cleaning. They're confirmed PFOA, lead, and cadmium free too, so the only thing that'll harm your health is the food you choose to make inside – if you choose unhealthy food, anyway!
Or is that just me?
Pros:
The pans come in three different sizes.
Sturdy handles ensure a safe cooking experience.
Suitable for all types of cooking.
Toxin-free.
Cons:
Only suitable for use with plastic or wooden utensils due to the potential to scratch.
Slow to heat up according to some users.
---
My Pick for the Best Non-Stick Induction Cookware
In my opinion, the best non-stick induction cookware is the Home Hero Copper Pots and Pans Set. It's got the most parts, the most add-ons, and all for a fair price!
I particularly like how those add-ons are cleaning related. You really get a feel for the right tools for the job.
And I just love how heavy-duty the set is — I've had issues with warping pans before, so a thick base is reassuring. That even heat transfer is also fantastic, most pans I've had work at the center and the center only. (Such a shame.)
You really can't go wrong with any of these sets, and they all offer the brilliant basics you need in your cookware. But if you have to choose, why not get the most bang for your buck, right?