In a hurry to eat crepes? In my opinion, the Cook N Home Non-Stick Crepe Pan is the best
Nothing beats a warm crepe in the morning, along with a hot cup of coffee. Whether you top your crepe with powdered sugar, fruits, or a drizzle of chocolate, it's bound to be delicious. But: how do you make the perfect crepe?
There are many ways to make crepes nowadays — think both pan and electric options — however, I prefer to use a crepe pan. This type of pan has a large flat surface with a short rim that allows you to spread the batter evenly.
Even heat distribution is indeed key to the perfect crepe, so the material is an essential factor to consider. In this guide, I'll cover what you need to look for in your crepe pan and review 5 of the top crepe pan options out there. Let's do it!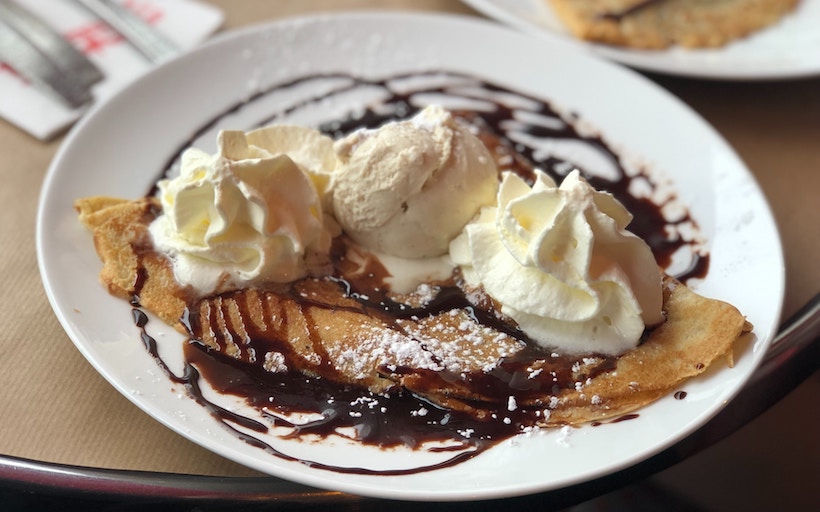 Top Crepe Pans Reviewed
Why Use a Crepe Pan Over a Regular Pan?
The truth is, you can also make good crepes in a regular pan; however, spreading the batter evenly and achieving an even cook can be tricky. Crepe pans were designed to be used on the stove, similarly to regular pans.
They're made of a much thinner material that enables the pan to reach high temperatures and create the signature browning on the crepe. Furthermore, the rims are lower, allowing you to spread the batter using a spreader easily.
When cooking crepes with regular frying pans, you can run into a few issues. The bottom might not be entirely flat, causing the batter to spread unevenly. Another factor is the heat distribution — some pans tend to heat slowly or create hot spots, which will result in an unevenly cooked crepe.
Crepe pans are also highly versatile and can quickly cook eggs and flapjacks — basically anything that doesn't require a tall rim.
Why Use a Crepe Pan and Not a Crepe Maker?
Crepe makers are specialized equipment that's generally more expensive than a crepe pan. They're electrically operated and provide consistent heat throughout the surface, which is essential when making crepes.
In saying that, crepe makers are more suitable for people who make crepes regularly or to feed a crowd. They can also be quite large and difficult to store.
For these reasons, I prefer crepe pans for convenience. You can easily store them in the cabinet along with other cookware, and they can be used on the stovetop.
In Comparison: Crepe Pan Materials
Crepe pans come in a range of materials; however, for the perfect crepe, you'll need the right material. But – the right equipment also depends on your cooking skills and preferences.
Let's take a look at the common crepe pan materials:
Aluminum
Stainless steel
Cast iron
Carbon steel
Aluminum
Aluminum offers an excellent heat distribution thanks to its lightweight and thin construction. In saying that, aluminum pans are less durable than other materials, such as stainless steel and cast iron.
To fix the durability issue, manufacturers use anodized or hard-anodized aluminum. This type of material has been through an electrochemical process that increases the durability, making it less prone to warping and scratches.
Aluminum is generally covered in a non-stick coating to make cooking and cleaning easier. The non-stick coating varies depending on whether it's a ceramic coat or PTFE coat — Teflon.
Stainless Steel
Stainless steel is a durable material; however, it's a poor heat conductor, meaning it won't distribute the heat evenly. Manufacturers will often use stainless steel as a cover to another material, such as aluminum. This is commonly referred to as stainless steel-clad aluminum.
With this combo, you'll get the durability of stainless steel with the superior heat conduction of aluminum.
Cast Iron
Cast iron is a heavy-duty material that's favored by many cooks due to its long lifetime (with proper care). These come in two variants:
Enameled Cast Iron
Enameled cast iron pans have an enameled coating that creates a non-stick surface that doesn't require seasoning.
Raw Cast Iron
On the other hand, raw cast iron is more durable and less prone to chipping and cracks. However, it's important to season a raw cast iron pan often to preserve a slick surface and prevent rust.
Carbon Steel
Carbon steel pans have the durability of cast iron pans but with a smoother cooking surface. This type of material is highly responsive to temperature changes, making it ideal for glass or ceramic cooktops that feature more specific temperature control.
One downside to carbon steel is that it's susceptible to acidic foods, such as tomato-based sauces, wine, and citrus juices. Without proper care, carbon steel pans are prone to corrosion rather quickly.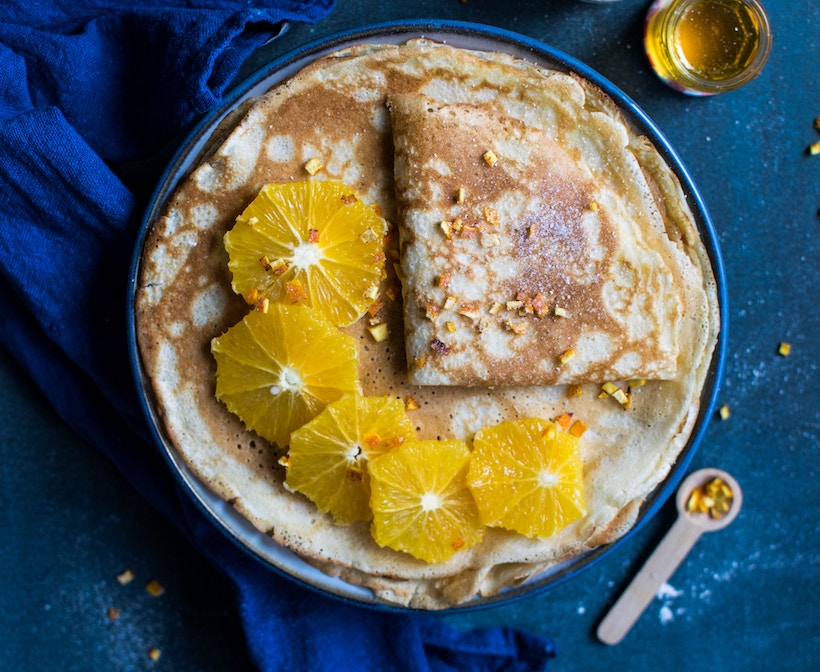 Finding the Ideal Crepe Pan: What to Look for
Once you've decided on the material that's best suited to you, use these factor below to pick out your best crepe pan:
Size
Cooker versatility
Handle
Non-stick coating
Size
The pan size is the first thing you should be considering. If you'd like to make authentic French crepes, you'll need a pan size of 10 inches or more. For my preference, pans under 10 inches are simply too small, and it can be tricky to get the amount of batter right.
A larger pan will also enable you to cook other things, such as making multiple crepes at a time. You can also go bigger and look at a pan that also doubles as a pancake pan.
Cooker Versatility
Before settling on a pan, make sure you check that it's compatible with your stovetop. Not all pans can be used on induction cookers, while others aren't compatible – or aren't great – with gas burners. 
If you have an induction cooker at home, check to see if the pan has a copper or stainless steel base. These are more durable and will be compatible with an induction setting.
Handle
It's essential to have a secure grip on the handle when making crepes. For instance, if you don't use a spreader, you'll have to turn the pan to spread the batter.
Handling the pan can be close to impossible if the handle becomes too hot to touch. I like to look for heat-proof handles where possible — these can be stainless steel or silicone.
Non-Stick Coating
Many crepe pans are coated with a non-stick layer, which is very helpful when it comes to flipping the crepe or removing it from the pan. However, there are a few possible dangers when it comes to the non-stick coating.
A typical coating used is PTFE — also known as Teflon. Despite health concerns, this probably isn't an issue unless and until you overheat the pan. However, the real chemical that you should look out for is PFOA — a human-made chemical that's shown to stay present in the environment as well as the human body for an extended time if ingested.
Choosing a pan with PTFE non-stick coating isn't necessarily bad as long as you adhere to the guidelines — such as never overheating it. However, you should make sure the coating is PFOA-free.
Ceramic coating is another common choice — this coating is made of inorganic compounds, mostly silicon and oxygen. Inorganic means it's free of carbon. These are free of PTFE and PFOA; however, make sure the pan you're considering is lead and cadmium-free.
Review of the Best Crepe Pans
This crepe pan from Cook N Home is made of thick-gauge aluminum that provides you with quick heating. Furthermore, the thick aluminum offers excellent heat retention and distribution to eliminate hot spots — ideal for crepe-cooking.
The non-stick coating enables you to quickly flip the crepe and get it out of the pan in one piece. In addition to making cooking more straightforward, it also makes cleanup a breeze as you can quickly wipe it with a paper towel — it's also dishwasher-safe.
Despite the thick-gauge material, the pan is lightweight and means you gain full control as you flip the crepes. Combined with this, the handle is soft, comfortable, and heat-resistant.
You can use this pan on any type of cooktop, excluding induction. It works excellent on gas and electric; however, a few users noticed that it scratched their glass top. It also can't be used in the oven.
Pros:
Thick-gauge aluminum — optimal cooking surface.
Lightweight and easy to maneuver.
Soft handle that remains cool to the touch.
Dishwasher-safe.
Cons:
Can scratch glass stovetops according to a few owners.
---
The Chefmade Mini Crepe Pan measures only 6 inches across, making it one of the smallest on the market. It's made out of durable carbon steel that helps to maintain a consistent heat for optimal crepe results. Furthermore, it's compatible with a range of cooktops and is safe to use at temperatures reaching 446 degrees Fahrenheit.
Even though this is a cute little pan, I like that it's resistant to warping and fitted with a reinforced riveted handle, which makes the pan more stable when cooking. The handle will also stay cool to the touch, so there's minimal risk there.
The non-stick coating is made of food-grade silicone and is free of PTFE and PFOA. It can withstand high temperatures and requires less cooking fat — ideal for crepes.
Note that this pan isn't dishwasher safe, but it is still easy to clean. Simply use warm, soapy water to remove any potentially stubborn bits.
Pros:
Durable carbon steel construction.
Chemical-free, non-stick coating.
The seamless silicone handle remains cool.
It can withstand high temperatures.
Compatible with induction cookers.
Cons:
Not dishwasher-safe.
Too small for some.
---
The De Buyer 8" crepe pan is a classic French pan that's constructed of blue steel. Blue steel is easy to maintain as it builds a natural patina over time as you're using and seasoning the pan.
I like how shallow and flared the rims are, making it easier to spread the batter, as well as flipping the crepes. This combines well with the comfortable contoured handle, which is sturdy and so makes it easy to swirl the batter around.
This model isn't safe for dishwashers; however, it's easy to clean with hot water and a sponge. Also, the pan is rather sensitive and shouldn't be cleaned with an abrasive cleaner — you should also avoid soaking it since this can cause rust to form.
Pros:
Made of durable blue steel.
Shallow, flared rims.
A contoured handle provides a comfortable grip.
Cons:
A few owners were concerned about where the handle is attached to the pan — it's left a few dimples, which could be tricky to keep clean.
Requires regular seasoning
---
This 10-inch crepe pan from Nordic Ware is an ideal size for traditional French crepes. It's made of aluminized steel that combines superior heat distribution and durability for a long-lasting pan.
It features a non-stick coating that enables you to quickly flip the crepes, as well as make cleaning easier. It isn't safe for dishwashers, though, so use a mild detergent and warm water.
As should be the case with a high-quality crepe pan, the rims are shallow and made of galvanized steel for extra strength. Additionally, the stainless steel handle is relatively long, giving you more stability when flipping or swirling the batter.
Note that this pan is backed by a 10-year warranty, which gives excellent peace of mind concerning build quality.
Pros:
The aluminized steel base combines the efficiency of aluminum with the strength of steel.
Shallow rims.
Long, stainless steel handle.
10-year warranty.
Cons:
Users found that the non-stick coating began to chip after a while.
---
This Le Creuset crepe pan is made of enameled cast iron that provides an even heat distribution and excellent heat retention. It also features a colorful enamel exterior that's long-lasting and resistant to chipping.
The interior is a satin-black enamel coating that gives the pan its non-stick properties. With this, it's easy to maintain as it doesn't require any seasoning.
The cast iron construction is compatible with all types of stovetops, including induction and ovens. This combines well with the ergonomically designed handle providing a comfortable grip while being heat-resistant.
If quality issues were to arise, this product is backed by a limited lifetime warranty.
Pros:
Durable enameled cast iron construction.
Non-stick surface without the need for seasoning.
Compatible with all cooktops and ovens.
Users praise how easy it is to make crepes using this pan.
Cons:
The included wooden spreader is of lower quality — several customers chose to buy a new one on the side.
---
The Key to Perfect Crepes
In my opinion, crepes are one of the most versatile things you can make in the kitchen — add in a pile of veggies for something healthy, or some thick and creamy chocolate for something more... well, not.
Heat distribution should be a considerable focus when choosing yours, which is why in my opinion, the Cook N Home Non-Stick Crepe Pan is the best. The thick-gauge aluminum construction offers a lightweight, yet durable pan with optimal heat distribution. It's also over the 10-inch mark, for perfectly sized crepes, as well as being easy to handle. It ticks all my boxes, that's for sure!