In a hurry? In my opinion, the Gotham Steel Double Pan stands out as the best pan for pancakes
Pancakes are a delicious, quick meal that pretty much everyone loves. They're not hard to prepare, and there are endless tasty toppings to enjoy with them.
Still, it takes a bit of skill and knowledge to make the "perfect pancakes" for yourself and your loved ones. In this post, I'll cover some of the things that go into the perfect pancakes. We'll talk about pancake pan characteristics and what to look for in choosing the best pan.
Let's flip to it!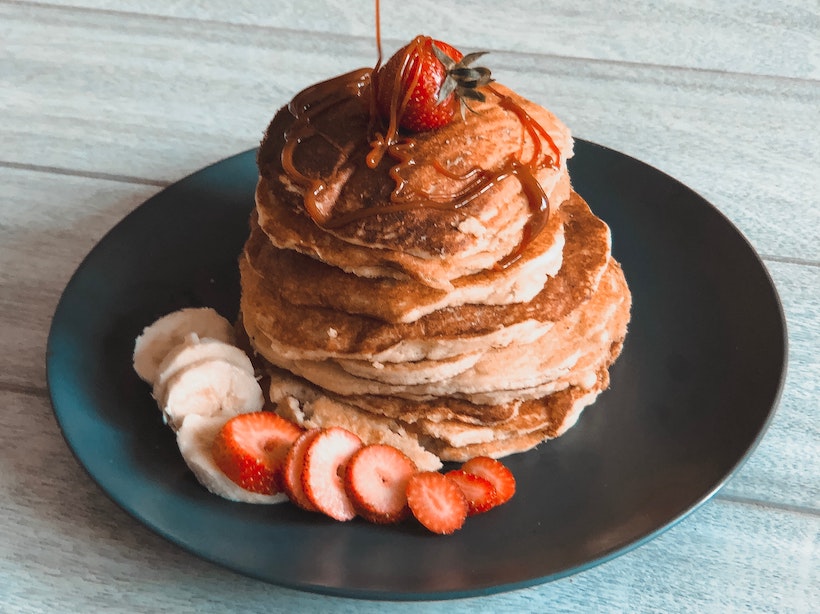 Top Pancake Pans Reviewed
What Makes a Good Pancake?
A combination of three things goes into making the perfect pancake.
The first one is the most obvious – a good recipe. Your recipe will change depending on which type of pancakes you want to cook — thick and fluffy or crepe-style thin ones.
The second one involves a bit of defense – avoiding things that could hurt your pancake:
High-Heat: Cooking pancakes too hot leaves you with a pancake burnt on the outside and uncooked (or barely cooked) on the inside. Gross!
Low-Heat: For most recipes, you want a pan preheated to 375 degrees Fahrenheit. This usually corresponds to medium or medium-low heat. It's entirely possible to undercook your pancakes too.
Over-Flipping: Generally, you should only need to flip your pancakes just once. (This is hard to generalize, but for most batters and combinations, you should flip when there is a distribution of popped bubbles in the mixture that don't re-fill.)
The third factor behind a good pancake – and why you're here – is choosing the right type of pan. Not every pan is suitable for cooking pancakes — selecting the wrong pan might make things messy (and unappetizing!).
Now, let's explore what makes a pan good enough for pancakes. Using what I show you, I'll help you pick the best pan for pancakes and enumerate why it stands out from all the rest.
What to Look for in a Pancake Pan
When you're out there scouring the market for the right pancake tools, there are essential things to consider when choosing the right pan to do the job. The best pan for pancakes should meet most – if not all – of these criteria to qualify:
Non-stick: For pancakes, you almost need a non-stick surface. (Even if you ultimately opt for a griddle!) Pancake batter easily sticks to most cooking surfaces and thus would make things very difficult when it comes to flipping it or removing it from the pan.
Flat surface: To ensure that your pancakes don't end up being patchy, make sure that the pan you're using has an even and flat surface. Anything warped, convex, or concave will make it much more challenging to create that perfect pancake.
Good heat distribution: A crucial quality of a pancake pan is even heat distribution. Preventing hot spots will save the pancake from becoming patchy — you know when it's overcooked in some areas and still soggy in other parts? Yuck.
Flip-friendliness: Flipping a pancake can take some skill, but the pan can also make it easier for you if it has curved edges as opposed to straight edges. The curvature allows you to slide the pancake up the side to flip it with assistance.
Size: While it's not the most important factor, having a larger pan saves you time. Rather than making many little pancakes to fill the whole family, you get to make a batch of larger ones in a shorter time.
Cooking-safety: How well a pan handles at pancake-cooking temperatures is vital to your safety. You may want to use it on different burner types, or even inside your oven or over your grill.
Enough said – let's take a peek at the top pancake pans on the market.
Reviews of the 6 Best Pancake Pans
Gotham Steel's double pan is a convenient and fascinating easy-flip option, which is excellent for creating fluffy pancakes.
Manufactured from an aluminum composition with a weight of 1 pound, the product has excellent heat distribution. It has a non-stick surface made of a combination of titanium and ceramic. This combination provides high durability and resistance to scratching — Gotham claims you can even use metal utensils safely. Even without the use of oil or butter, your pancakes should slide right off the pan to your plate.
The choice of coating formula makes this product entirely free from PTFE, PFOA, and PFOS. These polymers are either currently or were previously used in non-stick cooking surfaces and are potentially harmful to humans. The surface also means Gotham labels the double pan as dishwasher safe.
Additionally, the handle comes with a coating that keeps it cool to the touch, and it's also ergonomically contoured for a secure grip on it during the flipping process.
Pros:
Stick and scratch resistant.
It can be used safely in dishwashers and with metal utensils.
Does not contain any toxins.
The handle is contoured and coated for heat protection.
Lightweight.
Cons:
It can leak while flipping.
Some users claim it takes a long time to cook each pancake.
---
American family-owned business Nordic Ware prides itself on its ability to provide a more enriching experience for any food preparation. The Nordic Ware Traditional French Steel Crepe Pan is made out of aluminized steel, making it resistant to corrosion and giving it a better ability to reflect heat.
The pan, which weighs in at 2.04 pounds, also features a relatively large cooking area with a 10-inch diameter and non-stick coating. This means you can make wide, thin crepe-style pancakes or any other shape of your choice without sticking. The stay-cool, double-riveted stainless steel handle is sturdy and should enable you to keep you flipping those pancakes for years (decades?) to come.
The pan is oven-safe to temperatures up to 450 degrees Fahrenheit, making it more versatile in how you can use it. However, cleaning it in the dishwasher is not recommended, as it can shorten the lifespan of the non-stick coating.
Pros:
Heat reflection and corrosion resistance from the aluminized steel.
Suitable for making bigger pancakes.
Sloped edge and non-stick coating make flipping pancakes easy.
10-year warranty.
Cons:
The handle is not coated and can become hot at high temperatures.
Not dishwasher-safe.
---
Cook N Home is another US brand that boasts of providing great service as well as products of superior quality. The Cook N Home Nonstick Crepe Pancake Pan is manufactured from heavy-gauge aluminum, making it extra thick and durable. It sports even heat conductivity to prevent hot spots, and its overall lightness helps for easy flipping.
The product is 10.25 inches in diameter and provides a cooking area of 8.5 inches. It also features a two-coated non-stick surface to ensure nothing gets stuck.
The pancake pan works very well with gas, electric, and ceramic stovetops. It's not suitable for induction stovetops, and won't work in the oven. Thankfully, it can be safely cleaned using dishwashers – great when you're short on time.
Pros:
Excellent heat distribution for even pancake browning.
It provides a relatively large cooking area.
The handle is coated and safe to touch with extended cooking.
It can be cleaned in the dishwasher without any worry.
Lightweight and easy to handle.
Cons:
Not induction or oven-safe.
Users report it can scratch a glass-top stove.
Some users found the non-stick coating seemed to wear off a bit too early.
---
Known for its introduction of food processors to the home kitchen world, Cuisinart is dedicated to providing its customers with innovative and high-quality products. The Cuisinart Chef's Classic crepe pan weighs just 1 pound and is made of hard-anodized aluminum, giving it strength, resistance to corrosion, and good heat distribution.
It also features Cuisinart's non-stick Quantanium® technology, which involves reinforcing the cooking surface with titanium, allowing for easy food release and even easier cleaning.
Furthermore, the pan comes with a double-riveted solid stainless steel handle that does not heat up when on the stove. Oven use is not a problem for this pan – it can endure cooking temperatures up to 500 degrees Fahrenheit. In addition to all of this, it has tapered rims preventing most spillage.
Pros:
It provides a large cooking area for larger pancakes.
The handle remains cool.
Its light weight makes it easy to use.
Tapered rims keep the drips away.
Cons:
Owners reported the durability of the non-stick surface to be questionable.
It cannot be used in dishwashers.
Not compatible with induction stovetops.
---
Here we have another fine pancake contender from Nordic Ware – the Scandinavian Silver Dollar Pancake Pan. This product stands out from the rest of the pans due to its seven cavities each 3-inches in diameter. This makes it super convenient for you to make a decent number of silver dollar pancakes in an organized and precise manner.
The product, which weighs 1.17 pounds, is made of cast aluminum. Cast aluminum is, in addition to being lightweight, one of the sturdiest pan materials when it comes to high temperatures. It has excellent corrosion resistance and thermal conductivity. Consequently, you'll also get an even distribution of heat with this product.
Nordic Ware recommends you hand wash the pan and don't put it in the dishwasher. Additionally, you should use non-metal utensils such as plastic, silicone, or wood to avoid scratching the pan.
Pros:
Cast aluminum makes it resistant to warping.
Can make seven silver dollar pancakes at a time.
Even heat distribution.
Lightweight and easy to handle.
Cons:
The size of the pancakes can be too small for some.
Users reported flipping is even more challenging than normal.
Not dishwasher-friendly.
---
A 57-year-long dream in the making, Calphalon began with the purpose of improving and expanding the cookware industry, which back then was solely limited to aluminum. Fast forward to this year, and we like the look of this new and unique product – Calphalon's Hard-Anodized Aluminum Nonstick Square Griddle Pan.
The square pan has 11-inch edges and weighs in at 2.15 pounds. It's made from heavy gauge aluminum that's hard-anodized and comes with a nonstick surface. This construction means it possesses high durability and excellent heat distribution. The large area makes it suitable for preparing more servings, which is ideal when you have several hungry mouths to feed!
Its non-stick surface involves three layers of coatings (none of which contain PFOA) with two layers adding durability and the last layer reducing friction so you can slide that pancake right off. The pan also comes with a double-riveted cast stainless steel handle that doesn't heat up, making it safer to grab after a long flipping session.
Last but not least, given the griddle pan's composition, it can tolerate oven temperatures up to 450 degrees Fahrenheit and is safe to use in a dishwasher.
Pros:
Large cooking area, which allows for the simultaneous preparation of several servings of pancakes.
Durable.
Evenly distributes heat.
Can be used in the dishwasher and oven.
Cons:
Its heaviness and size make handling it trickier.
A small number of users mentioned their pan warped after several uses.
---
Conclusion: My Pick for Best Pancake Pan
From the pans listed, in my opinion, the Gotham Steel Double Pan stands out as the best pan for pancakes. From its contoured handle to its lack of PTFE and other chemicals used in its making, and from its appealing copper color to its double pan design, this thing can crank out the delicious pancakes.
Its non-stick surface is not vulnerable to dishwashers and resistant to abrasives. You won't find yourself restricted to using wooden utensils or handwashing – you'll just have perfect pancakes flying out of your kitchen for everyone to enjoy, and easy clean up to boot!