In a hurry? My pick for best cutting board is the Premium Large Bamboo Butcher Block from Heim Concept.
Cutting boards hardly ever receive the appreciation they deserve for being such versatile kitchen tools.
As soon as you get a hold of a quality cutting board, you will be able to butcher all kinds of meat and slice your way through the toughest vegetables with ease.
Some cutting boards are such fine examples of craftsmanship that they can even work as serving platters for when you have guests over for dinner parties.
The top cutting boards will also help maintain the quality of your knives.
In this article, I'll discuss the characteristics that define a high-quality cutting board. Then I'll round up the best cutting boards for knives that are available on the market.
Top Wood and Plastic Cutting Boards
Buyer's Guide to the Best Cutting Boards
Many factors have to be considered when you're shopping for a cutting board. It's not enough to go out and purchase the best-looking wooden board.
You must be confident it possesses the features that will be most helpful during the food preparation process, and ideally that your board has the durability to last for a long time.
Keep in mind the considerations listed below while you're shopping for a new cutting board to ensure that you get the best product possible.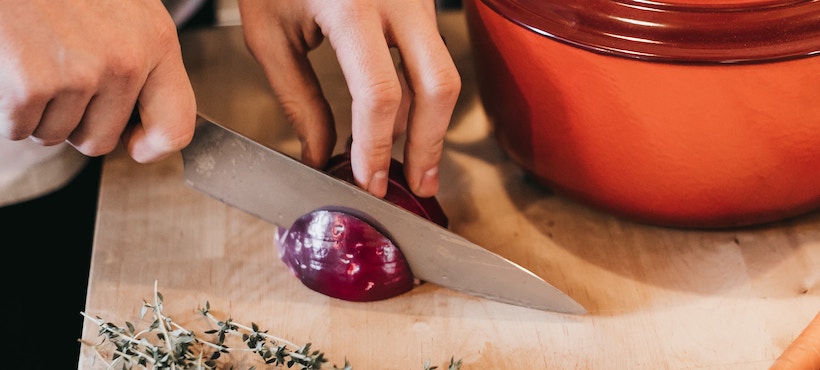 Material Composition
Let's start by highlighting some cutting board materials that you don't need to consider.
Speaking to the Chicago Tribune, executing tasting and testing editor for America's Test Kitchen, Lisa McManus, said that glass boards are terrible for your knives. McManus noted that those glass boards are better suited for presentation because when used as cutting surfaces, they can dull your knives in a hurry.
McManus added that composite boards are also not kind to knives. You may want to pass them over if you're trying to preserve the quality of your cutting utensils.
Plastic Cutting Boards
Moving on now to the materials that you do want to see present in your cutting board, plastic is a solid choice. Plastic cutting boards are typically more affordable than many of the other options on the market, and they generally are dishwasher-safe.
Secure ownership of a plastic cutting board with a non-porous surface and odors should not be an issue for you.
The downside to using plastic cutting boards is that they will show their wear and tear quite prominently. Even if you take great care of a plastic cutting board and maintain it just as the manufacturers instructed, it will still inevitably end up with a surface covered in cuts and scratches.
The scratches can cause a plastic board to look significantly worn down even though it can still serve as an adequate cutting surface. Put it this way: you won't be using your plastic cutting board as a serving surface anytime soon.
Wood Cutting Boards
If you want something traditional, more presentable, and more compatible with your knives, then your best move is still to go for the wooden cutting board. They are highly durable and add a touch of refinement to your kitchen. They are generally beautiful enough to double as serving platters.
Wooden cutting boards do tend to require more maintenance and more careful cleaning, but in my opinion, they are well worth the effort.
As for what specific type of wood is best for cutting boards, try beech, cherry, maple, and walnut for starters.
In recent years, bamboo has also emerged as a top choice for wooden cutting boards. That's due in large part to the fact that bamboo has a low environmental impact, according to Crate and Barrel. It doesn't hurt that bamboo handles moisture very well.
Also: seek out end grain wooden boards when you are shopping. End grain boards are the most resistant to scratches and are the gentlest on your knives.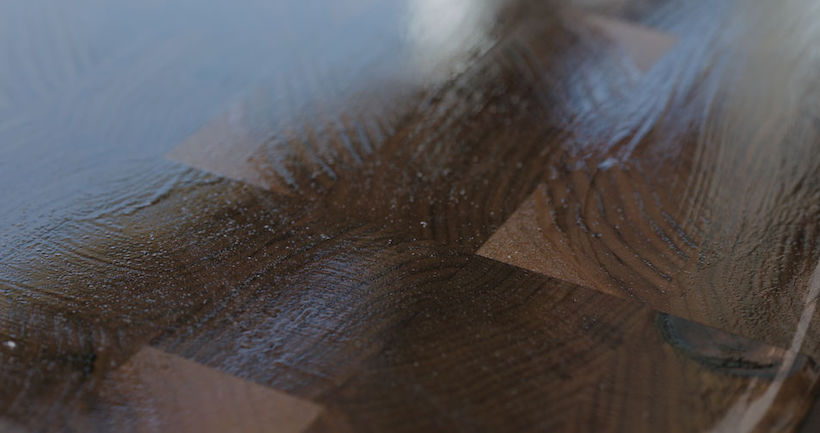 If you want to see end grain cutting board options, I have a separate roundup. I've also reviewed some cutting board oil to keep your board in top shape.
Cutting Board Size
The size of the cutting board is not always something you're mindful of before making a purchase. It's only when you're trying to break down your Thanksgiving turkey or some other sizable roast that you realize how important the size of the cutting board is.
Bed Bath & Beyond suggests getting a cutting board that is at least 20 inches long and 14 inches wide if you are planning to use it to process whole turkeys, racks of lamb, and other large cuts of beef and pork.
Cutting boards of that size can easily double as serving platters for sliced fruits, cheeses, and crackers, which is another reason why you may want to buy a large one.
Now, if you don't often have to work with bigger pieces of meat, a board that size may not be all that necessary. If anything, its size may serve as an obstacle when it comes time to clean it. A board that measures about 14 inches long should be good enough if you don't do a lot of heavy-duty butchering at home.
Additional Features
As long as you get the material and sizing right, you should end up with a cutting board that can capably meet your kitchen needs. However, there are other features to look for if you want the best option available.
For starters, it helps out a lot if both sides of your board can be used for cutting purposes. You can avoid cross-contamination by reserving one side of the board for non-poultry meat products and then use the other side for vegetables and other items.
Some cutting boards also come with feet that are designed to keep them stable on your countertop. Placing some cloth under your cutting board can prevent slippage as well, but it's easier with feet.
Look for boards that also have sizable handles on the sides so that you can move ingredients around your kitchen faster while you're cooking.
Lastly, try to find the cutting boards that have what are known as drip grooves. These indentations surrounding the cutting surface will collect any liquid coming from the items you are cutting, thus preventing your countertops from getting all messy and smelly.
Reviews of Top Cutting Boards for Knives
The Premium Large Butcher Block from Heim Concept is a board that you can accurately describe as a classic cutting board. The timeless design enables this cutting board to work effectively as a serving vessel. Line it with wedges of artisanal cheeses and crackers if you want to wow the guests at your next dinner party.
The checkered pattern present on the surface of this cutting board only works to accentuate this item's visual impact.
Functionally speaking, you should also end up very pleased with what you're getting from this bamboo board. The non-porous surface prevents the growth of bacteria, and it also makes cleaning up a more manageable task.
Another aspect of this bamboo cutting board worth pointing out is the fact that it features end grain construction. As noted earlier, end grain construction is crucial for preserving the surface of the board itself. Even years after you bought this cutting board, don't be surprised if it still has a surface that looks as good as new.
Rounded corners are present on this cutting board to save you from those unpleasant bumps. Once you're done working on this cutting board, you can also transfer the ingredients quickly with the help of the handles on the sides.
Some users report the Heim Concept board does dry out often though. Make sure to keep a stock of oil on hand at all times for maintenance purposes.
Pros:
End grain construction prevents cuts from showing up on the surface
Works well as both a cutting board and serving tray
Budget-friendly wooden cutting board
---
More and more cutting boards are being made using acacia wood, and it's hard to blame manufacturers for doing that. Acacia excels at preserving the sharpness of your knives, and it is also a highly sustainable material. For all those reasons and more, you should be glad to see acacia wood present inside this Sonder Los Angeles Cutting Board.
Apart from all those already stated benefits of acacia wood, it also happens to be a beautiful material. The darker accents in the acacia wood elevate the appearance of this cutting board. Do not hesitate to use this as the centerpiece of your dinner table.
Sonder Los Angeles has even included an indentation near one edge of the board that can be used to hold crackers, chips, and other goodies.
Handles at the side allow for more effortless movement, and the deeper than usual grooves running along the edges of the board will be able to hold a good amount of liquid.
However, this board is on the smaller side, and that limits you from processing everything you want on it. Still, that smaller size does work in your favor for cleaning purposes.
For those looking for a board that can work easily for cutting and serving purposes, this item is well worth considering.
Pros:
Made from sustainable material acacia wood
Preserves knife sharpness well
Comes with a cracker well for serving
Cons:
Will need frequent oil applications because it can dry out often
---
This offering from Top Notch Kitchenware will not work as well as a serving platter for your guests because it's not reversible. Only one side is suitable for cutting.
You should know that even though this cutting board is not reversible, the manufacturers have added features that make it a better cutting board including rubber feet on the underside of the board. These help keep the board in place.
Cleaning up this bamboo board should also be an easy enough task to handle as you only have to clean one side thoroughly. The non-porous surface prevents germs and bacteria from getting into the nooks and crannies.
End grain construction utilized for this cutting board also means that it will not deal any significant damage to your knives.
This board is a bit pricey even for a wooden cutting board, however.
Pros:
Rubber feet prevent this board from sliding all over the place
Features end grain construction
Easy to clean
Cons:
Not a reversible cutting board
More expensive compared to other wooden boards
---
Next up is a plastic cutting board – the Cut & Carve Cutting Board from Joseph Joseph. One of the things you'll likely love about this cutting board is that it will make processing ingredients and foods easier and less messy.
When you're slicing raw meat, the angled construction of this cutting board helps collect liquid. If you're using this board to carve cooked meat, you can use the drippings that accumulate on this board to create gravy. You can also use this board when you're slicing bread and pastries to keep the crumbs from scattering all over the place.
Small spikes pointing up from the surface of the board will help keep whatever it is you're slicing in place – and prevent any mishaps.
The non-slip feet also lend it plenty of stability.
Since this is a plastic cutting board, you can place it inside the dishwasher and expect it to be properly cleaned afterward. That should help you significantly cut down on the time you spend doing the dishes.
Unfortunately, since it's a plastic board, scratches show up quickly on the cutting board. If you use it often, you can expect the surface to accumulate scratches.
Pros:
Angled cutting surface helps collect liquid and crumbs
Specially designed cutting surface helps hold meat in place
Cons:
Being plastic, scratches will emerge quickly on this cutting board
---
With many plastic cutting boards, odors and residue can be a real problem. Their surfaces are porous, and they can retain the smells of the items you're cutting well, which is not a good thing. That can be particularly problematic when you're chopping up pungent ingredients such as onions and garlic.
The great thing about the Gorilla Grip Cutting Board is that it effectively eliminates that issue related to lingering odors. It has a non-porous surface that you usually find on wooden cutting boards. The non-porous surface means that you will not have to use oil when maintaining this board.
There's also a sizable handle on this cutting board that can help you in a few ways. First off, it should allow you to grip this board with one hand and dump the ingredients it's holding right into the pot or pan. On top of that, you can also use the handle to hang up this cutting board if you are trying to conserve space in your kitchen.
Being plastic, durability is not the strong suit of this cutting board, however. You will likely have to replace it with a new board after a few months.
Pros:
Provides you with a non-porous cutting surface
Big handle helps with storage options
Cons:
Plastic boards generally aren't as durable
---
Although this creation from Royal Craft Wood is yet another wooden cutting board, it has some convenient features the others on the list lack.
For one, it's straightforward to clean. Once you're done using it, wash it with some soap and warm water, allow it to air dry for a while, and then set it aside until the next time you have to use it.
It's also easier to move this item around the kitchen as it's more compact and lighter than the majority of wooden cutting boards. The downside to that though: you won't be able to use this cutting board to break down bigger pieces of meat.
This board is made from bamboo and features a smooth surface for cutting. It's a surface that will not deal any significant damage to your knife.
You might end up wishing that the manufacturers added something that could help this cutting board stay put. It's somewhat tricky to hold because it is on the thinner side, and the lack of rubber feet or something similar only makes stability a more significant issue.
The board is an excellent value, especially for a wooden cutting board. If you've never used a wood board before, this is an item worth trying.
Pros:
Cleaning this wooden cutting board is no problem
Excellent value
Presents a smooth cutting surface
---
For a plastic cutting board, the Good Grips Cutting and Carving Board from OXO is remarkably durable.
Scratches will inevitably pop up on the surface of a plastic cutting board after you've used it for a while, but the scratches don't go very deep into the board itself. Because of that, the board may end up looking worse for wear, but the reality is that it can still be a helpful piece of kitchen equipment.
The tapered handles on this cutting board enable it to be lifted easily. They can also keep the ingredients from rolling all over the place while they are resting on the board.
Thanks to the Good Grips cutting board's non-porous surface, you will also not have to worry about odors remaining trapped in it.
Both sides of the board are suitable for cutting, and because only one side has grooves, you will be able to quickly tell which surface to use when you are slicing meat. (That should help you avoid cross-contaminating ingredients.)
Pros:
Gives you a plastic, non-porous cutting surface
Tapered handles make the board more natural to use
Very durable for a plastic cutting board
Cons:
Superficial scratches will stay on this board
---
My Pick for Best Cutting Board for Knives
Selecting a cutting board to choose as the top choice from the ones featured in this article was no easy task. If there was a winner, to me it has to be the Premium Large Bamboo Butcher Block from Heim Concept.
The Heim board can last for many years inside your kitchen thanks to its bamboo composition and end grain construction. Since it has a non-porous surface, you also won't have to deal with bacterial issues down the line as long as you maintain it properly.
If you're looking for a new cutting board, you can't go wrong if you decide to purchase this Heim Concept creation.