If you're in a hurry, my favorite cutting board oil of 2021 is the Thirteen Chefs Food Grade Mineral Oil.
Wooden cutting boards are an indispensable accessory in every kitchen. But to prevent your board from becoming worn out, it needs a little maintenance now and then. Otherwise, it may begin to absorb moisture, crack, and splinter.
Unmaintained boards look bad, develop cracks, and generally underperform versus a well-oiled board. For this reason, it's essential to take care of your wooden cutting board and keep it in good condition using the right oil.
In this post, I'll look at the best cutting board oil in 2021 and how to select the right one for you.
Best Cutting Board Oils Reviewed
Why Should You Use a Cutting Board Oil?
Wood is a natural material that changes over time. It can become dry, splintered, and worn out fast if you don't take proper care of it.
A cutting board oil will soak into the wood and keep it supple and smooth, plus it'll also act as a mild water-repellant. This is important because if a wooden cutting board stays wet or in water for long periods, it can become prone to bacteria or warping, eventually leading to splintering and making it unsafe to use.
The protective layer that you'll achieve by a regular oil regimen will also help to prevent permanent stains on the board's surface.
Different Types of Cutting Board Oils
Mineral Oil
Mineral oil is a non-toxic protective cutting board oil that's derived from petroleum. Mineral oils don't leave behind any smells or tastes and effectively prevent wood from drying out. These oils are some of the most popular oils for cutting boards and can be used for butcher blocks, wooden bowls, spoons, and any other wooden kitchen utensils.
It's important to be careful when buying this type of oil and only opt for high-quality, highly refined, food-grade mineral oils. The cheaper and unrefined mineral oils are not safe to use on surfaces where food is being prepared.
Beeswax
Beeswax is another popular choice for maintaining cutting boards. Like honey, it's natural and can be used to hydrate, shine, and waterproof the cutting board.
Plant-Based Oils
Instead of having petroleum as their base, plant-based oils are made using different highly processed plant materials to extract all the oil. Plant-based oils include carnauba, coconut oil, walnut oil, and linseed oil, but not all of these are safe to use on your board.
Although plant-based oils are not as widely used as mineral ones, they're gaining popularity fast as more and more people decide to use all-natural materials, especially in the kitchen. However, the downside to plant-based oils is that they tend to wear off quicker than mineral oils and go rancid after a certain period.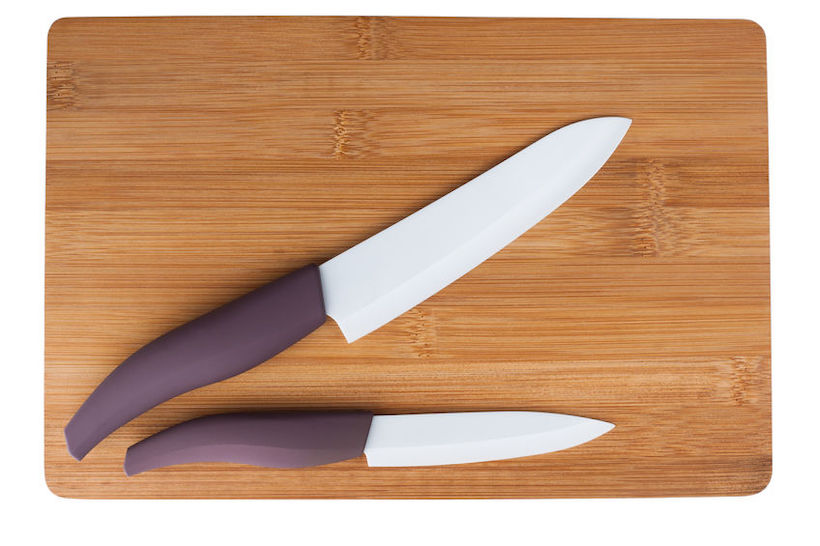 What To Consider When Buying Cutting Board Oil
Before you buy your cutting board oil, it's good to know what to look for and what to consider to get the best cutting board oil that'll fit your needs.
Ingredients
It's essential to check the ingredients of the oil and dig into what type of oil it is. As mentioned above, there are different types of oils you can choose from, at various price points. If you want natural plant-based oils, then opt for ones safe to use on cutting boards that won't go rancid.
If you prefer mineral oil, check if it's highly refined, FDA and NSF-approved, and food-safe before purchasing.
Smell
Cutting board oil shouldn't have a strong smell, as if it does, then it'll likely leave an unpleasant taste on your food. Although plant-based oils will have a faint smell, they shouldn't overwhelm your nose. If you want an oil with absolutely no taste or smell, it's best to opt for a mineral oil instead.
Application
Check the reviews before buying the product, and opt for the cutting board oil that's easy and fast to apply. Working with oils can be pretty messy, so having an easy applicator is important. Also, check how fast the oil soaks into the wood, as some oils might leave stains and leave the wood greasy after the application.
Reviews of the 4 Best Cutting Board Oils
Here are the reviews of my top four cutting board oils.
The Thirteen Chefs food-grade mineral oil is pure USP-grade oil, made from earth-kind ingredients that are harmless to your skin. It features a stamp of approval from the National Standards Foundation (NSF) and is lab-tested to ensure it meets all food safety standards.
It comes in an easy-squeeze bottle with a push-applicator cap for more straightforward application. You can use a rag to apply the oil on your cutting board or you can even apply it with your bare hands. It won't harm your skin; in fact, it'll nourish and moisturize it.
It's a truly multipurpose oil that can be used for many different kitchen applications. For example, it's ideal for use on a wooden cutting board or butcher block, as it'll maintain the integrity of the wood and hydrate it to prevent cracking or drying. You can even use it on marble, bamboo, and soapstone, to prevent rust on kitchen knives and shears, or to lubricate meat grinders and gears.
Pros:
Easy application.
Can be used on many different kitchen surfaces, not only on a wood cutting board.
Odor-free and doesn't leave any unpleasant taste on the food.
Harmless in direct skin contact and will even nourish and moisturize.
Cons:
Some customers report problems with the bottle cap, as even if it's tightened, it allows oil to seep out.
---
This John Boos Block essential care set contains a cutting board oil and a tube of board cream to ensure excellent care for your wooden cutting board. It's made from all-natural, food-grade mineral oil that contains unbleached beeswax and is approved by the National Standard Foundation (NSF).
While the oil will penetrate deep into the grain of the wood surface and protect and revitalize wood fibers, the board cream will provide a long-lasting moisture barrier and seal the top of the wood surface. When you use them together, you can better restore and protect your wood cutting board and all other wooden kitchen utensils.
Customers say it's easy to apply and does a good job of replenishing your cutting boards.
Pros:
Good value.
Odor-free.
Easy and fast application.
Creates a protective barrier and lowers the presence of bacteria.
Made from all-natural ingredients and contains unbleached beeswax as well.
Cons:
Some customers report that they had to use the oil and cream more often than expected.
---
The Howard BBB012 cutting board oil is another pure USP food-grade mineral oil of high quality, which is easy to use and affordable. It's made from virgin mineral oils and is perfect for those with allergies since it doesn't contain any nuts or gluten.
Another great thing about this cutting board oil that separates it from its competitors is it's enriched with vitamin E. It'll rejuvenate your dry wood cutting board and prevent drying and cracking as it deeply penetrates the wood pores. It's said to bring out the rich, natural wood color, making your cutting board and other wooden kitchen utensils look brand new.
Pros:
Tasteless, odorless, and rancid-proof.
Good for people with food allergies, as it doesn't contain any nuts or gluten.
Enriched with vitamin E.
Cons:
It wears off quicker compared to some other similar mineral cutting board oils.
---
The UltraPro food-grade 1-gallon mineral oil is perfect for commercial use and is made of white mineral oil. This is a non-toxic and non-drying product derived from petroleum and is odorless, tasteless, and colorless –– plus it's NSF-approved.
When used on your wood cutting board and other wooden kitchen utensils, it'll naturally restore moisture and color to the surface, prevent drying and cracking, and seal out food-borne odors. It can also be used on stainless steel surfaces such as countertops and knives, both for lubrication and for keeping the surfaces free from odor.
Pros:
Easy and fast to apply.
Good value for the price.
Multipurpose as it works great on stainless steel surfaces and can even be used as a skin moisturizer.
Seals out food-borne odors from all wooden utensils.
Cons:
Customers report that it takes a longer time for the oil to soak into the wood than expected.
---
My Pick for the Best Cutting Board Oil
Overall, all the cutting board oils on the list are excellent options, as all of them are of high quality and will bring back life to your wood cutting board.
But if I had to choose one, my pick for the best cutting board oil is the Thirteen Chefs Food Grade Mineral Oil. What sets this one apart from the other mineral oils for cutting boards is how quick it is to act. It's also a truly multipurpose oil for your home as it can be used for the protection of marble, bamboo, and soapstone, for kitchen knives and shears, or to lubricate meat grinders and gears.