In a hurry? My pick for best end-grain cutting board is the Top-Notch End Grain Bamboo Cutting Board.
Loved for their durability and beauty, end grain cutting boards are grafted together with pieces of hardwood to create that familiar checkerboard pattern.
Appreciated by wood fans for their contrasting colors and character, end grain cutting boards feature a fibrous surface that closes up naturally after a knife-edge cuts into it.
Ready to add one to your kitchen? Here are a few tips and reviews to help you find the best end grain cutting board for your kitchen.
End Grain Cutting Boards Reviewed Today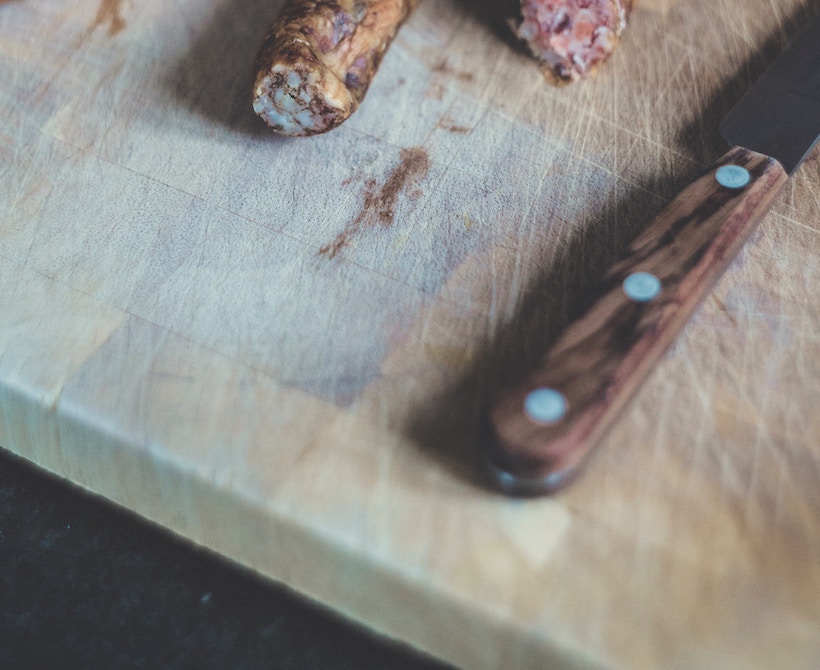 Best End Grain Cutting Board Buying Guide
Edge-Grain versus End-Grain Cutting Boards
The two most popular types of cutting boards are constructed of edge-grain and end-grain. Edge-grain boards are cheaper (and often thinner) than end-grain boards... but the differences don't stop there.
I'll compare and contrast the two board types in this section.
End-Grain Cutting Boards
An end-grain cutting board looks like the small end of a 2 x 4, which is also essentially how they derive their name. Constructed of several short hardwood pieces, these boards are grafted with the wood pieces placed vertically side-by-side to make up the surface of the cutting board.
The benefits of an end-grain cutting board include their attractive appearance and how easy they are on your knives. Featuring a distinctive checkerboard pattern, end-grain boards come with a fibrous cutting surface. The surface allows the edge of your knives to sink in when you cut, and the board doesn't easily show marks or scratches.
Edge-Grain Cutting Boards
Similar to the look of a 2 x 4, edge-grain cutting boards are constructed with strips of hardwood, usually cherry or maple. After being arranged side by side, the wood is grafted together to make the cutting surface. The resulting surface of this cutting board only consists of the edge of each wood strip.
The most significant benefit – in my opinion – to edge-grain construction is the beautiful appearance of the cutting board surface. Stops of maple or cherry running parallel down the flat surface is a magnificent sight in your kitchen. A disadvantage lays in its long-term use, which can show scratches and cuts more obviously than the end-grain board. Both cutting boards are long-lasting and sanitary if they are correctly maintained, including hand-washing and regular oiling (see my cutting board oil reviews, here).

Features to Look for in an End Grain Cutting Board
Thickness
If you're looking for a board that is less likely to split or warp over time, then you need to choose a thicker cutting board. These boards are also heavier: a thick cutting board will not slip easily on your counter as you work. Typically, better wood cutting boards will stand about two inches tall.
Again, keep in mind that the thicker the board, the heavier it will also be. If you choose a heavy and thick board, it is best to give it a permanent spot on your countertop.
Hardness
A huge difference in cutting board performance comes down to its level of hardness.
Cutting boards made of hardwoods will better hold up to a knife, so they don't get knicked or scratched easily. If they are made of softwood, they usually don't last long.
While you may think that the hardest woods are always best for a cutting board, these cutting boards can dull and (if used carelessly) even damage your knives.
Style
Available in a range of styles and shapes, wood cutting boards were designed to sit on a countertop. Typically rectangular or round, they come in an array of sizes: some are quite small while others are large enough to chop vegetables or carve turkeys.
Some cutting boards come with legs or feet.
A board with short feet is made to sit on a countertop, which allows you to clean underneath without moving or lifting the entire board easily. Plus, this allows air to circulate under it as well, which helps to maintain its quality. Short footed boards are the perfect style for heavy, thick boards that you don't need to slide around.
If your board has long legs, it isn't meant for countertop usage. These boards – also known as chopping blocks – are freestanding surfaces for cutting that give you added prep space in your kitchen. Attractive looking and handy, you do need enough floor space in your kitchen since it will just be in the way otherwise.
Color
Your wood cutting board can come in anything from dark to light shades. It's to the point that your wood's color is (pretty much) a personal preference to match your kitchen's décor. Wood cutting boards also offer an option of patterns. Many boards come in gorgeous arrangements that reflect the natural wood grain pattern. Other popular boards are grafted into a geometric pattern created by using a mix of wood varieties in the design.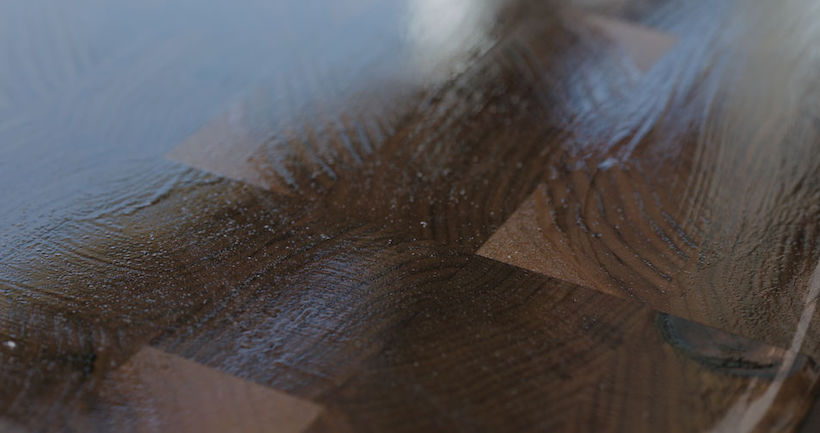 Anti-microbial Surfaces
Although wood cutting boards usually aren't treated with anti-bacterial chemicals, many woods have their own natural protection against bacteria.
Some woods apparently can actually trap these little microbes inside their wood and not release them again back onto their surface. So, if you buy the right type of wood cutting board, it's probably as sanitary as plastic ones that you can throw into the dishwasher.
Bamboo and maple are particularly well-known for their ability to trap microbes, making them very good woods for cutting boards.
Renewability
Trees are a renewable resource, which is another good reason why wood is a good material for a cutting board. And the faster that the tree grows, the more renewable it is.
Within 30 years, a maple tree can reach full maturity. A bamboo tree needs only five. (Plus, they can be harvested even earlier, making their renewable time faster.)
Safe Sourcing
Woods that are particularly prized for cutting boards are usually found in Europe or North America, and they usually come with edible parts.
Useful trees tend to be good sources of syrup, fruit, or nuts, and they are less likely to carry toxins that can be harmful to a human. This makes it safer when cutting foods on them – as you make dinner and not worry about plant defenses!
Cutting Board Related Terms
Intended to provide a more enjoyable and more straightforward food prep experience, some cutting boards even include some extra features:
Troughs – Designed to collect liquid when cutting meat, some cutting boards have a shallow channel around the edge of the cutting board to keep those liquids from dripping onto your countertop.
Non-Slip Surface – With textures or grips on the back of a cutting board, a non-slip surface helps keep your board from sliding around as you work.
Handles or Holes – A handle is useful when picking up or holding your cutting board, but it also means you can store your cutting board on a hook.
End-Grain Cutting Board Reviews
The professional-grade Top Notch End Grain Bamboo Cutting Board features a classic and elegant look with anti-bacterial properties and non-slip rubber feet. Using beautiful end-grain construction, the Top-Notch Cutting Board will stop ugly scratch marks and cuts after you use it. Constructed of sustainable bamboo, it is designed to resist warping, odors, and stains.
(Plus, it makes an exquisite serving tray!)
Ideal for cutting cheese, bread, fruit, vegetables, and meat, the Top-Notch Cutting Board is oriented horizontally along the grain, providing a gorgeous checked pattern. The rubber feet add a nice safety feature by creating a sturdy base. This heavy-duty cutting board is durable and thick, but it is lighter than other types of wood blocks.
Soft enough to stop your knives from becoming dull, the Top-Notch Cutting Board is also environmentally friendly since bamboo restores itself in five years. The included drip grooves help to prevent juices from flowing onto your countertop, while the side handles make it easy to use as a serving tray. The non-porous bamboo surface is resistant to bacteria growth, making this board FDA certified to use with food.
Pros:
Nice looking cutting board with no aesthetic flaws
It has a smooth surface that needs to be oiled routinely
Cons:
It is a very heavy cutting board
Users report the board did not come with directions on how to season it
---
The thick and extra-large La Mongoose Bamboo Wood Cutting Board measures 17 x 13 x 2 inches. Featuring grooved hand grips, this reversible cutting board is robust and sturdy. Made of end grain bamboo, you can use it for chopping up vegetables as well as a serving tray.
The Bamboo Cutting Board was definitely designed for long-term use. The groove around the edges keeps the juice from dripping onto your counter, while finger grips on the sides make it easier to carry. The La Mongoose is the perfect board for chopping bread, cheese, meat, vegetables, and fruit.
Made of a chunky two inches of wood, this reversible cutting board can be used on either side. Since it is hygienic and naturally non-porous, it also will not absorb odors. With a sophisticated, modern look, this is a lovely addition to any kitchen, and it makes a perfect wedding or birthday gift.
Pros:
A nicely sized cutting board
Beautiful and professional-looking, this board has a nice weight to it
Cons:
The board is on the heavy side
Some users report the packaging is poor which can cause damage
---
The professional-grade Heim Concept Cutting Board is made of organic end-grain bamboo. This large cutting board was constructed to resist warping, odors, and stains and it makes a great serving tray as well! Beautifully crafted, this butcher block cutting board is perfect for cheese, bread, fruit, vegetables, and meat.
The bamboo construction gives this board a beautiful checkered pattern that exposes the natural markings of the bamboo. Plus, bamboo features incredible durability and strength – it can withstand the heavy whacks of a meat cleaver, unlike its competitors. Plus, this anti-bacterial cutting board is easy to maintain and requires very little care.
Pros:
It is a nice cutting board that holds up well when used daily
Well-made board for the price
Easy to maintain board which resists bacteria growth
Cons:
Heavier than expected
Cutting board is awkward to hold over a hot stove
---
Measuring 20 x 15 x 3 ½ inches, the Michigan Maple End Grain Chopping Block features maple wood and a rubbed oil finish. The end-grain lamination gives it a rustic character and natural beauty that will become a permanent fixture on your countertop. Its end-grain construction also ensures a lifetime of use.
The durability and hardiness of the Michigan Maple End Grain Chopping Block are perfect for chopping vegetables as well as serving fruit and cheese. A beautiful addition to any home, the Michigan Maple End Grain Chopping Block is also National Sanitation Foundation (NSF) Certified.
Pros:
It is a beautiful stationary block
Excellent quality board that has a nice appearance
If you take care of it, it will last forever
Cons:
Does not come with grips underneath
It is way too heavy to carry around the kitchen
---
Made with Acacia wood, the Ironwood Gourmet Large Charleston End Grain Prep Station is a top of the line cutting board. Large enough to take on any task, this beautiful hardwood cutting board is both functional and pleasant looking thanks to its shimmering and vibrant colors. Due to is end grain construction, both the board and cutlery are less prone to wear and tear.
Not only can you cut meat, cheese, bread, fruits, and vegetables, but you can also use it as a decorative serving board. It is also easy to clean and maintain with just warm, soapy water.
Pros:
Once conditioned, the Ironwood Gourmet is a stunning board
Board is larger than you expect
It looks and feels great when you first use it (you just need to make sure to oil it)
Cons:
The top of the board can look spotty (and can't be cleaned off)
---
The extra-large Neet Organic Bamboo Cutting Board is an end grain cutting board that is solid and heavy. Measuring 18 x 13 x 2 inches, this cutting board is made of anti-bacterial wood and can be used as a serving tray or cheese platter. This heavy-duty cutting board makes chopping vegetables and other meal preparations a breeze.
Constructed of 100% organic bamboo, the Neet Cutting Board is two inches thick and weighs 8 ½ pounds. Naturally anti-microbial and anti-bacterial, this board will not absorb odors while being a beautiful addition to your kitchen. The Neet is the perfect cutting board for chopping vegetables, fruit, cheese, poultry, and meat. Also, if you are not happy with its heavy-duty design, there is a 100% money-back guarantee.
Pros:
It is a nice bamboo cutting board
Rubber feet lessen slippage as you work
You can also use it as a cheese platter
Cons:
The routed finger grips on the underside of the board make it hard to keep clean
Needs a routed drain around the edges of the board to catch juices which would be handy
---
Constructed of natural hardwood, the Catskill Craftsmen Wood End Grain Cutting Slab features non-slip feet and a sophisticated look that would look good on any countertop. This three-inch slab is made with rugged end-grain wood that is easy on the blades of your knives while resisting warping. This top of the line cutting board is made from domestic trees that are self-replenishing and non-endangered.
Perfect for cutting meat or chopping up vegetables, the Catskill Cutting Slab weighs 18 pounds, so it can be hard to carry from the countertop to the stove. A more permanent location on your countertop will provide a convenient spot to work from as you cook dinner. The diameter measures 15 ½ inches giving you plenty of area to work.
Pros:
It is easy to clean with warm and soapy water
Cutting slab comes with non-slip wooden feet
Nice solid block of wood that is well-glued
Cons:
It is too large for some work areas
Some users weren't impressed with the wood choice in the board
---
My Pick for Best End-Grain Cutting Board
The winner of the cutting board roundup is the Top-Notch End Grain Bamboo Cutting Board. Featuring a classic and elegant look, this professional-grade cutting board comes with anti-bacterial properties and non-slip rubber feet. Using our favorite end-grain style, the Top-Notch Cutting Board will stop ugly scratch marks and cuts after you use it. Also, it is designed to resist warping, odors, and stains.
Plus... it makes an elegant serving tray!