In a rush? My pick for top vegetable chopper is the OXO Good Grips Salad Chopper & Bowl; Vegetable & Onion Chopper.
Any good cook will tell you the first and most tedious step in cooking meals: having your ingredients chopped and ready to go into the pot. Unfortunately, chopping vegetables with a knife takes way too much time and energy. And if you're having a terrible or unlucky day, you can throw an accidental knife cut into the mix.
Luckily, you can accelerate your cooking with a vegetable chopper; they're efficient and easy to use. If this sounds like something you'd want in your kitchen, I've reviewed six of the best vegetable choppers to choose from – soon you'll be looking forward to veggie prep!
The six best vegetable choppers are:
Best Vegetable Chopper: A Buyer's Guide
If you know next to nothing about vegetable choppers, you don't have to panic. I've created a detailed buyer's guide to help point you in the right direction.
What To Look for When Buying a Vegetable Chopper
Here are the things to look out for when buying a vegetable chopper:
Manual or Automatic?
Just like with their cousins veggie shredders, you'll find two main kinds of vegetable choppers on the market: automatic, electricity-driven choppers, and manual choppers.
Manual choppers are usually cheaper options but efficient as well. They require you to work the chopper when prepping.
Electric or automatic options usually require you to feed the chopper and plug it in. They generally take up more counter space but are fast and efficient with their prep.
Capacity
Vegetable choppers come in different sizes. Your choice usually depends on how many veggies you regularly chop. If you live alone, a small capacity chopper should do.
But if you're cooking for a large family, you may want to invest in a bigger-sized chopper. Of course, you can still chop a large number of vegetables with a small-capacity chopper. But you'll need to chop them in small batches, and that's not a great idea if you're trying to save time and energy.
Safe for Dishwasher
If you're experienced with different kinds of choppers, you may have come across products that are extremely difficult to clean. These products are usually made without safe parts for cleaning in dishwashers, meaning you're forced to dismantle parts and clean them one after the other. It's time-wasting and energy-sapping.
Also, it makes no sense that you'd buy a vegetable chopper to save time only to waste even more time cleaning it! Take it from me: you're better off choosing a chopper that is dishwasher friendly.
Blades
Blades are the most important part of any vegetable chopper. They're the force behind the quick and efficient chops, so you'd do well to take note of the blades on your veggie chopper. Also note: different kinds of vegetables require specific blades to cut them.
Some blades are for cutting, others for dicing or slicing. Whether you buy a manual or automatic chopper, go for choppers that come with different blade sizes and types.
It's also worthy of note that hardened stainless steel blades are the kings of chopper blades. They're stronger and won't rust easily like other types of blades.
If you buy a vegetable chopper with a dull blade, you can't get anything done. If it's a manual chopper, you'd have to put in twice the effort to cut through veggies. It's important to make sure the blades on your chopper are razor sharp.
Price
Like most things in life, vegetable choppers cost money. Fortunately, they don't cost much, or at least they shouldn't. With a modest budget, you should get a decent vegetable chopper.
However, there are more expensive products if you're working with a big budget; although, they aren't necessarily better. The good news is that you're likely to find a chopper that fits your budget range.
BPA-Free Material
Bisphenol-A (BPA) is a material that's used for molding and solidifying plastics. BPA almost certainly isn't safe for humans. It is probably dangerous to the prostate glands and brains of children and fetuses; this is why it's important to use kitchen utensils made with BPA-free materials to prevent health issues.
You're better off buying choppers made with stainless steel, silicon, and glass, or choppers that use safer processes in their plastic.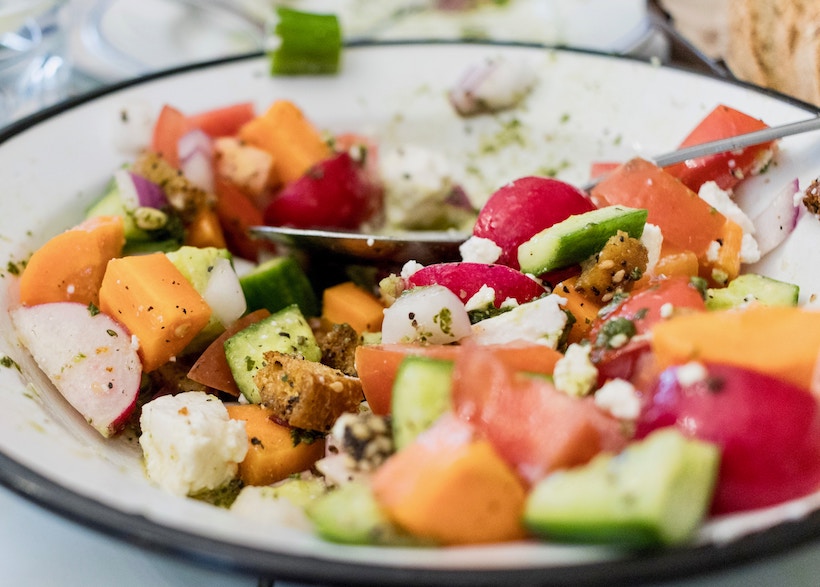 Benefits of a Vegetable Chopper
Here's why you need a vegetable chopper:
Save money: The alternative to cooking your own meals is spending money on junk and takeouts. The reason is simple; they're readily available, which is why they're called fast food. Many people have demanding jobs that leave them with little time to cook their own meals.
Unfortunately, fast food isn't cheap. You're going to spend more money buying expensive takeout or delivery than you would when you cook. With a vegetable chopper in your kitchen, you'll spend less time cooking and less money buying fast food.
Improved nutritional intake: Almost every adult knows vegetables are a great source of nutrients. But knowing veggies are great for you doesn't necessarily mean you eat them regularly. In fact, only 1 in 10 Americans consumes the recommended daily amount of vegetables.
With a vegetable chopper in your kitchen, you're able to add more vegetables to your meals. Also, there's something about seeing a chopper in your kitchen that reminds you of the need to eat more vegetables.
Improved cooking skills: With a knife, your cooking skills can be somewhat limited. You'd probably have to be a Gordon Ramsey level chef to make a Julienne or Macedoine cut with a knife. Without the ability to make these cuts, you can't prepare certain meals.
With a vegetable chopper, you can cut vegetables in different sizes and patterns with little stress.
Fewer kitchen accidents: If you chop vegetables with knives regularly, then you must have cut your hands at least once. It's probably the most common kitchen accident, and you can eliminate it with one purchase. With a vegetable chopper, you no longer have to use knives. No knives mean fewer accidental cuts.
Serves more than one purpose: Depending on the brand you buy, you can have a two-in-one vegetable and meat chopper. These products allow you to chop meat and vegetables with no stress, making cooking much easier.
How To Use a Vegetable Chopper
Vegetable choppers don't all work the same way. You can turn on some choppers by twisting a crank or pulling a string. Other choppers may require you to apply pressure on the lids... or press a button.
Also, vegetable choppers come with different blades and unique designs. For vegetable choppers with strings, you only have to tug it to cut your veggies. Once the cord is pulled, the blade spins to chop your vegetables.
The same goes for choppers with a crank or a switch. For choppers with lids, you need to press down the lid to apply pressure. The pressure forces the blade under the lid to cut the veggies.
The 6 Best Vegetable Choppers
Below are the six best vegetable choppers available:
The OXO Good Grips Salad Chopper, Bowl, and Onion Chopper is a bit special as it comes with two different chopping machines: a rolling veggie chopper, hinged veggie and fruit and onion chopper. It also comes, as advertised, with a bowl.
The chopper has sleek stainless steel blades that efficiently dice vegetables, cheese, fruits, and lots more. The chopper bowl is designed to have constant contact with the blades for effective cutting. It has a capacity of 5.5 quarts, which is big enough to cut a reasonable amount of veggies.
The Good grips salad chopper and bowl feature a non-slip yet soft handle designed for easy grip.
It's safe to hand or machine wash, which is great news for cleanup.
Pros:
The bowl rim serves as a grip to rotate while chopping.
Non-slip soft handle for easy use.
Dishwasher safe.
Five and a half quarts capacity.
Doesn't require electricity.
Easily chops up a variety of salad mixtures.
Cons:
Owners have noted that large and hard veggies get clogged between the blades because of their close proximity.
Users found it a bit discomforting that the bowl doesn't come with a cover.
---
Weighing 0.99 kilograms, this Alligator Vegetable Chopper is made up of three different interchangeable stainless steel knives; a small knife, medium knife, and a large knife. It seamlessly cuts every type of uncut food with varying dicing ability according to your taste.
The Alligator vegetable chopper is a sturdy built machine. It has a beveled stainless steel blade built to withstand wear and tear and is efficiently equipped with a food collector that keeps the cut food or vegetables in place; this means you don't have to bother about having your cut food and veggies scattered everywhere.
The Alligator Vegetable Chopper's stainless steel V-shaped blades ensure quick clean cuts and are manually operated. Alligator guarantees the chopper is safe for hand and machine wash.
The vegetable chopper is made with aesthetically appealing stainless steel, meaning you don't have to worry about rust.
Pros:
Dishwasher and hand wash safe.
A collector included keeping chopped food in place.
Interchangeable blades to dice every type of food.
Durable and sustainable chopper.
Razor-sharp blades.
Doesn't require electricity.
Cons:
Expensive compared to some other options.
Owners reported that this chopper is difficult to hand wash.
The storage capacity is not very big.
Users complained that the container's plastic clip doesn't always stay in place.
---
This manual Mueller Ultra Heavy Duty vegetable chopper is equipped with surgically sharp blades. The stainless steel blades are anti-rust and give precise cuts to your vegetables. It can be controlled by the use of an oversized knob.
Weighing 2.27 pounds, Mueller Ultra Heavy Duty Chopper/Cutter is a fine piece of equipment built to withstand wear and tear. To emphasize its sturdiness, this vegetable chopper has a lifetime warranty.
Built with 5 cups carrying capacity, you're not going to find many vegetable choppers with a larger capacity. In fact, most choppers aren't as big.
With all that capacity, everyone should be satisfied. But this chopping beast still has some room for versatility. Mueller's Ultra Heavy Duty Chopper Cutter includes a chopper and an inbuilt egg white separator.
There's guaranteed safety for hand or machine wash, so you never have to worry about kitchen accidents.
Pros:
Doesn't require electricity.
Oversized crank for easy control.
Hand wash and machine-wash safe.
Versatile and can be used to separate the egg white.
Anti-slip base.
Lifetime full warranty.
Cons:
Users found that you have to crank its knob repeatedly to get the desired thin diced vegetables or fruit.
Product vibrates when cranking the handle.
Owners reported that hard vegetables like carrots can be difficult to cut.
---
The manually operated Cuisinart CTG-00-SCHP chopper has a stainless steel blade that has been equipped to chop veggies and even nuts. Its easy-push-down handle has been customized to fit the design of this chopper. 
Made with stainless steel material, this chopper isn't safe for hand wash, but it's safe for machine wash.
Cuisinart CTG-00-SCHP Stainless Steel Chopper has a razor-sharp blade that's guaranteed to give you precise cuts every time.
Pros:
Dishwasher safe.
Easy-push-down handle for efficient chops.
Stable, non-slip base.
Doesn't require electricity.
Cons:
Not safe for hand-washing.
Users have mentioned it has a limited lifespan.
It only has a 1-month warranty.
---
This KitchenAid Gourmet 3-in-1 Chop and Slice chopper has a multi-blade setup, equipped with three interchangeable blade cartridges to give a varied slicing choice. 
The Chop and Slice has blades specific for dicing and slicing: the ¾-inch dicing blade, ⅜-inch dicing blade, and the ⅜-inch slicing blade.
Although operated manually, it comes with a customized cleaning tool convenient for helping you remove food residue; this makes cleaning much easier.
It has BPA-free Storage, a 3-cup plastic storage base, and a lid. It's guaranteed safe for machine washing as it's made with plastic.
Pros:
Three interchangeable, rust-resistant blades.
Dishwasher safe.
Includes cleaning tool.
Doesn't need electricity.
Contains a storage base.
Durable cartridge frame.
Cons:
Customers complained that the blades aren't very strong.
Not safe for hand-washing.
Users reported that the container and chopping plate occasionally come apart during use.
---
The Fullstar Vegetable Chopper and Spiralizer has four interchangeable blades that let you chop, slice, and julienne vegetables with ease. 
It comes with a 1.2-liter collection tray that lets you store the vegetables until you're ready to use them and a soft-grip rubberized handle for easy grip. It's safe for machine washing but not for hand-washing and is manually operated.
If you're very creative, this is the chopper for you as you can cut your veggies into different sleek designs, thanks to its four varied stainless steel blades.
With a non-slip base, this chopper will stay in place on most surfaces.
Pros:
Four interchangeable blades that give you a varied chop or slice design.
Soft rubberized handle for easy grip.
Rust-resistant and razor-sharp blades.
Dishwasher safe.
Non-slip base provides stability.
Cons:
Not suitable for hand-washing.
Owners say that a lot of force is required to push down the lid when slicing vegetables.
Chopping blades are not appropriate for tomatoes.
---
Conclusion: The Top Chopper
My top chopper choice is the OXO Good Grips Salad Chopper & Bowl; Vegetable & Onion Chopper. This vegetable chopper comes with two machines: a salad chopper & bowl and a vegetable & onion chopper; this is unlike other products on the list that are jacks of all trades. 
The salad chopper and bowl are specially made to make restaurant standard salad right in your kitchen. If you love to eat healthily, this is going to be extremely helpful. You can make salads any time of the day with ease.
The vegetable and onion chopper are both dishwasher and hand wash safe, unlike some of the other products that aren't. While that's not going to make you lose sleep, it's always good to know you've got options.