Have you ever been frustrated planning your meals to avoid food spoilage? Do you feel inhibited by not being able to make spontaneous trips due to your grocery shopping schedule?
If so, it's time to find new ways to preserve your food. In this post, I'll talk about bag sealers and vacuum sealers and talk about the best food savers.
Seal yourself in, let's talk vacuums and bags.
Top Food Savers Reviewed
Buyer's Guide for Food Savers
Preserving food will change your approach to meal-planning, allow your cooking to be more creative, and save you time in the process.
One of the best ways to preserve food is by using vacuum sealers. Also referred to as food savers, these devices remove air from a food-filled bag. By taking air out, you improve the quality of your food and make it last much longer – it significantly reduces spoilage.
Sounds great, right? It is, but unfortunately, the market for vacuum sealers can be a bit confusing. There are a variety of different products with their unique benefits and detriments.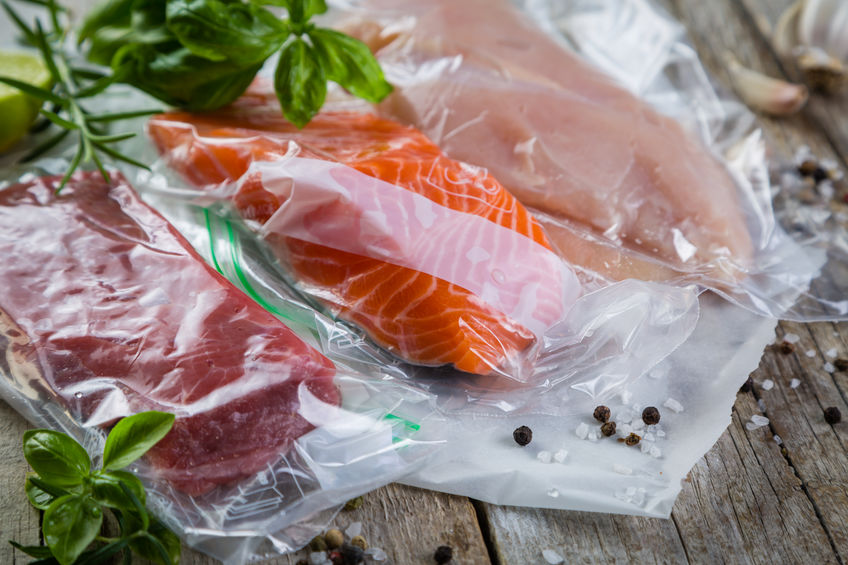 What to Look for When Shopping for a Food Saver
When looking for your first food saver, first look for a sealer that comes with a starter kit. These make it easy for you to get going immediately and learn to use the product once it arrives.
Sealing Modes
Another critical aspect of food savers to look for is multiple sealing modes.
Having multiple sealing modes is essential for preserving many different types of food. For example, fish require a different mode than chips, so it's important to know which modes are best for which types of food.
Volume
Of course, you need to make sure that you have a machine that can fit your food into one bag.
This comes up more than you'd think. Many food savers are designed for small quantities of food. If you're planning on preserving a whole lot of food or, say, larger cuts of meat you should invest in a larger model.
Price
As with everything else in your kitchen, you also need to consider value and price.
Food saver prices differ depending on their quality, features, and brand reputation. Cheaper products aren't (usually) as effective as more expensive ones, so consider multiple models before deciding.
In the roundup I include a variety of high-quality food savers at different price points.
What's the Best Way to Use a Food Saver?
There are many different ways to use a food saver, but the best option will (as it usually does...) depend on your personal preference.
Sous Vide
One of the most popular ways to use vacuum sealers is to do sous vide cooking. Sous vide is a type of cooking that involves placing your ingredients in plastic bags before placing them in boiling water to cook them thoroughly. You then usually finish them off on a grill or stovetop to trigger the Maillard reaction and get that beautiful surface color and taste.
Sous vide is a perfect match for vacuum sealers because by removing all of the air from a bag before cooking, you intensify the final flavor. The ingredients will also cook faster!
While you can also "water seal" for sous vide, you'll probably find – like me – that your food comes out better with the vacuum sealer.
Food Preservation
If you vacuum seal your food, you extend the overall life of your ingredients, and you also make sure that they retain their quality over time. The best ingredients that work well with a food saver are meat and cheese – two types of food very susceptible to freezer burn or other types of degradation when left out.
Vacuum sealers also very effectively preserve foods that have already been opened (such as bags of chips). Because they remove the air from a package, you can save bagged food for later without racing the clock on them going stale!
Non-Food Usage
One of the things that people don't often know about food savers is that they can also preserve non-food items as well.
Vacuum sealing is very similar to the laminating process. Sealing can be a great way to preserve important documents and papers, so stains and air do not damage them.
Check out NESCO's video for a few other usage ideas, such as keeping items dry for camping:
Precautions to Take When Using a Food Saver
Before you start vacuum sealing foods, it's important for you to read up on the process itself.
Vacuum sealing isn't an automatically "safe" process. Many people misinterpret the benefits of vacuum sealing and think that the very act of sealing a bag makes it entirely safe from any type of bacterial growth. This is not true—though most spoilage bacteria is eliminated when your seal a bag, there are still pathogenic bacteria that can contaminate food.
If you want to read more about how food vacuuming works, please familiarize yourself with this guide from the National Center for Home Food Preservation.
It boils down to this: before using your choice of vacuum sealer, always read and understand the manual. Each food saver product works slightly differently, so you can't always apply intuition to each sealer.
What are the Advantages/Benefits of Food Savers?
Are you looking for a summary of the food saver buyer's guide? I've got you covered. Here are the key takeaways from the above section.
Pros:
Saves money overall
Makes it easier to cook quickly
Preserves your food
Gives more flavor to food
No freezer burn
Product Reviews: Top Food Savers Compared
To provide you with the most thorough list possible, I looked at many different types of food savers. I also include various types of vacuum sealers (and plain bag sealers) with varying features.
By the end of this list, you'll find the best food saver for you regardless of your personal culinary preferences!
In my opinion, the FoodSaver V4400 2-in-1 Vacuum Sealer is the best food saver currently on the market. Unfortunately, it comes at a higher cost than others on the list. 
That significant caveat aside, if you are willing to spend a bit more for a truly premium product, this is an incredible device. Meats sealed with this product can last three years and also retain an impressive amount of flavor. The sealing is remarkably consistent, and you should find it easy to use no matter what type of food you throw at it.
As for mode detection, the FoodSaver V4400 has you covered. It uses a moisture detection system to switch modes and use the right setting for whatever ingredient you're sealing.
The design for the FoodSaver is very durable and lightweight, and it is pretty easy to carry when compared to other food savers. Even if something goes wrong, you're covered by the five-year warranty.
Pros:
Moisture detection system switches modes easily
Durable design
Meats preserved can last three years
Five-year warranty
Sealing is consistent
Cons:
Price can be prohibitive for some
---
The GERYON Vacuum Sealer is an excellent product for someone who wants a quick and easy solution for large quantities of food (it fits 12" vacuum bags). As I told you to look out for, it not only comes with a starter kit and intuitive instructions but also seals food quickly. 
There are two modes to choose from, ensuring that you can match the seal to your food. The only negative about this device is that the design isn't as durable as others, and it is sensitive to scratches. However, as long as you're careful with the GERYON, you shouldn't have any issues.
Pros:
Fits 12" vacuum bags
Seals food quickly
Comes with starter kit
Cons:
Design can be scratched easily
---
As far as food savers go, the Food Bag Heat Sealer will get simple sealing jobs done. It's terrific for a portable sealer and works like tongs in your hand. However, it won't create as strong vacuums as others on the list, making it tough for sensitive ingredients such as meat and fish. 
If you need something to seal bags of chips and other similar types of products, this is a great choice. It works quickly and keeps bags thoroughly sealed, and is an excellent option.
Pros
Incredibly affordable price
Very quick and easy to use
Keeps bags sealed
Cons
Does not create as strong seals as others on the list
---
The FoodSaver V2244 is one of the most straightforward sealers to use if you want to seal wet and dry items simultaneously. With the optional accessories, it is also compatible with other sealable packages such as Mason jars and other fresh containers. 
Though it isn't as quick or consistent as other products on the market, the accessory compatibility is a strong vote for this product.
Pros:
Seals wet and dry items simultaneously
Works with accessories
Cons:
Not as quick or consistent as other products
---
If you need a food saver that can help you seal large quantities of foods, look into the KOIOS Vacuum Sealer. It has a very durable sealing surface (up to 300 degrees Fahrenheit) and can seal multiple bags at a time. KOIOS also advertises up to 40 consecutive seals in a session if you want to push it. The sealing surface is 11.8 inches long so that you can do multiple seals at the same time.
Like the Foodsaver V2244, the KOIOS has accessories for external pumping so you can do things such as canning and wine preservation. As mentioned, this product can also run continuously – perfect for large operations.
If you need a moderately-priced food saver that can hold its own, you'll love this product.
Pros:
Can run continuously (KOIOS claims up to 40 seals consecutively)
Sealing surface can handle up to 300 degrees Fahrenheit
Can seal multiple bags at a time with the large surface
---
Are you looking to use a food saver for a professional café? You should definitely check out the NESCO VS-12. Sure, it is not the quickest food saver currently available, but it is one of the most thorough. 
Foods sealed with this product have a double line seal that makes the seal (almost )indestructible and close to immune from accidents and spills. There are two settings to control how tight you want the seal to be along with three different sealing methods (dry, moist, and double).
The NESCO VS-12 is one of the most customizable food savers on the market. If you are sealing a wide variety of foods, it'll serve you well. Just as a caution: if you need to seal in a hurry, you might want to look at other products on the list.
Pros:
Two variable settings
Double line seal
Three sealing choices
Cons:
Can be slower to seal than other options
---
If you want a food saver that will give you premium features for a moderate price, the NutriChef Vacuum Sealer is an inspired choice. It is one of the most natural-to-use products on this list – creating vacuums and seals is almost plug and play.
The NutriChef has two sealing modes included, allowing you to customize the seal for different ingredients. All in all, you're able to keep food lasting five times longer than sitting out, making this a great investment for an affordable product that still works well.
As a nifty bonus, if you want to match the machine to your kitchen, you can choose between a black or white finish.
Pros:
Different colors to choose from
Affordable price
Preserves food for five times longer
Two sealing modes included
Cons:
Owners report issues with customer service
---
My Pick for Top Food Saver
A food saver will make sure that the ingredients you're using are not only flavorful but long-lasting. On top of this, you'll also save money in the long run avoiding spoiled food. And don't forget – you'll be able to sous vide nearly effortlessly!
In my opinion, the best food saver is the FoodSaver V4400 2-In-1 Vacuum Sealer Machine. Not only is it incredibly efficient, but it also has a very durable design. It's a bit of an investment compared to other sealers, but in my opinion, the value you get is worth the extra cash.