In a rush? My pick for best thermal coffee carafe is the Cresimo 68 Oz Stainless Steel Thermal Coffee Carafe.
Sometimes you just can't get enough caffeine. But there isn't always time to drink a fresh cup when the machine finishes.
Now, emergency cold brew is delicious in its own right (ha), but sometimes nothing can beat a cup of hot coffee. Instead of settling for less when you need to load up on that caffeine on the go, you can turn to a thermal coffee carafe to help.
After scouring the internet and putting in the research, I've determined that the best thermal coffee carafe is among these four.
Top Thermal Coffee Carafes Reviewed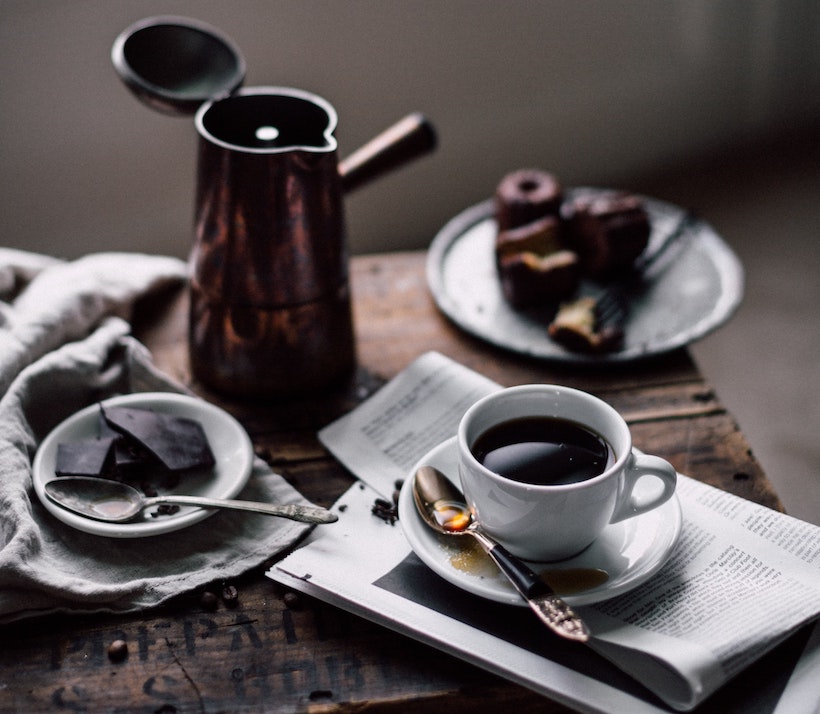 How to Choose a Thermal Coffee Carafe
We can't all be as intense as I was last year and spend three days finding the right carafe. What would've been really useful was a clear list of everything I should've taken into consideration.
(You're way luckier than I am in that regard, so read on for some tips on choosing how to keep that coffee well-insulated.)
Capacity
Capacity is probably one of the most critical factors in your coffee carafe. How many cups do you want to get out of this thing? With mine, I get about three mugs out of 16 ounces, about perfect for a few cups over a morning.
But if you're in a group setting and will be pouring and sharing, or just need more cups, that probably won't be big enough for you. You could double it (and then some) with a 34-ounce, or go crazy with a 68-ounce carafe. That one's enough to keep an entire extra pot of brewed coffee warm!
Size and Shape
Some carafes are like a thermos – they're tall and slender and even fit in some cup holders. If you're storing it in an office or cubicle, they usually store well under a desk.
Meanwhile, other carafes look more like a coffee pot. They're short, squat, and difficult to knock over. Unfortunately, this kind doesn't fit in cup holders, and they might be too wide to store under a desk. Plus, they're short, so they're harder to pick up. However – shorter, wider carafes are also easier to clean.
So take those factors into account: where do you want to store it, on or under a desk? On a counter? (And how clumsy are you with your carafe?)
How Insulation Works in a Thermos
It's natural to wonder how the coffee stays hot in a thermos. If it's simply the material, shouldn't all drinks be stored in stainless steel mugs?
In that case, the top is still open, and the coffee is not adequately protected – the way thermoses work is a bit more complicated.
When a drink is enclosed inside an insulated carafe or thermos, it's enclosed inside a formed vacuum occupying the space outside your liquid. Whatever you put in stays the way it was when you put it there, sometimes for up to a day.
This is achieved by using a double-walled design. There's a gap between the inner and outer walls, which is vacuum-sealed – there's no air in there.
Because there's no air for it to travel through, heat transfer (in or out) becomes much slower since it cuts down on conduction and convection heat transfer – heat only continues to transfer via radiation through the inner vacuum.
However, some carafes will use insulating foam between the walls instead of air. This is the design coolers use – and almost always, houses as well.
Can I Help the Insulation?
Old coffee doesn't taste that great, but if you really need that carafe on a 48-hour camping trip with no boiling water, you can help it along with external materials.
For cold drinks, you can't do much. Keep the beverage steeped in ice water before you put it into the thermos or carafe – you want the thermos to feel cold before adding any liquid. After that, it's mostly out of your hands. Use common sense, though – for example, keep it out of the sun.
As for keeping the coffee in your carafe hot for longer periods, wrap it in a blanket. (A heated blanket works even better.)
Reviews of the Top Four Best Thermal Coffee Carafes
The Cresimo 68-ounce Carafe's interior lets you hold 2 liters of anything you like, including that precious coffee. It's really a great value for the money.
The large carafe can keep your coffee warm for 12 hours using a double-walled design. These walls are made of durable stainless steel, perfect for withstanding the abuse you throw at the carafe in your caffeinated frenzy.
It's a little on the taller side, so it might be more inclined to fall over if full. If it falls over, it won't spill, though; it's very secure. Despite the secure design, the coffee should be easy to pour. It's a user-friendly design with a large mouth opening – big enough even for ice to pour out through.
But this mouth is kept firmly shut until you put your thumb down on the trigger during one-handed pouring, like a jug.
Pros:
Extra-large capacity.
Condensation-free.
One year warranty.
Single-handed pour.
Affordable.
Cons:
Users found the lid is difficult to clean.
Some owners found it dribbles when pouring.
---
If you're not quite as caffeine crazed, this carafe from Thermos might suit you better with a 34-ounce capacity.
It's pricier than some others on this list, which is a downside, but it has most of the same capabilities. It keeps drinks warm for 24 hours and cold for 12 hours – all without condensation – plus, the body stays cool to the touch.
This model is stainless steel with a large mouth suitable for ice and perfectly fit for one-handed pouring. Compared to larger models, this one is less prone to tipping with more weight in the base – a useful feature if you're prone to knocking carafes over.
Pros:
Harder to spill.
Condensation-free and cool to the touch.
Cons:
Pricey compared to some other options.
Customers found it sometimes drips.
---
The Zojirushi Premium Thermal Carafe is another huge carafe holding over 62 ounces, or 1.85 liters. It's tall and sleek, so it should fit comfortably under a desk, in a bag, or extra-large cup holders. Perhaps you could even sneak this beast into a movie (and hopefully not drink it all yourself). Of course, you could also bring a standard movie drink in this and keep it cold.
Something unique about this carafe is that the insulation is slightly different from other models. Zojirushi uses medical-grade-equivalent borosilicate glass, rather than stainless steel. However, the exterior is still stainless steel in this model. You can get it in black, white, and red.
Along with plenty of excellent options, the carafe comes with some extra features. One is a swivel base, which is excellent for clumsy people. Coffee not facing you? You'd need to get up and go around to grab the handle? Just swivel it to face you, and don't risk a spill!
This swivel base function may make it harder to knock this tall, thin carafe over too. It'll just twist, not topple.
The second distinctive feature it has is the push-button on the lid that indicates whether the mouth is open or closed. Hopefully, that gets rid of potential slip-ups (and coffee-downs).
Pros:
Swivel base that makes it hard to knock down.
Open/closed indicator.
Enormous capacity in a relatively compact shape.
Cons:
Lid holds liquid.
Some users noted the initial heat disappears quickly, leaving coffee just warm for the duration of use.
---
The Genuine Joe Double Wall starts very strong with its low price point and its robust build. It's built like a jug, hefty on the bottom, making it harder to have an accident.
Another part of its jug-like build is its easy one-hand pouring. You can release the coffee from the spout by pushing a red button, which is hard to miss. That's a step above some other carafes where this part could easily be mistaken for just a part of the lid.
Something genius about its design is the handle. It's enormous and provides a secure grip. And like some of the bigger options on the list, this is another large 2-liter (over 60 ounces) carafe, so you'll need a firm grip to pour it.
Once the coffee is poured and the day is done, you can put this carafe in the dishwasher. Unlike many coffee carafes, it's dishwasher safe, though it's better to wash things like this by hand. Oh, and be sure to clean the lid by hand and avoid getting water near the red button.
Pros:
Incredibly affordable.
Large handle.
Very visible open/close button.
Dishwasher-safe.
Cons:
Exterior heats up.
Customers found that after a few months, the effectiveness of keeping coffee hot decreased.
---
Final Verdict
There was a great selection here today, and the choice was difficult. But for me, the Cresimo 68 Oz Stainless Steel Thermal Coffee Carafe has to be the winner as the best thermal coffee carafe.
It's so large; it could hold my coffee all day and night. It's the right size to store coffee for even large families. I really like its size. It's not as tall and thin as some other options, for example, so if it ever does fall over, it'll probably only be when full.
Lastly, the spout – large enough for ice – pushes this thing right over the edge. Handling ice right out of the freezer is a pain. But keeping ice cool for an hour in a carafe? That's the one thing that makes my heart beat... even faster than the coffee.