Out the door? My pick for best thermos to keep food hot or cold is the Ember Temperature Control Travel Mug.
If you're currently hitting the drive-thru for your morning coffee – have you considered carrying a thermos instead?
Not only will it save you time and money, but it's better for the planet. Today I'll share a few tips and reviews to help you start shopping for the best thermos for your needs.
Top Thermoses Reviewed
Best Thermos Buying Guide
In this section, I'll cover what you should consider when picking out a thermos. By the end, you'll be able to find the best container to keep food hot – or cold – without any feature envy.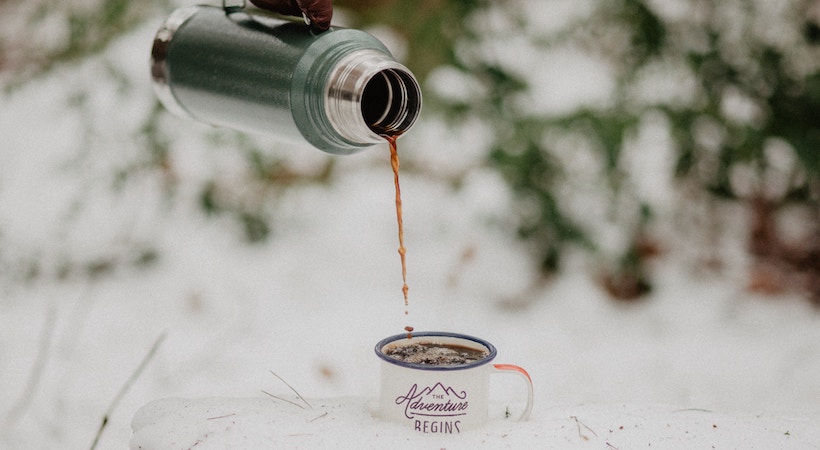 Type of Thermos
How will you use your thermos and what size you will need?
You don't want to get too small a thermos or one that doesn't work for your food. You can technically use most thermoses for both liquid or foods, but certain thermoses work better for cold drinks while others are geared more towards food.
Will you use your thermos for cold or hot items?
Having a cold thermos with a built-in straw is handy for drinks. On the other hand, having a thermos with a wide mouth is better for lunch applications.
If you are only planning to use your thermos for coffee, you may only need to look for the standard-sized 16-ounce mug type. (Although depending on your coffee intake, you may want to go larger!)
Find a size that fits your needs... and also fits in your bag or purse.
How long does your thermos need to work?
Depending on their construction, high quality thermoses can keep food temperature stable for 5-10 hours. If you need to store food longer, you can also grab an electric thermos which holds a charge and heats or cools on batter power.
Insulation
Your next significant consideration (and it is an important one) is the thermos' insulation. You want to make sure it keeps what you put in the thermos stays hot (or cold).
There are several options when it comes to insulation. I particularly like vacuum insulation, which is an excellent feature if you plan to use the thermos for a long time. With no air between the outer and inner walls, heat is not able to transfer out, allowing for very little heat loss from your contents.
The most critical part of these products is the amount of insulation that they have. Since vacuum insulations vary, consider how long you need the content to stay warm.
A good guideline is that a hot item should keep about five hours of heat retention. High-quality thermoses can even beat that time.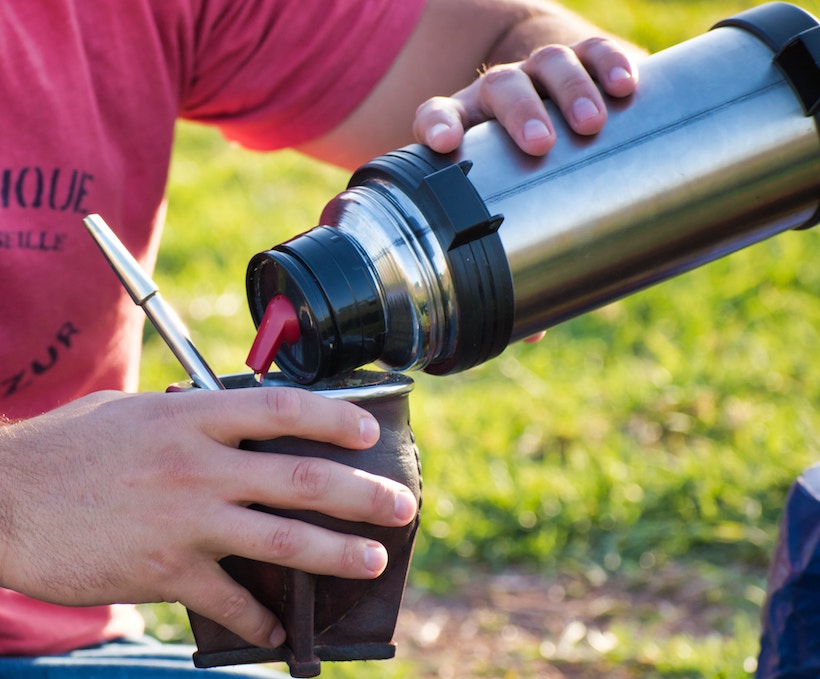 Durability
You also want your thermos to be durable – thermoses tend to be used a lot outdoors.
If your thermos breaks, you run the risk of hot liquid potentially spilling out (or you may lose the heat retention feature and render it useless.)
If you choose a vacuum insulated product, this shouldn't be a problem as durable materials are needed to hold the void together – these thermoses are usually well-made.
Stainless steel is typically what you will see thermoses made out of – it's strong enough to hold a vacuum and withstand any accidents. Plus, stainless steel tends to be rust-resistant, which is an excellent feature in a thermos.
Leak-Proof
Remember, any product that you are carrying liquids or food in should be leak-proof.
There is nothing worse than buying a container that ends up leaking all over your purse. Not only does a leak-proof product help you avoid spills, but it also shows you how well your coffee is going to stay hot.
Lid Design
When evaluating your thermos, also consider the lid. There are several types of lid designs that you will see as you shop. Some lids come with push-buttons for ease of use while others use screw tops to ensure the best insulation. You can also find thermoses with a straw in the cap for easy access.
Which design you end up with it is entirely preference-based, but keep in mind that for the most insulation, a cap is the best choice.
Capacity
Capacity is another critical issue in a thermos. Depending on how much you eat or drink, also consider how much the thermos will weigh in your bag.
If you plan to take your thermos backpacking, a larger one is not only heavier, but it also takes up valuable pack space. If you plan to use your thermos in your car, make sure the capacity isn't too large to fit in your cup holder.
As long as your circumstances allow for it, though, I prefer a larger thermos.
Features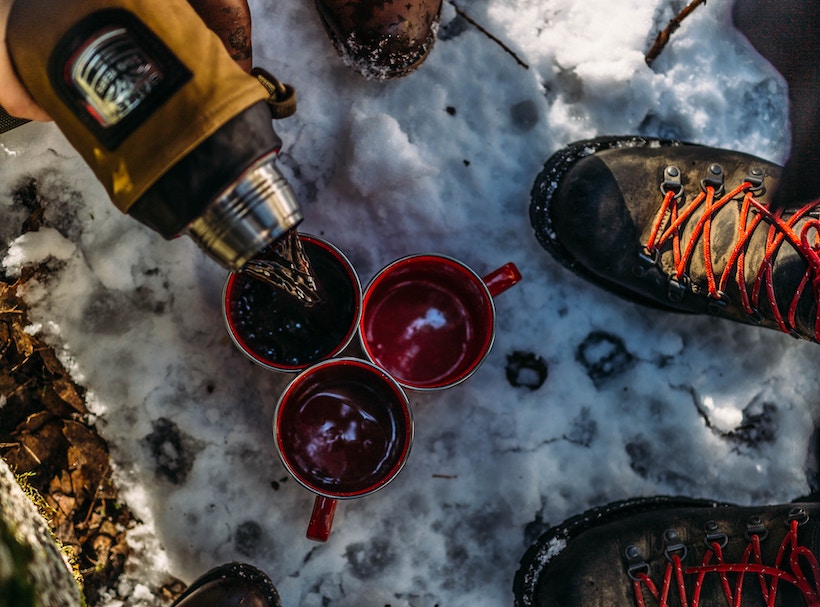 As with any product, thermoses have differentiating features that may appeal to you depending on your needs.
Like I mentioned above, lid construction is an interesting design feature. You can get a lid with a straw inside, or one with push-button operation.
Of course, if you aren't interested in a fancy lid and are just drinking coffee on your commute, a simple lid will do.
The size of the thermos' mouth can vary a lot depending on the manufacturer. Some will have wider mouths, so you can drink or eat from it easily, while others use a small opening to make the most of the insulation feature. If you have a food container, it is fatter and shorter, which makes it easier to maneuver a fork or spoon.
The thermos' grip is another feature that can vary widely. Depending on how slippery or wet your hands are when using it, a stainless steel thermos may not be the right choice. In that instance, finding a thermos with a rubber grip or a powder-coated finish will help to improve the grip.
Thermoses can also come with a carry handle. I love having this feature for food while I know others find it annoying. Again, it also depends on your personal preference.
Best Thermos Reviews
The 16-ounce Thermos Stainless King Travel Tumbler comes in a midnight blue color. This reliable and durable thermos features Thermos' vacuum insulation technology that will keep your cold food cold and hot food hot! Vacuum creates an airless space between the two walls; this technology pretty much eliminates temperature changes through the process of convection.
The durable Thermos Stainless King Travel Tumbler features a stainless-steel exterior and interior. It is sweat-proof with cold items and cool to touch when filled with hot liquids. It also features a built-in tea hook, fits into most vehicle drink holders, and easily holds most loose-leaf infusers and tea bags.
Pros:
It keeps coffee hot for hours
The thermos is easy to operate one-handed
You can get an excellent grip on the slick mug with the indented band
Cons:
It can be challenging to clean the lid
You can't fill it all the way or liquid will spill out when you put on the lid
---
The 13 ½ ounce MIRA Lunch Thermos is made of stainless steel and comes in a cactus green color. Using MiraGuard Technology, this highly-rated food jar is capable of keeping its contents hot for five hours or cold for 10 hours. The design is perfect for on-the-go snacks and office and school lunches.
The MIRA Lunch Thermos uses high-quality stainless-steel construction that won't transfer or retain flavors. This is a versatile food jar that can be used for different snacks and meals throughout the day. Its size is perfect to fit in your work bag, backpack, or lunch box. You don't have to worry about it sweating or leaking into your bag, and this insulated food jar does not need to be refrigerated or reheated.
Large enough to carry an entire meal, the MIRA Lunch Thermos uses durable stainless steel that won't rust or break. The slip-free grip and matte finish allow you to hold your hot food thermos comfortably. The wide mouth of the thermos makes it easy to fill with food and clean.
Pros:
Leak-proof once it is closed correctly
It is adorable, small, and soft on the outside
It is excellent for use with food
Cons:
You can't fill it up to the top since liquid spills out when you put the lid on
Rubber texture on it starts to rub off with use
---
The stainless-steel YETI Rambler Colster features double-wall vacuum insulation. This thermos keeps your drinks as hot or cold as possible with a stainless-steel construction and a No Sweat Design, so you no longer have to worry about cold or damp hands. Perfect for outdoor use, the Rambler Colster is an excellent choice for your next outdoor adventure.
Available in either 20 or 30 ounces, the Rambler Colster fits into any vehicle's cup holder and comes with a Load-and-Lock Gasket that keeps your drink securely in place. Built tough enough to stay cool in extreme heat and to take whatever demands you throw at it, the Colster fits bottles and 12-ounce cans firmly.
Pros:
It's a very sturdy thermos that doesn't dent or get damage when dropped
Bottles fit in it very snug
It fits well into the cup holder in your car
Cons:
Users report it doesn't keep liquids as cold as you would hope
It is hard to drink to the bottom of the can due to its design
---
The 12 Ounce Ember Temperature Control Travel Mug comes features a two-hour battery life. The Ember is an advanced temperature controlled mug – you can even use an app to make sure your coffee is as hot as you like it! It can heat your cup rapidly to whatever temperature you choose so that the last drop will be the same temperature as the first.
With the Ember app, you control your mug with temperature presets and settings, notification preferences, and even the ability to name your mug. The mug features a microprocessor-controlled heating system, a quick cooling system, and seven temperature sensors.
The temperature settings on the Ember Mug start at 135 degrees Fahrenheit and allow you to adjust up or down. You get a two-hour battery life with just one charge, and it includes a charging coaster for all-day usage. This mug is safe to hand wash and can be submerged fully up to one meter. It features a ceramic coating to lessen scratching and a leak-proof lid for use on the go.
Pros:
It does a great job of keeping coffee hot
It comes with a two-hour battery life
You can control it with your smartphone
Cons:
It needs a USB adapter to charge during your commute
Some users found the spill-proof cover can stop working after a few months
---
The 40-ounce Thermos Stainless King Beverage Bottle comes in a midnight blue color. This reliable and durable product uses the Thermos vacuum insulation technology for the best temperature retention that keeps your beverage as hot and cold as you want it. Virtually eliminating temperature change and the convection process, vacuum insulation creates an airless space in between the two walls.
Featuring a durable stainless-steel exterior and interior, the bottle is sweat proof when filled with a cold liquid and stays cool with hot liquids. It is designed to keep liquids either hot or cold for a full 24 hour day. You can also use the lid as a serving cup when you use the twist-and-pour feature. This lets you pour out liquids and not have to remove the stopper.
Pros:
Large enough to hold more coffee than you need (probably)
Works with both cold and hot drinks
It comes with a nice and sturdy handle
Cons:
Users report the handle makes a clanking noise
The seal on the cap can create a condensation that drips when you unscrew it
---
The 12-ounce Zojirushi Travel Mug features vacuum insulation that will keep your beverages cold or hot for hours. Tightly fitted, every flip lid gives you incredible heat retention and a safety lock to stop it from opening accidentally. This sanitary and durable mug comes with a stainless-steel interior and a non-stick coating to make cleaning easy.
Unlike other travel mugs, the Zojirushi gives more heat retention thanks to its tight-fitting lid – you can store it in your purse without worrying about spillage. A vacuum is created when air is removed from between two layers of thin stainless steel. Without the air, the temperature cannot change allowing your beverages to stay cold or hot for hours at a time.
The Zojirushi Travel Mug also features a wide mouth to accommodate a full-sized ice cube, and it is easy to clean with a stopper that you can disassemble.
Pros:
This thermos does not leak, so you can put it your purse without worrying
It keeps drinks really hot
It is easy to clean and dishwasher safe
Cons:
It only holds 16 ounces
This thermos is on the more expensive side
---
Best Thermos to Keep Food Hot or Cold
My pick for best container to keep food hot is the Ember Temperature Control Travel Mug.
Featuring a two-hour battery life, the 12-ounce travel mug can be controlled with an app. It can be hand-washed, comes with a leak-proof lid, and runs for two hours off a single charge.