Picking the best Yanagiba – that is, the best sushi knife and sashimi knife – boil down to quality and how well it meets your needs. Premium fish and a premium blade translate into a precise, beautiful slice of fillet that melts in your mouth for an experience you won't forget
Choosing the right sushi knife is essential to that experience. Today I'll walk you through picking out the best sushi or sashimi knife.
Let's cut to the chase.
Top Sushi Knives in the Roundup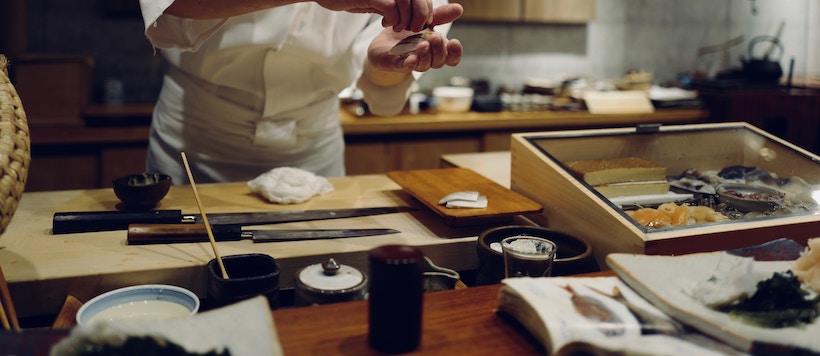 The Sushi Sashimi Knife: The Yanagi Blade
When it comes to sushi, you can, of course, always try to use your 10" Chef's knife. For truly premium sushi though, you want to chase down the tight Yanagi blade.
Meet The Yanagiba
Let me start out saying: there's no real difference in the knife used for slicing sashimi and the knife for sushi. Knife manufacturers traditionally haven't drawn that distinction.
The sushi knife – Yanagiba – is a knife specifically designed and made for slicing fish in an efficient and effortless way.
It's not about making the sushi sashimi chef's life easier. The goal is to facilitate the best possible slice of raw fish fillet with the most natural taste and presentation.
The result is the Yanagiba:
Why is it Called The Willow Blade Knife?
The Yanagiba knife earned its name by being close in form to the willow leaf. It's slender for its shorter width but still shares the general profile of a 10" blade. This form allows the sushi chef to make a fillet cut drawing in a single stroke.
That single stroke is an important slicing technique used by sushi sashimi Chefs in Japan (and everywhere). The resulting slice allows the natural fish oil to coat a clean, pristine cut of fish.
No serration. No roughness. No over-handling of the freshly sliced fillet.
That results in the natural glisten on top of premium sashimi.
Though it is sharper by design than most other knives, you should limit your cuts to fresh fish. Don't grab your Yanagiba for general purpose vegetable chopping and slicing.
Yanagibas are Razor Sharp
The Yanagiba is made to be as sharp as possible.
It is designed to slice using only the knife's weight, allowing the Chef to pull the blade almost effortlessly through the fish. And, yes, you should put through the fish, as in this video:
The Yanagiba has only one bevel – that's the angle on the blade face that ends on the sharp edge, the Shinogi. One bevel blade allows for even sharpening with the knife's underside, the Urasuki, completely flat.
Sushi Knives are Designed To Last
Most (if not all) sushi sashimi knives coming from Japan are designed to back the one-slice technique.
A high-quality sushi sashimi knife is meant to be used every hour of every day for the next ten to fifteen years. There are in-fact, grades for sushi sashimi knives based on their quality. For us non-professionals who usually sushi and sashimi at home, the lowest grade called the Ume should be enough to last a lifetime.
Typically, its metal is high carbon steel wrapped in a softer steel, with its cutting edge exposing its harder core. This wrapping enables the knife to bend while still maintaining durability.
When delivered, Yanagiba knives are typically unsharpened. Knifemakers leave the sharpening to the masters of knife users, the sashimi chefs. It's also a precaution – knives can get compromised bouncing around in transit during delivery.
Here in the US, the Yanagiba knives are often sold sharpened. That's just the reality of the US market where buyers prefer them ready to go.
Yanagiba from Japan are often made by hand with steel purposely chosen for its purity and strength. They are heated, hammered, and repeatedly cooled to produce these beautiful and durable tools. It's a craft that has been passed on from generations.
The price point of these Yanagiba knives reflects the skill and work that goes into the blade.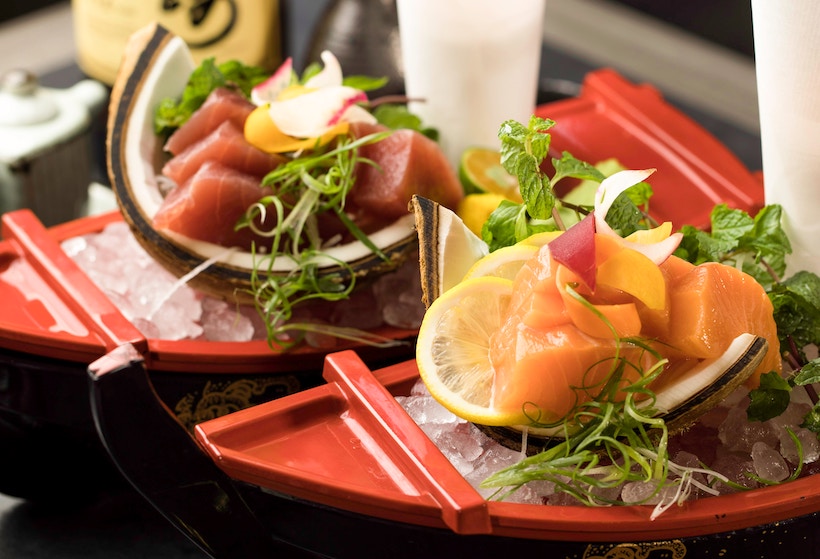 Yanagiba Questions & Answers
Is there a significant difference in the quality of my sushi and sashimi if I were to purchase higher quality sushi and sashimi knife?
To be practical: for the home chef, we probably don't need the top tier knives used by professional sushi and sashimi chefs. The quality of our sushi will not be significantly better than using the highest-quality blade.
The highest tier sushi knives are meant for those who use the tool daily: think churning out fillets all day. We can instead aspire for an Ume steel knife that will still be passed down to our children.
Can the sushi knife be used for other protein and produce?
A sashimi knife can cut and slice just like any other knife. You'll, of course, notice a certain discomfort when you use the Yanagiba for cutting through harder produce such as potatoes. (You're going to be better off using a Chef's knife with a broader blade.)
All in all, the sushi and sashimi knife is a specialized tool and is best used for its purpose. Leave the general-purpose cutting to your Chef's knife.
Are there other Japanese kitchen knives beyond the Yanagiba?
Just as there is a specialized knife for sushi and sashimi, the Japanese have other knife categories for specific cooking needs.
There's the Japanese Deba, known as the Japanese workhorse of knives for its versatility of use and efficiency in breaking down large fish like a huge tuna or cutting down beef sides.
For another example, the Usuba is much like the Chinese Chef's Knife (or cleaver) used mostly for vegetables.
Roundup of 6 Top Yanagiba Knives
The Paudin 8-inch Sushi Knife is a popular blade. It's ultra-sharp, has good looks, and outstanding balance. It doesn't quite follow the form of a traditional Yanagiba, and leans more towards a general-purpose blade. It's constructed with German sourced stainless steel.
The Paudin 8-Inch knife is an excellent value for a knife featuring a Rockwell Hardness of 58 (where 60 is pretty remarkable). Still, some users have complained about the blade chipping and snapping in two. While a slender blade like a Yanagiba requires care to handle, a high-quality blade should never snap.
Expect every knife you buy to require sharpening... eventually. (That's to be expected.) Sharpness and sturdiness come with how you use the knife with care and how often you use it. It shouldn't melt before your eyes when you do sharpen it though.
Pros:
Sharp edge and looks
Great value for the money
Cons:
Not a traditional Yanagiba profile
Can't replace a general-purpose Chef's knife
---
The Tojiro DP Sujihiki is a knife that genuinely is Yanagiba in form and material at a pretty reasonable value. It's got a blade point that aligns close to the top of the tapering knife.
This 10.5-inch knife is very sharp: backed up by Cobalt alloy steel core, which is considered an equivalent of a well respected VG-10. That means this steel is rigorously heated under a strict treatment schedule at a specific temperature and an ultra-specific cooling time limit.
It's got a very high Rockwell Hardness of about 60. It's not too light and not too heavy on the hand, and features a single bevel and a thick spine. It's hard to go wrong with this blade and is certainly worth a look.
Pros:
Quality VG-10 Core level durability
Very Reasonably Priced
Proper weight & 10.5-inch Length
Cons:
Some users found it a bit thicker in profile than ideal
---
The Yehua Pro 8 is more of an imitation of a real sushi or sashimi knife. The form is closer to an 8" Chef's knife with a broader blade. Made of German stainless steel with medium Rockwell Hardness of 54-56, it appears like a stamped knife designed to look like the Damascus steel pattern on some Yanagibas.
Many users appreciate its sharpness and looks. However, some users had issues with the core quality. Some folks found they had to sharpen it quickly and it was a bit hard to hold an edge.
What can't be denied: it's low in price compared to some other options.
Cons:
Not a true Yanagiba
Appears to need more frequent sharpening than other knives on this list
---
The DALSTRONG Phantom Series Yanagiba appears like a typical lower-cost sushi knife. However, many chefs with years of experience appreciate this knife – though not necessarily to prepare sushi and sashimi.
The DALSTRONG 9.5 inch emulates Yanagiba in its slender form. It features a blade with two bevels of 13° and 15° tapered to the edge. It features full tang construction from hilt to the point, which is the strongest knife construction. Users had mixed experiences with the AUS8 high carbon steel blade; some claim to have chipped the blade rather easily
Still, this lightweight knife is making some waves in the professional kitchen. It might not be the most authentic sashimi knife on the list, but it's certainly a great value and worth a look.
For someone who's doing sushi and sashimi at home casually, this may be worth a look.
Pros:
Very affordable sushi knife
Sharp and functional
Cons:
Handle may be a bit big
Not 100% faithful to traditional Yanagiba
---
The Yoshihiro Shiroko 10.5 inch knife is a Yanagiba made from high carbon steel classified as white steel #2. This knife prides itself as handcrafted in Japan forged together to be named Kasumi. It has a clear delineation of the blade typical of handcrafted knives showing the core blade edge, Shinogi.
With this quality, you won't be surprised to learn the Yoshihiro blade can boast a Rockwell Hardness of 62 to 63. 62+ is an extremely high hardness, but note that some knife dealers start to fear brittle blades at higher hardness. It's no wonder some users complain the blade can chip easily. At a higher price point than others on the list, it would be a massive disappointment if you experienced a chip on the blade.
The facts: a good Yanagiba requires a lot of care, especially when it comes to usage and handling. Really, it is most at home slicing through a tender fillet, not as a general-purpose all-round knife.
The Yoshihiro Shiroko is a beautiful Yanagi knife worth its price. It's a beautiful, quality, handmade tool. If you're very serious about your home sushi put your eyes on this knife.
Pros:
A high-quality Yanagiba from Japan
Handcrafted
Very high Rockwell Hardness of 62-63
Cons:
Can chip easily If improperly used
More expensive than other options in this roundup
---
The Mercer Yanagi 12-inch knife cuts with a very sharp edge. It works well as a Yanagiba following the profile meant to prepare sushi and sashimi. It has a single edge bevel tapering down to its cutting end.
The constant problem users hit with this model is with its handle. It just seems unfinished with some instances of splintering and loosening of the tang itself. This knife may yet be too light and too flimsy for more advanced users. However, for this price point, it is a very fair price.
It's worth a look for a beginner's sushi & sashimi knife.
Pros:
Very affordably priced
Matches traditional Yanagiba profile
Extremely sharp edge
Cons:
Some users find the handle a bit unfinished
May be too thin and light for an advanced user
---
My Pick for Best Sushi Knife
Of the six knives on the list, I know there's one that can find a home in your kitchen. The best sushi knife or best sashimi knife for you is going to come down to what tradeoffs you want to make.
If you have a full budget, my pick for the best sushi knife is the Yoshihiro Shiroko 10.5" Yanagiba. Extremely hard coming in at a Rockwell Hardness of 62-63, it holds the sharpest edge and will help you serve top tier sushi and sashimi. Of course, it's more expensive than other options and improperly used may chip.
My best sashimi knife pick from a value for money perspective is the Tojiro DP Sujiki 10.5-inch. Japanese artisans in the Yanagiba tradition also make the Tojiro, and it too features a very sharp blade and a very decent hardness. You can't go wrong with either, but if you're newer to home sushi check out the Tojiro.