In a hurry? My value pick for best santoku knife is the Wüsthof WU4182 Santoku Knife. My pick for best overall santoku is the Shun Classic 7-inch Hollow Ground Santoku.
The Santoku knife is a general-purpose kitchen knife inspired by the ancient Japanese samurai sword. The design isn't traditional; it came about in the mid-1940s when Japan discovered the classic Western Chef's knife and adapted it for Japanese styles.
The name "Santoku" means "three uses or virtues," and usually refers to the knife's ability to slice, dice, and chop. Smaller than an average Chef's knife, Santoku knives are meant to be light yet durable, able to cut through even the toughest of meat or vegetables.
Today I'll take you through 8 popular Santoku knives and help you pick the best santoku for your kitchen. Let's cut to it!
Top Santoku Knives Reviewed
What to Look for When Choosing a Santoku Knife
Santoku knives are generally small when compared to a Western Chef's knife, typically ranging from 5 to 8 inches long. The blade and handle are equal in length and weight to give a sense of balance.
The cutting edge is exceptionally sharp, usually made from a denser metal than Western knives. The handle is made to be comfortable in grip and allow space for your knuckles during common cutting motions.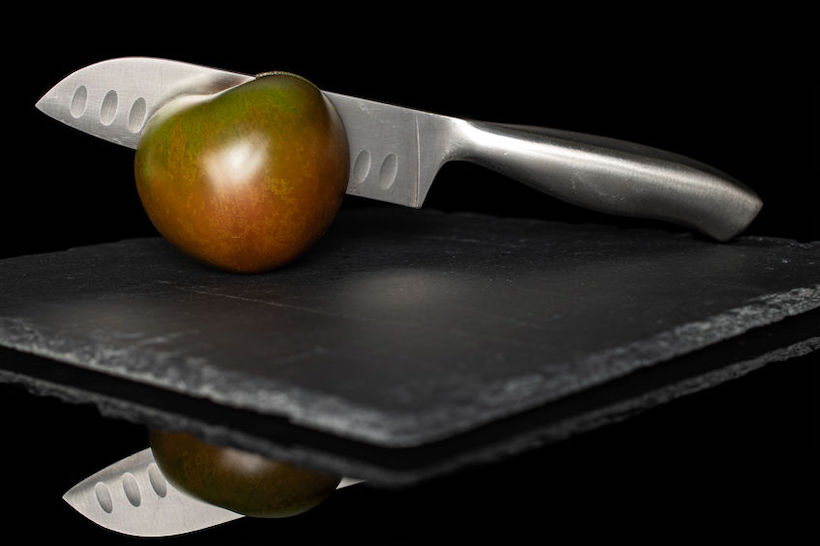 Features of Santoku Knives
Blade Shape and Features
The Santoku blade is shaped like a sheep's foot, which means it lacks the sharp tip that most knives have – the tip and edge are in line. The lack of sharp point reduces the risks of accidentally stabbing or poking something, but also means it's better at chopping motions than rocking.
Sheep's foot blades have a straight blade with the spine curving slightly into the false point. Traditionally, santoku knives have a chisel-tip, which means one side of the blade is sharpened. The blade is thin and wide, designed for clean up-and-down cutting motion.
Santoku Blade Material
Santoku knives blades are thinner than other knives because the metal used is heavier. Stainless steel is usually used to forge the durable blade, as well as (sometimes) ceramic or (more often) high carbon steel.
Many Santoku knives are made of a combination of these materials to give the blade the ultimate advantage. High carbon steel is especially popular because it is traditionally used for santoku and other Japanese knives. Although they are not as resistant to corrosion as regular stainless steel, high-carbon steel blades maintain their sharpness for a very long time.
Santoku Handle
There is usually no bolster between the blade and the handle on a Santoku knife, and handles are traditionally made of wood.
The most common wood is pakkawood. Pakkawood is a crafted material made of wood and plastic resin mixed. This combination allows the handle to be waterproof, while still looking and feeling like real wood.
Size
Santoku knives are shorter than the average Chef's knife, running from 5 to 8 inches. They are very light, which makes them ideal for quick chopping motions. The weight is very balanced throughout, giving the Santoku knife a delicate feel.
What is a Santoku Knife Used For?
The Santoku knife is multi-purpose, so you'll find a great many uses for it. Whether it be vegetables, meat, fish, or fruit, a santoku knife can chop any of these things – especially if the goal is to create thin, precise slices.
The santoku knife was made as an alternative to the nakiri knife, a traditional vegetable cleaver. The purpose of santoku knives is to streamline food preparation in combination with the nakiri.
The wide blade allows for scooping chopped food quickly. The blade has a very subtle oval indentation which allows for a tiny bit of space between the food and the blade. So, there is less chance of food sticking to the blade.
What's the Difference Between a Santoku Knife & Chef's Knife?
Santoku knives are quite similar to their Western counterpart, the Chef's knife. Both the santoku knife and the Western Chef's knife are general-use knives.
A big difference is in how each knife is designed. Chef's knives have a sharp point (usually called a spear point), which allows users to cut with a rocking or sliding motion (see the above video). Santoku knives have a straighter edge and a sheep's foot tip, so it must be used to chop in an up and down motion.
Although these two knives are multi-purpose, each knife excels at certain tasks.
For example, santoku knives are specialized to make extremely thin slices and make food prep a streamlined experience. Chef's knives, on the other hand, are used for more complex cutting, especially those requiring rocking movements of the blade. Both can be used to cut meat, vegetables, fruit... but neither is recommended for chopping large portions of meat.
Chef's knives have a sharp point, which may be good or bad depending on the context. Although the sharp point can make it easier to stab through tough meat, it can sometimes get in the way of smooth movements. Santoku knives have a chisel tip, which means the point is essentially fake. This way, a curved blade and spear tip do not interrupt smooth, quick movements of the knife.
The main physical difference though is the size; santoku knives are much smaller and lighter and sport a thinner blade. Personally, I find this useful for people with smaller hands or those who are apprehensive of handling a big, intimidating knife. The lighter weight can prevent hand fatigue from chopping a lot of vegetables or fruit for a week's worth of meal prep.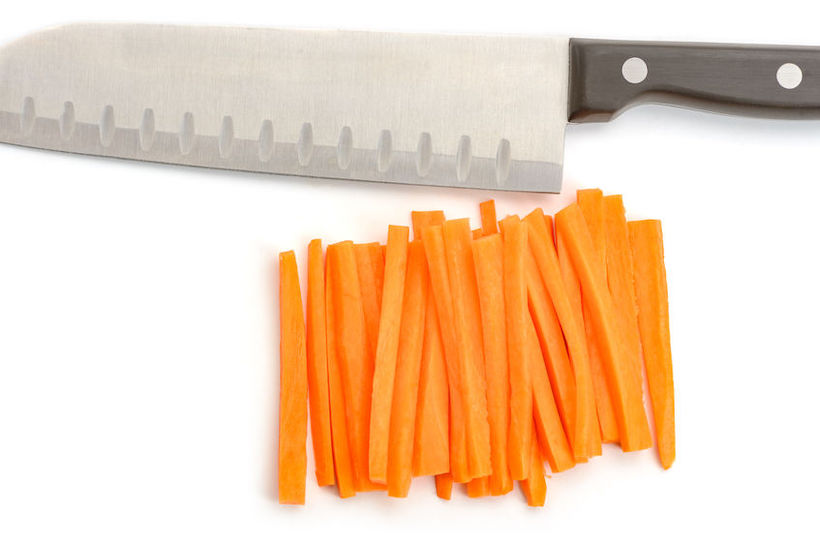 How to Choose the Best Santoku Knife for You
Some things to consider when choosing the best santoku knife for you is the construction of the knife and the materials of the blade.
Santoku knives come in different tang types:
Full tang knives are the strongest as they have a full piece metal, half of which is between two pieces of the handle.
Half or partial tang knives where half or so of the handle holds a part of the metal, but it doesn't extend to the very end.
The type of steel can make every santoku knife a different experience. High carbon is a smart, durable material, but it is susceptible to corrosion. Other types of metal can be weaker and unable to be whittle down to the thin, sharp edge needed on a santoku. Many people prefer a combination of metals to mix the benefits that each material contributes.
Price is always an important consideration. Santoku knives have a wide price range, depending on the quality and the purpose. A professional chef well-versed in various knives may prefer a high-end knife that is more on the expensive side. On the other hand, if you're just a casual cooking aficionado, a more affordable option is for you.
Things to Keep in Mind When Buying a Santoku Knife
High carbon stainless steel knives require more maintenance – or at least careful cleaning – than other materials. If you consider carbon steel, be careful that you don't leave it in wet conditions for too long. Always dry the blade and handle after handwashing it to avoid rusting.
Reviews of Eight Santoku Knives
The Wüsthof WU4182 Santoku Knife comes in two sizes, 5-inch or 7-inch. I personally quite like the technology behind this knife's blade. Overall, it's my best Santoku budget pick.
In addition to being made of high carbon stainless steel, it is also 20% sharper than other santoku knives due to the PEtec Precision Edge Tech. The knife is well-balanced and features a full tang and bolster, and it stabilizes the hand with the finger guard.
Pros:
Includes a finger guard for safety
Go-to knife for daily usage
Glides through tough food with ease
Cons:
German steel is not the same as traditional Japanese made steel, which may be important for some users
---
The Shun Classic 7-inch Hollow ground Santoku knife is one of the most renowned santoku knives on the market (and not just because it is more expensive than many others). Its 7-inch length is a bit longer than average, but its pakkawood handle fits smoothly in any sized hand. Pakkawood is a finely crafted hardwood made to give the user control over the knife while having a comfortable grip.
The blade is made of VG MAS steel, a new mixture of carbon, cobalt, vanadium, chromium, tungsten – something that can't be said about the other knives in this list. It's dubbed the super steel core because of the 16 layers of carbon steel condensed into a thin, Damascus blade that is strong and resists corrosion. (Also, see our roundup of best Damascus Steel Chef Knives.)
This blade is by far my favorite due to its innovative style and its resistance to water. Many santoku knives become rusty if left in water too long, but the Shun Santoku knife holds up better if you forget a few times. Overall, if you have a larger budget, it's my top Santoku pick.
Pros:
Makes the food prep process more efficient
Lasts long without rusting or staining
A bit longer than the average santoku knife which I prefer for general purpose cutting
Cons:
A bit more expensive than other santoku knives but an excellent value
The blade does not feel the same as a traditional santoku made only out of carbon steel
---
The Calphalon 2023113 Santoku Knife is an affordable knife made of fully forged high-carbon German steel. The blade remains stain-free and can withstand multiple usages over a long period.
Something I enjoy about this knife is the divots lining the blade, which prevents food from sticking to it by introducing air pockets when cutting. The handle is Polynesian and thinner than most knives. It is quite small with its 5-inch length, and extremely light. The weight and balance means you can cut longer without fatigue.
Pros:
Handle is quite thin and fits nicely into the hand
Includes divots (or scallops) on blade
More affordable price
Cons:
May be prone to rusting easily due to high-carbon blade
---
The ZWILLING J.A. Henckels TWIN Santoku knife is a 7-inch, high-carbon stainless steel blade that's been ice-hardened. I find this to be an innovative – and successful – way of making a blade retain its sharpness for a longer time. This knife has a hollow, scalloped edge which prevents food from sticking to the blade by creating air pockets.
The triple-rivet handle is ergonomic, so it's designed for optimal efficiency and balance. It is also a full tang design, meaning the blade goes across the full length of the knife, with the handle encasing it. Full tang construction is the strongest form of knife construction.
Pros:
Easy to handle
High-quality blade that is lighter than most knives yet just as strong
Very resilient, can last a long time
Cons:
The blade runs a bit wider than other knives
The handle feels a little cumbersome to some users due to its larger size
---
The Tojiro DP Santoku knife is another stain-resistant knife. What I like about this knife is its inclusiveness; the grind on the blade edge allows it to be used right-handed or left-handed. The blade construction is full tang, which increases the strength of the knife because the metal runs from tip to handle.
The Tojiro santoku knife comes at a medium length of 6.7 inches, a good balance for a variety of hand sizes and grips. The even edged blade is combined with a 15-20 degree angle, which means it is quite sharp.
Pros:
Elegant Damascus construction for an attractive blade
Excellent balance and ease in using the knife
Very sharp and well-crafted for a reasonable price
Cons:
It may rust due to the blade material
Has some bumps on the sides of the handle that give the grip an unusual feel to some owners
---
The Miyabi 34074-143 santoku knife comes in two options for length, 5.5 inches or 7 inches. The blade is an authentic SG2 micro carbide powder steel. SG2 is an extremely fine type of stainless steel that makes the blade harder while resisting rust and scratches.
The Miyabi is made with the Honbazuke process, a traditional Japanese method of producing knives in a complex three-step procedure. There is great care and precision in sharpening the knife, as well as honing it by hand. Honbazuke also allows for a razor-sharp edge that holds a very sharp 9.5 to 12 degrees.
Pros:
Authentic to traditional Japanese knife making methods
Quite exquisite in its construction
Dark wooden handle is sleek and comfortable
Cons:
A bit more expensive than other options on the list
---
The Shun TDM0727 Premier Santoku knife sports a 5.5-inch blade with a pakkawood handle that fits in the palm securely. Made in Japan, this knife has a layered Damascus steel blade that has been hammered by hand.
A hand-hammered blade improves the smoothness of cutting food. I get really frustrated having to swipe off foodstuff on my blade, so this knife would be perfect in those situations.
Pros:
The handle is smooth and snug in the hand
Long-lasting and durable
Cons:
Using force could lead to chipping of the blade
---
The Misono UX10 Santoku knife is made of Swedish stain-resistant steel. This type of steel has a long-lasting edge retention and fights rust and corrosion well, but may not be as sharp. What also places the 7-inch Misono UX10 apart from others is its nickel silver bolster, said to improve balance between the handle and the blade.
I enjoy the concept of an asymmetrical blade angle, which this knife has. The face of the blade is essentially a smaller angle than the back. And the sharper the angle, the sharper the blade.
Pros:
Versatile for professional chefs
Cons:
May not live up to expectations of sharpness due to blade material
---
Conclusion: My Pick for the Best Santoku Knife
If you require a well-rounded, flexible knife, any of these choices would be a great choice for your kitchen. Some will be better suited for professional chefs, while others are sufficient for a daily at-home cook who wants to make life simpler.
Personally, my value pick for the best santoku knife is the Wüsthof WU4182 Santoku Knife. It's a good compromise between high-end santoku knives and the more inexpensive brands. For me, it has the benefits of a quality santoku knife – sharpness, precision, light weight – with the advantage of being accessible for anyone to buy.
If you have a larger budget, my pick for the overall best santoku knife is the Shun Classic 7-inch Hollow Ground Santoku. Extremely sharp, impeccably balanced, and with a sticky-food fighting scalloped edge, it will be a powerful workhorse in your kitchen for years to come.