In a hurry? My pick for the best rolling beach cooler is the YETI Tundra Haul Portable Wheeled Cooler.
A day at the beach should be filled with fun: soak up the rays from the sun, and enjoy some cold drinks and good food. The cold drinks and good food part of that equation is the tough part; you'll need an excellent rolling cooler to lug your meals our to the sand and surf.
Choosing the right cooler for the beach isn't the most straightforward task. Our guide and reviews of six top-rated coolers should hopefully make your selection process easier and quicker.
Roundup of the Best Wheeled Coolers for Beach Days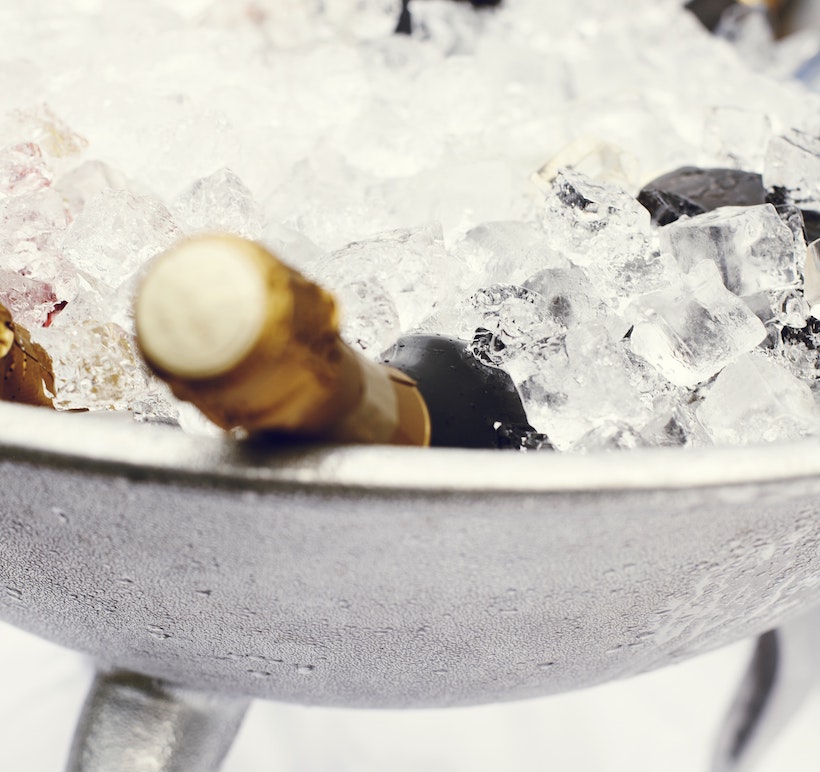 Beach Fun with Rolling Coolers – Everything You Should Know
Choosing the best rolling beach cooler from our reviews is an excellent way to find what you want quickly.
However, before I hop into the reviews, I wanted to present a simple buyer's guide to rolling coolers. Being aware of some critical features might provide you with a clearer idea of what better suits your beach needs.
Benefits of a Rolling Cooler
Imagine this: you're hungry and hot on the beach, but you don't want to splurge for beach food sold there (if there even is any!).
What do you do?
Reach into your cooler and get whatever you want. Boom ? – it's that simple.
A rolling cooler is convenient, first and foremost. It helps you stay adequately hydrated in the hot sun, which is vital in warm, hot, and (likely) humid weather. Also, it's a great way to save money as you're bringing drinks and food from home instead.
Additionally, with a rolling cooler, you can move your refreshments around more comfortably than with a standard, non-wheeled, luggable cooler.
Features to Keep in Mind
Deciding on a cooler boils down to your needs, and the typical size of the crowd you'll be visiting the beach with when you go. However, there are several characteristics to consider as a whole.
Cooler Storage Space
You first should figure out what you're bringing to the beach to know the capacity you need in your cooler. Also, remember that a cooler's capacity isn't always apparent by how it looks on the outside.
If you're packing for several people, invest in a more substantial cooler with greater than a 50-quart capacity. This cooler size can also be useful if you want to pack extra supplies for an extended beach stay.
Of course, if you're packing for only one or two people instead, you may not need as much space and can opt for a smaller capacity cooler. Smaller coolers are usually easier and more lightweight to pull along.
Insulation
Another essential feature of a cooler is proper insulation. When it comes to cold foods and drinks, they must be properly refrigerated – just like with your refrigerator and freezer, proper cooling fights off bacteria growth.
Some rolling coolers opt for advanced insulation methods, using commercial-quality materials to keep things cold for days at a time. Of course, if you don't require days of insulating potential, then you can do fine with a cooler which can handle a single day in the sun.
Often, you can get a sense of a cooler's insulation potential with its stated ice retention time. This can give you a good idea of how long things will remain cold. Or, pair it with one of the best ice packs for coolers, instead.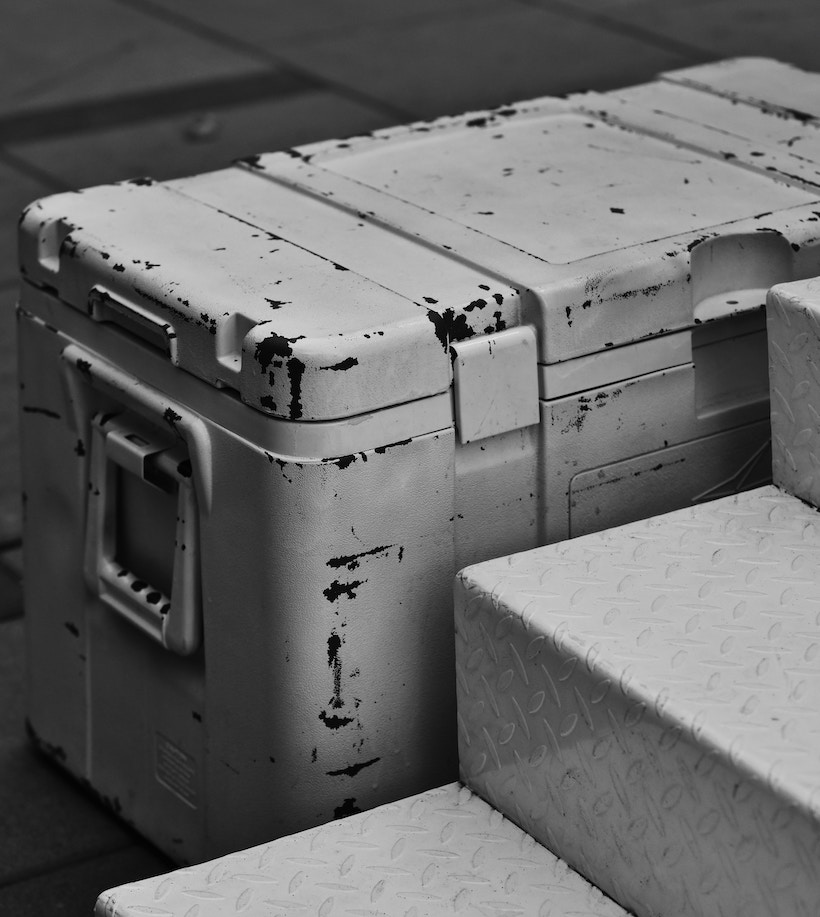 Transportation Features
Since I'm reviewing the best rolling beach coolers, I need to discuss how easy it is to – ahem – roll them.
First, let's start with the wheels. The beach can be a tricky place to navigate, so the wheels should be thick enough to withstand the sand and not sink. Thicker wheels – even the inflatable types – also stay free from punctures.
Usually, two wheels are more than enough to handle the beach, even with loose sand. They typically roll along smoothly – assuming you pick the right size and type.
Another transportation focus is the handle.
Is the handle comfortable so you won't feel fatigued? Good padding helps as well as the ability to change the length with a telescoping feature. Also, a curved handle generally gives you more leverage and maneuverability in the sand.
Durability
Besides the insulation, the best rolling cooler is one that features high-quality construction.
Consider wheels that already have a no-puncture design (for example, many cooler wheel designs use molded plastic instead of inflated). The body of the cooler should have high-density materials that can withstand frequent use and hold its weight capacity.
You might also notice some additional accessories during your search. Some coolers have built-in cup holders, bottle openers, or even extra baskets. Others even feature non-slip feet to keep the cooler in place.
A useful bonus feature is a leak-proof drain plug that keeps your ice water inside when needed.
Best Rolling Cooler for the Beach – Top 6 Reviewed
The YETI Tundra Haul Portable Wheeled Cooler is a more expensive beach cooler that offers exceptionally high-quality construction. Its body is best described as armored, and it stylishly supports its capacity of roughly 55-quarts. If you're familiar with other Tundra coolers, this one is built with similar sturdy reliability – you're bound to get a cooler that lasts a very long time.
Users have mixed feelings about the wheels. To owners, the wheels don't feel as well built as the rest of the cooler. Even so, they are appropriately labeled as "NeverFlat," so they can withstand tough terrain without losing their rolling ability.
Besides the wheels and body of the cooler, the cooler seems easy enough to grip. The handle has a welded aluminum arm for greater durability. It's a curved design as well, which might allow you a more comfortable time towing it to the left or right or over rough ground, such as on sand. The grip feels comfortable enough too. This may be needed, considering the cooler has a hefty weight (regardless of if it's filled or not).
Concerning your drinks and food items, this cooler offers commercial-grade polyurethane foam along the walls and lid, and the walls are pressure-injected to keep everything cold.
The Yeti can keep ice cold for several days. The insulation, along with the outside construction, will maintain those chilly temperatures steadily in various hot weather conditions too.
Pros:
Stays cold well
Comfortable handle grip
Commercial-grade insulation
Cons:
Wheels could be of higher quality
Users report it is heavy even when empty
---
With the MILLIE Heavy Duty Wheeled Cooler, you don't just receive a robust cooler for the beach – you also get a heap of additional accessories to go along with it. You'll have things like a cooler divider, a cup holder, and a wire hanging basket for more storage options. There are also built-in bottle openers on the cooler as well.
As for the cooler itself, it's designed with two thick wheels that measure 7-inches in diameter. Users report the wheels are tough enough to withstand the terrain of the beach while also carrying the substantial weight capacity with little issue. This is critical as the cooler can get heavy at times, especially when filled to capacity.
The handle is handy (yes, pun always intended on ManyEats!) when lugging the cooler around. It's made of nylon and is removable if you don't want to use it. However, owners have mixed feelings on the length, and some would like it to be a little longer. Overall, the cooler seems well-built with rotomolded construction and UV-resistance, so it doesn't fade too quickly in the sun.
When you set the cooler up on solid ground, the rubber feet can help keep it in place. There's a pressure-release button so you can easily and quickly open it up. Your items should stay cold enough as the ice retention lasts up to six days. This cooling duration is thanks to the thick insulation as well as the D-seal that gives an excellent airtight seal. With a 70-quart capacity, you can keep a good quantity of food and drink preserved.
Pros:
Durable shell construction
Users appreciate the sturdy wheels
Long ice retention time
Cons:
Might get heavy, especially near capacity
Some users feel the handle could be longer
---
The Coleman Xtreme Wheeled Cooler is perhaps one of the most affordable options around, and it doesn't sacrifice quality for value. It's a great size for a beach trip with its 50-quart capacity. If you're bringing along drinks, it states that it can hold 84(!) cans. For extra convenience, there are cup holders molded into the lid.
For those of you planning to bring a variety of items, you might have some trouble completely utilizing all of that space. Because of the wheel placement, the inside of the cooler isn't an exact square. So, it might take some effort finding a way to stack everything inside so that you can use the full 50-quarts worth of space.
Once everything is loaded up though, the insulated walls and lids do an adequate job of keeping things cold. The cover itself has a firm seal to trap the cold temperatures inside. Cleaning up melted ice is fast though thanks to the low drain – you can quickly remove water without moving or shaking the cooler much.
When you do drag it along, the wheels seem reliable enough to most owners to handle the beach terrain. This cooler also features a telescoping handle to make moving it easier. However, users found that when the cooler's loaded to capacity, there's a chance the handle can slip back down.
Pros:
Users enjoy how secure the lid is
Telescoping handles with a good length
Low drain for quick cleaning
Cons:
Handle might collapse on its own when the cooler's filled
Owners claim difficulties filling it with items of varying size
---
The Pelican Elite Coolers is straightforward to use. Even filled to its 45-quart capacity, it isn't too hard to lift to put in or take out of the car. Dragging it along behind you is simple also, and owners report the two all-terrain wheels work exceptionally well in loose sand.
For safety purposes, the feet are non-skid by design. The drain plug also has some leak-resistance, so you don't have to worry about losing all your ice water. Also, the cooler is made with a reinforced lockable clasp to reduce the chance of the lid springing open on its own (or after you pull the cooler over a rough patch).
As for the seal, owners had mixed experiences with getting it tight. A loose seal can impact how long everything remains cold inside the cooler, and it may reduce the ice retention length. Users could work around this by prepping the cooler first by cooling it down before adding food and drink.
In any event, this cooler can keep things cold just long enough to enjoy a day or night at the beach, although owners warn against relying on it for extended periods such as days at a time. It has great depth if you want to stack more items or fit tall drinks.
Pros:
Easy-to-operate latches
Lifts and pulls without much difficulty
All-terrain wheels are heavy-duty
Cons:
Users report the ice retention isn't the highest
Might not have a tight seal depending on approach
---
The RovR Wheeled Camping Roller Cooler has a sizeable 60-quart capacity. With this cooler, the specific items of food or drink you can fit vary based on whether you install the deep-freeze dry bin. You can diversify what you decide to lug to the beach with the built-in dividers, splitting categories such as bread, fruits, and meat products. There are two compartments within the bin.
As the RovR has thick foam insulation, it does well – keeping everything cold for days on end. The airtight gasket seal provides even more ice retention than some of the cheaper models in the roundup.
Using the cooler is relatively straightforward. The dual handle is comfortable and wide enough to provide a simple method of pulling. Its high-performance wheels are puncture-resistant and offer a smooth ride through the sand. However, the cooler is heavy – especially when filled – so you might have issues getting it loaded or unloaded in the car.
Also, take care when using the drain plug. There's a chance it can fall off or even develop a leak. Besides that, the cooler has extremely sturdy shell construction to help keep your items cold and allow the cooler to withstand frequent beach use.
Pros:
Tough cooler construction
Sturdy wheels for smooth rolling
Wide handles can make carrying easier
Cons:
May have problems with drain plug
Some users have issues with the weight of the cooler when filled
---
The Igloo Trailmate Journey is a basic cooler for the beach that keeps your drinks cold long enough for you to enjoy a couple of days without replacing any ice. It does this by using an ultra-therm body and lid design.
The Igloo is designed to be an all-terrain cooler. There are two oversized wheels, 10 inches in diameter, are designed to handle almost anything. Owners report the wheels perform well even in loose sand.
If there are any movement difficulties, they arise from the size and weight of the cooler. It can come across as awkwardly large to some users, making it tough to transport in some situations. Also, it can be cumbersome when filled, which may throw off how well you can pull it around.
The Igloo features quality handles that extend for a comfortable experience. It also has numerous accessories around such as dual bottle openers, a butler tray to serve drinks and snacks, a food basket, storage pockets, and cup holders.
Pros:
Wheels do well not sinking in the sand
Handle extends well
Quality ice retention
Cons:
Might take up a lot of space
Users report some issues pulling it when full
---
My Pick for Best Wheeled Cooler for the Beach
If you're at the beach, you should enjoy yourself completely. That extends to having a cold drink or some great food right at hand.
With that in mind, in my opinion, the best rolling cooler for the beach is the YETI Tundra Haul Portable Wheeled Cooler.
It features commercial-grade insulation so that you're sure everything will remain cold even in hotter weather conditions. The wheels are designed to withstand punctures, and the construction of the body seems stable to owners for long-term use. The handle is well-made with a curved design for greater mobility. Its 55-quart capacity is perfect for a casual outing to the beach.