In a hurry? My pick for the best ice packs for coolers are the Cooler Shock Hard Packs.
You may have a quality cooler with excellent ice retention – but that's near useless without the right cooling. If you're packing the cooler for a party or a trip and you don't want to deal with the inevitable watery mess of melted ice, consider ice packs instead.
Choosing the best ice pack for coolers is tough because there are so many options out there. Today, I'll help you narrow down your options so you can come to a decision faster.
Let's talk alternatives to ice!
Top Cooler Ice Packs Reviewed
Ice Packs and Coolers – What You Should Know
For any outdoor adventure or event, you're going to want your drinks and food to stay chilled. Some foods last longer than others, but it's crucial to keep many foods at a cold temperature to prevent spoilage.
Ice packs may be an affordable item, but it will still serve your time better to invest in a proper one the first time. We'll highlight some features to look out for so you can find the right pack for your cooler.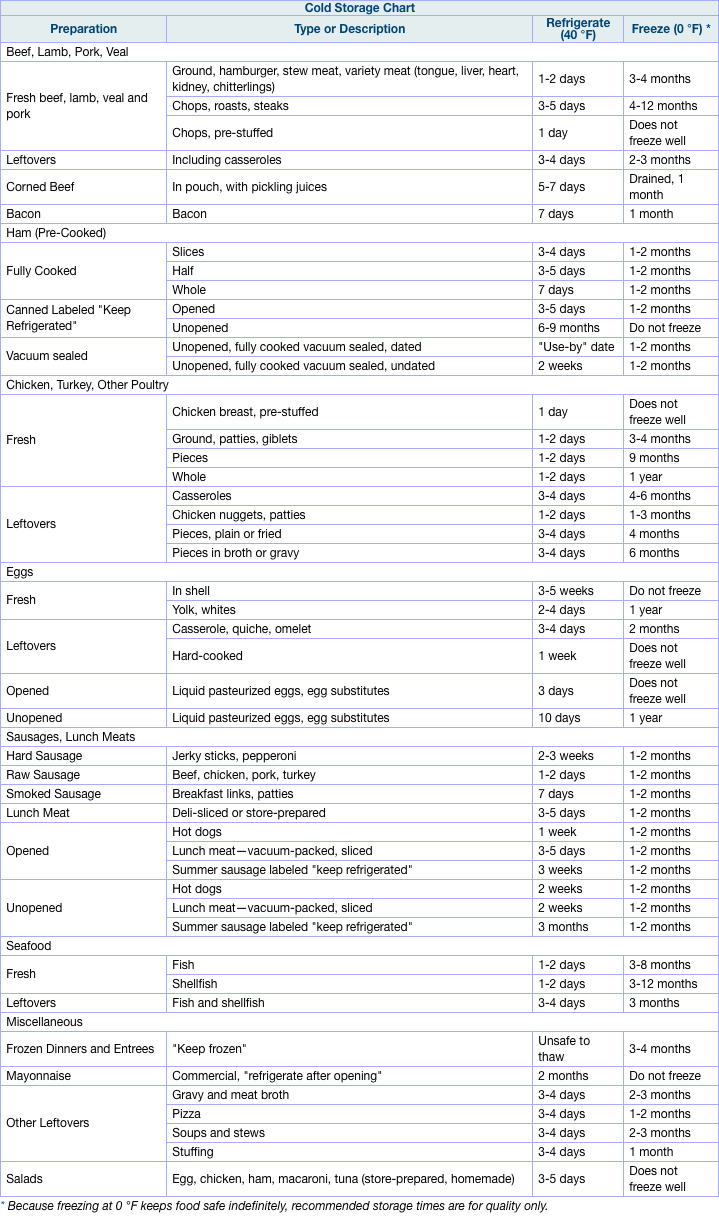 Common foods which need cooling or freezing (USDA)
Why Choose an Ice Pack Over Ice?
You're probably wondering why you should opt for ice packs instead of traditional ice.
Of course, you can always fill your cooler up with bags of ice. I do that at parties sometimes – you can just run to any convenience store and pick up a few bags.
But consider: even with a high ice retention rate, that ice will eventually melt. From there, you've got a bunch of water that needs draining before you can put more ice inside. Worse, some ice will melt (especially if you are in and out of the cooler often), and you'll need to reach through the slush to get your drinks.
With the right ice packs, you can get the same chilling factor in the cooler, but there's no mess behind when they melt. Instead, you pull the packs out and re-freeze them for later.
This saves you from not just having to drain the cooler, but also keeps your drinks and food dry.
Also, of course: ice packs have reusability lacked by traditional ice. Even with a higher upfront cost, over time, you may save money since you don't have to rebuy ice continually.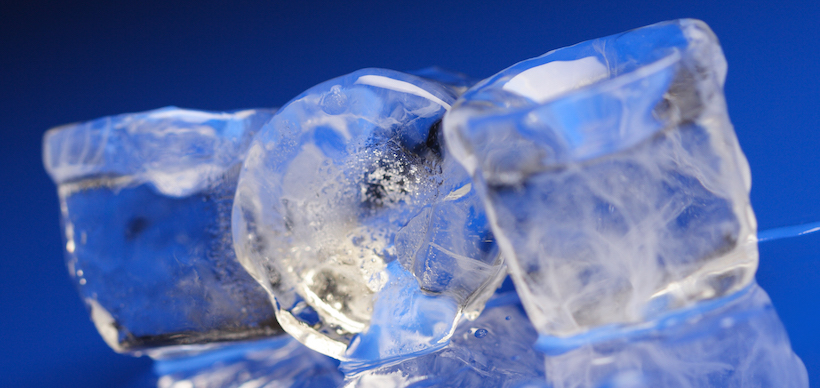 Ice Pack Features to Consider
Although ice packs all serve the same function, they still differ in some of their features: everything from their design to how long they stay cold. I've listed some of the more important features you should consider as you browse various ice packs.
Size
Size should be near the top of priorities you consider when shopping for an ice pack.
Look at the size of the pack all-around (i.e., width, height, and depth). This way, you can compare its dimensions to your cooler, so you know how well the packs will fit once you have other drinks and food inside.
Weight
Understanding the size comes with knowing the weight of the ice packs as well. Depending on how they're made and the substances inside, packs can have wildly different weights for the same general size. Take care that your pack doesn't add too much weight to your cooler, or you may have a difficult time moving the cooler around.
Design
Ice packs generally come in either a soft style or a hard style. Both are capable of chilling your cooler's contents, but harder packs are usually more durable (and puncture-resistant). Even once those ice packs warm-up, they remain secure, considering their more robust outer shell.
With a soft style pack, there isn't as much protection (and even less so when the packs warm). You want to limit the exposure of your soft ice packs around items with sharp edges.
The design of ice packs goes beyond durability, though. With harder ones, you may not always be able to fit them well, depending on your cooler and what's inside. Soft shell ice packs have more flexibility to them, allowing for an easier time slipping them into your cooler.
Cold Duration
Another significant feature is how long the ice pack will remain frozen. This is dependent on a pack's overall design, including the chemical composition of the interior.
Some packs stay cold for a few hours, while some may last for days. You can decide what is best for you based on how long you plan to use the cooler in one sitting as well as your budget and other considerations.
Additional Features
There are some extra features that different ice packs have. Some of them have a "no-sweat" feature. "No-sweat" reduces the amount of condensation build-up, keeping everything inside the cooler dry even when the ice packs begin to thaw out.
Others may have a design that you have to fill with water first before you can use them.
Precautions to Using Ice Packs in Coolers
Perhaps the primary concern you should have when selecting and using ice packs in your cooler is its quality.
Many ice packs claim to be made from safe materials that are also reliable enough to withstand items you place inside the cooler (some of which might have sharp edges). There are, however, ice packs made with gel inside, or ice packs that have an "instant cold" feature. This allows you to activate it by snapping it and shaking it up.
Although soft packs can still work at maintaining a chilled temperature in your cooler, keep in mind the dangers. If they were to puncture, they could release some damaging materials onto your food and drinks.
Best Ice Pack for Coolers – Top 7 Reviewed
The Nordic Ice No-Sweat Reusable Long-Lasting Gel Packs are biodegradable packs with non-toxic properties. Filled with gel, users report they don't puncture too easily. Of course, there is always a chance that a soft pack may begin to leak some of the gel out.
Users were very excited about the performance of these packs – if you use a few of these in your cooler, they might stay frozen for hours or almost a day. Even once they thawed out, the packs still feel slightly cold to the touch.
It's recommended that you slip the pack inside a separate bag considering the packs have a slightly textured surface. This surface can become dirty easily, and users found it can also cause the packs to stick to one another or stick to the contents in your cooler.
The surface is multilayered, though, which cuts back on the condensation. The low-sweat feature is excellent if you have foods that would otherwise be soggy with other packs.
Pros:
Stay frozen for awhile
Feels cool for a while after thawing
Quality no-sweat feature
Cons:
Users report that the packs can stick to each other or foods
Like most soft packs, might leak over time
---
The FlexiFreeze Ice Sheets have a unique design compared to some other ice packs. They are flexible sheets containing dozens of cubes. All of the cubes contain just regular, everyday water. This is a useful safety feature: if the plastic breaks down and leaks, you don't have to worry about any harsh chemicals getting out.
You can cut these sheets down to size, getting the exact length and width that will work better for your needs. Also, the sheets have natural flexibility to them (even when frozen), so they are easy to maneuver inside the cooler. Also, thanks to their flexibility, they fit well in your freezer when not in use: you can stack them.
Getting everything frozen might not be the quickest task, though. Also, users are reporting that the cubes don't all freeze at the same time. So, you probably want to begin the re-freezing process way ahead of schedule if you're going to get the full use out of these sheets. Also, users report they don't last as long as some other options – they will thaw at the same rate as regular ice cubes.
Pros:
Filled with safe old water
Can be cut down to size
Excellent flexibility to better fit in your cooler
Cons:
Plastic could be sturdier according to some users
Users claim cubes don't freeze at the same time
---
The Healthy Packers Ice Pack comes in either a four-pack or eight-pack style so that you can get packs at an affordable price in the quantity you need. They have a hard casing and are filled with a gel that readily freezes so you can use them not too long after sticking them in the freezer.
It's good that they freeze very quickly because users report they don't stay frozen that long. They may not be the best options for extended outings, but for shorter events they are excellent since they feature a thin, lightweight design.
The material seems to be durable enough to reduce puncture and leak risks. Even so, the packs are made with BPA-free plastic and feature non-toxic materials.
The exterior may be prone to building up moisture, though, so you might find the packs can sweat. Condensation can interfere with some foods such as bread, which can get soggy if in contact with the pack.
Pros:
Quick to freeze
Thin design that doesn't take up too much space
Lightweight design
Cons:
May get sweaty
Owners mention the pack doesn't stay frozen long
---
The Cooler Shock Cooler Freeze Packs are easy to freeze, and they can drop to temperatures as low as 18°F (-8°C). They claim to last up to 48 hours, but you may need to use a few of them at once for your cooler to remain chilled.
There may be some issues with the packs chilling everything in the cooler evenly – proper placement is essential. The packs are easy to use for more users too. Once you fill them with water (the packs use water plus a gel) and follow the directions, you can freeze them in no time then start using them.
The Cooler Shocks are made from three layers worth of flexible foil and nylon. The flexibility further helps them fit inside various coolers with many food and drinks inside. However, even with this build, there are some owner worries about longevity – the packs might require replacement before you had planned.
Pros:
Easy to fill and use
Space-saving design
Quick to freeze
Cons:
Users concerned about lack of long-term durability
Might have trouble chilling entire cooler
---
The Cooler Shock Hard Packs may be the best ice pack option especially if you want something more rugged and durable. They are built with impact-resistant materials so that they might hold up better through rougher outdoor activities.
These hard packs don't arrive with anything in them, so you must set them up first. Thankfully, you are provided a funnel to help ease the process of filling the packs up. Once you finish setup, they don't seem to take too long to freeze. Their design also allows you to stack them up to save on space.
Since they're hard, they don't have the flexibility offered by other options. This can make it a bit tougher to fit the packs inside your cooler without taking up needed space. Also, they come across as heavy to some users.
At the same time, their design might allow them to work well in soft-bagged coolers – they can stand up and help those types of coolers keep their shape. Regardless of what cooler type you use it in, these hard ice packs are known to hold their coldness for hours (if not days!) at a time.
Pros:
Rugged design
Remains cold for hours
Users appreciate the simple filling process
Cons:
Users report they are a bit heavy when filled
Doesn't offer any flexibility
---
The YETI ICE Cooler Ice Pack must be frozen completely solid before you can use it, but it does appear to freeze rather fast. This may be thanks to its custom shape that helps quicken the chilling process. When it does get cold, the pack appears to hold its shape well.
At 2 lbs, it's lightweight enough not to add much extra bulk to your cooler. This size may further help it fit inside coolers of various sizes and styles. However, it might also come across as smaller than you expect, so perhaps using more than one can serve you better.
Some users reported that the pack doesn't seem to remain as cold as stated. It reaches cold enough temperatures to chill or even freeze the contents inside your cooler. However, there may be an issue with the pack holding that coldness for longer than a handful of hours. Again, this may be helped by using more than one Yeti pack rather than just a single one.
Pros:
Freezes solid fast
Good size to fit various coolers
Plastic shell holds its shape
Cons:
Seems smaller than expected
Users claim it doesn't remain cold long
---
The Arctic Ice Chillin' Brew Series Ice Pack comes in a rugged casing that maximizes the surface area to provide greater cooling capacity. The surface area will help the pack regulate the temperature inside the cooler better, keeping things at a steadier temperature throughout.
You can purchase the ice pack in a variety of sizes so that you can get one that best fits your particular cooler. However, some user reports mention the pack doesn't stay as cool as expected. They may be best used for short-term outings.
If anything happens to get on the ice pack, it is easy to wipe down and clean. The pack is designed with high-quality seals to fight off leaks. It can even keep its shape well throughout the freezing, thawing, and re-freezing process.
Although the ice packs have excellent durability, users found they do tend to attract condensation. This can cause them to sweat inside the cooler as well as on your food and drinks.
Pros:
Durable construction
Users liked how easily it wipes clean
Regulates temperature inside the cooler well
Cons:
Some users claim it doesn't stay cold as long as advertised
Chance for it to sweat
---
My Pick for Best Ice Pack for Coolers
In my opinion, the best ice packs for coolers are the Cooler Shock Hard Packs.
They have a durable, long-lasting design to withstand frequent freezing and re-freezing. Also, their build is impact-resistant. With their ribbed surface area, they can get colder faster. Also, they can remain frozen for hours – sometimes longer than a day.