Pizza is a fan favorite that just about everyone is happy to eat. An outdoor pizza oven will impress your guests and help keep everyone fed at your amazing get-togethers.
These handy devices are portable and easy to use, which is perfect for low-key meals in the backyard.
You'll find a slew of options from budget-friendly models to high-end ovens. I've narrowed it all down for you to cut out the dirty work. Let's get down to business and discover the best outdoor pizza oven.

Top Outdoor Pizza Ovens Reviewed
What Are the Benefits of Outdoor Pizza Ovens?
Outdoor pizza ovens are a wonderful tool for both pros and newbie cooks alike. Once you get the hang of a homemade pizza, there'll be no turning back.
What benefits do they offer, aside from a delicious slice?
Convenient for parties and family gatherings.
Use them all-year-round.
Cook other dishes, including fish and steak.
Many are compact and easy to move around.
Budget-friendly models are available.
Features of Outdoor Pizza Ovens
Outdoor pizza ovens come in different styles and with various features to help you create that perfect slice of delicious pie.
Your needs and preferences will dictate the best one for you, and you'll want to consider:
Portability and Storage
Outdoor pizza ovens can weigh anywhere from 25 to 80 pounds, although most come in closer tot he bottom. If you're after a gas oven, keep in mind a propane tank will add weight to your overall setup.
This may not matter much if you're only toting your oven to and from the garage. However, if you want to use your outdoor pizza oven for camping, this may be a deciding factor.
Some units have removable legs and chimneys to make transport and storage even more convenient.
To keep your outdoor pizza oven in tiptop shape from season to season, consider buying a weather cover separately. Many companies sell these through their websites.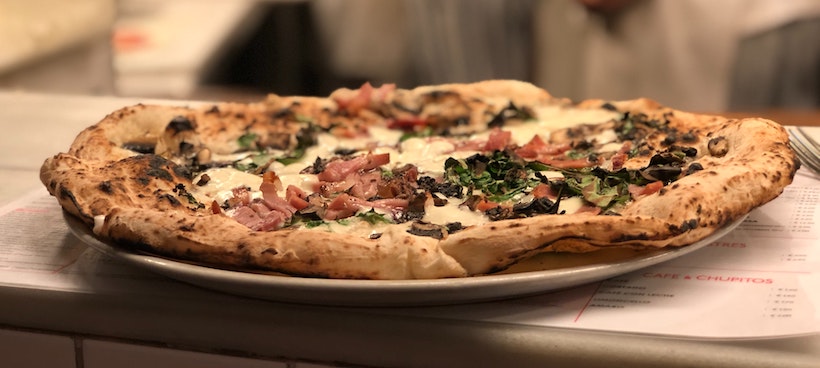 Propane or Wood
One of the primary differences from oven to oven is whether it requires propane or wood. You'll also find some units that offer you both, so if variety is important to you, opt for one of these.
Both types come with advantages:
Propane
If you choose a propane outdoor pizza oven, I recommend an oven that has an easy-start ignition. You'll find options including "matchless" ones that just require you to use a turn dial. The propane tanks come sold separately, but many units include a gas hose for convenience.
Are you new to cooking or pizza ovens? A gas option could be best because it maintains a steady temperature throughout. This means it'll require less monitoring, and you'll have a better chance at each pizza coming out just the way you want.
Propane stoves get a thumbs up when efficiency matters most, but what about taste and authenticity? While you won't necessarily suffer from a poor flavor profile with a gas model, they definitely can't beat the wood-burning variety.
Wood
While a propane oven may offer a consistently good pie, wood-fired pizzas provide the flavor and experience that gas ovens just can't.
This charm might be most appealing for some, but keep in mind that wood ovens require more in the way of setup. You must monitor the pizza throughout the process, as the fire can be prone to increase and decrease in efficiency.
Another pitfall with a wood oven is they're slower to heat up and cool down. There is more trial and error involved in your mission to find the perfect temperature.
We recommend a wood oven type if that quintessential pizza experience is a must for you. If you have a bit of prior experience with cooking pizza, you should be good to go.
Combination Ovens
Some ovens offer both propane and wood options. It truly is the best of both worlds.
With these varieties, you can use both components simultaneously, stabilizing the temperature via the gas and cooking with the wood. This ensures that the heat will remain steady throughout the process, but you won't lose that earthy flavor or smell.
On the downside, you must keep twice the supplies around, which could be an unacceptable inconvenience for some.
Keeping the Heat
No one wants to end up with an overcooked crust and soggy toppings! To avoid such mishaps, you need to ensure that your pizza oven comes with heat-retaining properties.
As mentioned in the section above, most gas types are well-suited for this. Some will feature a dome lid, for example, to help maintain the heat.
Another feature here to keep in mind is what you'll place the pizza on, once inside the oven. Many of my favorite outdoor pizza ovens come with a specialized pizza stone to ensure your crust comes out crispy to perfection. You can also try a deep dish pizza pan.
Pizza Oven Safety Tips
Outdoor cooking comes with risks, and you want to be well-equipped to ensure the safety of everyone around you.
Keep the following tips in mind when operating your outdoor pizza oven:
Use a strong, even surface under the pizza oven.
Wear insulated gloves at all times.
Only use your oven outdoors.
Don't leave your oven unattended while cooking.
Allow the oven to cool completely before moving it.
Make sure the gas is "off" when not in use.
Check that the gas hose doesn't show signs of wear.
Keep your pizza oven shielded from the wind.
Reviews of the Top 5 Outdoor Pizza Ovens
I've scoured the internet in search of the best outdoor pizza oven. Whether you're after a gas oven, wood-burning unit or a combo option for the backyard, I have you covered. 
Here are my top 5 picks:
The top-of-the-line, stainless steel Roccbox Fire & Stone backyard oven is a wonderful option if you're looking for a sleek unit that stands out. Don't let its small size fool you, though, because it packs a punch in more ways than one.
It can reach a temperature of 932 degrees Fahrenheit with a total cooking time of 60 seconds. Other factors that make it convenient include retractable legs for transport and a built-in thermometer.
You also get the choice to cook with either gas or wood. The oven sports a "rolling flame" with each option, meaning there's an even distribution of heat across the stone floor.
There's also an outer silicone skin around the oven to protect you or your loved ones from unfortunate burns.
Pros:
Award-winning product.
Safety jacket.
Sturdy materials and design.
Quick cooking time.
Use it as a wood or gas oven.
Even heating equals perfect crust.
Cons:
Some users complained that there are no extras included.
Steep cost for smaller pizzas (up to 12 inches only).
---
Ooni is a popular brand in the world of outdoor cookware, and the Ooni 3 pizza oven shows why. It's a sleek option and lightweight, coming in at around 27 pounds.
The removable chimney and legs allow you to transport this oven between locations without it taking up too much space.
It's made for use as a wood or gas oven, though for the latter option, you'll need to buy an attachment separately. That quintessential wood-fire taste shouldn't be hard to come by, thanks to the hardwood pellets for burning.
The company includes a stone baking board, which is awesome for achieving a crispy crust, and it should hold up to the high heat over time. It takes ten minutes for this oven to reach a maximum temperature of 932 degrees Fahrenheit.
Pros:
Clever design with removable pieces.
Only weighs 27 pounds.
Take advantage of the gas or wood options.
Baking stone included.
Cons:
Users report having to rotate the pizza regularly throughout the cooking process.
If you buy the cover, you'll have to disassemble the oven to use it.
---
The Pizzacraft Pronto is a well-designed pizza oven that reminds me of camping trips from my childhood. It looks similar to a traditional propane grill with a vented, dome lid up top.
Lugging around a heavy unit won't be a problem since it weighs a mere 26 pounds. Keep in mind that you'll need an additional propane tank, sold separately. However, an adapter and gas hose comes with the device.
It also features a built-in thermometer, and the internal pizza stone helps in achieving a well-cooked crust. Your toppings shouldn't be undercooked or soggy either, thanks to the inner heat shield around that portion.
A built-in, matchless starter makes for an easy and safe "on," where the oven will heat to 700 degrees Fahrenheit in 10 minutes. It should finish your pizza in around half that time.
Pros:
Well-constructed, lightweight design.
Easy and safe to use.
Gas hose and adapter are included.
Low-maintenance.
Cons:
Users report that the included pizza peel might cause slippage, so watch out.
You could be stuck having to rotate your pizza.
---
The second oven from Ooni, the Koda is a gas-only option that'll take around 15 minutes to heat-up and get going. The built-in gas ignition and adjustable heat dial ensure it's not an effortful process.
Once on, the insulated shell up top ensures it stays hot inside. It'll heat to 932 degrees Fahrenheit, which means your backyard pizza should be ready in just a few minutes at maximum.
It features a "flame keeper" component inside that helps distribute heat evenly, so you shouldn't be stuck with any under or overcooked portions.
Pros:
An insulated shell for heat retention.
Flame-keeper feature for a perfect pizza.
Compact and lightweight design.
Built-in ignition and dial make for straightforward use.
Cons:
Some customers complain that turning the pizza requires removing it completely, due to lack of space inside the oven.
Propane tank and propane sold separately.
---
Bertello brings us a multifunctional pizza oven in the Wood Fire and Gas Outdoor Pizza Oven with cooking options including wood, gas, or charcoal. If propane is your go-to choice, keep in mind that you must purchase a gas oven attachment separately.
Do you favor wood or charcoal instead? The opening on the back portion of this product makes it easy to light them both. Like most other options on our list, it heats to around 900 degrees Fahrenheit.
This pizza oven isn't short on extras either, as you'll receive a cordierite stone, pellet tray, and scoop with your purchase.
The unit comes as one piece and weighs around 27 pounds, making it easy to transport and set up in the backyard.
Pros:
Wide variety of cooking options.
The company includes convenient extras.
Simple to ignite.
Wooden handle for easy carrying.
Pizzas can cook in around 1.5 minutes.
Users rave about the company's customer service.
Cons:
Some customers complain that the included instructions are poor.
Other users state that heat can easily escape.
---
Fire It Up: My Pick for Best Oven
All the outdoor pizza ovens on my list have great features to offer and would work well in your backyard. If I had to choose just one favorite, though, it'd be the Roccbox Fire & Stone Outdoor Pizza Oven.
It's an award-winning stainless model on the higher end, but its merits might just make it worth the cost. Your pizza will be ready after just a minute or two, thanks to heat that reaches 932 degrees Fahrenheit.
You won't have to settle for only gas or wood either – it offers both options. There shouldn't be an issue maintaining heat while enjoying that sweet woody taste.