In a hurry? My pick for best deep-dish pizza pan is the Chicago Metallic Professional Non-Stick Deep-Dish Pizza Pan,14.25-Inch.
If you're here, you're probably like me. You're a huge fan of deep-dish pizza, and you love making it at home – either for yourself or family pizza night.
Making a deep-dish pizza at home can be tricky, though. Of course, having the right utensils is essential. That's why you need to find the best deep-dish pizza pan to suit your needs.
Today, I'll guide you through what you need for the perfect deep-dish pizza and also review five of the best pans available on the market.
Deep-Dish Pizza Pans Reviewed Today
Things to Know Before You Choose a Deep-Dish Pizza Pan
In this section, I'll cover what you need to do to ensure you have the best deep-dish pizza pan for your circumstances.
To start at the beginning: never compare your pizzas to professional ones. Restaurants build commercial and specialized stone ovens to make pizza all day, all year.
Your pizza will turn out just fine if you make it with love and passion (well, and all of the other ingredients too). Or try cooking in something of your own such as an outdoor pizza oven.
Deep-dish pizza pans come in various sizes and shapes. What makes the deep-dish pizza pan different from flat pizza pans is its depth. A deep-dish pan, as you know, enables you to add more filling and topping to a pizza.
There are two major types of deep-dish pizzas: Chicago style round pizza, and Detroit style square pizza. The pans come in different materials, including aluminum, tin-plate, non-stick, stainless steel, carbon steel, and cast iron.
Here's what else differentiates the pans:
Ease of Use
To guarantee the whole procedure is a hassle and stress-free process, make sure the pan of choice is easy to maintain and dishwasher safe. This will save you some serious soaking and scrubbing.
Also, consider getting a non-stick pan to avoid the pizza sticking and burning. Non-stick coatings can be controversial, but modern coatings generally don't react until temperatures reach well into the 400s Fahrenheit. Ultimately it's up to you, but non-stick pans are certainly easier to use with pizza.
Thickness
The thickness of a deep-dish pizza pan determines its gauge. If you want a crunchy crust, choose a thin aluminized steel pan so the heat can reach the dough quickly and evenly.
If you prefer a softer chewy crust, then you will need a thicker pan to keep the dough away from the direct heat and leave it moist. A heavy-weight aluminum pan is the best option here.
Surface Style
Another consideration when choosing a deep-dish pizza pan is its surface. Its surface plays a significant role in heat distribution and the flow of air around and within the dough.
Solid Pizza Pans: These are the most common. With no holes or nibs, they do not allow air or heat to flow fast and easily. With the wrong heat setting or dough consistency, they can cause an undercooked or burnt crust.
Nibbed pizza pan: The surface has small bumps that allow airflow beneath the crust. This speeds up the baking time and makes the crust crisp.
Perforated pizza pans: The hardest place for the heat to reach in a pizza is the center. It is usually undercooked because of the inability of heat to reach it at the same rate as the outside. A perforated pizza pan has holes that allow heat the center of the pizza to cook at the same rate as the edges, ensuring even cooking and fast baking.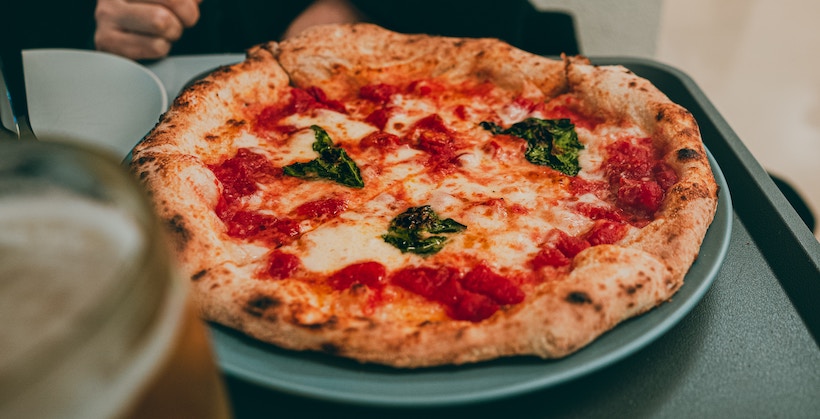 Understanding the Different Deep-Dish Pizza Pan Materials
Pay close attention to the material of the pizza pan. Some materials just do not endure high heat well.
Harsh washing, scrubbing, and scratching can also permanently damage the pan if it is not a suitable material.
Anodized hard-coated pizza pans: Corrosion-resistant, will not flake and will bake quickly because its coat is dark.
Silicone glazed pizza pans: Help the dough slide easily from the pan without sticking or burning. Therefore, it does not require seasoning.
Uncoated pizza pans: These pans require seasoning before first use and will stay longer in the oven because of their light reflective color.
Dark Coated Pizza Pans vs. Light Coated Pizza Pans
Have you ever noticed how your dark clothes act as a heat magnet on a hot day? The same principle applies with steel pans.
It's important to understand the difference between a dark coat pan and a light coat pan to be able to know when to use each one. More colored coats absorb more heat, which results in faster baking and a crispy brown finish perfect for pizza and pies.
Light coats reflect the heat away from the pan, which can slow down the baking process, perfect for cakes and cookies.
Pan Seasoning
If you have an uncoated pizza pan – such as a cast-iron pan – it will require seasoning before you use it for the first time. Seasoning coats the pan with polymerized oil, which makes the dough taste better and prevents dought it from sticking to the pan or burning.
Here's my post on how to season a cast iron pan. In short, here are the steps:
Gently scrub the pan with soapy water and pat it dry.
Spread a thin layer of vegetable oil all over, including the exterior and handle.
Buff the pan so it's no longer greasy. The pan is porous, so some oil will still exist.
Put it inside the previously warmed up, 450-500 degrees Fahrenheit oven, upside down.
Bake it empty for around an hour. Put foil at the bottom of the oven to catch any residual oil drips.
Take it out, remove any further excess oil, and start using it.
Review of Five Top Deep-Dish Pizza Pans
The LloydPans 12-inch pan is round and has a perforated surface to allow the flow of air and heat. I consider these holes in the pan to be a revolution in the world of pans as it solves a universal dilemma: soggy dough bottom.
I get very anxious about the holes, though. They always make me feel as if the dough will fall through them, which might happen if your dough is too "wet."
The hard-anodized coating on this pan doesn't flake or come off. Although resilient, knives and sharp utensils can affect or scratch it
It is made in the USA, with a non-toxic, permanent, and easy release coating free of harmful chemicals. It does not require seasoning before use.
The pan is heat safe, up to 700 degrees Fahrenheit.
Pros:
Non-toxic, so it does not contain PTFE, a substance used in coating non-stick pans that can decompose with high heat (usually over 400 degrees Fahrenheit).
It does not require pre-seasoning. It is always ready for baking.
The holes in the pan will produce a crunchy base at all times.
Cons:
Owners report that sometimes the dough falls through the holes of the pan if not the right consistency.
Dough can stick to the holes and make it hard to get the pizza out.
The sides of the pan are not removable.
---
The Chicago Metallic Mini-Deep-Dish Pizza Pan Set is a set of 4 mini pans with rolled rims and a perforated surface. Suitable for individual topping customization, each pan is 7 inches wide and 1.5 inches deep.
It's a great concept: not everyone loves the same pizza fillings and toppings! It's challenging trying to section a big pan pizza into different toppings. My attempts always fail – inside the oven, the flavors get mixed up.
This pan set is perfect for families and friends who want four different pizza types at the same time. (Like us – somehow, my eldest daughter developed a taste for mushroom and pineapple pizza. No thanks!).
Pros:
The pan's material is heavy-duty carbon steel made to endure high heat.
The perforations throughout the pan, and their small size, prevent the dough from falling through the holes.
Cons:
Some owners consider the pan inconveniently small and prefer to make one large pizza to save time. You might need a second, larger pan in this case.
Users warn that sharp metal utensils easily scratch and ruin the pan coating.
Slower baking time than some other pans because of its light color.
---
The Chicago Metallic Deep Dish Pizza Pan is heavy-duty carbon steel, fashioned for strength and durability. It unlikely for it to form dents or become crooked under high heat.
You can easily remove the cooked pizza from the pan because of the non-stick, silicone-based coating that makes for easy baking and cleaning.
The pizza pan is 14 inches in diameter and 1.5 inches deep. This deep-dish pizza pan is dishwasher safe. However, hand-washing is better to elongate its lifetime.
Pros:
Ideal size for a deep-dish family pizza.
Heavy-duty carbon steel makes it durable and robust.
The surface is silicone-based to make it non-stick and easy to clean.
It is dishwasher friendly, unlike many of other pans.
Cons:
Some users had concerns that the silicone coating is not healthy as it might cause harmful chemical reactions when heated. (However, silicone is generally considered to be safer than some other coatings)
Users report that sharp utensils easily scratch the pan. Remove the pizza from the pan with a non-metallic tool before cutting it.
---
This LloydPans Kitchenware pan is a rectangular shape, perfect for a Detroit-style pizza.
There is something about quadrilateral-shaped pans that you either love or hate. This pan is 10 by 14 inches, so it is excellent for a family feast, and is heat safe up to 700 degrees Fahrenheit.
We like that the hard-anodized material of the pan has an exclusive Dura-Kote finish. This is a permanent, non-toxic, and stick-resistant coating that eliminates the need for any seasoning.
Pros:
It is hard anodized, so it is non-stick and does not release harmful chemicals when heated.
It does not require seasoning before use.
Fast baking time because of the dark coating.
Easy to use and clean.
Cons:
Users claim that metal utensils can easily scratch it.
Users also complained about the minimal weight of the pan. Lightweight pans rarely endure high heat and can quickly become crooked or dented.
---
The Nordic Ware Commercial pizza pan's cooking surface is made purely of aluminum, making it rust-resistant.
Aluminum also has superior heat transfer abilities, second only to copper in heat conductivity. It is always a healthy and safe option when choosing general cookware, as it doesn't react harmfully with heat.
Hand washing is best – avoid using harsh sponges and scrubs, which can cause tiny scratches that will shorten the pan's lifetime.
The pan is 15 inches in diameter, which means it can make a pizza large enough for up to 3 people.
Pros:
The pure nature of aluminum makes it a healthy option to use inside the oven – it will not react harmfully with heat.
Aluminum also evenly heats all parts of the dough. This helps to prevent the sides of the pizza being much crisper than the center.
Cons:
The pan is not dishwasher friendly. Gently hand wash it instead.
Because the sides are shallower than a traditional deep-dish pizza dish, the amount of toppings is limited. It is more suitable for flatbread or Neapolitan style pizza.
Users report the bottom of the pan develops dark stains after the first use.
---
Final Verdict: The Best Deep-Dish Pizza Pan
When selecting the best deep-dish pizza pan, my choice is always the ones that save time, are durable, and are easy to clean.
From our selection today, the Chicago Metallic Professional Non-Stick Deep-Dish Pizza Pan,14.25-Inch, would be my choice for the best deep-dish pizza pan.
It eliminates the need for greasing because of its non-stick coating, which makes removal a cinch.
The pan is wide and deep enough to create the perfect deep-dish pizza. Its construction, from heavy-duty metal, makes it durable and robust enough to last a lifetime. 
It's also dishwasher safe so you there's no extra attention to cleaning – instead, have yourself some 'me' time to digest your pizza!