In a rush? My favorite ice cream storage container is the Belinlen 40 Count (16 oz) Frozen Dessert Container.
The best thing about ice cream weather, apart from the sunshine, is delicious homemade ice cream!
You get the best of both worlds when it's homemade, with your choice of amazing flavors and full control over the process. You also get natural ingredients and healthy options to suit everyone.
Of course, when you've made your favorite ice cream, you need somewhere to store it that will keep it safe. I have reviewed the best ice cream containers to give you a heads up on the ones you should be buying and why.
The best ice cream containers are:
What To Look For in an Ice Cream Container
When making homemade ice cream, you need to have the right container to store it – you can't possibly eat it all in one go (that's not a dare!). A suitable container will keep it fresh and protect your ice cream from freezer burn.
What Shape Is Best?
Ice cream containers come in all shapes and sizes, but the best shape for your ice cream container is usually long and narrow. This will freeze the ice cream faster and is easy to scoop from with no waste.
A long and narrow container will also take up less space in your freezer – and you can stack them on top of each other. This is great when you have different flavors to choose.
How Much Ice Cream Does It Hold?
The capacity of your ice cream container is important. You don't want to feel short-changed with only a little bit of ice cream in your container after you need to discard most of a batch. Also, some containers have thick walls for insulation. This is great but takes up far too much room that could be used for more ice cream.
You should choose if you want one large ice cream container for your ice cream or lots of smaller containers. This will depend on how much you want to eat at any one time and how much space you have in your freezer. Some containers can hold as much as 1.5 quarts of ice cream.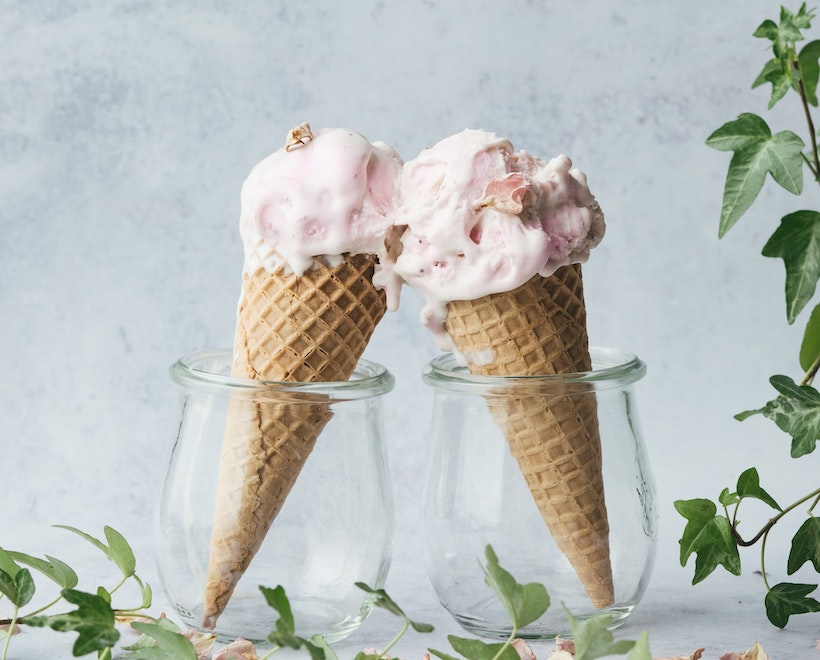 Is It Freezer Safe?
The container should be made specifically for the freezer as plastic or glass containers could crack if not suitable. The container should also have an insulating tub and airtight lid, as this will keep the ice cream frozen and stop it from melting.
An airtight container will protect your ice cream from freezer burn. It will also stop your ice cream from absorbing other flavors from the freezer.
Other Storage Tips for Ice Cream
You've spent lots of time making the best homemade ice cream with great flavors and natural, healthy ingredients. With this in mind, you don't want it to be ruined when storing it in the freezer.
Make sure that your freezer is at the right temperature. You don't want it to melt but you also don't want it to get freezer burn and turn to ice.
Another thing that you should avoid is storing your ice cream in the freezer door. Some ice cream containers are made specifically to fit in the door, but the temperature will change as the door is opened. This could ruin your homemade ice cream!
Best Ice Cream Container Reviews
The Belinlen ice cream container comes in a pack of 40, and they hold 16 ounces of ice cream each. The containers are made from double poly-coated paperboard, which is good for the environment as well as your pocket. They offer good resilience and leak prevention, which is great when your ice cream starts to melt on a hot summer's day.
They are ideal for parties where you can give your guests their own serving of homemade ice cream to take home. They can also be used when sampling different flavors as you don't need to store a large batch. In addition, the individual servings will help to stop the ice cream from melting and refreezing as you are not putting it back in the freezer after taking it out.
One downside of the individual serving sizes is that they will take up lots of space in your freezer for ice cream storage. However, the containers are disposable and can also be used for storing soups and sauces as well as gelato and sorbet.
Pros:
Individual servings are ideal for parties or family gatherings in summer.
Keeps your ice cream fresh and prevents freezer burn.
Sturdy material is resilient and doesn't leak.
Good when testing different flavors - sample size containers.
Offer good value for money.
Cons:
Smaller size than others.
Some customers reported a plastic aroma when used.
---
The BALCI ice cream container is a pack of two tough and reusable containers that look stylish with colorful lids. They are made from BPA free high-quality materials that are dishwasher safe. The lids are airtight to prevent freezer burn and keep your ice cream fresh.
The containers are quite thick, which gives them the insulation needed for your ice cream storage. They are a good size, holding a quart of your favorite ice cream. The containers are stackable, which is great when tight for space in your freezer.
You can also store other foods such as gelato or sorbet in the containers with no issues.
Pros:
Made from BPA-free, high-quality materials.
Airtight lids to prevent freezer burn.
Great insulation for your ice cream.
Tough and can withstand being dropped on a hard floor.
Cons:
Some customers reported a chemical smell from the containers.
The lid is reported as being quite flimsy.
---
The SUMO Ice cream container is a great shape with a long slim design. This will fit easily in any freezer and allows you to get the desired scoop size. The containers come in a pack of two and are made from BPA-free high-quality materials.
They have a non-slip base and a tough insulated container. The lid is airtight and locks tight to prevent freezer burn. The containers are available in five fun colors that you can choose.
The containers are dishwasher safe and are stackable for easy storage.
Pros:
Good design with long slim shape.
Made from high-quality BPA-free materials.
Non-slip base to stop it from slipping and sliding when scooping.
Lock tight lid to stop freezer burn.
Cons:
Container is three separate parts, not one container as expected.
Need to chill the container before using.
---
The Tovolo Glide-A-Scoop ice cream container is a double-walled BPA-free plastic container that holds 1.5 quarts of ice cream. The airtight lid snaps into place to prevent freezer burn, sealing out ice crystals and aromas from the freezer.
The long slim design is great for fitting into the freezer, and the non-slip base keeps the container sturdy when scooping out your ice cream. The container is stackable, which helps when short on space.
It's available in four different colors and also comes in a 2.5-quart size for big ice cream lovers.
Pros:
Double-walled for better insulation.
Long and slim design for good fit and great scoops.
The airtight lid prevents freezer burn and aromas from other food.
Made with BPA-free plastic.
Cons:
Expensive for one container.
Customers have reported the plastic container easily cracking.
---
Conclusion – The Best Ice Cream Storage
Getting the right ice cream container will help to keep your homemade ice cream fresh and edible for longer.
My favorite best ice cream container would be the Belinlen 40 Count (16 oz) Frozen Dessert Container. These come in a pack of 40 16 ounce containers that are great for single servings or when doing sample flavors to choose. They are ideal for parties to offer everyone their own serving, and are easily disposable.
My second choice would be the BALCI Premium Ice Cream Container, a high-quality container made from BPA-free material. The container is tough and well insulated with an airtight lid to prevent freezer burn.