In a hurry? My pick for best fillet knife sharpener is the Chef'sChoice 15 Trizor XV EdgeSelect Professional Electric Knife Sharpener.
There are few things as satisfactory for a professional or enthusiast cook than having a sharp, sharp knife. Not only do sharp knives cut better, but they're also safer – it's harder for a sharp knife to slip and injure you. That's especially true for fillet knives, where you often work in slimy and slippery conditions when preparing fish to eat.
Unfortunately, it doesn't take long for a new knife to lose its edge. For that reason, you'd be well-advised to always have a good sharpener at hand.
With that in mind, this guide will go over five of the best fillet knife sharpener products on the market. Additionally, it will provide useful information about knife sharpeners in general.
Let's cut to it!
Top Fillet Knife Sharpeners Reviewed
A Buyer's Guide to Fillet Knife Sharpeners
Fillet knives are 4 - 12" blades most often used to prepare fish for eating. Versatile even for your land animals, fillet knives are often used under tensions for cuts like slicing off fish scales.
You read our best fillet knife roundup here, but now we'll cover what it takes to keep those knives sharp. (Also see our best fillet knife for saltwater fish roundup, featuring longer knives).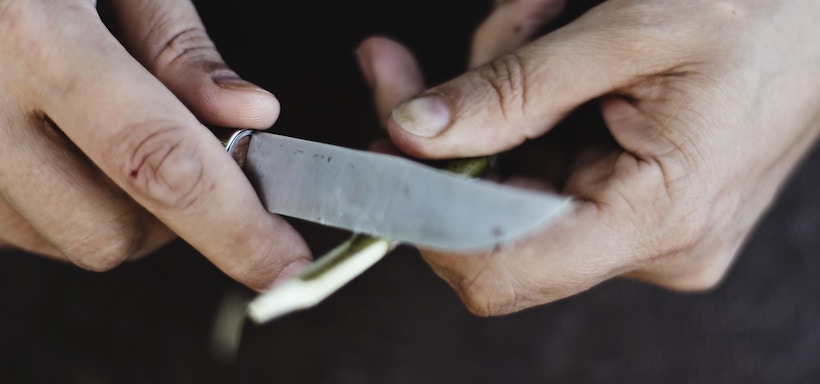 What to Look For in a Fillet Knife Sharpener
When you look for a fillet knife sharpener (or really, any knife sharpener), take the following factors into account:
Abrasion
In order to sharpen the metal, knife sharpeners use an abrasive material in their interior.
The more abrasive said material, the more powerful its sharpening action will be. Normally, sharpeners use diamond, polished ceramic, or tungsten carbide as their main abrasive materials.
Sharpening Stages
The best fillet knife sharpeners out there offer different sharpening stages, resulting in added flexibility and versatility.
While the coarsest stage is great for sharpening dull and blunt knives, finer ones are better for providing finesse and polish. Some sharpeners even include ultra-fine sharpening stages for touch-ups and delicate knives.
Size
Before you settle on a specific model, make sure it has the right dimensions for your needs. While they tend to be more portable, compact fillet knife sharpeners may not be compatible with larger knives.
Weight
Make sure to take a portable fillet knife sharpener's weight into account.
Heavier sharpeners are often meant to be stationary, and their weight provides them stability and security when in place. Meanwhile, those lightweight sharpeners can be easily moved from one place to another as needed.
Safety Features
Dealing with knives and sharp edges can be dangerous if you are not careful.
To keep your fingers safe, the best sharpeners include security guards that prevent the blade getting too near to your skin. To avoid accidents due to slippage, some models also include rubber grip handles and non-slip rubber feet.
Slots
Simply put, the more slots your sharpener has, the more types of knives it will be able to properly sharpen. Typically, in order to suffice for both sides of the knife, fillet knife sharpeners have at least two slots for each sharpening wheel.
Cleaning and Maintenance
Whenever you sharpen a knife, it produces tiny dust-like metal debris.
For that reason, the best fillet knife sharpeners feature inventive ways to make the cleaning of that debris easier. At the very least, having a scrap metal collecting tray is a must as it prevents metal dust from accumulating elsewhere inside the device.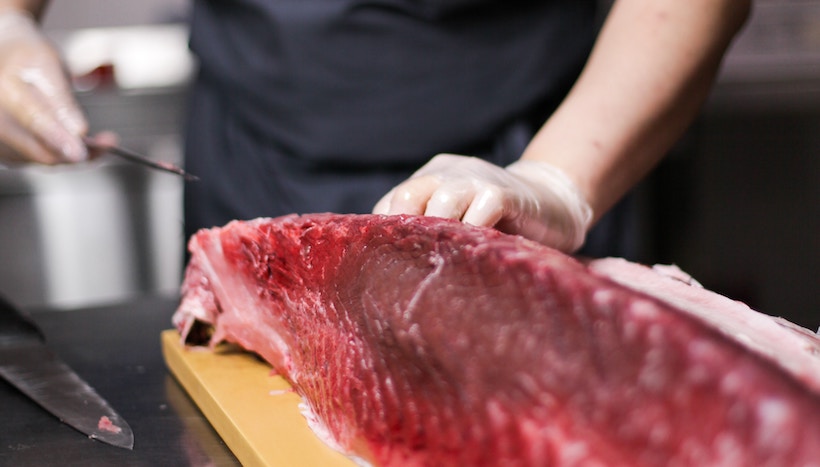 Additional Tips for Using a Fillet Knife Sharpener
Learn How to Properly Operate a Fillet Knife Sharpener
There is no doubt that using a sharpener requires less practice and skill than sharpening knives by hand or with a stone.
But before you dive in, it's still important that you familiarize yourself with your device.
Be Careful With Heat
As you have probably noticed, using a sharpener on a knife generates quite a lot of heat.
Unfortunately, if left unchecked, the heat can damage and even ruin a perfectly good knife. For that reason, be sure to let the knife cool if it's getting too hot from the sharpening.
Mind the Pressure
When using a knife sharpener, be mindful of the amount of pressure you apply to the knife.
Unevenly applying pressure can mean some parts of the blade aren't as sharp as others. And if you apply too much pressure, the knife can become damaged and even break. Even worse, you can hurt yourself if this happens.
Always Be Safe
At all times, remember that knives are dangerous tools that can cause a great deal of harm.
When dealing with knives, always be smart and responsible about it. Furthermore, when using a sharpener, make sure to take into account everything that the manufacturer has got to say in regards to safety measures.
The Best Fillet Knife Sharpeners On the Market - Five Reviews
Smartly designed and expertly constructed, the Accu Sharp 010 Filet Knife Sharpener can be a great choice for inexperienced users. Its straightforward and simple design makes it easy for anyone to correctly use this fillet knife sharpener.
Despite its compactness, the Accu Sharp product is remarkably efficient, largely due to its high-quality reversible blades. Fans of cleanliness will be pleased to find out that the product can be either hand-washed or even thrown directly in a dishwasher.
Apart from its main sharpening features, the Accu Sharp 010 Filet Knife Sharpener has a few additions that elevate its quality. For one, its ergonomic design makes it very easy to operate the Accu Sharp with one hand while holding the knife with the other. At the same time, in order to ensure safety, the product boasts a full-length guard that helps keep your fingers safe during the sharpening process.
Pros
Features a diamond-honed tungsten carbide sharpening element
Very safe due to full-length finger guard
Compact and portable
Very fast sharpening action
Can be hand-washed or machine-washed
Cons
Its diamond-honed tungsten carbide sharpening element can be quite abrasive
---
Featuring an impossible to miss  elegant and stylish design, the Chef'sChoice 15 Trizor XV EdgeSelect is one of the most notable fillet knife sharpeners on the market.
Using abrasive diamonds as its sharpening material, this sharpener is remarkably powerful and efficient. With a powerful motor, the Chef'sChoice sharpener is capable of quickly and effectively bringing a dull cutting tool back to life.
Featuring three different sharpening stages, the Chef'sChoice is also remarkably versatile, allowing users to perform a variety of sharpening processes to their knives. While the first stage favors power and speed over everything else, the other two are more subtle, enabling users to polish their knives after sharpening and even producing small touch-ups, resulting in a perfect edge every time.
Quite surprisingly, even the most intensive sharpening stage takes less than one minute.
Pros
Uses 100 percent diamond abrasives
Very easy to use
Features three different sharpening stages
Tough, durable and stable
Takes less than 10 seconds to sharpen a knife
Cons
If used incorrectly, it can damage knife blades
---
Featuring an upbeat and beautiful design, the KastKing Auto-Adjust V Fillet Knife Sharpener can be of great help in the kitchen. Remarkably compact and portable, the fillet knife sharpener constitutes a practical solution for keeping your knives sharp and ready at all times.
As a matter of fact, the device's clever design makes the sharpening process, faster, safer and more efficient. In order to ensure perfect sharpening, the KastKing Auto-Adjust V features spring-loaded tungsten carbide arms that automatically adjust to the knife's shape and angle.
Apart from adapting itself to the contours of any knife, the spring-based system ensures that constant pressure will be applied during the sharpening process. What is more, this system distributes vibration throughout the entire blade of the knife, ensuring an even and smooth edge. As if all that was not enough, this fillet knife sharpener offers a variety of sharpening modes that can just as well help bring a dull knife back to life or produce a perfect finish on a sharp knife.
Pros
Very compact and easily portable
Quick sharpening action
Capable of sharpening serrated blades
Increased finger protection
Capable of taking any blade's contour into account
Cons
Not suitable for knives over 9 inches in length
---
Optimized for counter use, the PriorityChef Knife Sharpener is stable as it is effective. Capable of reliably sharpening knives of all kinds and sizes (including harder-to-sharpen serrated blades), its a remarkably versatile tool.
Even though it is not the fastest knife sharpener in today's roundup, this device is certainly precise. What's more, it provides different sharpening stages that allow for a more nuanced and detail-oriented sharpening process.
In addition to being consistent and reliable, the PriorityChef Knife Sharpener offers a notable amount of pure sharpening power. Luckily, the device's design makes it completely safe, preventing all that power from causing you harm. What's more, this fillet knife sharpener is simple and very easy to use, making it easier to avoid a finger-slicing accident.
As a matter of fact, its streamlined design allows fast-paced and continuous sharpening using only one hand. That design makes it (nearly) impossible to accidentally cut yourself while operating the PrioriryChef sharpener.
Pros
Stylish and ergonomic
Features a two-stage sharpening system
Reduced vibration
Added stability
Tough and durable
Cons
May be too coarse for some knives
Not as effective at polishing as others on the list
---
Amazingly stylish and elegant, the Presto 08810 Professional Electric Knife Sharpener wouldn't be out of place in the kitchen of a luxury hotel or a top-notch restaurant. It's not only about looks when it comes to this sharpener, however, as it's also remarkably effective.
Capable of handling anything ranging from kitchen knives to sporting knives, the Presto 08810 is versatile and dynamic enough to be used on a variety of blades. As if all this wasn't enough, this fillet knife sharpener is remarkably smooth and easy to use.
Featuring a series of slots with different angles and coarseness levels, the Presto 08810 Professional Electric Knife Sharpener is useful in a variety of ways. Further, each sharpening slot can be individually adjusted in order to provide complete control over the sharpening process.
Apart from knife size and sharpening strength, the device's adjustable blade selector allows you to take into account the thickness of the blade. Once all the adjustments have been made, you only have to slide the blade through the slot and let the abrasive elements do the heavy work. Quick and smooth, this process can be completed in a matter of seconds.
Pros
Beautiful and stylish design
Very easy to use
Features interchangeable blades
Suitable for sharpening hunting knives
Features three different sharpening stages
Cons
Housing made mostly of plastic
Can be somewhat slow compared to others in roundup
---
My Pick for Top Fillet Knife Sharpener
I say – with confidence – that any of the five products featured in this guide are very much worth looking into. For your fillet knives... or really, any knives... you'd do well with any of the above.
To me though, one of these five devices stands out over the rest. Efficient, user-friendly and remarkably powerful, the Chef'sChoice 15 Trizor XV EdgeSelect Professional Electric Knife Sharpener is in my opinion the best fillet knife sharpener on the market. Without a doubt, the Chef'sChoice will take your cooking and cutting to the next level.