In a hurry? My favorite espresso tamper is the Motta 8100/B Professional model.
Are the shots on your new espresso maker watery? In the end, it all comes down to the tamp.
An espresso tamper helps make sure your coffee gets evenly extracted for the right boldness and full flavor. Tamping your espresso is a crucial skill every new barista has to learn to pull a great shot.
As with anything related to the delicate art of coffee, you'll want to make sure you have the right equipment. I'll help you avoid blaming a tool – in this post, I'll look at the best espresso tampers on the market.
Top Espresso Tampers Reviewed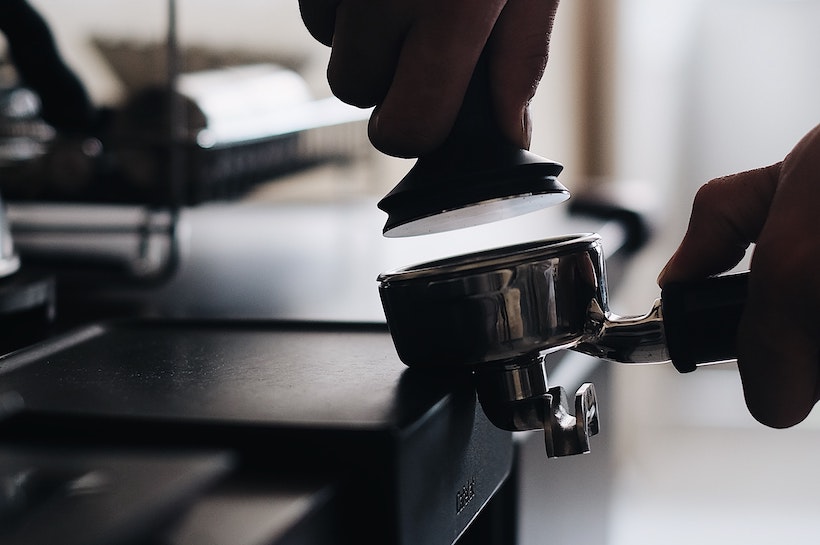 Why You Need an Espresso Tamper
This simple little object's purpose is to turn your espresso grounds into a solid puck that will give you an even extraction. The proper tamper helps you avoid pulling a watery or bitter shot.
You can't really do any tamping with any other kitchen utensils, either, and the tamper needs to be specific for your portafilter's diameter. This is why you need to buy the best espresso tamper for your machine.
How to Tamp Espresso
Pulling a great shot of espresso has a couple of tricks, but you'll get there with the right technique and equipment.
Here's how to learn to tamp your espresso correctly:
#1: Test the Pressure
Before you use it for the first time, try out the tamper to feel the right pressure. Just push it gently against your kitchen counter to know what it feels like when it encounters resistance.
#2: Even Out the Coffee
Grind the coffee grounds and distribute them on the portafilter.
You can use a tool to even the grounds before you tamp them. This will make it less likely that you'll tamp unevenly.
#3: Keep It Straight
The most important thing is keeping the tamper level the whole time.
Make sure it's at a 90-degree angle to the portafilter. You can help this by supporting your hip on the kitchen counter and pushing straight down with your hand.
#4: Tamping Pressure
Many people are concerned about the amount of pressure to exert when tamping their espresso, but it doesn't matter.
Just stop when there's no more give, and the coffee feels like a hard puck. If you're truly worried about the pressure, try a calibrated tamper.
What Is a Calibrated Espresso Tamper?
A calibrated tamper can be a good choice for beginning baristas, as they'll help you know how much pressure you need to use.
In a calibrated tamper, the base and the handle are slightly separated. When you use the right amount of pressure, the tamper makes a click in your hand, so you'll know you've applied enough force.
#5: Don't Get It Twisted
Some people slightly twist the tamper when they're pressing, or even smooth out the surface after they're finished.
This can alter the coffee, even if you can't see it or tilt it slightly.
#6: Practice Makes Perfect
Just like everything else involved with pulling the perfect espresso shot, tamping also has a learning curve. If it's not perfect the first time, don't worry, and keep practicing. You'll get it right eventually.
What to Look for in a Tamper
These are some of the things that'll be important for you to tamp correctly and pull a perfect espresso shot:
Comfort: The most important thing to think about is that the tamper fits nicely into your hand. The handle should have a comfortable shape, and the weight distribution should feel natural.
Diameter: The fit should be snug and correct for your portafilter basket. Otherwise, the espresso will be uneven and might even have lines that will make it harder for you to pull the shot. If it's too big, you may create suction that pulls out some of the coffee. Most baskets have a 58mm diameter—about 2.3 inches.
Weight: The weight contributes to your comfort when holding the tamper and when exerting pressure. Many tampers are around 1 pound or a little less.
Convex or flat: Convex tampers have a slightly raised middle part. This pushes some of the coffee away from the center and towards the sides of the basket. Some baristas swear by their convex tampers; others say they give you an uneven extraction.
The Top Espresso Tampers
These are the best espresso tamper options for beginners and experienced baristas alike:
This tamper from Italian brand, Motta, isn't too expensive but works even for professional baristas.
The base is 58mm in diameter and made from stainless steel, and the handle is painted ash wood. This makes the tamper heavier at the base and helps you focus your force where it needs to go—in the basket.
The complete weight is about 0.9 pounds, so this tamper feels quite heavy in your hand. Overall, it's a well-built, quality accessory for any barista and will likely last you for years.
Note that the part that may deteriorate over time is the paint on the handle. Some owners of this tamper note that it starts chipping away.
Pros:
Weight distribution helps put pressure on the base.
Well-made and sturdy.
Good value for the price.
Simple and elegant look.
Cons:
The paint may start chipping away from the wooden handle.
Some users find the handle to be too tall for a good grip.
---
This Zoie + Chloe tamper is definite eye-candy. Fully made from stainless steel, the handle has a sleek matte finish in a rose gold color. The top of the handle has a flat surface to support your hand and enable you to use enough pressure.
It feels solid and sturdy in your hand and is surprisingly affordable for such a well-made tamper. The base is flat and 58mm in diameter and fits most portafilter baskets while the total weight is just under 1 pound.
Overall, it feels sturdy and heavy, which will help you apply pressure without weighing you down too much.
Pros:
Affordable.
Sturdy and high quality.
Great look.
Great weight distribution.
Cons:
The handle screws on and off and may get loose over time.
---
I decided to include this Rattleware tamper because of its comfortable, round handle that's covered in plastic for extra grip.
It's also quite small and feels pleasant to the touch, even if you have smaller hands, which especially makes it a go-to for many female baristas. For big hands, it may feel too short.
The base is flat and 58mm wide, so this tamper goes with most commercial espresso machines. It's also entirely made from stainless steel and has a simple, elegant look.
Pros:
Comfortable handle.
Perfect for small hands.
The plastic covering provides a good grip.
Nice and heavy.
Cons:
May be too small for those with big hands.
---
This espresso tamper from Espro is factory-calibrated for exactly 30 pounds of pressure and is especially a great option for beginning baristas. It'll let you know exactly when you've used the right amount of pressure.
The base is 58mm wide and slightly convex, which some baristas prefer. It's largely a matter of preference, but a convex tamper can make for an uneven extraction if you don't keep the tamper level.
This tamper has a subtle clicking mechanism to indicate the pressure. The good thing is that the click won't ruin your espresso by breaking up the puck, but some owners can't even feel it. The clicking mechanism can also stop working overtime, but it will help you control your pressure first.
Note that it's made from stainless steel, while the handle is anodized aluminum. This is a solid combination, giving a total weight of 1 pound, so it will feel heavy in your hand. You'll feel the weight doing some of the work for you so that you can save some of your strength.
Pros:
Balanced and sturdy.
Subtle click.
Heavy, which helps you save your strength.
Great for beginners.
Cons:
The clicking mechanism may break over time, according to some users.
High price compared to some other options.
---
The Winner: No Tamper Tantrums
My favorite espresso tamper is the Motta 8100/B Professional model. It's well-made and solid, and the wooden handle helps you get the right grip. It's also quite heavy –but won't tire you out too much. If anything, the stainless steel base helps you focus the pressure on the basket better.
For such a well-made product, this tamper is also reasonably priced. If this is your first time buying a quality, metal espresso tamper, you'll soon notice the difference—when your grounds are tamped the proper way, you won't pull any more watery shots. It's perfect to pair with your Italian espresso machine!