Whether you are an avid cheese and wine lover… or you're just tired of cutting cheese with a knife, a cheese slicer can be one of the most convenient kitchen tools. They come in a variety of shapes and sizes, are affordable, and can slice either single slices or a small block of cheese within seconds.
Here is my pick for the best cheese slicer that you can get right now, four solid contenders, and a buying guide for what you should look for when choosing a slicer. Let's slice some cheese.
Best Cheese Slicers Reviewed
Types of Cheese Slicers
Handheld cheese slicers
As implied by the name, these slicers are held while you slice the cheese. There are several different shapes and sizes, but they are usually around the same size as most kitchen tools (if not smaller). Some roll to slice while others are just a flat piece of metal, but they all do the same job.
These are better for those of you who are looking for a cheese slicer that will not take up too much space and want something simple to transport (I'm watching out for you cooks on the go). Another thing that makes these great is that many can be used on other foods such as fruits and veggies.
Here's a handheld wire cheese slicer in action:
Tabletop cheese slicers
These slicers are definitely known for their strength and durability considering how sturdy they are usually built. They are pretty similar to board slicers, but the main difference is tabletop slicers are usually more intricate than board slicers which have a simple wire and crank.
Many tabletop slicers have a push or squeeze function to compress the cheese between the wires or blades that slice them. This makes it simple and quick to slice a block of cheese in less time than other types of slicers.
Board cheese slicers
Another simple design, board slicers commonly have just a simple board, wire or blade, and a crank to slice the cheese. Many board slicers can cut both hard and soft cheese, but there are a few that can only cut soft cheese due to having a less sturdy wire.
They can take up more space than other types but are great for beginners who are on a budget. The great thing about them is that they also come in a variety of board styles like wood, marble, metal, and more, allowing them to match your kitchen's style.
Cheese Knives and Sets
If you aren't into a full-on cheese slicer, you can also get handheld blades and forks made to cut cheese. We rounded up some top cheese knife and set options in another review if this is more your style.
Cheese Slicer Buyer's Guide
What are the advantages of a cheese slicer?
Cheese slicers let you make thin, intricately cut cheese slices for a fancy party or have a bunch of cheese slices cut and ready within a short time for that last-minute need for sliced cheese.
Unlike regular knives (and even cheese knives), they can be more precise and safer to use, too since many use wires to cut the cheese, no pun intended. True, these wires can also injure the user, but the handles of cheese slicers are designed for a more controlled cut, making it harder to slip and cut yourself like you could with a regular or cheese knife.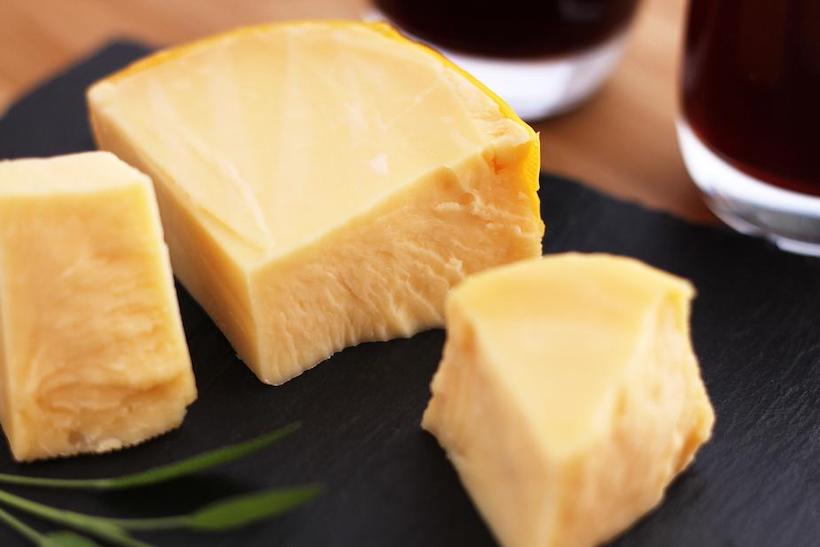 Things to look for that differentiate slicers
Beyond the type, the only other main difference between cheese slicers is the material of the handle. If you are like me, then you probably prefer a slicer with a more comfortable grip.
Most usually have a metal grip, which can be comfortable, but there are a few out there with other materials that are less harsh on your hand. This comes in handy (pun intended, of course) if you will be slicing a lot of cheese.
What's the best way to use a cheese slicer?
Since each type is used in its own way, you really need to follow the manufacturer's instructions. Do not forget to thoroughly clean the slicer when you are done with it, especially those with wires and tiny holes.
You might not realize it, but slicers with wire spaces or indents can get cheese stuck in them quite easily (especially with soft cheeses). A good way to keep them clean is to use a small bristle brush that can get in the tiny cracks.
Precautions for using a cheese slicer
When you are using a cheese slicer, always make sure you are aware of where the blade or wire is at all times. Some are not strong enough to seriously injure a person, but still, better safe than sorry.
Take extra caution when you are cleaning the slicer to avoid cuts. Also, make sure that you check to see if the slicer is dishwasher safe before washing it in the dishwasher. You might find yourself needing to replace your slicer – or worse, fixing your dishwasher!
It is also a good idea to store your slicer away when you are not using it, especially with a wire slicer. If slicers are left out, it is easy for them to injure someone as well as become damaged or worn out faster. Keep them properly stored away until your next cheese slicing session.
Top 5 Best Cheese Slicers
If you are looking for a slicer that looks like it belongs in a high-class kitchen, then look no further than the Fox Run Marble Cheese Slicer. This slicer is made of striking marble material, something very few slicers are made of, and it is available in white, black or green marble.
In terms of cutting quality, the wire is strong enough to handle hard blocks of cheese but precise enough not to smear or smush soft cheese as it is being cut. It can be a little awkward cutting cheese blocks that are bigger than eight by five inches since (the size of the block), but it works perfectly fine for smaller blocks.
The handle is a little small, and there is no non-slip bottom on the slicer. Still, it is possibly the best cheese slicer to match a visually appealing kitchen.
Pros:
Visually aesthetic
Great for small to medium-sized blocks of cheese
Very easy to clean
Cons:
Wires can be awkward to change
Does not have a non-slip bottom
---
For portability, it can be hard to beat the Bellemain Adjustable Thickness Cheese Hand Slicer. It is currently one of the most popular models out right now, mostly due to its affordability but also because of the fact that it is one of the smallest and longest-lasting slicers.
Because of its size, you may have a hard time trying to slice blocks larger than three and a half inches wide as well as softer cheeses. However, it can cut slices up to a quarter-inch thick or more. It is somewhat difficult to cut softer cheeses with – at least in thin slices – because the wire can smear the cheese against the sides and roller.
It comes in a stainless steel finish, but I suggest you never put it in the dishwasher. Despite being dishwasher-safe, it can impact and sometimes ruin the finish. However, it does have an extremely strong wire that is simple and easy to adjust, even for people who have never used a cheese slicer before.
Another nice feature is that this slicer also comes with an extra cutting wire for when you need to replace the old one. Do not forget, always read the instructions before trying to change the wire to know how and when it should be changed.
It also comes with a full one-year warranty on all parts (excluding the wires since they can just be replaced).
Pros:
Easy to make adjustments
Works very well with hard cheeses
Sturdy
Cons:
Smears soft cheeses
Is not dishwasher friendly
---
The Prodyne 126-B Bamboo Cheese Slicer is one of the few wooden slicers available now... and the only wooden one that made it onto this list. Prodyne's bamboo board is a darker shade where the block sits and a much lighter shade after the wire to help you see where the cheese sits.
It is also available in beechwood, in beechwood with a tray, a butcher block style, and wood trim with a metal block.
This is one of the better slicers for bigger blocks of cheese since the board is a foot long and half a foot wide. Unlike some of the other blocks, this one has non-slip feet to help protect the board and countertops/tables that it sits on.
Trying to adjust the wire and clean it can be a little more difficult and awkward than some of the other models. However, there are specific details on how to handle issues with these problems in the instructions, which is definitely helpful.
Pros:
Slices hard cheeses well
Is made of wood
The wire is high quality
Cons:
Somewhat difficult to make adjustments
Can be awkward to clean
---
Another smaller-sized slicer, the Westmark Germany Multipurpose Stainless Steel Cheese and Food Slicer is one of the best slicers for not only cheese but other foods as well such as meats, fruits, and vegetables. This board is also one of the only ones that uses a blade instead of a wire to cut, which is one of the reasons why it can cut or slice other foods.
If you have an older-fashioned kitchen, then the fifties to seventies vibe that this cheese slicer has between the color and design might fit well with your kitchen.
While it does not come with instructions, it is pretty easy and simple to use since all you have to do is lift the blade up and slowly push it down (with the button) to slice. However, cleaning it can be a little awkward since there are no instructions, but hand washing is obviously the safer option if you do not want to destroy it... or damage your dishwasher.
I find the material and the blade to be pretty high quality and durable, being able to withstand a few drops and mistreatments along the way. If you are more clumsy than me, you will probably find the included extended warranty to be convenient and an awesome selling point.
It is less popular than most slicers possibly from the fact that it is a little more expensive but is still affordable, but it is truly one of the most reliable and long-lasting models out there now.
Pros:
Is long-lasting and durable
Has a comfortable handle
Ideal for small blocks
Cons:
Not ideal for large blocks of cheese
Does not come with instructions
---
Another wire, board slicers, the zanmini Cheese Slicer comes with a few extra perks that some of the previous ones do not. My favorite is the fact that it comes with four replacement cutting wires. Some models do include one extra wire but rarely do they include more.
The other feature that I love is that the board – which is completely made of metal – has measurements etched into it. The measurements are in centimeters to help with thin and thick slicing.
Handling the slicer can be a little tricky though since the non-slip feet are lower-quality and can fall off or fail to support the board well while slicing. Sometimes, the handle shakes while you are trying to slice too, making it harder to get a clean slice.
Still, between the metal material, the extra cutting wires, and the measurements on the board, it is hard to deny that this is one of the better choices out there.
Pros:
Cutting board has measurements in it
The wire is high quality
Great for hard and soft cheese
Cons:
The string can be awkward to install
The handle/block can be slightly unstable
---
Conclusion: My Pick for Best Cheese Slicer
When comparing all five of the slicers from the list, in my opinion the overall winner is the Prodyne Bamboo Slicer. It is easily stored, has a durable and accurate cut, and is available in several styles.
Unlike some of the other cutters, it can slice big and small blocks of cheese as well as hard and soft cheeses without smearing or crumbling. It also comes with stronger than average non-slip feet that some other slicers can't match.