Cheese has been poetically defined as "milk's leap toward immortality." It's no wonder, then, that it's so popular as a party staple.
Fortunately for your taste buds, it's also a great source of calcium and protein – it's one of those indulgences which is also pretty good for you.
I really like to serve wine and cheese to my guests. And I've learned: if you want to really bring out the flavor in the varieties you serve, you'll need to seek out some great cheese knives for slicing and serving. In this guide, I'll help you pick the best cheese knife set on the market today.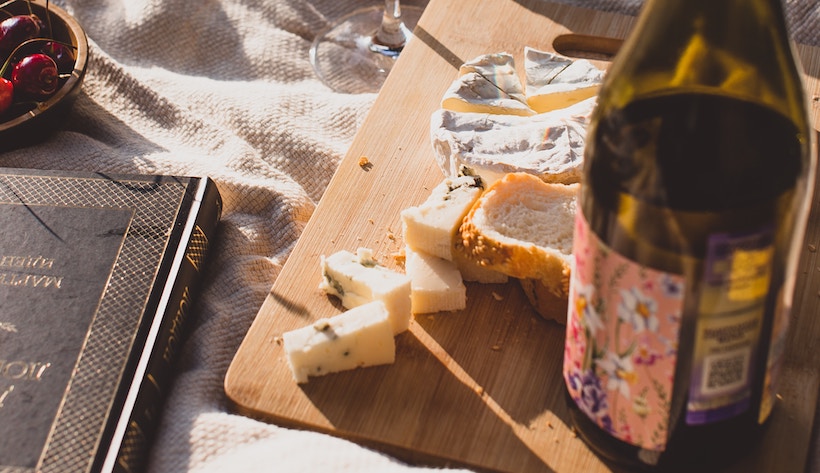 Things to Consider When Shopping for Cheese Knives
Before you start your search, you should familiarize yourself with the ins and outs of each set. This gives you a better idea of what features to look for, whether you're shopping for a single cheese knife or a multi-knife set.
Advantages and Benefits of Cheese Knives
When it comes to slicing cheese, you shouldn't use just any knife in your kitchen.
For cheese, you want a tool that can slice cleanly without sticking or ruining the shape. Since there are many different varieties of cheeses (with varying degrees of firmness and texture) it's a good idea to stock up on more than one type of knife for cutting them.
A good cheese knife set will usually include one or more of the following:
A spade-shaped tool
These knives feature a wide, sharp blade for cutting into hard cheeses, such as Asiago or parmesan.
An etched or hollow knife
Rectangular or oval-shaped holes in hollow knives eliminate air pockets in semi-hard cheeses like cheddar and Gruyére. They also help to keep cheese from sticking to the knife.
Etched knives offer similar benefits, but they feature shallow bowl-shaped indentations instead of actual holes.
A wire cutter/slicer
Semi-soft cheeses—especially blues like Stilton—would be ruined if you went after them with a regular knife. Delicate wire cutters (also known as slicers) give you a delicate shaving of cheese that maintains the optimum flavor profile.
I reviewed five of the best cheese slicers in another roundup if you're interested in slicers over knives.
A long, thin flat knife
Longer, thinner knives are ideal for soft cheeses like Brie and Manchego, which are especially prone to sticking if your utensil is too broad or too dull.
A paddle-shaped spreader
If you regularly serve goat cheese or soft cheese spreads (such as port wine or English pub cheese), then a flat spreading tool is a must. Look for one with a clearly defined handle, so guests aren't confused as to which end they should use.
A fork or prong attachment
An invaluable tool for moving the pieces of cheese from the board to the plate. This attachment may be included on the end of one of the knives, or it could be available as a separate component.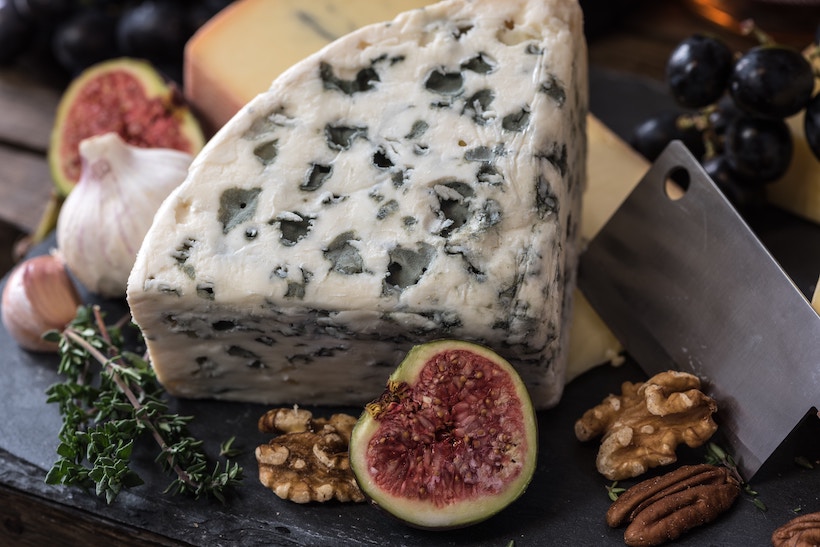 How to Use a Cheese Knife
If you're going to cut your cheeses into sections beforehand, know that there are right and wrong ways to approach it. The following is a brief primer on the best cutting techniques for various types of cheese.
Round or Square Shapes
Wheels or blocks of cheese should be sliced into equal pieces, almost like a cake.
Semi-Firm to Firm Wedges
These should be cut horizontally until you get to the rind piece, which can then be sliced crosswise into two equal pieces.
Soft-Ripened Wedges
The gooey texture of these cheeses make them difficult to slice without making a mess. Cutting lengthwise along the wedge is usually your best option.
Blue Wedges
For best results, use a wire cutter to shave thin slices off the sides. You should attempt to maintain the shape of the wedge for as long as possible.
Log Shapes and Cheese Balls
Employ a cheese slicer to slice these shapes crosswise into circles, or use a spreader.
For more tips on how to create the perfect cheese board (and use the right knives!), here's a good video:
Necessary Precautions
When serving a multitude of cheeses, be sure to encourage guests not to mix the knives. This results in both confusion and cross-contamination of the cheese flavors.
As with all knives, keep your cheese slicing knives as sharp as possible to avoid the risk of injury during use. Take care when washing the blade ends, and never leave knives unattended around small children or pets.
Cheese Knife Product Review Guide
To help you refine your search for the best cheese knife, here's an in-depth look at some of the most popular cheese knives and sets.
The LUNAR Premium Cheese knife set from ICOSA Living is a functional, attractive 6-piece knife set that includes a spreader and a pronged fork, as well as four bladed knives. There's an etched knife with three wide holes, a triangular-shaped spade, a broad flat knife, and a narrow cleaver with a flat tip. All of the utensils feature short, rounded handles, meaning that all of them could conceivably fit on your cheese board at once.
The LUNAR cheese knife set is constructed of 100 percent stainless steel, and the set arrives in a well-appointed box suitable for long storage. The price point is also quite reasonable, especially when you consider everything that's included in this set.
Finally, note that LUNAR offers superior customer service—if you subscribe to their electronic mailing list, they'll send you helpful tips and recommendations on various cheeses and proper care of their product.
Pros:
Affordable price point
Attractive stainless-steel construct
Capable of cutting very thin slices (about to the width of a penny)
Dishwasher safe
Excellent customer service
Won't take up a lot of kitchen space
Cons:
Small size can be problematic, especially if you have larger hands
May rust in the dishwasher without proper care and attention
---
The Cheese Knife OKP2 is a single knife rather than a set, which makes its price point somewhat higher than some of the other models on our list. However, what it lacks in quantity, it makes up for in quality.
The ridged plastic blade boasts the ability to cut into both hard and soft cheeses, and it's heat-resistant up to 430 degrees Fahrenheit. The handle is soft and easy to grip, so there's less danger of slippage during cutting. All components are dishwasher safe.
The blade slices through a brick of cold cheddar as easily as if it were butter, and even soft cheeses like Brie slide right off onto the cracker. One caveat: If you want to keep the blade in prime condition, use the protective sleeve when you store the knife. It's sturdy enough to stand up to all types of cheese, but it might not be a match for the metal utensils in your drawers.
Pros:
Effective, multi-purpose blade
Heat-resistant up to 430 degrees Fahrenheit
Versatile tool that can also be used to cut ice cream or mousse cakes
Dishwasher safe
Cons:
Plastic blade is prone to chipping if not properly stored
Handle isn't as durable as the blade, may snap off if you're too rough with the tool
Slightly high price point for a single cheese knife
---
The Boska Holland Copenhagen Collection is a stainless steel cheese knife set comprised of three utensils: one hollow knife with a pronged end, one long thin blade for soft cheeses, and one broad blade. Each knife is cast as a single piece, with handles long enough to keep from becoming greasy during use. The construction makes these knives especially easy to clean.
Boska Holland offers consumers a ten-year guarantee on its products, which justifies the slightly higher price point on this set. The company has a long history—dating back to 1896—and they're based out of the Netherlands, an area that definitely knows its way around cheese.
If you're looking for a basic, functional set of cheese knives, the Copenhagen collection is worth a look.
Pros:
Versatile set
Easy to clean
10-year company warranty
Attractive stainless-steel construction
Cons:
Utensils are on the smaller side
Higher price point than other utensils
---
The Prodyne CK-300 Cheese Knife is an exceptionally sharp hollow knife, with a long serrated blade and a tapered end that finishes with a prong attachment.
When I first saw this knife, I immediately christened it the "Swiss Army Cheese Knife" because of its versatility. The construct is stainless steel with a strong, easy-to-grip Bakelite handle. The hollow blade prevents sticking, the blade is sharp enough to handle both hard and soft cheeses, and the fork attachment allows you to stab the pieces once they've fallen off the knife.
The price point for the Prodyne CK-300 is a bit on the higher end for a single knife, but considering all the things it does well, that isn't much of a deterrent. It can also be used to slice soft fruits like kiwis and strawberries, or to julienne veggies in a pinch.
If you have this knife in your drawer, you'll be able to throw together a wine and cheese party at the drop of a hat. Note that while its blade is long enough to cut individual slices or chunks of cheese, it shouldn't be used for industrial-sized wheels (especially for hard cheeses like Parmesan).
Pros:
One of the largest, sturdiest knives on our list
Capable of slicing fruits and vegetables as well as many different types of cheese
Sharp serrated blade
Cons:
Higher price point for an individual knife
Hollow blade can be difficult to clean
No protective sleeve included
---
ICOSA Living builds the HARVEST six-piece knife set with a sturdy stainless steel construct and handles made of handsome teak wood. Included are a hollow knife, a spade, a spreading tool, a broad chisel, a narrow chisel and a wide-pronged fork.
Despite their two-toned appearance, the knives are full tang construction, meaning that the blades run the entire length of the piece with the handle attachments "pinned" to either side. This gives them excellent weight and balance, making them easy for anyone to use, and this is the strongest type of knife construction.
The low price point for this set makes it one of the best values on our list. As a bonus, it comes equipped with a handy guide on the best ways to use each knife. Our biggest complaints are with the wood finish, which isn't refined enough to stand up to repeated washings; and the size, which is small enough to garner comments from some of our larger-boned guests.
Overall, though, this is a versatile, attractive, and overall decent set of cheese knives.
Pros:
Versatile multi-tool set
Excellent price point
Attractive finish
Well-balanced knives with sturdy blades
Included guide helps beginners choose the proper knives for the cheeses they'll be serving
Cons:
Knives are on the smaller side
Wood finish might not stand up to multiple washings
Sets will sometimes be shipped with missing and/or duplicate pieces
---
My Pick for Best Cheese Knife Set
Any of the products on this list would be a worthy addition to your kitchen. However, if I had to choose a winner, I would give the edge to the LUNAR 6-Piece Cheese Knife Set.
Not only does the LUNAR offer six different knives, each knife is sturdy, attractive, and easy to store. The set is very reasonably priced, making it possible to throw elegant cocktail parties even if you're on a tight budget. The included knives meet all the criteria you'd expect from a cheese knife set, with a few extras thrown in for good measure.
We hope you've found our cheese knife roundup both informative and entertaining. Best of luck on your search, and bon appetit!