In a hurry? My pick for best ceramic knife set is the VOOV Professional 5-Piece Ceramic Knife Set.
Are you thinking about purchasing a ceramic knife set, but aren't sure where to begin? With so much hot competition out there, slicing down your options might seem a bit overwhelming.
That's where we come in.
My product review guide will help steer you toward the best ceramic knife set on the market. To make the breakdown easier to follow, I've included a handy list of pros and cons for each model reviewed.
Let's talk ceramic!
Ceramic Knife Sets Reviewed
Why Buy a Ceramic Knife Set?
If you've ever had the pleasure of handling a ceramic knife, you know they can't be beat for certain tasks. If you still need convincing, however, read on to learn more about the particulars of this specialized kitchen equipment.
Advantages and Benefits of Ceramic Knives
While I wouldn't want to be without my collection of steel knives, there are definite benefits to owning a ceramic knife set. Here are just a few of the reasons why you should be adding these knives to your kitchen arsenal.
They Turn Out Super Thin Slices
As far as I'm concerned, there's nothing quite as satisfying as carving a paper-thin slice of tomato. A ceramic knife can help you achieve that goal more readily than most steel knives. But seriously, if you're a fan of thinly sliced foods in general, you're bound to be thrilled at the results you'll achieve with a ceramic knife set.
They Hold Their Edge
You might find that the edges of your steel knives are prone to dulling when used on tough, fibrous vegetables and other ingredients. You won't have to sharpen ceramic knives as frequently (which is good news, because the process is also considerably more involved).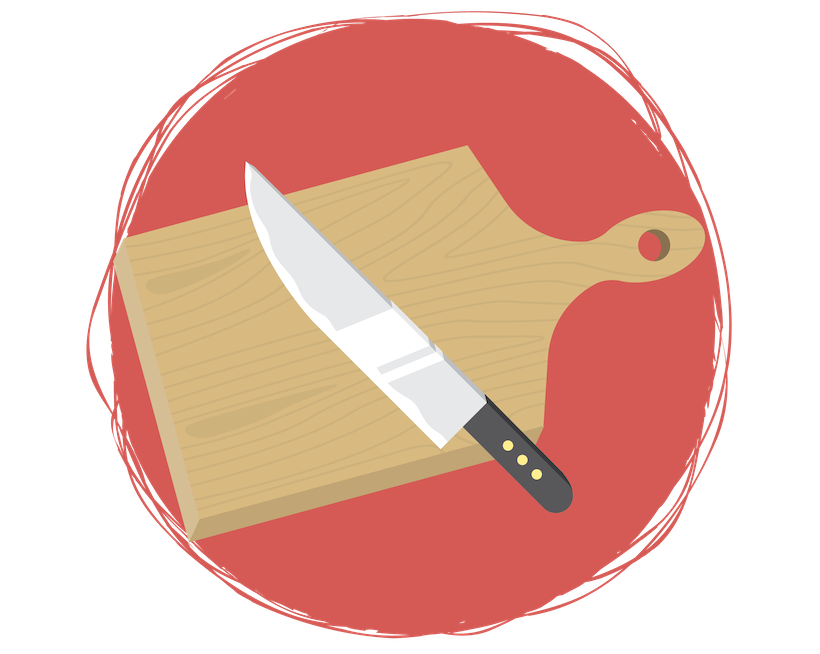 They're 100% Stainless and Resist Corrosion
Ceramic knives are entirely immune to acidic and caustic substances such as lemon juice, making them the perfect tool for cutting citrus fruits.
Ceramic knives are also very easy to clean. The ceramic won't absorb any food and you can simply rinse the blade with water before drying it thoroughly. Note that while ceramic is technically dishwasher safe, it's still not a good idea to put them in the dishwasher. Ceramic knives are easily cracked or chipped by other utensils bounding around in the dishwasher.
They're Light and Easy to Handle
The weight and balance of a ceramic knife has to be felt to be believed. Until you get used to handling it, you're likely to question whether something so feather-light can actually be a real knife.
What's the best way to use a ceramic knife?
The tools in your ceramic knife set should be used for cutting soft fruits and vegetables, with the smaller knives taking up duties on the cheeseboard.
Save the de-boning and meat-trimming chores for your steel knives, which are sturdier and better equipped for the task. Even a small fragment of bone can cause a ceramic blade to chip, rendering it either inadequate or downright useless. On a similar note, ceramic knives are best used on plastic or wooden cutting boards—never on glass. 
Safety Precautions
Don't be fooled by the lightweight nature of the knife—a ceramic blade can get just as sharp as a steel one. Always handle your ceramic knives – really, all your knives – with caution at all times. Also, they take far longer to dull than their steel counterparts, so keep that in mind when it's time to perform routine maintenance.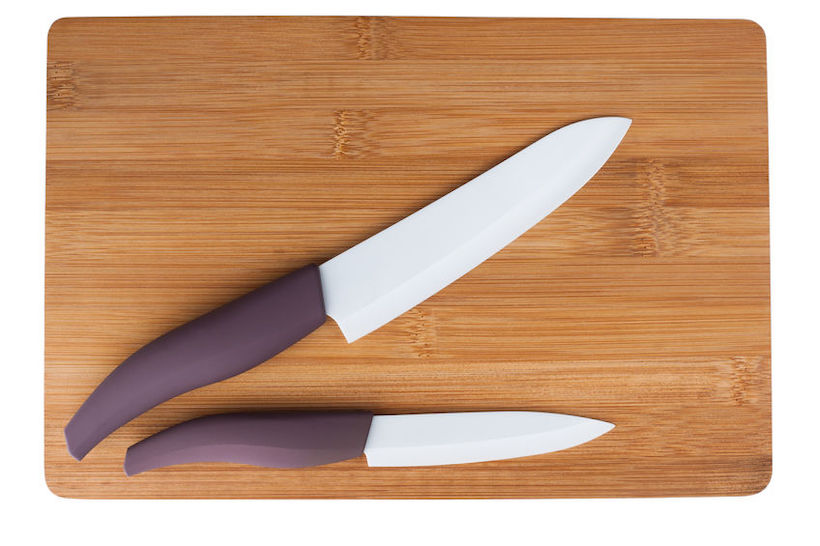 Instructions for Care
As mentioned above, you should avoid putting ceramic knives in the dishwasher. Always handle with care, and don't put a ceramic knife in the hands of a clumsy or inexperienced helper.
Sharpening ceramic knives requires a stronger abrasive and a gentler hand than you're used to with your steel knife set. If you can find a diamond sharpening stone, this is by far the most efficient method. Otherwise, a traditional whetstone will work. Just be sure to apply very light pressure when sharpening the edge, and avoid exerting any lateral pressure, as this may cause the blade to snap. For a practical demonstration on sharpening ceramic knives, check out this video tutorial:
Ceramic Knife Set Reviews
In this section, we'll take a closer look at five of the top ceramic knife sets on the current market. Included in each description is a brief synopsis of a set's distinguishing features, along with a list of pros and cons. 
If you'd rather grab a single blade, check out our pick for best ceramic chef's knife.
The Kyocera Revolution Ceramic Kitchen Knife Set comes equipped with one five-inch multi-purpose slicer and a smaller three-inch prepping knife. Both are outfitted with Kyocera's proprietary ceramic material—zirconia made in Japan specifically for the company. The ergonomic black handles make the knives easy to handle, as well as to clean.
As with all ceramic knives, the blades on the Kyocera Revolution set are rust-proof and acid-resistant. They'll remain sharp for far longer than your steel knives—some owners use them for years successfully without needing to sharpen them. Note: while Kyocera advertises a free sharpening service, there are shipping and registration fees bound to add up should you take advantage of this perk.
Pros:
Well-balanced knives that are easy to handle
Blades stay sharp over long periods
Both knives are well-suited for a variety of tasks
Blades are crafted from a proprietary zirconia blend you won't find elsewhere
Decent price point for a high-quality two-knife set
Cons:
Free sharpening service comes with hidden fees
Handle on smaller prep knife is slightly ungainly compared to its larger counterpart
---
Coiwin's knife set comes equipped with four knives, all with protective sheaths for guarding the blades when not in use. The collection contains a traditional six-inch chef's knife, a six-inch bread knife with a serrated edge and French-style tip, a five-inch utility knife, and a four-inch blade with a triangular tip ideal for slicing smaller fruit.
The knives are all lightweight, with ergonomic easy-to-grip plastic handles. The nonreactive ceramic blades are especially effective at carving thin slices (the chef's knife works especially well on mushrooms, which can be problematic if your knife isn't sharp enough).
There are a few peripheral issues with the Coiwin set—the fit of the protective sheaths can be a bit awkward, for example, and the quality of the plastic handles isn't on par with the zirconium itself. All things considered, this is a robust set of knives, with a value price point that makes it even more appealing.
Pros:
Great value for the price
Selection of 4 knives, including protective sheaths
Blades are durable and reliable
Sharp enough to carve paper-thin slices
Lightweight and easy to handle
Cons:
Sheaths are tight-fitting, making removal difficult
Plastic handles could be higher quality
---
The Cuisinart Elements block set bills itself as a six-piece set, but it's slightly misleading: the storage block is included as the sixth piece. Still, there's a lot to be said for this eye-catching set, with each knife handle cast in a different, vivid color.
The blades include a seven-inch bread knife; a traditional six-inch chef's knife; another serrated utility blade, this one only five inches in length; a five-inch Santuko knife with a flat edge; and a three-inch paring knife. All are outfitted with handles that are both comfortable to grip (and easy to recognize due to their color variation). Once you've learned to recognize each one, you won't find yourself accidentally grabbing the wrong knife from the block.
Cuisinart offers a five-year limited warranty with purchase of this set, which is good news, as ceramic blades often have a much shorter shelf life. Some users noticed that the knives do tend to chip when performing certain cutting operations—for example, a rocking motion for chopping nuts and herbs. However, as long as you handle them carefully, this set offers a good value for the price.
Pros:
Attractive and functional multicolor handles
Good value for a six-knife set
Five-year warranty included with purchase
Includes a knife block for easy storage
Cons:
Can chip easily if used in non0suggested ways
---
The WACOOL 3-piece set offers a traditional six-inch chef's knife, a five-inch utility blade, and a four-inch fruit paring knife. Like the offering from Coiwin, this unit comes equipped with matching sheaths for each blade to help keep the knives from becoming cracked or chipped during storage. Note that while this particular set comes with traditional black handles, the same set is available with multicolored handles if you need help telling them apart in the kitchen.
These knives are very light and easy to handle, with good balance and razor-sharp blades that retain their edge quite well over time. WACOOL offers consumers a money-back guarantee if they're not satisfied with their purchase, which speaks well of the company's faith in their product. From what I can tell, that faith is justified.
The only thing I'd warn is that the knives aren't really sturdy enough to stand up to tougher ingredients. I wouldn't use them to carve up a Halloween pumpkin, for example.
Pros:
Great value for a three-knife set
Protective sheaths included
100 percent customer satisfaction guarantee
Very sharp and easy to handle
Cons:
Can't take the same amount of punishment as some knives on the list
---
Sharp, durable, and low-maintenance, the high-quality knives in the VOOV Professional 5-Piece set are likely to suit all of your chopping, slicing, and paring needs. The pieces include a seven-inch traditional chef's knife; a six-inch serrated blade that's perfect for slicing bread and tomatoes; a five-inch Santoku knife with a broad tip; a four-inch paring knife for fruit; and a cutting board that won't harm the ceramic blades. All the knives come packaged in their own portable storage unit, meaning you won't have to worry about them getting knocked around in the knife drawer.
In my experience, these knives deliver everything I would expect from ceramic blades. They're nonreactive, acid-resistant, and easy to clean. The chef's knife in particular has ideal weight and balance. VOOV's customer support team offers a 100 percent satisfaction guarantee, which helps to justify the slightly hefty price tag.
Pros:
High-quality, sharp and durable blades
Storage unit, protective sheaths, and cutting board all included
100 percent customer satisfaction guarantee
Knives are lightweight and easy to handle
Cons:
Slightly high price point
---
In Conclusion: My Top Ceramic Knife Set Pick
So, which of these is the best ceramic knife set on the market?
I give the edge to the VOOV Professional set, despite the fact it costs a bit more than the competition.
It hits all the high points: Sharp, durable, easy-to-clean knives with ergonomic handles; blades that turn out paper-thin slices; a storage unit and sheaths to aid in the proper care of the set. I especially love the fact that it comes with its own cutting board – one that's gentle enough to help prevent chipping during use.
We hope you've found our roundup to be both entertaining and instructive. Once you've become accustomed to your ceramic knife set, you'll wonder how you ever ran your kitchen without one.