No time? My pick for best ceramic Chef's knife is the Kyocera Advanced Ceramic Revolution Series Chef's Knife.
One of the hottest items to get for your kitchen right now? A ceramic knife.
These knives are not only attractive, but they come in a wide array of colors. Harder than a traditional steel knife, these rust-resistant and hygienic knives make wonderful gifts, and are a handy addition to any kitchen. Here are a few tips and reviews to help you start shopping for the best ceramic knife for your kitchen.
Top Ceramic Chef's Knives in Roundup
Ceramic Knife Buyer's Guide
Constructed of tough and durable ceramic, typically zirconium dioxide, ceramic knives are known for their strength and sharp edges. Produced by dry-pressing zirconia powder, the blade is then fired and the edges sharpened with a diamond-dust-coated grinding wheel.
Zirconium dioxide is listed at 8 ½ on the Mohs scale, which measures mineral hardness. In comparison, typical steel falls at 4 ½ on the same scale while hardened steel is somewhere between 7 ½ and 8, and a diamond ranks at a 10.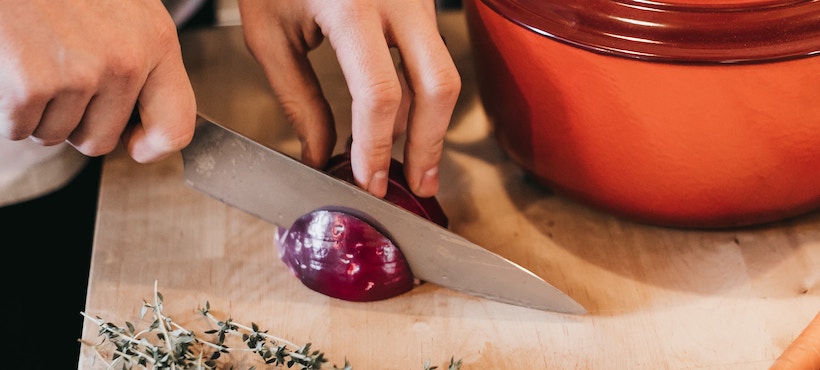 Ceramic versus Steel Knives
There are several benefits to buying a ceramic knife over a traditional steel knife. A ceramic knife has a hardness rating close to a diamond's – they keep a sharp edge much longer than your other blades. Ceramic blades require far less sharpening over the years, and there is rarely any need to hone them to straighten their edge.
If you do end up seeding to sharpen your blade, you will probably want to send it to your manufacturer's service (you can sharpen them at home using a diamond sharpener).
Steel knives, on the other hand, require periodic sharpening. You probably want to do the sharpening yourself as it becomes expensive to have the manufacturer do it.
Non-porous, ceramic knife blades do not retain odors or stain from the food they cut. All you have to do is rinse it off after cutting a spicy pepper, and it is ready to cut something else without transferring any smells. Ceramic also retains fewer bacteria and germs due to its non-porous feature, and they are non-reactive, so they will not rust like metal.
Ceramic knives are also more lightweight meaning you'll experience less fatigue when you are cutting. They're also really good at getting thin cuts on vegetables and fruit.
Ceramic knives do have some drawbacks. They are more brittle than steel blades, and shouldn't be used on hard foods like bones and frozen food. For this reason alone, steel knives are more versatile as all-purpose knives.
Like most things, it boils down to preference. However, you can usually find a place for a hard-to-dull ceramic blade!
Features to Look For In a Ceramic Knife
Weight
When choosing a ceramic knife, make sure to find one that you find comfortable to use. Much of a knife's comfort level is tied to its weight. If it is too heavy, then it will be too hard to maneuver.
The perfect ceramic knife includes a lightweight blade that is ideal for lifting and edge control. That said, some chefs appreciate a little more heft in their knives (like me). Think through how you want to use your knife as you decide on a blade.
Balance
As long as you are considering the weight of the knife, also consider its balance.
Balance is another major factor in how comfortable the knife will be to use. You want to make sure that the blade doesn't fall to either side more than the other, and that the length doesn't feel bulky or clumsy with the design. Slicing and chopping is much more comfortable with evenly distributed weight.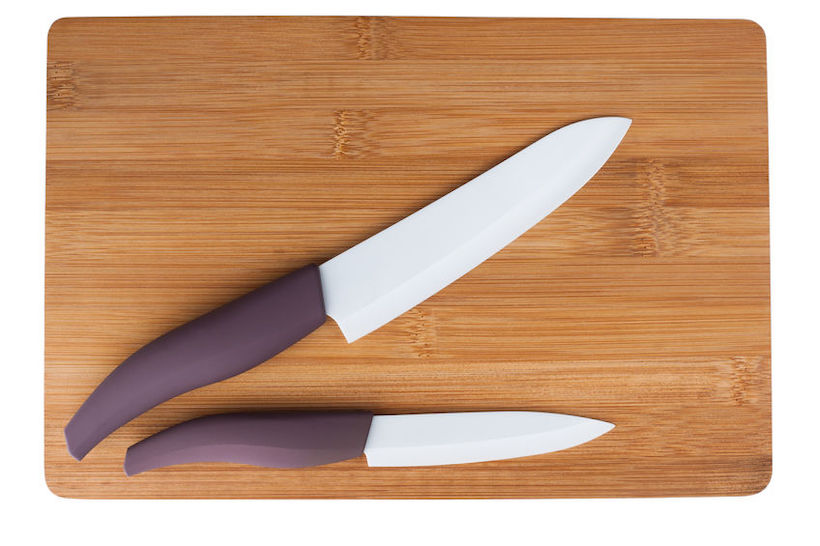 Ease of Use
When considering ease of use, you want to look at the physical features of the ceramic knife to see how easy it is to use.
A handle has a comfortable feel that will make using the knife during meal preparation more comfortable and enjoyable.
Handle
If you want a handle that is comfortable to hold, look for a ceramic knife with a smooth and well-shaped handle. You want a knife that fits perfectly into the curve of your palm. You also want the knife to be made of material that isn't too heavy, but still comfortable to grip firmly.
Maintenance
Ease of maintenance is always a good selling point for a knife – and ceramic knives are fantastic in this category.
Ceramic knives are non-porous and will prevent rusting and corrosion. You'll have a knife that has an edge that will stay sharp for a long period, – a ceramic knife is about as close to grab and go as you'll get in the knife block.
Also, check out our roundup of best ceramic knife sets.
Best Ceramic Knife Reviews
The eight-inch, ceramic Cuisinart Elements Open Stock Chef's Knife is sharp and durable. The Cuisinart is a break-resistant chef's knife that will stay sharper than a stainless steel knife. The Cuisinart also comes with an ergonomically designed handle for better comfort. 
Featuring Cuisinart's advanced blade technology, the blade retains its edge longer and is more durable (even more than some other ceramic blades). With this knife, you're getting a superior quality and rust-resistant knife – that also comes with a five-year limited warranty.
Pros:
The knife doesn't need sharpening and will work for months or years of heavy usage
It features a robust and comfortable handle
A very sharp knife that cuts smoothly
Cons:
You have to be very careful with the fragile tip
It would be nice if handles didn't come in different colors
---
Holding its edge ten times longer than traditional knives, the Vos Professional Ceramic Chef's Knife is eight-inches long and comes with a sheath cover and a cookbook. Perfectly balanced, the Vos Ceramic Knife is ground with precision allowing it to slice pieces so thin you can see through them. 
Not only does the Vos stay sharper longer, it also has incredible edge retention and does not require sharpening for years.
Unlike metal knives, this ceramic knife will not leave a metallic taste on food, or rust or pit. It also will not transfer odors to other food when you slice different ingredients consecutively. The blade is dense and has very few pores, so less grime and dirt will collect. These factors add up to the kicker: this knife is easy to clean.
The Vos Ceramic Knife will never brown food and is impervious to oils and acids. It is less than half the weight of traditional knives, making it very easy to use. Plus, it comes with a well-balanced and ergonomic handle featuring a highly controlled grip. You will soon be cutting through fruits and vegetables with lightning-fast precision.
Pros:
It can peel a tomato like a potato
It has a very sharp edge and comes in a nice gift box
Great knife for the price
Cons:
Some users complain it isn't as sharp as a sharpened steel knife
The handle isn't very comfortable to some owners
---
The seven-inch OOU Pro Kitchen Knife is not a ceramic knife. It emulates ceramic with a high carbon stainless steel blade and a black oxide layer. The layer makes it much more rust-resistant and prevents odor transfer better than regular stainless steel knives.
The OOU comes with a well-designed ergonomic handle. It is FDA certified and sharp enough to cut fruit, vegetables, and meat.
This durable and strong knife won't chip or scratch and is made to take on tough tasks. The body of the OOU Pro emulates a shark's body giving it a sleek appearance. It is also lightweight, breathable, and comfortable to use. It is hand-polished by craftsmen with years of experience to guarantee a long-lasting sharpness.
Using a special premium edge technology, the blade is sharpened in four sections. It includes a cutting angle of less than 16 degrees which allows you to slice food smoothly and retain most of the juice inside. This knife is equally at home in a professional setting or, well... at home.
Pros:
Versatile enough to become the primary knife in your kitchen
Easy to sharpen (if you ever need to)
It is made with high-quality materials and makes an excellent gift
Cons:
Technically not a ceramic blade but a treated stainless steel
It's nice to aim for an all-rounder, but you should still pick up a paring knife
---
Featuring a seven-inch black blade, the Kyocera Advanced Ceramic Revolution Series Chef's Knife is as perfect for professional use as in your kitchen. 
Lightweight and easy to use, this knife causes less wrist and hand fatigue during repetitive slicing. These incredibly sharp ceramic blades hold their edges ten times longer than other knives.
Perfect for straight cuts on meat, fish, vegetables, and fruit, the Kyocera has few pores and is easy to clean. The Kyocera is also dishwasher safe – although I always recommend hand washing your knives.
It is constructed of very dense sub-micron particles that leave minimal voids, creating a denser and stronger blade with incredible sharpness. Half the weight of other knives, the Kyocera does not add additional weight to the handle, and there is very little resistance when you use it. With its professional sized blade, it is perfect for large slicing tasks.
Pros:
It has a nice quality and feel to it
Nice and sharp knife for mincing, dicing, and chopping
The ergonomic design reduces fatigue and creates clean cuts
Cons:
Some owners found it tends to chip after a couple of months use
Ceramic blades are brittle, so you shouldn't cut frozen or hard foods
---
The six-inch Kitchen Academy Chef's Knife is a professional grade paring knife that is super sharp and completely rust-proof. There are no metals in this knife to react with fruits, so it will not damage your food's nutrition or drag odors between cuts. With its antioxidant technology, this knife will keep your ingredients fresh and not brown foods it touches.
The Kitchen Academy Ceramic Knife is the perfect size to cut meats, fruit, and vegetables. The ultra-lightweight knife is ideal for making precision cuts, and it is easy to clean, giving you a long-lasting product.
Made from oxidant zirconium, this ceramic blade is a great choice when making baby food. The Kitchen Academy Ceramic Knife also features an ergonomically designed ABS handle that gives you excellent control and grip when using it. It also comes with a one year manufacturer's warranty.
Pros:
It is a very useful everyday knife to compliment a Chef's knife
Lightweight and smooth
It is pretty, sharp, and easy to handle
Cons:
The knife is a bit hard for peeling
If you drop it, it will break more readily than a steel knife
---
The eight-inch Alpha Inspirations Ceramic Chef's Knife is a professional-grade kitchen knife that won't need to be sharpened for years. It includes a stylish blade cover, and it comes extremely sharp right out of the box. The Alpha Inspirations features a non-porous blade that is easy to clean, and odors do not get transferred between foods during use.
The Alpha Inspirations is rust-proof, well-balanced, and lightweight, eliminating cleaning and fatigue. The injection-molded handle comes with a rubberized grip to prevent slipping. The Alpha Inspirations Knife has durability and versatility that you won't find in traditional knives. Plus, it comes with a manufacturer 30-day money-back guarantee
Pros:
It comes with a sheath so that it won't cut your hand in the knife drawer or a bag
It keeps a nice sharp edge
It looks good, feels good, and works well
Cons:
It is a great knife, but you can't chop bones or frozen food with it
---
The professional-grade and ultra-sharp CUSIBOX Chef Knife features a six-inch blade and comes with a sheath cover. Giving you a whole new experience in the kitchen, you will get a lot of benefits from this ceramic knife that you don't see in a regular steel knife. You will rarely need to sharpen this knife – it has a razor-sharp edge that will only slowly wear out. It comes with an ergonomic handle that has a non-slip design.
Constructed of high-purity zirconium oxide powder, it is compressed at high pressure and then heated at temperatures above 2700°F. This process creates a very hard blade that is almost as hard as a diamond. The CUSIBOX is easy to maintain and is rust free, so it will always keep the original color and taste of your food.
The CUSIBOX is the perfect knife for slicing vegetables, fruits, and meats. It is non-toxic and acid-resistant and weighs half of what a metal knife weighs. The ergonomic handle is comfortable and gives you a secure grip. Plus, the CUSIBOX comes with a one year warranty.
Pros:
Excellent introductory knife for the first-time ceramic buyer
Easy to clean and handle
Versatile and comes with a lightweight handle
Cons:
If you do sharpen it scratches easily
Some users report it doesn't feel like a professional quality knife
---
My Pick for Best Ceramic Chef's Knife
In my opinion, the best ceramic Chef's knife is the Kyocera Advanced Ceramic Revolution Series Chef's Knife.
Ergonomic, perfectly balanced, and the perfect (7-inch) size for maneuverability, it's a versatile blade which you'll reach for over and over. Although it's a bit more expensive than some options, it's an excellent choice for an all-arounder.