In a hurry? My pick for best airtight container for flour is the Rubbermaid Brilliance canister.
Whether it's a Pinterest worthy pantry you want or a container that can seal out moisture and even the smallest bugs for months, we've got you covered. In this guide, I'll provide you with a complete guide to choosing the best canister for flour.
Let's protect your flour and keep it dry - onward!
How to Choose the Best Airtight Container
There are a few factors to consider anytime you are looking to invest your money in a new product – even an inexpensive one. Few things are more frustrating than purchasing a new item only to discover it doesn't work for you.
When it comes to deciding the best airtight flour container, some good things to consider are:
BPA-free plastic
clamps and seals
lid and seal strength
design and functionality
how often you use flour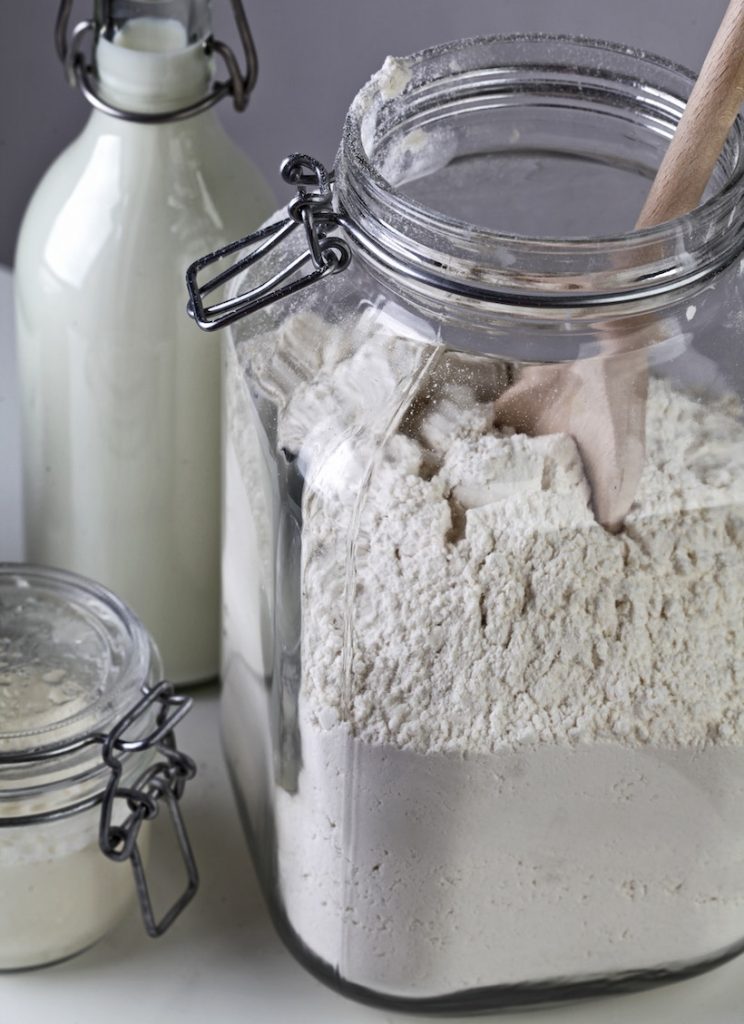 Why choose a BPA Free flour container?
Companies –especially those who manufacture plastic goods –often use bisphenol A or BPA in their plastic.
The compound is considered an undesirable ingredient because it "imitates the body's hormones and interferes with the production, function, secretion, transport, action, and elimination of natural hormones including the ones responsible for fertility," stated Medical News Today.
Draw your own conclusions, but I don't trust BPA. As a result, today I only included only BPA-free plastic containers.
Clamps and Seals
It's essential to consider the type of clamps and seals on the container you choose as well as how durable the lids are on airtight containers. You want seals that won't allow moisture or bugs into your flour.
Good seals are especially crucial for those who live in areas with high humidity because the moisture in the air could easily affect the flour.
Another factor to consider is the robustness of the clamps. Many airtight containers have snaps, which might break because they're not made well, or cannot hold up to prolonged use. Look for a solid snap that can hold up to repeated snapping and unsnapping.
"Easy Open" Containers vs. More Secure
Airtight containers can have snapping lids, seal-on, press-on, or some other way to create a protective barrier.
Some of these lids are easy to remove, such as the ones with snaps on the sides. Meanwhile, other lids are harder to remove but better protect your flour from outside elements.
The best option depends on your own needs: consider how long you store the flour and your abilities.
For example, you may want lids that are easier to open if you do not have a lot of strength in your hands. A weaker lid seal might be worth it if you have a medical condition that interferes with your ability to open things, such as arthritis or Parkinson's.
On the other hand, you may want the container to have a stronger seal if your flour will be inside the container for a long time.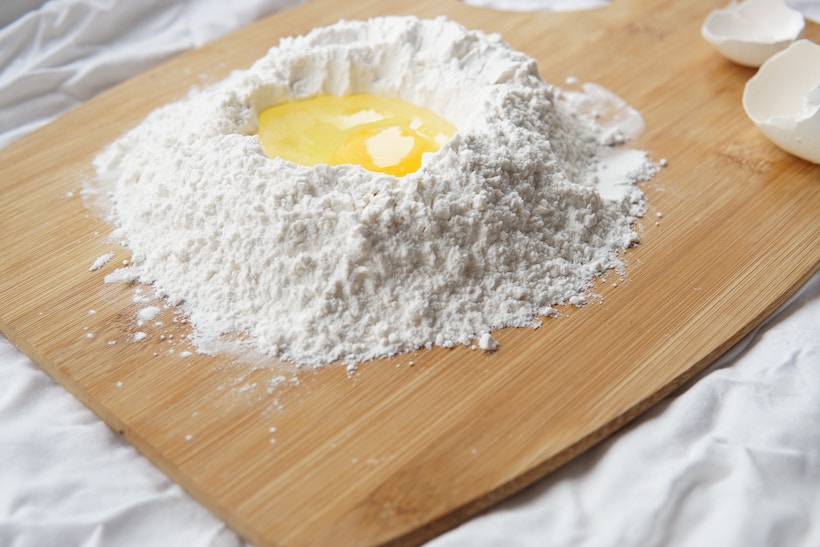 Design and Functionality
Another critical factor to consider is your flour container's design.
They come in different shapes, sizes, and colors – including transparent. Some are stackable, which saves space in your pantry or cabinets.
You should also look for features that affect the functionality of the container. Many people want to clean their plastic containers in the dishwasher, but not all containers are dishwasher safe. Storage containers may have cracks and crevices inside them; these features may cause food and mold to be trapped inside the container.
How Often Do You Bake or Cook?
You need to consider how often you open the container because it influences what size canister you need and the strength of the seal you'll need.
For those who use flour occasionally, you'll need a container with a secure seal that can keep flour fresh for months. Meanwhile, if you bake all the time, get a container that stores a lot of flour.
Top 5 Best Airtight Containers for Flour
I considered all of the factors discussed in our buyer's guide when I chose the five airtight containers that made our list. Without further ado, here are the canisters I feel are best for storing flour.
First up we have Rubbermaid's Brilliance 16 cup airtight storage container. It's no secret that Rubbermaid is a leader in the household storage products industry. They've been making storage containers for almost 80 years and have developed a reputation for creating excellent organizing products. You can find reliable Rubbermaid products for the bathroom, kitchen, car, closets, shelves... well, you get it.
We particularly appreciate that the Rubbermaid can hold up to 16 cups of flour and only has two snaps to secure the lid. Below we offer a comparison of Rubbermaid's pros and cons:
Pros:
BPA-free
Stackable
Easy to secure and open lid
Transparent
Dishwasher safe
Lifetime warranty
Ideal for storing in bulk
---
Second on our list is GoodCups' 4-quart, plastic airtight container. It has an airtight lid with four snap-on locks to ensure nothing gets into (or out of) the canister. We think it's one of the best options for bakers, families, or those who like to buy in bulk because it can hold up to 5 pounds of flour.
GoodCups is one of my favorite containers on the list.
Pros:
BPA-free
Stackable
Four snaps prevent leaks and contamination
Safe for the dishwashe, microwave, and freezer
Transparent
Cons:
Locks may be difficult to close at first
---
Chef's Path made our list because it makes a very durable container which comes in multiple convenient sizes.
We also appreciate its unique features. It has a square design as well as a rectangular design for its lid and snaps. These containers are exceptional for those who want to store their flour in a canister that will look wonderful and be able to withstand some abuse.
Pros:
Tough Acrylonitrile butadiene plastic
Secure lids and snaps protect flour from bugs and moisture
Small & large size available
Easy to open and clean
Stackable
Comes with reusable labels
Transparent
BPA-free
Cons:
Little information on whether it's dishwasher safe or not
Thick lid requires canister space to seal
---
Vtopmart's storage containers offer several different size canisters – the largest ones can hold over 5 lbs of flour. They also come with fun labels and look great in an organized pantry.
We think Vtopmart's flour canisters are particularly excellent for baking enthusiasts and families.
Pros:
Are BPA-free, transparent, and stackable
Available in multiple sizes
Have reusable labels
Completely airtight, locking out moisture
Easy to open and close
Cons:
Made of thin plastic which some users report may break easy
Not necessarily dishwasher, freezer, or microwave safe
---
Last but certainly not least on our list is OXO's Good Grips POP canister. It has a unique seal design and simple to open lid. It's the perfect airtight container for those who have trouble opening things with their hands.
Its lid can be opened or sealed by pressing a button on top.
Pros:
Holds up to 5lbs of flour
Easy to close and open lid
Stackable and transparent
Available in different sizes
BPA-free
Unique design makes it easy to pour contents out (if you use it to store liquid)
Cons:
Only the seal is dishwasher safe
Lid and seal breaks down quickly for some users
---
The Bottom Line
Although the best airtight container for flour depends on your specific needs, I still like the Rubbermaid Brilliance canister the best for the average user.
Rubbermaid has been around for decades. It has a reputation for quality storage products and has the best benefits out of the canisters we listed.