Headed out the door? My pick for best wheeled cooler is the YETI Tundra Haul Portable Wheeled Cooler.
A cooler may be a necessity for your outdoor adventure, but you and I both know how tiresome it can get carrying one from spot to spot. Thankfully, wheeled coolers exist, and we can spend a few minutes today discussing them together.
From camping to relaxing on the beach, the best rolling cooler will make hauling your food and drink supply a far less stressful task. I'll teach you more about these wheeled coolers in addition to reviewing eight of my favorite ones to help you decide the best one for you.
Top Wheeled Coolers in the Roundup
Rolling Coolers – What You Should Know
There are certain aspects of a wheeled cooler to consider before settling on one for your next excursion outdoors. But as will most products, the best one for you is going to depend on your needs in using it.
For example, if you're planning on lugging this cooler on a camping or hiking trip, then you probably need something more robust than a person who needs a cooler for one day at the park.
Let's tackle everything you should know about rolling coolers to help you understand them better.
Rolling Coolers vs. Traditional Coolers – What are the Benefits?
No matter what kind of cooler you get, they perform the same purpose. A cooler's core function is to keep your food and drinks at a safe temperature while you're outdoors. This is no easy task – you need to have a high-quality cooler that will get the job done for as long as you need it.
Now, is there a big difference between rolling coolers and traditional coolers? Well, the answer lies in one crucial distinction: the wheels.
Wheeled coolers have the benefit of being far more portable. You don't have to strain to lift it to transport it (well, other than into and out of your trunk). That can become even more of a hassle once the cooler is filled up.
To use a comparison, consider how much less stressful it is to use a wheeled suitcase while rushing through the airport versus trying to cart heavy luggage by hand. The same goes for wheeled coolers and rolling over the uncertain outdoor terrain.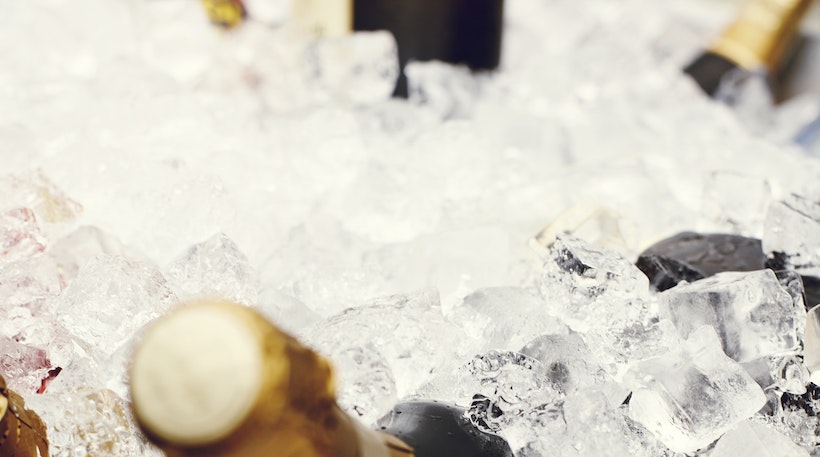 Cooler Insulation
Your cooler can only perform up to the quality of its insulation. Generally, cooler insulation is made from polystyrene or foam.
Polystyrene is a type of plastic that is more affordable to use. It can also be made into a foam, which tends to be better at insulation. It's also very resistant to water damage. Additionally, polystyrene is also lightweight and won't add much heft to the cooler.
With regular old foam, your cooler's interior generally won't stay cold as long as with polystyrene. That's not universal – foam-lined coolers may increase their insulation by having thicker walls and lid.
And there's another insulation method some coolers are using. Some coolers may instead feature ulthrotherm insulation. This is typically used to insulate solid walls in houses, and it may also provide longer low-temperature environments than with simple foam.
Features to Look For in Quality Wheeled Coolers
As you're picking out your wheeled cooler, there are quite a few things to consider. I'll summarize what you should keep an eye on while looking.
Capacity
I don't feel one size cooler is necessarily better than another. Instead, it's what you need on your next excursion that will help you determine the best capacity.
If you're going camping with just one other person for a couple of days, then a medium-sized cooler might serve you well enough. Now, if it's a group of people, it might be in your better interest to invest in large or oversized wheeled coolers instead.
Weight
The fact that these coolers can roll make them easier to transport, but weight is always a significant factor. How much you're capable of pulling in addition to where you'll be moving the cooler around may help determine how heavy or light your cooler should be.
Since it's obvious that the more food and drinks you add to a cooler, the heavier it will be, it's a safe bet to figure out the weight while the cooler stands empty. This can give you a better idea as to how much heavier it will get once you start adding to it.
Weight is more of a factor on rough terrain, or when hiking up and down hills. Outside of those scenarios, generally, the cooler and its burdened weight is most important when you first unload it while it's full of drinks and food.
Wheels
Of course, a key feature to consider with wheeled coolers is, well, the wheels. As with the handles, wheels come in several different designs.
Some wheels are an average size, while others are oversized. Both wheel types can work well, but larger sized wheels generally are built to handle going up the side of a mountain or over uneven terrain at a campsite. Others are explicitly designed as all-terrain wheels, so they'll work regardless of where you are headed next.
To look at more than the size, consider the additional features of the wheels. Anti-skid properties may help to stop the cooler from moving laterally as well as prevent skid marks left behind. This feature may be beneficial if you're using your cooler on a smooth surface, such as a deck at home or on a boat.
Additionally, I always consider how smooth the wheels are to operate. Some wheels are a joy to drag around while others slow you down with friction.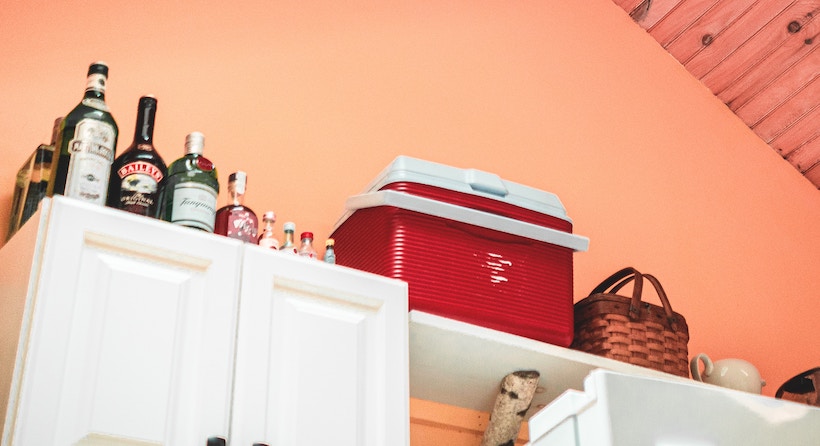 Handle
Combined with the cooler's weight and wheel design, the handle takes a starring role. If you pick a cooler with a terrible handle, you won't enjoy lugging it around with you – especially on an extended trip.
Let's start with how a handle feels. Ideally, the grips are comfortable enough that you won't feel fatigued after pulling it.
Handles on wheeled coolers are also designed in different ways.
Some handles are simply straight. With a straight handle, you merely pull them up and go.
Other handles are telescoping. With telescoping handles, you can adjust the height. Telescoping handles are usually more versatile, especially ones with handle length adjustment or ones that allow you to store the handle out of the way.
Some rolling coolers may even have a curved handle style. Such a style might help you pull at more of an angle and make sharp turns sometimes required on rougher outdoor terrain.
Long-Lasting Material
Outdoor coolers need to have a somewhat robust design to withstand any harsh conditions. Low-quality builds won't last as long.
Many coolers feature rotomolded construction. This may be one of the most durable methods of manufacturing coolers as the build is seamless and capable of better absorbing shock.
You may find some coolers made from fabric and soft foam instead of a harder material. These coolers might be excellent for a jaunt to the beach or a few hours in the park, but they won't compete with a rotomolded cooler for ice retention time.
Others have better, more durable wheels. They often feature puncture-proof material or are made with a rigid design that doesn't require air inside.
Also, take a look at extra features for durability, such as an antimicrobial lining. This type of coating can keep your cooler free from building up harmful bacteria that can damage your food and drinks. It also helps you maintain it better as it's easier to clean and fights off stains.
Best Rolling Cooler – Top 8 Reviewed
The YETI Tundra Haul Portable Wheeled Cooler is a top-rated cooler that utilizes the solid, rotomolded construction YETI offers in their standard coolers. This durable build goes down to the core of the cooler, keeping it free from impact-related damages.
The handle is also extremely durable. It's made from welded aluminum, and you can see that it has a more curved design compared to the straight arm design other coolers have. You may notice the cooler can turn to the left or the right without much hassle, thanks to the curved arm style.
The cooler also has a comfortable grip. However, it does have a relatively heavy design, so not everyone may be able to pull this for long trips once it's filled. Still, the wheels can make things easier on you (even if they look a bit lower in quality to some). They are puncture and impact-resistant, which will help if you bring it camping.
Inside, the walls and lid are pressure-injected with polyurethane foam. This thick design, along with the flat walls, offers the YETI Tundra Haul more ice retention for extended periods. As for what you can put in it, the cooler can hold quite a bit of items with its capacity of 55 quarts. The flat walls may also aid in you being able to fit more food and drinks inside.
With the YETI, you can choose from five different colors. However, some users have mentioned the cooler, in spite of its relatively higher price and reliable build might experience some cosmetic damages like scratches.
Pros:
Durable and comfortable handle
Features long-lasting materials
Quality polyurethane foam insulation
Cons:
Might be too heavy for some people to carry
Some users find it is easily damaged cosmetically with scratches
---
The RovR Wheeled Camping Rolling Cooler is another top-performing (and relatively expensive) wheeled cooler. Its handle design helps it stand out more since it's a dual design. Handles on either side of the cooler can help you with pulling the cooler with less stress.
The RovR's wheels are smooth so that they can offer excellent mobility. Their design prevents them from puncturing, making them excellent for use in uneven terrain. They also are built wide and grippy, making the RovR easier to drag across gritty terrain such as dirt and sand.
With the combination of thick foam insulation and an airtight gasket seal, you can see days-long ice retention. However, some users have experienced quality control problems concerning the seals. If the seals don't close correctly, this can lead to shorter ice retention or the chance of leaks.
Otherwise, this cooler has a durable body with thick, puncture-resistant tires. You have some versatile storage with this, too, thanks to the "dry bin" section, allowing you to separate dry food from wet beverages in an independent area. At a 60 quart capacity, the cooler can fit a good deal of items too.
Something to be aware of: the RovR is a bit heavy even when empty. With its overall size, there are user reports that it can be difficult getting in and out of a car. Still, the wheels and handle may make it simpler to pull once it's on the ground.
Pros:
Dual handle style
Wheels provide good mobility
Dry bin room for versatile food storage
Cons:
Users mention it's oversized and can be tough to transport in a car
Some owners found quality control issues with seals
---
With the Coleman Rolling Cooler, you have a more affordable cooler that can keep food and drinks cold for a decent amount of time. It features insulation in the walls and lid to maintain coolness even under hot temperatures.
The cooler has a reliable build to withstand average use. The lid alone is durable and has a supportive weight limit of up to 250 pounds, allowing many people to sit on it without damaging it.
There are cup holders built into the lid so you can make better use of it even when it's closed. Also, it has an excellent seal to keep the cold air in and fight off potential leaks. This tight seal may also force you to apply just a bit more effort to open it, though.
Once inside, you may notice that the interior has an awkward design. The walls aren't entirely straight and flat, so some owners have talked about difficulties making full use of the high 50-quart capacity.
When moving the cooler around, the wheels do seem high in quality to better go over any terrain. The handle is telescoping so that you can adjust the height accordingly. However, the handle doesn't feel as rugged in design as the wheels or the body. Users report the grip may not be that comfortable, and the handle can slip from its set height at times.
Pros:
Build seems supportive
Leak-resistance thanks to a secure lid
Easy to adjust the handle
Cons:
Users claim the handle isn't well constructed
Awkward interior design
---
The Igloo Trailmate Marine Wheeled Cooler is an oversized cooler that has a 70-quart capacity. It is built to fit plenty with a rugged design featuring stainless steel and aluminum parts.
In spite of its massive size, the wheels allow smooth transportation over any terrain. There are even anti-skid properties built into the wheels so that they won't scuff up your floor if you pull it around inside or out on a boat deck.
When pulling the cooler along, the horizontal handle is telescoping so you can lock it in various height places. Telescoping handles may be good to allow for multiple people to pull the cooler comfortably, but some users have mentioned that the handle struggles to remain in the locking position.
Other owners also believe the handle isn't as well designed as the remainder of the cooler. Also, there are some worries that ice retention isn't as long as claimed, even if it does have an ulthratherm insulated body and lid. It may be a more value build than other coolers on the list, but it can be good enough for a short time outside.
There is also the bonus of the butler tray design. You can pull it out to set your drinks up and small food items, utilizing just the cooler to enjoy your outdoor adventure.
Pros:
Users appreciate how smooth the wheels roll
Butler tray design built-in
Body seems built well
Cons:
Ice retention seems minimal
Users mention the handle doesn't lock in place well
---
Unlike the other wheeled coolers in the roundup, the Arctic Zone Titan Deep Freeze Rolling Cooler is designed with a soft fabric material and flexible foam insulation. You can even remove the cooler from the cart and carry it with the shoulder strap if you wish!
As it stands as a rolling cooler, the wheels are large and robust enough to roll over most terrain smoothly. Inside, it has a 60 can capacity so you can fit a good deal of items without overcrowding. It also can hold up to 100 pounds, and users feel it's still relatively easy to pull when full.
However, there is a chance that you can tip it, depending on how the weight is distributed. There are multiple compartments, so you may have to take care in how you place everything inside.
Your items should stay reasonably cool for a couple of days with the Arctic Zone. There are four layers of insulation built into the cooler to support quality ice retention. Also, so that you can better reach everything inside, the cooler is designed with a Velcro top. This feature will let you quickly pull up, grab something, then drop the lid for an easy re-seal.
There are some user reports about a low-quality lining, however. It seems that it may be too thin, which can lead the cooler to develop leaks in spite of the out-of-the-box leakproof inner layer.
Pros:
Large wheels suitable for most terrain
Users appreciate the easy-to-use Velcro opening
Four layers of insulation
Cons:
Chance for it to tip over
Users mention the possibility of leaking
---
The MILEE Heavy Duty Wheeled Cooler lives up to its name, considering the robust rotomolded construction. It features commercial-grade insulation inside not just to add more durability, but also to improve ice retention – users report ice will last days on end in the MILEE.
The MILEE's design doesn't appear to end with the shell – the wheels feel incredibly reliable, too. They're made of rubber and feel as though they can glide over most terrain with ease. The feet are non-slip as well for added security. The lid rounds out the sturdy package; most people can comfortably sit on top without fear of it indenting in.
The cooler features a generous 70 quart capacity with a cooler divider and a basket, providing a versatile storage experience for you. Some users believe it can get a bit too much on the heavy side, though, especially when full. Be sure to take care when filling it up.
This cooler seems to seal cold air in well, but the pressure release button can make it easy to open nonetheless. However, some users found the lid latches to be a weak point.
Some useful accessories are included beyond the hanging wire rack. It features a built-in bottle opener and comes with a cup holder you can hang off the cooler. For easier pulling, it has removable, nylon rope handles. This is also another cooler available in different colors.
Pros:
Rubber wheels feel robust in design
Quality, days-long ice retention
Well-designed rotomolded outer body
Cons:
Some users feel it gets too heavy
User reports that the lid latches may break
---
The Pelican Products ProGear Elite Wheeled Cooler is available in either a 45-quart or an 80-quart design, so you can choose what better suits your purposes. Either is well-built and an excellent option.
One thing to consider when filling them up, though, is that they can get heavy. The Pelican coolers are already bulky while empty, so you might have some difficulty loading and unloading the cooler – especially so with the 80-quart option. Even so, they are both very sturdy once on the ground. The designs tuck the wheels up and away when it is on the ground. The wheels only make ground contact when you are dragging the coolers.
Pulling the Pelican along might be tough, considering some users feel the handle is awkwardly designed. Although the lower, straight styled handle can keep a cooler from bumping your heels, it might force you to roll at an uncomfortable angle. This is since it may not come up to the angle best suited to your build.
Both coolers perform exceptionally well and live up to Pelican's excellent reputation. They have thick insulation for ice retention that can last days before you have to change out your ice or ice packs.
There are reliable gasket seals as well to help keep the coldness inside the cooler. For easy opening and closing, this cooler also has a quality latch system on the lid.
Pros:
Reliable gasket seals help maintain ice retention
Solid feet underneath to keep in place
Thick insulated walls
Cons:
Some users complain the handle design is uncomfortable
Can get heavy depending on packing
---
The Igloo MaxCold Roller Cooler is a value-priced wheeled cooler that offers high-quality insulation. It uses ultratherm insulation in both the lid and the body, and it seems to hold ice well for several days.
When everything melts, however, is when users run into problems – the cooler doesn't offer a drain plug. So, you'll have to unload everything inside to get rid of the water before adding in more ice. This can be a hassle, but the cooler is lightweight, which makes it easier to lift.
Rolling it around is simple too. The wheels are robust and reliable, and the reinforced swing-up handles make it painless to pull along.
The Igloo has a 40-quart capacity, which is a bit on the smaller side in this roundup. It may be better suited for short outdoor trips, or when used by one or two people. On the outside, the cooler seems to have a durable shell so that it can survive various outdoor activities.
Something you may want to watch out for is the hinges on the lid. Even though it seems easy to open and close, users find the hinge design seems a bit flimsy and low in quality. This might cause the top to come off – entirely by accident.
Pros:
Good insulation that can last a few days
Wheels roll well on various terrain
Well-built shell to protect against impacts
Cons:
User complaints about flimsy hinges on the lid
No drain plug to remove water
---
My Choice for the Best Rolling Cooler
Rolling coolers can offer you some much-needed convenience for outdoor adventures. From dragging onto the boat for some fishing to just hanging out at the park, rolling coolers allow you to tug your drinks and food along without problems. For me, the best wheeled cooler from the ones I've found is the YETI Tundra Haul Portable Wheeled Cooler.
The YETI comes in several colors so you can customize it to your liking. It features pressure-injected insulation that can help the cold inside last for days. The rotomolded construction provides it with excellent durability, and the wheels aren't at risk of puncturing.
There's even durability in the aluminum handle arm, and the curved design can help you pull it with ease. All in all, it's an excellent choice for a cooler, which will serve you well.