If you're in a hurry, my favorite watermelon slicer is the Yueshico Watermelon Slicer. And for those who like to get artsy in the kitchen, the best option is this U&Mei Food Slicer and Peeler Tool Set that contains ten different slicers and peelers.
Who doesn't love a sweet and juicy watermelon on a hot summer day? The only downside of watermelon is cutting it. We all know how hard and time-consuming it can be to slice up a whole watermelon properly.
Thankfully, there's a simple solution to simplify the slicing process, so let's look at the best watermelon slicer models and what to look for when shopping.
Best Watermelon Slicers Reviewed
Benefits of Using a Watermelon Slicer
Even though you can slice up a watermelon with a regular kitchen knife, some significant benefits come with a watermelon slicer. Here are just a few of them:
Safety
The first benefit – and the most important one – is the safety of using a watermelon slicer rather than a kitchen knife to slice up a watermelon. Your hands are not directly exposed to a blade, so your chances of getting poked by the sharp edge while cutting it up are non-existent.
Plus, watermelon slicers don't have very sharp blades like knives. Since watermelons are pretty soft, the edge is only sharp enough to cut through the watermelon but not sharp enough to cut and injure your fingers.
Versatility
Another benefit of watermelon slicers is that they're not just used for slicing up watermelons but can be used to cut other fruits that might be hard to slice, such as cantaloupe and melon.
Time and Convenience
No matter which slicer design you choose, it'll save you half of the time you usually need when you slice a melon with a knife. Plus, it's also much easier to use and requires less force since you don't have to cut through the skin.
Cleanliness
With a dedicated watermelon slicer, you can cut the fruit without getting your hands all sticky from the juice. The mess from juice dripping all over is also minimal since most watermelon slicers also serve as tongs where you can clamp the sliced portion once done and transfer it to the plate quickly.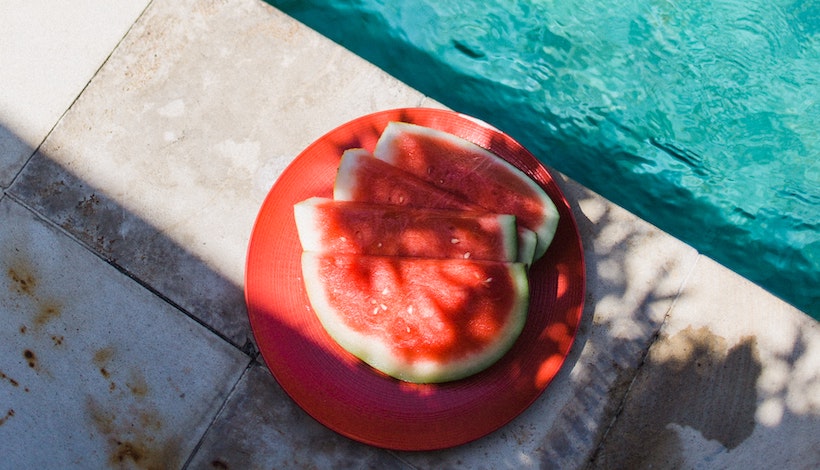 How To Choose a Good Watermelon Slicer
Here are three things to consider before you decide to invest in a watermelon slicer:
Design
Watermelon slicers come in different designs. You can opt for watermelon slicer tongs that'll cut the flesh into wedges or cubes and then can be used as tongs to grab the pieces out and put them on the plate.
Another design is the one that reminds me of a giant apple slicer. With this, you can make several slices at once, but it demands more pressure as you need to cut through the rind too.
The third design is the windmill slicer, which creates adjustable cubes of watermelon and requires the least effort and pressure. Which one to choose depends on your preferences and requirements.
Handle
Another critical thing to consider when you're choosing the best watermelon slicer is the handle design, as this will determine how much control you have. Choose slicers with ergonomically designed handles and made out of non-slip materials to prevent any slips and injuries.
Materials
Opt for a slicer that's made out of food-safe and durable materials, such as stainless steel. Even the handle should be food-grade and safe from any toxic chemicals.
Reviews of 4 Top Watermelon Slicers in 2021
This compact Yueshico watermelon slicer comes with one automatic cutter blade, which you push into the meat of watermelon to create small cubes. This way, you take the rind entirely out of the equation. 
This technique is ideal if you're often preparing watermelon salad or trying to save time when slicing and creating uniform shapes of watermelon for decoration, cocktail parties, or just a family gathering.
This device is child-friendly because it features rounded edges and non-sharp blades, so you don't have to worry about any accidents happening. It's also made from food-grade stainless steel and is BPA-free, so there's no fear of your fruit being contaminated by any harmful chemicals.
The Yueshico watermelon slicer comes in a set with a melon baller as well, so you can also cut out melon balls.
Pros:
Food-safe stainless steel, BPA-free
Easy and fast to use.
Automatic cutter blade that forms perfect watermelon cubes.
Comes with a melon baller.
Non-sharp blades and rounded edges make it child-friendly.
Cons:
Some customers complain that the automatic slicer doesn't make completely uniform cubes and that they vary in size.
---
This large FEENM watermelon slicer can cut 12 perfect slices in just one move. It's versatile, as it can also be used to cut melon, cantaloupe, pineapple, honeydew, and other large fruits or vegetables. 
It features robust handles on the side, making it easier and safer to slice through a whole watermelon without fear of cutting and harming your hands. The blades are made out of high-quality 340 stainless steel that can smoothly slice through thick, tough melon skins without bending.
Overall, it's easy to use and excellent for cutting large amounts of watermelon in minutes.
Pros:
Versatile as it can cut through most large fruits.
High-quality stainless steel that doesn't bend.
Fast and easy for slicing large amounts of watermelon.
Strong and safe handles.
Cons:
Customers report that you need to put a decent amount of pressure on it to cut through the skin.
---
With the Hirvest heavy-duty watermelon slicer, you can cut 12 perfect slices in under 10 seconds. You can also use it to cut other fruits such as melons, pitaya, honeydew, or any other fruit with a diameter under 9 inches.
The solid tool is made entirely out of food-grade, high-quality 304 stainless steel, so you don't need to worry about the durability and toughness of the blades. It features two strong handles on the sides, so your hands won't get all sticky from the watermelon juice while cutting it – and it's tough to injure yourself.
It's convenient to use and easy to clean, as you can rinse it under water once you're done, and it's also top-rack dishwasher safe.
Pros:
Convenient and easy to use.
Super sturdy and extra sharp.
You don't need to put a lot of pressure to cut through the skin.
High-quality and durable stainless steel.
Cons:
You can't cut through watermelons that are larger than 9 inches in diameter.
Some customers report that you need to be careful while washing it, as it's very sharp and you can easily cut yourself.
---
If you're looking for an ultimate slicer set – and you like to be artsy in the kitchen – the U&Mei Food Slicer and peeler tool set is perfect for that. It comes as a set of 10 pieces with everything you'll need in the kitchen. It contains a citrus peeler, kiwi peeler, pineapple corer, banana slicer, avocado slicer, cantaloupe peeler, and (of course) a watermelon slicer and an extra huller. 
All of these fruit slicers and peelers will undoubtedly save you time and effort. They all come with ergonomically designed handles that provide you with a steady and firm grip, so you'll have better control over your hand moves while cutting.
The watermelon slicer that comes in this set is made out of durable stainless steel. The sharp edges of the slicer are used for cutting slices in your desired thickness, and you can then use the slicer as tongs to lift up the piece and put it on a plate. It's portable and lightweight, and perfect if you're on the go.
Pros:
Versatile set with 10 different peelers and slicers for all kinds of fruits.
All the slicers have ergonomically designed handles to provide a steady and firm grip.
The watermelon slicer included can be used for cutting and as tongs to lift up each slice.
Cons:
It takes practice to learn how to use all of the slicers included in the set.
The watermelon slicer included in the set can't be used to slice large amounts of watermelon.
---
My Pick for the Best Watermelon Slicer
All of the watermelon slicers included in this list are great options that'll save you plenty of time and effort when cutting watermelon or any other large fruit such as melon and cantaloupe.
If you're only here for the winner, my top pick must be the Yueshico Watermelon Slicer. It's safe for all the family to use, is made out of durable and food-safe materials, and makes cutting watermelon lots of fun.
The best option for those who like to get artsy in the kitchen is the U&Mei Food Slicer and Peeler Set. It contains 10 different slicers for all kinds of fruits and vegetables so that you can get creative.