Ready to get on the road? My pick for best travel coffee press is the AeroPress Coffee and Espresso Maker.
If you're a coffee-lover, you understand the pain of paying for a lousy cup of coffee while traveling — or worse, not being able to find one at all! With a portable French press, you can make an ideal cup of coffee on the go with minimal effort.
I'm here to help you choose the best travel French press for your next trip, so you'll never have to sacrifice caffeine for a great adventure again.
Top Travel French Presses Reviewed
Your Guide to Buying a Travel French Press
Finding the best travel French press for your needs is worth the effort once you're sipping on that rich cup of coffee.
Here are some tips for buying a coffee press for traveling.
Advantages of Owning a Travel French Press
Whether you're on the road, in a hotel room, or camping in a national park, the best travel French press gives you the freedom to sip decent coffee whenever you like. You can even customize your brew, meaning you never have to settle for someone else's idea of the perfect cup again.
An insulated French press can keep your beverages hot for hours. This is ideal if you're in a rush or traveling long-distance — simply bring your coffee or tea with you and enjoy it at a time that suits you.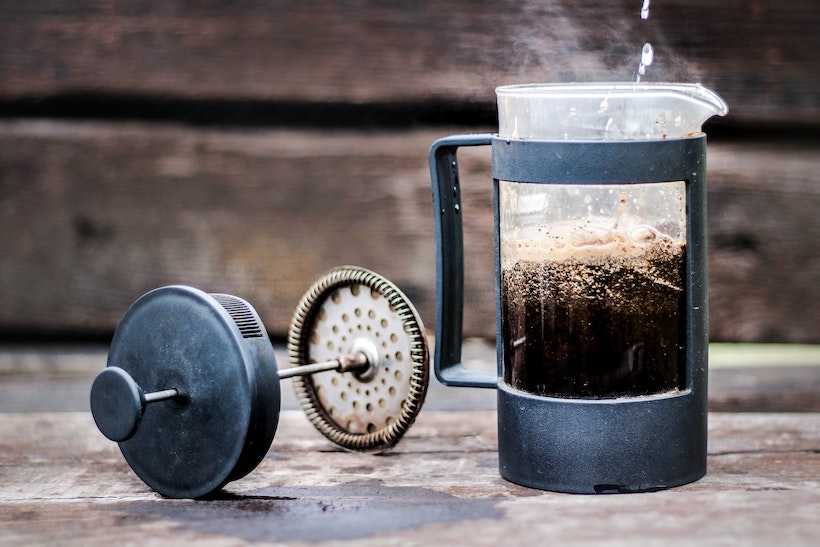 What to Look For in a Travel French Press
Most travel French presses are designed for portability and will only make one cup at a time. If you need more than a single serving to get going in the morning or your fellow travelers are also coffee-lovers, consider investing in a French press with a larger capacity.
If you want to save space while traveling, look for a coffee press that doubles as a travel mug. For car journeys, you may want to choose a handle-free design so you can fit the mug in a cup holder.
Opt for a leak-proof construction so you can pack your coffee or tea away for hiking or boating trips. Furthermore, well-insulated French press travel mugs are ideal for days out — keeping your drink piping hot for longer.
Is French Press Coffee Good For You?
A French press uses a mesh plunger rather than a filter to separate the brewed coffee grounds from the water. This means that the oils found in coffee beans – substances known as diterpenes– aren't filtered out, which changes the taste and feel of your coffee. It might have other health effects as well.
But it's not necessarily "bad" news. The lack of a filter also allows more nutrients to infuse into your brew. And like with all caffeinated coffees, caffeine wakes you up — boosting alertness and energy levels, but it can also improve your memory over time.
Similarly, the antioxidants found in unfiltered coffee have a neuroprotective effect. This means they can slow down cognitive decline that comes with aging. And coffee, in general, does seem to have a number of beneficial effects.
Experts recommend limiting your unfiltered coffee consumption to 4-5 cups a day. Some French presses can also be used with a filter, making them a bit more akin to your standard drip coffee maker.
How to Use a Travel French Press
Travel French presses are versatile, so I suggest you experiment to find a method you like.
I find my perfect cup of pressed coffee involves these steps:
Grind your coffee beans: fine grounds will give you a stronger coffee while coarser grounds will make your brew weaker. You can, of course, also get ground coffee.
Add freshly boiled water: I recommend a coffee-to-water ratio of 1:12 to 1:16. If your press is insulated, allow the boiled water to cool for about 30 seconds before adding it.
Stir: this encourages all grounds to sink to the bottom, which will give you an even, rich taste.
Brew: for finely-ground coffee, you can brew a decent cup in 3-4 minutes. A coarse grind can take around 6-8 minutes.
Plunge: press the plunger down gently, so you don't disturb the coffee grounds and accidentally extract the remaining bitter flavors.
Enjoy: pour your coffee into a mug or add a lid to convert your press into a travel mug, and enjoy your delicious brew!
Reviews of 5 Top Travel French Presses
I reviewed five of the best travel French presses on the market to help you find one that works for you.
Thanks to its total-immersion brewing system, I think coffee aficionados will love the AeroPress Coffee and Espresso Maker.
This is more than a French Press. As well as traditional American coffee, you can also brew a cup of espresso-style coffee, meaning you can make lattes and cappuccinos en-route. No matter what you're craving, this coffee maker has you covered.
The AeroPress uses a paper microfilter that prevents excess oil seeping into your coffee. It's also incredibly easy to clean with hot water and a paper towel, making it ideal for camping or cleaning on the run.
Pros:
Versatile — makes traditional and espresso coffee.
Easy to clean on the go, thanks to the paper microfilter.
Lightweight and portable.
Paper microfilter prevents coffee bean oil in your coffee.
Cons:
Some users report the seal wears down sooner than anticipated.
Travel mug not included.
---
You can brew the perfect cup of coffee in just 3 minutes with the KOHIPRESS Portable French Press. The insulated double-wall vacuum is designed to keep your drinks hot for up to 3 hours, meaning you can brew it and go about your day.
This press is elegantly presented using durable materials, so don't worry if you drop it while out hiking! The KOHIPRESS is compact with a maximum capacity of 12 ounces. This makes it ideal for traveling by car as it should fit securely into most standard cup holders.
One of the best features of this coffee press is the reusable mesh filter, made from stainless steel. You can clean and reuse it time and again, making it cost-effective and environmentally friendly.
Pros:
Lightweight and compact.
Durable materials.
Eco-friendly, reusable filter.
Small enough to fit into most cup holders.
Cons:
Some users found the maximum fill line too high, which can make a mess when you plunge.
Small opening — users reported that this makes the body difficult to clean.
---
The Bodum Travel Press is sleek and practical, with an elegant stainless steel exterior and a rubber base and grip to prevent heat transfer. The absence of a handle makes it easy to slip into a standard cup holder when on the road.
The Bodum is an all-in-one coffee press and travel mug, plus with four colors to choose from, there's something for the whole family. Simply add your coffee grounds with hot water and pop the lid on with the plunger up. After 4 minutes, gently press the plunger down and enjoy your coffee straight from the press!
This travel press is so well-insulated that it might keep your coffee too hot! This is easily remedied by adding cold water or an ice cube when you're ready to drink.
Pros:
Fits into most cup holders.
Doubles as a travel mug.
Ultra-effective insulation.
Rubber base and grip — prevents heat transfer and slippage.
Cons:
Users report it keeps their coffee too hot sometimes.
The plunger could be longer — some users felt it doesn't press down far enough and coffee space is wasted.
---
The lightweight design and leak-proof lid make the Espro Ultralight Coffee Press ideal for traveling, camping, or hiking. At 9.8 ounces, this coffee press is ultralight, so you shouldn't have to worry about it weighing down your suitcase or backpack.
The dual mesh filter keeps all but the tiniest grounds out of your coffee, reducing any grittiness. It's relatively easy to clean, although you do need to unlock the additional basket filter first.
You can make 12 ounces of coffee or transport 16 ounces when using it as a travel mug. This could appeal if you're traveling alone or only need to make one mug at a time. However, if you're on-the-move with a fellow coffee-drinker, you may want to invest in a larger press to save on time.
Pros:
Lightweight and portable.
Leak-proof lid.
Keeps drinks hot for up to 6 hours.
Easy to clean.
Cons:
Some users found the filters separated after a few weeks.
The inclusion of fill lines would be an improvement.
---
The Espro Travel Coffee Press is an excellent choice for traveling, thanks to its flexibility. Users can choose between brewing classic French press coffee or adding a paper filter for a clean-tasting, oil-free cup of pour-over coffee. With a loose-leaf tea press system, tea-drinkers can also enjoy the design.
The double-walled stainless steel interior aims to keep your drink hot for up to 6 hours. You can even push the press down to pause the extraction process, meaning your coffee won't get too bitter over time.
You can brew 10 ounces with this coffee press, or store up to 14 ounces if using it as a travel mug.
Pros:
Choose between French press and pour-over style.
Also suitable for loose-leaf tea.
Keeps drinks hot for up to 6 hours.
Doubles as a travel mug.
Cons:
Some users found the lid difficult to remove.
Only makes one cup at a time.
---
The Verdict: Which French Press to Choose
The best travel French press for your journey will depend on your budget, taste, and travel preferences.
If you're hiking, opt for an insulated, leak-proof design that will keep your coffee hot and won't spill when on-the-move. If you're traveling by car, a handle-free design is a better option — to ensure it fits comfortably in your cup holder.
My top pick is the AeroPress Coffee and Espresso Maker for its quality and versatility. It's lightweight and well-insulated, meaning you can enjoy your coffee after a long hike or road trip.
The ability to make both traditional coffee and espresso makes this a fantastic choice for group travel as everyone can make their favorite brew. The only argument will be about who gets to drink first!