In a hurry? My pick for the best tortilla press is the Victoria Cast Iron Tortilla Press.
Are you looking to create corn tortillas by hand? Not an easy task everyone can manage! Thankfully, tortilla presses exist – you don't have to struggle trying to get the right consistency and shape.
But what makes for the best tortilla press? It's a question I'll help answer for you with my buying guide addressing various features of tortilla makers. After that, I'll look at six top-rated tortilla presses and lay out some of the points to keep in mind.
Ready? Let's press on.
Top Tortilla Presses Reviewed Today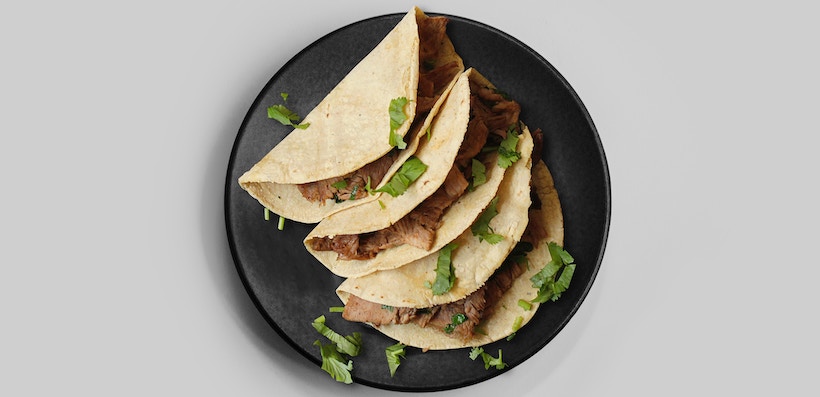 Tortilla Presses – A Buyer's Guide
Tortilla presses have certainly advanced in complexity from their origins in Mexico. Natively, they are referred to as "tortilladora." The original ones were pretty big and required more manual processes with less leverage; new models you can get today are easier to use, lighter, and compact.
It can be a bit overwhelming to decide which one is the right one for you since there are dozens of solid models on the market currently. So, let's learn more about tortilla presses and try to make your choice a bit easier.
Types of Tortilla Presses
There are a variety of different tortilla makers that can help you achieve your goal of creating the perfectly round, compressed, and consistent corn tortilla. The products in my roundup all vary slightly, but I'll address the main types you may see during your search.
The first thing to address is the tortilla press's construction.
Cast Iron
Cast iron tortilla presses are among the more popular choice for many people. They're known for both their heft, and perhaps more importantly for reliably creating (just about) perfectly shaped tortillas.
Using a cast iron tortilla maker feels natural, as you don't have to exert much pressure – cast iron's natural heaviness assists in flattening the tortillas.
There are also the natural advantages that come with cast iron in general. These include a relatively non-stick property and the aforementioned benefits from the weight.
On the other hand, the weight of cast iron tortilla presses also can work against them. They can be tough to move around your kitchen considering their bulk, which isn't good if portability is essential for you.
Cast Aluminum
Another common type of tortilla maker you may see is a cast aluminum press. This type is usually more cost-efficient compared to some of the other types. The weight of an aluminum tortilla press is also almost always lighter head-to-head with a cast iron press.
Although a lighter weight might allow you to move it around easier, it can force you to apply more pressure when you create your tortillas. You won't have as much of the natural mass to help you, but you can often make up for it with a little arm strength.
Wooden
There are many handmade tortilla presses created using various types of wood. The actual wood types vary; you can find oak, mesquite, and even softer pine presses on the market.
Regardless of the wood species, wooden tortilla presses tend to take up a larger footprint compared to other tortilla makers. They might not be the best option if your space is limited in your kitchen.
Electric
Usually made with stainless steel, an electric tortilla press is, well, precisely what its name states. Rather than you applying force, the machine does it all for you reliably and consistently.
Plug it in, place the dough inside, close, and turn on the press. In no time, you should have some well-made – and cooked – corn tortillas. Once you learn to use your press, this type is the easiest to use.
It's not the most ideal, though, if you want to have more control over your tortilla creations.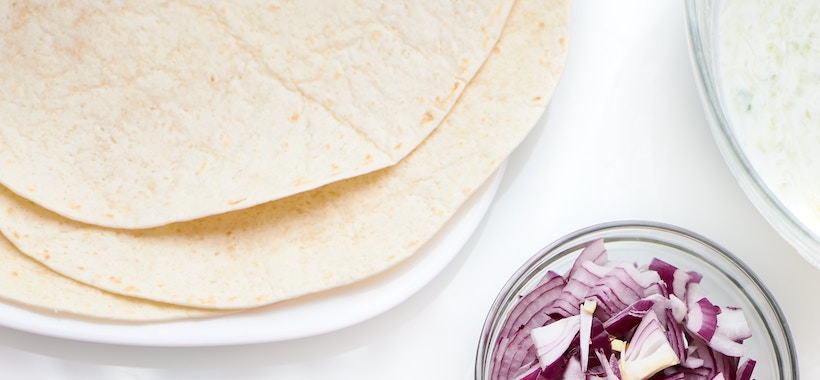 Features to Look For in a Tortilla Press
As you're deciding which tortilla press is the best one for your kitchen, keep in mind some other vital differentiators to help you narrow down your choice.
Build Quality
As with anything you want in your kitchen, a good tortilla press should last you a long time. Durable tortilla presses have handles that can withstand the force you apply, even if you lean into it a bit. This gives the nod to a cast iron maker – the material is naturally more robust.
Size
The best size tortilla press depends on what you're making. For instance, are you looking to cook up some tacos? If so, tortilla makers with a smaller diameter are simpler to use, but won't let you step up the size for different needs.
For anything more substantial than tacos, you're better off going for tortilla presses that around 8 inches in diameter or larger.
Ease of Use
Tortilla presses are intended to provide convenience so you don't have to create tortillas using just your hands. So, they should be simple to use.
A quality tortilla maker should only require you to press down once to achieve the desired results. Also, check your maker has non-stick plates. It's a feature that can allow you to remove your corn and flour creations easier (without always having to resort to using wax paper).
Best Tortilla Press – Top 6 Reviewed
The StarBlue Cast Iron Tortilla Press is 10 inches wide and weighs 12.54 lbs. It offers enough heft to press down on a tortilla with ease. This simplicity allows you to create a good number of tortillas in a short amount of time. Also, the tortillas generally come out even.
The Starblue is made using cast iron, and the press comes seasoned with non-GMO flaxseed oil that should be safer to use than some other seasoning options. Having it pre-seasoned takes some of the guesswork out of using the press and lets you start creating tortillas earlier.
In spite of the heavy-duty cast iron construction, some users found issues with the bolts. Some owners felt they were brittle or lower quality. This might make using the handle difficult at times, but replacing the bolts is also an easy fix.
Although you get 100 pieces of oil paper free with this press, some users found the dough sticking to the paper more than expected.
Pros:
Users mention it's easy and fast to use
Sufficient weight to properly press the tortilla
Press seems well-balanced
Cons:
Dough may stick to the paper included with the press
Users report issues with its bolts
---
The Uno Casa Cast Iron Tortilla Press is quick to put together and just as fast and easy to use. It is recommended that you use parchment paper as the dough may stick the plates otherwise. The Uno Casa even comes with a set of 100 pieces of paper to get you started.
Made from cast iron, this 8-inch wide tortilla maker has a decent weight to reduce the amount of pressure you need to put down. It also seems to give most owners a uniform press, so your tortillas are even no matter how thin or thick you need them.
The build seems reliable, but for some users, there may be issues with the hinge. It sometimes comes across as thin, and there is a chance that it can bend or break if you apply too much force during the pressing process.
Even though the company states that the press comes pre-seasoned, some users weren't satisfied with it out of the box. If that's the case, you can season it yourself, but this would add time to when you can start using it out of the box.
Pros:
Has a solid enough weight
Quick and easy to assemble
Offers an even press
Cons:
Users note it has varying consistency of pre-seasoning
Hinge seems a bit thin to some owners
---
The StarBlue Roti Maker is an electric roti and tortilla maker and an excellent choice if you want something that can readily create your tortilla, cook it, and keep it warm. There's a neon light indicator so that you're always aware when your cooking is complete too, and it has a total width of 10 inches.
It's all protected in a reliable stainless steel housing. This construction can help the machine resist corrosion damage over time. Also, it is rather easy to clean, mainly thanks to the non-stick coating on the plates.
Some users did mention an issue with the handle design, though. To them, there is a flimsier feel to the handle than the rest of the machine. Such a design might force you to take more care, keeping a firm grip but not so hard you can damage the handle.
When it comes to making tortillas, some owners found issues with getting them to come out completely even. However, it might be true that this electric tortilla press may only require some breaking in for its best use. Once you're done making tortillas, it packs up compact enough for easy storage.
Pros:
Cooks tortillas and keeps them warm automatically
Surface is non-stick and easy to clean
Sturdy stainless steel body
Cons:
Chance for the tortillas to be uneven
Some user complaints about a flimsy handle
---
The Eleganceinlife Cast Iron Tortilla Press has a substantial construction using commercial-quality cast iron. Users found it hefty, but mentioned that it has excellent balance.
It can create even tortillas rather well, though some users report issues with getting thicker tortillas than desired. This can be avoided by applying more pressure than usual, though.
However, something you should take caution with the amount of force – some users mentioned the handle can feel loose. You want to ensure that the handle is tight before you use it, otherwise you may risk breaking it. The handle is bolted though, so a quick tightening might be all you need to keep things stable.
The Eleganceinlife is easy to maintain and simple to wipe clean as well, even if you opt to set the dough directly against the plates. You may still want to wrap the dough between parchment or wax paper though, so that there's no chance of it sticking.
Pros:
Heavy-gauge cast iron construction
Users enjoy how easy it is to maintain
Creates well-rounded tortillas in a single press
Cons:
Handle feels a bit loose to some owners
Owner reports of tortillas being too thick
---
The Victoria Cast Iron Tortilla Press is fast to assemble. Although it appears to have a break-in period before you can use it with no trouble, once you understand the press's operation, tortillas seem to come out very well-shaped. At 8 inches in diameter, they are a decent size and have a nice roundness to them.
There isn't much effort you need to put down to get a good tortilla. Do be aware though, you may not always get a completely thin tortilla according to some users. You might want to adjust how you make your dough to get slimmer tortillas.
If you do happen to exert too much pressure, users found you may snap the handle. This seems to be because the pin seems to bend under excess force.
With that said, this tortilla press still seems to function well as long as you don't go too hard on it. The cast iron is reinforced for durability, and the plates are engineered to avoid pinching. It's all pre-seasoned also, so it provides an easy out of the box experience.
Pros:
Goes together fast
Not much effort needed to flatten
Creates well-sized tortillas
Cons:
Owners say it may take a break-in period to use correctly
Some users found the handle may snap or bend
---
The Norpro Tortilla Maker is a 6-inch tortilla press made from lightweight cast aluminum material. It's simple to keep clean too, as you only have to give it a quick wipe once you're done using the press. It is also a good compact size so that it doesn't take up much space in storage.
It's designed to function well, but there are user reports about some issues with how the tortillas come out. Some owners believe the middle of the plates may not be precisely flat because they found the tortillas don't always come out smooth.
Also, the back hinge doesn't seem to close completely. This can cause issues getting consistent results as one side may be thicker than another side.
Even so, the press is quick to learn to use, so this may be good for beginners to start with to understand the tortilla making process. The handle seems to give you some good leverage even if you have to put a bit more pressure if you want thin results.
Pros:
Material seems simple to keep clean
Lightweight design
Compact for easy storage
Cons:
Tortilla surface may not be smooth
Users mention some issues getting consistent results
---
My Pick for Best Tortilla Press
Making tortillas in your home can be a rewarding experience, and having the best tortilla press will certainly make your job easier and faster. If you're not sure which one to choose, my pick for the best tortilla press is the Victoria Cast Iron Tortilla Press.
Its cast iron surfaces come pre-seasoned so that you can start pressing tortillas right away, and the plates are reinforced to help with durability. It seems to have a balanced weight, too, and you don't have to use too much pressure to get well-shaped tortillas at a comfortable 8-inch diameter. Your results should be well-rounded, and make an excellent base for whatever you're making - tacos or burritos.