In a hurry? For most home cooks the best tomato knife is the Rada Cutlery Tomato Slicer. For the discerning chef with a larger budget, our best knife to cut tomatoes upgrade pick is the Wusthof WU4136 Classic IKON Tomato Knife.
Oh, the venerable tomato – such an interesting fruit... that acts like a vegetable. Everyone's favorite nightshade tastes great and fits well in so many dishes.
The problem? They're so hard to cut.
Thin-skinned with a juicy pulp, it's easy to tear their skin or leave a mess on your cutting board. Today I'll look at the best tomato knives to help you get the most tomato on your plate... or in your salad.
Best Tomato Knives: Options Reviewed
What to Look for in a Tomato Knife
While chefs with less experience will often reach for their paring or Chef's knife to cut tomatoes, that's often a poor option. Since tomato skin loves to tear, you want an extremely sharp short to medium length serrated blade.
Dedicated tomato knives usually are around 4" to 8" long. Look for a high carbon stainless steel blade which helps the knife stay sharp for a longer time. Also useful is an included sheath which will protect your fingers... especially if you travel with the knife or grab it from storage.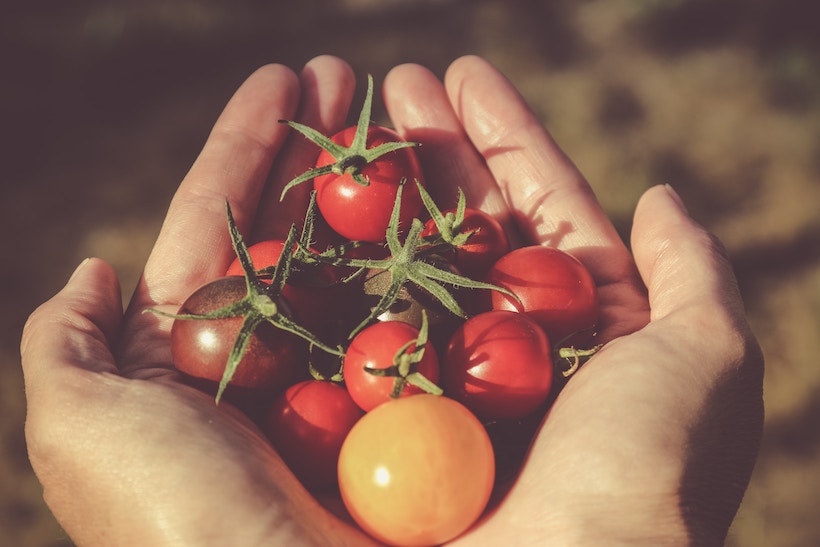 Why Do Some Tomato Knives Have a Forked Tip?
If you cut tomatoes often, I suggest you get a tomato knife with a forked tip. This helps you pick up tomato slices after you've sliced and/or diced them on your cutting board.
This isn't required, of course – you can use a second fork in much the same way. But if you're making salads a few times a week you'll really appreciate the convenience of using the knife to slide, dice, push, and pick up tomatoes. And if you're hardcore and also growing your own? Bless you –I've found the art of planting the best tomatoes is more complicated than I thought!
How Do You Sharpen a Tomato Knife?
Good tomato knives have high strength stainless steel blades which help them stay sharp longer. Dull blades will tear tomato skin, and can even slip and possibly hurt you.
When your tomato knives start becoming dull, follow a serrated blade sharpening guide to bring them back to life... or their former glory. The nice thing about serrated blades is it's easy to find the original blade angle – you'll appreciate that when the time comes to sharpen them.
What Else Can a Tomato Knife Cut?
Of course, a tomato knife's utility isn't limited to just tomatoes: that's just one of the hardest fruits or veggies to cut!
Tomato knives really shine for other thin-skinned fruits with a fleshy center, such as fleshy stone fruits such as avocados, peaches, and plums. I'll probably use a tomato knife to cut up my plum tree's bounty this year.
How to Dice Tomatoes
Tomatoes are already a difficult ingredient to prepare when you're just quartering or slicing. Yet, many recipes call for even further difficulty and ask you to dice them.
I used to have a lot of problems with this. I'd smash half my tomato and leave pulp everywhere, and generally do a bad job.
However, I started to dice my tomatoes by leaving 10% or 20% of the bottom of the tomato uncut, then cutting in two directions (after removing the top). This video shows how I do it now:
Well, ignore that he's using a straight blade and not a tomato knife. It's even easier if you have the proper tool!
Reviewing Five Top Tomato Knives
Rada Cutlery's Tomato Slicing knife is extremely popular - and we can see why. With an extremely sharp, aggressively serrated 5" high-carbon stainless steel this is a sharp knife which will hold its sharpness for a long time.
Rada has done an amazing job making this knife fit any budget. They've even carefully crafted the handle for folks who prefer washing their cutlery in the dishwasher (I don't recommend this in general, usually it dulls your knives faster).
I really like the blade length at 5", which means you can cut most any tomato — even some of the larger heirlooms. Some users found it a bit flimsy though, possibly owing to the thin blade. If I could choose, I'd also like to see a forked tip which makes it easier to pick up sliced fruit.
The Rada is an excellent budget option and it even sports a lifetime warranty. Because of the reasonable pricing and the excellent performance, I heartily recommend this knife to anyone who has the occasional need for a great tomato knife.
Pros:
Extremely sharp blade makes it easy to slice tomatoes - your ultimate goal
Hard high carbon blade means you probably won't have to sharpen it for a while
Excellent budget pick if you don't cut tomatoes too often
American made with a lifetime guarantee
Designed for easy dishwasher cleaning (but I don't recommend this in general since it can dull knives)
Cons:
No forked tip which would make it easier to pick up sliced ingredients
Some users found the blade's thinness or weight a bit flimsy
A couple users reported it had rust issues or the handle flaked
---
For those who want one of the best tomato knives money can buy, meet the Wüsthof 4136. Sporting a 5" high carbon stainless steel blade with Rockwell 58 hardeness, this knife is extremely sharp – and you won't need to sharpen it for a long time.
Befitting it's premium quality, it uses a premium synthetic handle and has a forked tip. I love a forked tip since it makes it easier to pick up thinly sliced tomatoes (or really, any other fruit) after cutting.
It's extremely well-built and perfectly balanced, making it easy to handle for chefs of any experience. Users love how sharp it is out of the box, and recommend it for anything from tomatoes to grapefruit. On tomatoes it's a dream, making thin slices (without crushing!) simple.
The only reason this isn't the top choice is because of the price. However, if you can justify the premium Wüsthof – perhaps you are making multiple salads a week – I highly suggest you look at the Wüsthof 4136.
Pros:
Well-balanced 5" blade is in the sweet spot to cut tomatoes
Sharp out-of-the-box to make tomato cutting as easy as possible
High carbon stainless steel blade and Rockwell hardness of 58 means you won't need to sharpen for a while
Excellent performance with other fruits
Forked tip is amazing for lifting sliced tomatoes and other ingredients without a second utensil
---
The Messermeister Pro-Touch 6-Inch Cheese and Tomato Knife is about as good a knife you can find in a hybrid. I don't personally like hybrid knives – and I think cheese knives are something you can get in a set – but the Pro-Touch walks the line about as well as you can.
Taller than a typical tomato knife, it avoids sticking to sliced fruit and tomatoes (and cheese!) with cutouts in the blade. It also features a 6-inch long blade; I really like a longer blade on a tomato knife for cutting large heirloom tomatoes. It also features an offset design, this makes it easy to cut taller fruits, vegetables, and even breads.
However, it's still a hybrid. Some found the serrated blade too aggressive – to the point it would tear tomatoes when cutting. One user didn't like the design of the blade: flat on one side and angled on the other (this can make it prone to wander when cutting).
I'm not a fan of hybrid knives in this category, they seem to sacrifice too much for only decent performance in multiple areas. If you want a hybrid cheese and tomato cutter though, in my opinion this is your best option.
Pros:
Long 6" blade means it can cut even the largest tomatoes
Sharp blade made of thick 18-8 stainless steel: you won't have to sharpen for a long time
Forked end for lifting cut tomatoes, fruit, or cheese
Offset blade which some people like for cutting taller things
Users enjoy the non-stick grip
Users enjoyed its non-tomato performance: cutting cheese, bread
Cons:
Some users find the serrated blade too aggressive; the blade tore the tomato too much
The blade is sharpened on one side and flat on the other, which can cause it to wander when cutting
It's a hybrid knife which means there are tomato-cutting tradeoffs
Some found it harder to clean because of the cutouts
---
Pure Komach's 2 Series Tomato/Cheese Knife is the wildcard in our roundup, a knife which is designed for both fleshy fruit such as tomatoes plus harder foods like cheese.
I really like that the Pure Komachi comes with a forked tip. This helps you pick up tomatoes (and yes, cheese) after you cut. The handle and design is easy to hold, but since it's a hybrid it's much taller than other knife options here. This means soft fruits (and tomatoes) are more likely to stick to the blade and tear when doing delicate cutting operations. However, users found that the "mystery" blade coating does a decent job on releasing food after cutting.
The knife is a very good price, but some users found that it felt cheap and others too light. Some found that it dulled relatively quickly and needed lots of sharpening.
All-in-all, users enjoyed the Pure Komachi as a general purpose knife, but not necessarily for cutting tomatoes. The bottom line? I'd suggest you pick something else for tomato cutting.
Pros:
Decent all-around performance
Good price as a budget option
Sharp out of the box
Includes a forked tip, good for manipulating tomatoes (and cheese)
Cuts other ingredients like peppers and potatoes well
People like how easy it is to clean
Cons:
Some users found the knife a bit light and hard to handle
While out of the box sharpness was good, some folks had to sharpen the blade often
It's a bit taller than traditional tomato knives
A 4-inch blade is on the shorter side for tomato knives. For larger tomatoes this can get in the way.
---
Messermeister's Serrated Tomato knife is a good budget choice in a tomato knife. Very conveniently, it comes with a plastic sheath and a hangar hole which makes it safer to travel with and store.
The knife comes with a 4.5" stainless steel serrated blade. Unlike more expensive options – and Messermeister's hybrid option above – this basic tomato knife doesn't have a forked tip, choosing instead to go with a curved blade and rounded tip. Forked tips are more convenient because they help you pick up diced or sliced tomatoes after cutting.
Users really love the included sheath – and the sharpness of this budget option. The sheath makes it safer to throw into a bag for a day trip or picnic.
Some users found the blade a bit thin, and even bent it. But all in all, it's an excellent budget option sharp enough to handle tomato cutting duties. And as I said above… it's great for cutting other fruits too.
Pros:
Included sheath makes it safer for travel and storage
Sharp blade means it has great tomato cutting performance
Many users enjoyed the 4.5" blade which is easy to handle
People love how lightweight and easy to carry it is
Cons:
Some customers wish Messermeister made a longer knife to cut more fruits
The blade might be a bit thin
---

Conclusion: The Best Tomato Knife
There are quite a few options out there, so picking the best tomato knife means there's a tradeoff. It all comes down to your budget and preference – our top pick wins on budget, but we had to pick an upgrade too.
Of the knives we reviewed, the Rada Cutlery Tomato Slicing Knife was the best combination of performance, features, and price. Overall, it was an excellent option with a sharp blade, a good length, and easy handling – all sure to make occasional tomato cutting a breeze.
For the non-compromising chef with a larger budget, my upgrade choice was the Wüsthof WU4136 Classic IKON Tomato Knife. It has the perfect length, is sharp and easy to handle, and will hold its sharpness for a long time. It also features a forked tip, which I like for lifting ingredients after slicing.