In a hurry? My pick for best titanium cookware is the Fleischer & Wolf Titanium Coated Pots and Pans Set.
Cookware should be strong enough to endure constant use and extreme cooking temperatures. It also needs to be easy to clean and food safe.
Which cookware material combines all these qualities well?
Titanium alloys.
In this post, I'll discuss the advantages of cooking with this exceptionally durable metal. I'll explain titanium's practical features and benefits so you can make an informed judgment about which products are best for you – and hopefully guide you to a decision!
Check out my selection and reviews of the best five titanium cookware products.
Five Titanium Cookware Sets Reviewed
Titanium Cookware: Purpose and Use
The first thing to consider is your cookware's primary function and usage. Before you spring for the first set you see, really consider what sort of cooking you're doing.
To wit: if you're a couple, do you need a 15-piece cookware set?
If you feed a large family, will a small saucepan set suit your needs?
Second, consider your goto cooking methods.
Do you usually fry, boil, roast, or bake your meals? What product will best serve your style of cooking?
Answering these questions will help you narrow down the options and help you to choose wisely.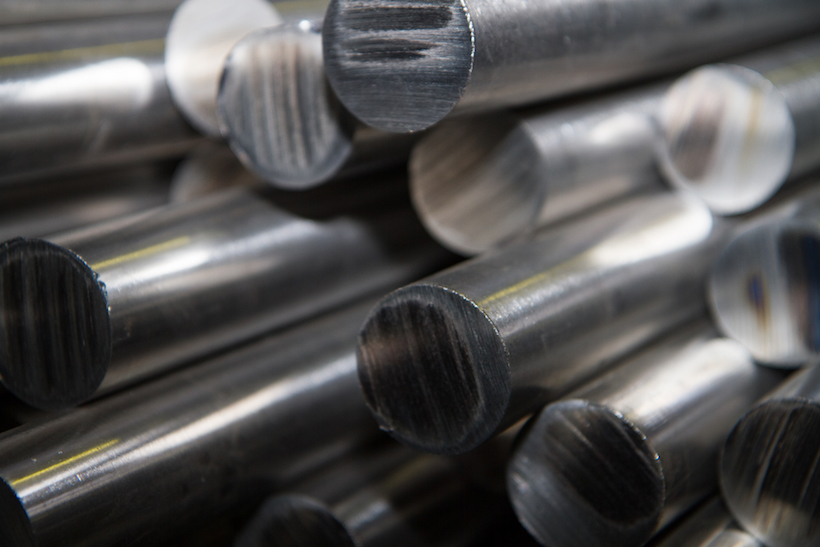 Why Is Titanium Cookware a Good Option?
Titanium's Superpowers
Titanium cookware has superior corrosion resistance owing to a thin layer of titanium dioxide on its surface that is extremely difficult to penetrate.
Titanium's great heat conduction ability makes food cook faster than in pure aluminum or ceramic pots and pans – the cookware will heat up quicker and transfer heat better than with other materials.
Additionally, adding a titanium coating to cookware results in a non-stick surface that is more resistant to scratches.
Where cookware is concerned, there's always been a correlation between weight, strength, and quality.
Titanium, however, is a very strong but lightweight material. This means titanium cookware is an excellent for activities that require packing and cooking in open areas, such as camping, tailgate parties, or even cooking at the beach.
Titanium is Food Safe
A titanium coating prevents food from coming into direct contact with other metals, decreasing the production of potential harmful chemicals when exposed to heat. That is because titanium does not have pores.
There are no current claims that titanium causes any serious health risks. Titanium is a metal widely used in medical procedures, such as dental implants and hip replacements. However, what is called "titanium" in cookware today is actually a "titanium alloy,"
Teflon, or PTFE, makes some cookware shoppers concerned about safety and health. You will find Teflon in standard hard-anodized non-stick pots and pans. Teflon does start to become unstable in the low to mid 400 degree Fahrenheit range – well in the realm of temperatures when you're stir-frying or cooking a steak.
To avoid this debate, professional cooks often spring for titanium or ceramic cookware. Titanium is considered food safe if added either to the surface coating or inside the metal as reinforcement.
Titanium Combinations
To better understand titanium, you need to know that on its own, it is expensive and not the best cooking material. When alloyed with other materials, however, it improves to one of the best materials you can use in your kitchen.
For example, when manufacturers add a thin layer of titanium to anodized aluminum, the cookware is overall stronger, while still maintaining the lightweight qualities of the aluminum.
Copper titanium cookware, on the other hand, is robust, durable and does not easily bend or warp. And ceramic titanium cookware has the best non-stick surface of them all.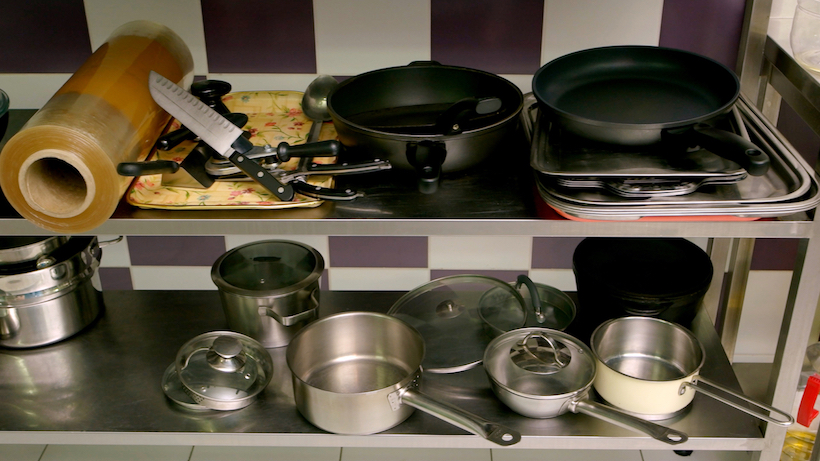 How to Cook With Titanium
To be sure that the cookware you're looking to buy is safe and ready for your needs, always check which material the titanium alloy contains.
For instance, stainless steel titanium cookware often requires additional seasoning, while ceramic titanium cookware will almost always come out of the box pre-seasoned.
Ceramic titanium cookware is heat sensitive, and if you cook at boiling temperatures all the time, its non-stick capabilities can decrease.
Thanks to superior heat distribution, copper titanium cookware cooks faster than standard copper cookware.
Whichever titanium cookware you choose, make sure to adjust the cooking process for the core material.
Don't forget to check before you buy that the surface is non-stick. You don't want to spend hours scraping the food off the surface!
Cleaning might not be the primary reason you want a non-stick surface — you can also get away with less oil when cooking. While oil isn't all bad, sometimes it's better to cut the fats in some meals.
Benefits of Cooking With Titanium Cookware
Effortless cleaning and dishwasher safe
Does not rust or bend
Cooks food with minimum to no lubrication
Fast heating
Oven safe
Resistant to dents and scratches
How to Take Care of Your Titanium Cookware
If you encounter stubborn stains and grease, soak the pan or pot in warm water. Next, add salt and vinegar. Leave the soaking mixture for around two hours to soak. The stains should disappear, and you won't have to scrub.
Note that everything is prone to wear and tear over time. However, titanium is one of the most durable cooking materials available, and your cookware should last a lifetime.
Review of the Best Titanium Cookware
The T-fal E765SC set includes:
8-inch frying pan.
10-inch frying pan.
1-quart saucepan with lid
2-quarts saucepan with lid.
3-quarts saucepan with lid.
5-quarts Dutch oven with lid.
Solid spoon and slotted spatula.
The hard-anodized aluminum coat keeps heat well and has a much stronger protective layer than the original aluminum, making it corrosion and scratch-resistant. Additionally, the coating means surfaces won't react as much to acidic foods.
The set has a red spot in the center to show when pans are preheated and ready for food. Accurate preheating is essential to cooking food evenly and preserving the flavor.
The pans are reinforced with hard titanium, scratch-resistant, and feature a non-stick coating that endures everyday use. This makes cooking and cleaning much less of a hassle.
The pans and pots come with comfortable and safe riveted silicone handles. The glass lids allow you to see the food cooking, while securely closing the pot to maintain heat and moisture. The T-fal set is suitable for all cooktops except induction cooktops.
The set is oven safe up to 400 degrees Fahrenheit, dishwasher safe, and is free of PFOA. The purchase includes a lifetime limited warranty.
Pros:
A hard-anodized aluminum non-stick coat reinforced with titanium.
Thermo-spot technology (the red dot heat indicator) tells when the pan is ready to cook.
Easy to clean and dishwasher safe.
Safe and comfortable riveted silicone handles.
Oven safe up to 400 degrees Fahrenheit.
Cons:
Some owners complained that the coating gets easily scratched by metal utensils.
Users found the set gets dented and warped in a short time.
---
The T-fal B210SA set includes:
12-inch fry pan with pour spouts.
11-inch deep sauté with pour spouts.
1. 5-quarts saucepan with lid.
3-quarts saucepan with lid.
5-quarts Dutch oven with lid.
1. 5-quarts plastic containment lid.
3-quarts plastic containment lid.
This set is multifunctional. Use the pans on the stove or in the oven. Should there be food leftover in the pan, there's no need to transfer it to a separate bowl. Once the food has cooled, the 1.5 and 3-quarts pots are even convenient and easy to store in the fridge using the additional flat plastic containment lids.
You can save up to 45 percent more space than with standard pans by stacking the set neatly inside each other. They are all coated in non-stick titanium, which is scratch-resistant and long-lasting.
The pans include Thermo spot technology that shows you when the pan is heated enough to start cooking. The silicone handles provide you with a comfortable and secure grip and are heat safe up to 400 degrees Fahrenheit.
Pros:
Easy to store. Up to 45 percent cabinet space saved because they stack inside each other.
Thermal Spot technology (red dot appears when the pan is ready for food).
Easy to clean and dishwasher safe.
Multi-functioning, safe to use on the stove, in the oven, and the fridge.
Cons:
Users claim the non-stick coat peels off and flakes after a short time.
Owners reported that the bottom of the pan gets permanently stained quickly.
It does not work with induction stovetops.
---
The Fleischer & Wolf set includes ten pieces:
8-inch fry pan.
9.5-inch fry pan.
1-quart, 2 quarts, and 3 quarts saucepans with lid.
5-quarts Dutch oven with lid.
This Fleischer & Wolf set is made from stainless steel with a titanium coat. The set is an ample 0.7mm thick, which prevents them from warping or developing dents. The bottom of the pans and pots are flat and constructed from stainless steel to provide fast and even heat distribution. The handles are also stainless steel, strong and durable for a lifetime of use.
Pros:
Safe to use with all stoves, burners or grills, including induction stovetops.
Easily cleaned and dishwasher safe.
The titanium coat is non-stick
Handles are comfortable and stay cool over the stove.
Cons:
Users claim the pans get hot quickly, resulting in food getting burnt easily if not watched.
Some owners say the pans are lightweight and get warped and dented after a short time.
---
This Gotham Steel set includes:
8.5-Inch frying pan.
10.25-Inch frying pan with lid.
1.5-Quart pot with lid.
2.5-Quart pot with lid.
5-quart pot with lid.
Aluminum steamer insert.
Five non-abrasive utensils.
The Gotham steel set comes in 15 pieces, enough to cover all your kitchen needs. PTFE and PFOA free construction means there's no risk of harmful chemicals released at high heat.
The set includes five kitchen utensils too. All the items are comfortable to handle and to lift due to their lightweight.
The material is a titanium and ceramic alloy, which figures to be one of the best surfaces for non-stick. All pans come with an attractive orange cooking surface, a black outer surface, and chrome-colored handles.
Pros:
No seasoning before use.
Highly non-stick coat that is healthy and safe.
Easy to handle and store because of its lightweight.
Easy to clean.
Includes safe to use utensils.
Cons:
Not compatible with induction stovetops.
Some users claim it does not perform well with high heat. They complained that food sticks and pans develop burn stains.
---
With lids, the Cuisinart set comes in 17 pieces. The hard anodized coat on the pans is durable, wear-resistant, and non-porous. There is no seasoning or lubricating needed before use with this anodized cookware — it comes out of the box non-stick.
Titanium reinforces the pans for strength, safety, and easy cleanup. Their stainless steel riveted handles stay cool, even on the stovetop, and provide a comfortable and solid grip. Washing-up is simple with a soft sponge or dishcloth.
All the pans will endure oven heat up to 500 degrees Fahrenheit, whereas the glass, break-resistant, lids that allow you to monitor the food cooking while keeping in heat and moisture, can stand up to 350 degrees Fahrenheit.
This cookware is not dishwasher safe as harsh detergents will harm its exterior finish.
Pros:
Tapered rims eliminate drips while pouring food out.
A non-stick and safe coat does not need to be seasoned or lubricated.
Titanium reinforcement gives it strength, durability, and safety.
High heat endurance, up to 500 degrees Fahrenheit.
Cons:
Not dishwasher safe, harsh detergents will ruin the exterior finish.
Some users claim the pans coat and color fade after a few washes.
Several owners reported that metal utensils easily scratch the surface of the pans.
---
Final Verdict: My Pick of Titanium Cookware
As someone who is maintaining a healthy diet, I cook my meals at home. Having good quality and safe cookware makes the process easier. I find the time spent cooking an enjoyable activity instead of considering it a burden or a chore.
My pick for best titanium cookware is the Fleischer & Wolf Titanium Coated Pots and Pans Set.
Adding this beautiful looking set to your kitchen will not only make it look luxurious. The pans bring it when cooking too – they can endure high heat and constant use. A titanium and stainless steel alloy creates the perfect cookware that will work with all stovetops, including induction.