In a rush? For the best basic steak knife set we like the one-piece J.A. Henckels International Stainless Steel 8-Piece Steak Knife Set. Our upgrade pick is the higher-maintenance – and more expensive – Wüsthof Classic Steak Knife Set.
Contrary to the old yarn, your steak knife should be the sharpest knife in the drawer. For any tough – or even soft – meats you serve to your family or guests, a well-handling, sharp steak knife is best.
Unlike with other knives, I suggest you buy your steak knives in a set. Today I'll show you my top choices for steak knife sets and recommend you some top options. Let's cut to the chase.
Best Steak Knife Sets: Options Reviewed
What to Look for in a Steak Knife
I wasn't joking in the introduction: your primary goals with a steak knife should be sharpness and handling. To those, also consider the price you want to pay and the maintenance you'll bear.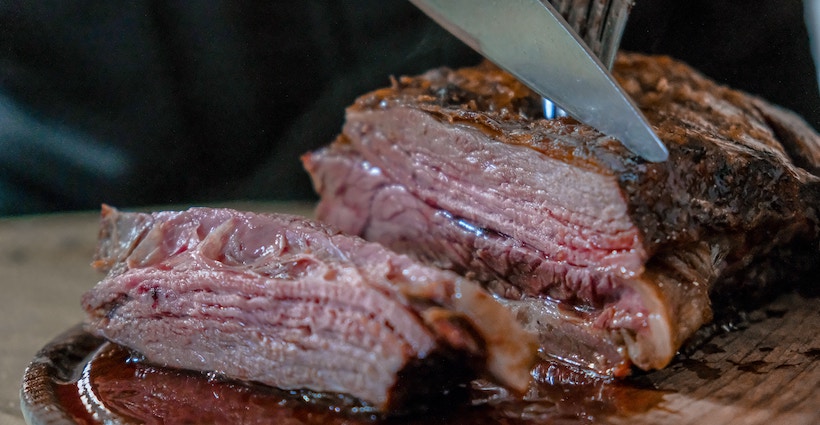 Your primary goal is to make it easy for your family or guests to cut through tough dishes, such as steak and chicken.
Also keep in mind: depending on the knives you choose, your steak knives will even serve for many more dishes than meat – think potatoes, and even bread(!).
Should you get serrated steak knives? How about micro-serrated steak knives?
The best steak knives you can buy have a straight edge. It's just physics: a sharp, straight edge won't pull or tear and will cut through your meat like butter.
The problem comes when your knives dull. (And they will!)
Usually, you'll do your steak knife cutting on a plate which is harder than the metal in your knife's blade. This eventually blunts your knives, and you'll find it harder and harder to cut meat.
Serrated knives have a scalloped edge where the entire blade isn't in contact with your plate. The part in contact will get dull just like a straight blade, but the remaining blade will stay sharp and keep cutting. When these blades dull they'll tear meat a bit, but they stay useful for a very long time without sharpening.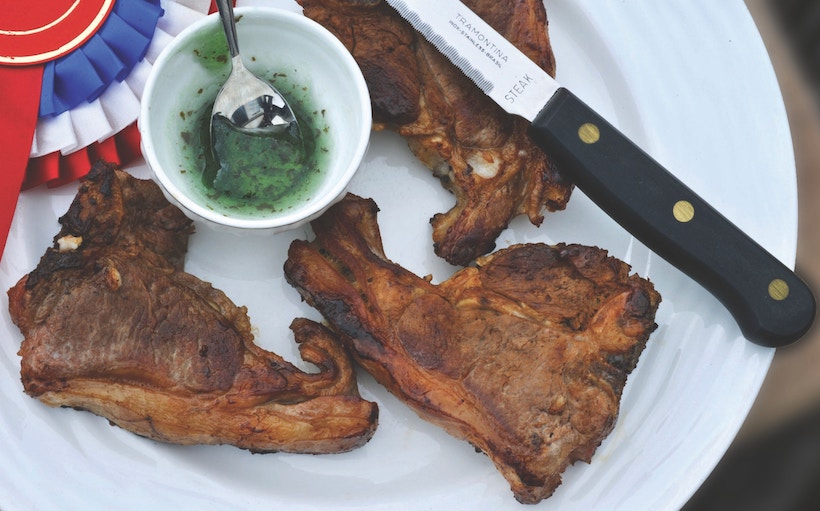 Micro-serrated knives are a compromise between deep scallops in standard serrated blades and a straight blade. They have very small waves on the edge of the blade – small enough that out of the box they cut almost as well as a straight blade. Sadly, they also will dull over time, but will keep a lot of usable blade.
So, straight blades are better – but only if you're willing to pay for harder steel or to maintain your knives more often.
How do you sharpen a serrated steak knife?
It's actually possible to sharpen serrated knives – but I don't suggest trying to sharpen micro-serrated knives at home!
There are four decent methods to sharpen serrated knives:
Use a rat tail file and file each individual scallop. Finish by polishing the metal burr that rises on the opposite edge of the knife.
Use a manually-assisted device which claims it can file serrated blades.
Try an electric knife sharpener with support for serrated blades
Use Chef Richard Blaine's ingenious method of polishing with a ceramic rod, then knocking off the burr with a cardboard and polishing compound:
To be honest, I only really sharpen my bread knife; serrated steak knives will cut usefully a long time, even if you eat meat quite often.
Can you wash a steak knife in the dishwasher?
Yes, nowadays many manufacturers will say you can wash their knives in the dishwasher. But... take my advice and don't. You should hand-wash them.
Dishwashers are designed to be abrasive with detergent, and you'll get mechanical damage as your knives knock around and hit utensils and dinnerware.
Honestly, just don't do it – even if your steak knife manufacturer says it's okay. It's not worth losing your edge!
Reviewing Six Top Steak Knife Sets
The J.A. Henckels International 39323-100 Steak Knife Set is a 4-knife set of full-tang stainless steel blades. Full-tang knives have a blade that extends the entire way from tip to the end of the handle; this is the strongest type of knife made.
These J.A. Henckels knives are micro-serrated – think very small scalloping into the blade's edge – and 4.5" long. Micro-serrated blades are a compromise between the best cutting straight blades and regular serrated blades.
Serrated blades last the longest on hard surfaces - like your ceramic plates. 4.5" is a good length for most meat you'll serve on those plates. Unfortunately though, when micro-serrated blades (eventually - it takes a long time) dull they are near impossible to sharpen.
Users did note some downsides, however. They aren't as sharp as some of the other options in this list. They're also biased towards cutting meat - like straight blades, they aren't as good for cutting cheese or bread.
All that said, I think Henckels has a real winner on its hands here. I really like the set's length and the micro-serrated blades are worth the compromise if you want little maintenance and solid cutting performance.
Pros:
Micro-serrated blade cuts almost as well as a straight blade but holds up better on your plates
Well-priced budget option, even if you buy two sets. Really good value for the money
Full-tang blade extends tip to the end of the handle and is very strong
Users find they cut meat well without tearing or bunching
Dishwasher friendly for easy cleaning (note we generally suggest you hand-wash all your fine cutlery)
Cons:
Micro-serrated blades don't cut steak as well as straight blades, and don't cut other foods such as bread or cheese as well (if you want to try to crossover)
Micro-serrated blades cut decently for a very long time, but will eventually dull. I don't recommend you attempt to sharpen them (you'll probably end up with a straight blade!)
Some users noted discoloration in the knife rivets, especially when using a dishwasher
---
J.A. Henckels is an excellent cutlery company, and their International Stainless Steel 8-Piece Steak Knife Set marks their second entry in our best steak knives set list.
They sport 3-¾" inch blades and feature a one piece stainless steel design. This classifies them as a full tang design - the blade extends from tip to the end of the handle. This is the strongest knife construction.
They're around 8-¼" overall from tip to the end of the handle, a good balanced size for cutting meat. The blade is fully serrated, which does not cut as well as a straight or micro-serrated design, but holds up better to hard plates such as ceramic.
I actually prefer a micro-serrated blade for cutting meat, but for a full-serrated blade this is an excellent choice. You can expect it to last quite a while even with a bit of abuse on your plates, and it will perform well with "other" foods like your cheeses, breads, and potatoes.
The one-piece International is a good 8-piece set which keeps maintenance to the absolute minimum. It's my pick for the best all around steak knife set you should consider, unless you want to step up to the more expensive Wüsthof below.
Pros:
A full tang, one-piece design means it's a very strong blade and easy to clean
Fully serrated blades will last a long time even when roughly handles on ceramic plates
Users enjoyed their balance and length, they are an easy knife to handle
Great knife for a group: sharp enough cutters and can hold up to a crowd
Excellent value for the price, and comes with a full 8-knives by default
J.A. Henckels claims they are dishwasher safe, although we always suggest hand washing fine knives to keep them sharper longer
Cons:
3-¾" blades feel a little short, 4" or 4.5" would have been a better length for meat
Serrated blades aren't as sharp as micro-serrated or straight blades
Stainless steel handles can be slipperier than plastic or wood handles
---
Amazon has made very strong entries into many cookware categories, and their 8-piece kitchen knife set is a very strong contender. Featuring a full-tang design where the blade extends from tip to handle, it's the strongest form of construction.
The blades are roughly 60% fully serrated with a straight blade closer to the handle. This is a good compromise between serrated blades which hold up better to hard plates and the superior sharpness of straight blades.
The knives are 9" long with 4-¾" blades, a bit larger than most knives on this list but an excellent balance for eating meat. They feature 3 rivets in the handle with a full bolster, the junction between blade and handle which helps strengthen the knife.
Users found the handles sometimes slippery or greasy, and some had issues with the grade of stainless steel going dull more quickly than expected. Also, Amazon says you can only hand wash them – something I would suggest anyway. There are some shortcomings, but they are a good value for the price. Still, if I were considering these I would step it up one pricing tier to one of the J.A. Henckels sets.
Pros:
Full tang design, which means the blade is from tip to end of handle and strong
3-rivets in the handle which give the knives a good appearance and strength
Good length with a longer than 4.5" blade to cut any meat you have on your plate
Mostly serrated blade with a straight blade back is a good compromise between durability and cutting
Excellent value for the price
Cons:
Users were not impressed with the handles, which could be slippery
Some users say them go dull too soon
Experienced users had issues with the blade angle and tearing meat instead of cutting
---
As a ManyEats reader, you already know Wüsthof makes great knives I like quite a bit. Their set of 4068 Classic Steak Knives is no exception.
The knives have a 12cm (4.7") straight edge blade made out of high carbon stainless steel. Even though straight edge blades take more abuse from impact with plates, these knives sport a high Rockwell hardness rating of 58. This suggests that you'll get a lot of use out of them before you have to sharpen them.
And yes, straight blades are much easier to sharpen than serrated blades. (And micro-serrated blades are near impossible to sharpen at home.)
They are a relatively expensive set of knives, and you only get four. Further, these are the "middle" range of Wüsthof's quality… they make even higher quality sets. If you eat steak or tough meat at home often I think this set is worth the splurge.
Pros:
Incredible cutting performance: high carbon steel and a straight edge mean this cuts near everything without pulling
Rockwell hardness of 58 which is good for a consumer knife set and means they should last a long time
Good looking knife with solid construction
Full tang construction (the blade goes from tip to handle) which means it doesn't break easily
Cons:
An expensive option – and the set only comes with four knives
Straight blade steak knives take more abuse from plates, and the blades will dull (it will take a while with this set, though!)
Not as great for… not meat things. Think cheese and bread.
---
The Gladiator Series Dalstrong Steak Knives Set is an impressive set of steak knives which appear at a glance like miniature Chef's knives. Sporting a 5" straight edge hand-sharpened blade and a Rockwell hardness rating of over 56, these blades will cut anything on your plate and fight off dullness – but more on that later. They also have a scalloped edge above the blade edge which creates air pockets so food won't "stick" to the knife edge.
Really, I'm impressed with the Gladiator series and how it dares to be different than other knife sets. Knives come with protective sheaths, which make them safer to carry when traveling.
Like the other knives in this review, the Dalstrongs have full tang construction. This means the blade is a solid piece from tip to tail, which means it is sturdy and hard to break. It uses three rivets to attach the blade to the fine wooden handle.
It's a beautiful knife set and I could see using Gladiators in place of a Chef's knife for some cutting… on a forgiving cutting board. Unfortunately, the most common complaint is it doesn't hold its edge for too long. This is an unfortunate side effect of using softer straight edge knives on a hard plate.
If you like something a little different and don't mind the maintenance and sharpening, this is an excellent set of knives.
Pros:
Very sharp out of the box with a straight edge so it can cut through most anything
Aesthetically pleasing design with a beautiful handle
Scalloped blade sides to stop food sticking
Can substitute for a Chef's knife on some preparation tasks
Great weight and balance which makes them a joy to eat with while sharp
Cons:
Users ran into dull edges relatively quickly. (The Rockwell hardness rating of 56 suggests they wiull dull before the Wüsthofs)
It's rumored – I don't know how much I believe it – that wood handles hold onto too much bacteria
Some users felt the handles were too small for larger hands, making the knives hard to maneuver
---
I've always thought that Messermeister makes fine knives for the money, and their Avanta steak knife set is no exception. It features a full tang design where the blade extends from the tip to the handle, which guarantees sturdy knives.
The blades are 5" long, which is enough to cut most anything you'll put on your plate. It features a straight blade and high carbon stainless steel – I can't find the hardness, but users report it holds an edge very well… but likely not as long as the Wüsthofs.
The handles are a very attractive mid-brown Pakkawood. Users like the hand-feel of the knives, although some reported handles splintering, fading, and cracking.
The Avanta set is middle-priced on our list, but honestly give everything else a run for the money. I think if you're looking to come close to the performance and durability of the Wüsthof set but can't quite justify the price, you should check out the Messermeister Avanta set.
Pros:
Extremely sharp cutting out of the box, making eating any meat a pleasure
Attractive knife with three-rivet attachment
Full-tang blade where metal extends from tip to handle
Relatively hard blade which can withstand some abuse on a hard plate
Really good value for the money – but note it's a set of four, not eight
Cons:
The straight blade will lose performance faster than a serrated blade, which means it's higher maintenance
Some users had issues with the handles cracking, dulling, or splintering
---
Conclusion: My Choice for Best Steak Knife Set
Honestly, I believe you can't go wrong with any set on the list. There are a few tradeoffs depending on your priorities such as for price and serrated vs. straight blade, but they are all a good choice.
For most users, I suggest the J.A. Henckels International Stainless Steel 8-Piece Steak Knives. Yes, the handle can be slippery if you get it greasy or wet, but they are well-apportioned knives and the serrated blade will continue to cut even if the edge in contact with your plate dulls.
My upgrade pick is the Wüsthof Classic Steak Knife Set. It's such a beautiful set and will cut anything you throw at it. Of course, it's higher price, and the straight blade will dull after time on your plates. If you really want a straight blade and can't justify the Wüsthof's cost, consider the Messermeister Avanta set too.

Now, get out there and cut. What are you making tonight?