In a hurry? My pick for best springform pan for cheesecake is the Nordic Ware Leakproof Springform Pan.
I love a good cheesecake. Perfectly executed, it's delightful for both your mouth and eyes, with a nice presentation on top of the creamy texture.
And the undisputed best way to make a cheesecake? Using a springform pan.
Today I'll pick the best springform pan for cheesecake and talk about some of the considerations for a good springform pan. Let's spring to it.
Top Springform Pans for Cheesecake
What kind of pan is used for cheesecake?
You should always use a springform pan for cheesecake (or other soft, baked, delicate cakes and dishes). A standard pan would require flipping the cake – twice! – and would most likely break your cheesecake in some way when you go to serve it.
However, you can do almost as well with temporary aluminum pans.
See the below section on substitutes for more.
Springform Pan Buyer's Guide
Springform pans are somewhat straightforward, but there are still a few things to think about. In this section I'll take you through the key features of good springform pans and talk about some of the choices to make.
Don't worry, I'll also tell you my recommendations as we go along.
What is a springform pan?
A springform pan is a specialized pan with a detachable bottom. This makes it easier to release delicate cakes when you're through with the oven.
Springform pans generally have a clasp on the side to release tension on the bottom of the pan. This leaves the bottom under the food when you lift the sides away… and hopefully leaves a perfect cake behind.
Here's how a springform pan looks in action:
Springform pan sizes
Springform pans come in a variety of sizes, but the most common sizes are between 7" and 12" in diameter. Usually they are round, but you can find the odd rectangular pan.
Typically, springform pans are usually between 2 - 3.5" tall. For most recipes, you should only fill the pan ⅔ to ¾ full. For expert bakers, there are taller springform pans – I suggest you don't look at these for a basic pan.
Materials
Springform pans come in both hard and soft varieties. Hard pans are made from anodized aluminum, steel, tin, and other common culinary metals. Soft pans are almost all made of flexible silicone.
I generally suggest hard springform pans.
Non-stick or standard surface
Let's talk about non-stick springform pans for a second. Hard bakeware does sometimes use PTFE based nonstick surfaces. PTFE is regarded as safe if you keep the temperature under the maximum – and I feel good recommending it for controlled baking.
The suspect substance in nonstick surfaces is PFOA, or perfluorooctanoic acid, which is used when making a PTFE nonstick surface. Modern processes have minimized PFOA, but there is always some left. Always mind the maximum recommended temperature for PTFE coated pans and try not to scratch your pans to minimize exposure.
Also note, nonstick bakeware commonly uses silicone based non-stick surfaces instead. As far as I know, silicone nonstick surfaces are considered perfectly safe. If the manufacturer mentions the nonstick formula I mention it in the roundup below.
Maintenance
If you get a good non-stick springform pan, it's simple to hand wash any residual cake from the sides. That also applies to flexible silicone pans.
That said, some pans are dishwasher safe. I don't suggest washing springform pans in the dishwasher as this will promote rust (especially on the clasp) and possibly reduce the life of the pan. However, if you want a washable pan check with the manufacturer if it is safe.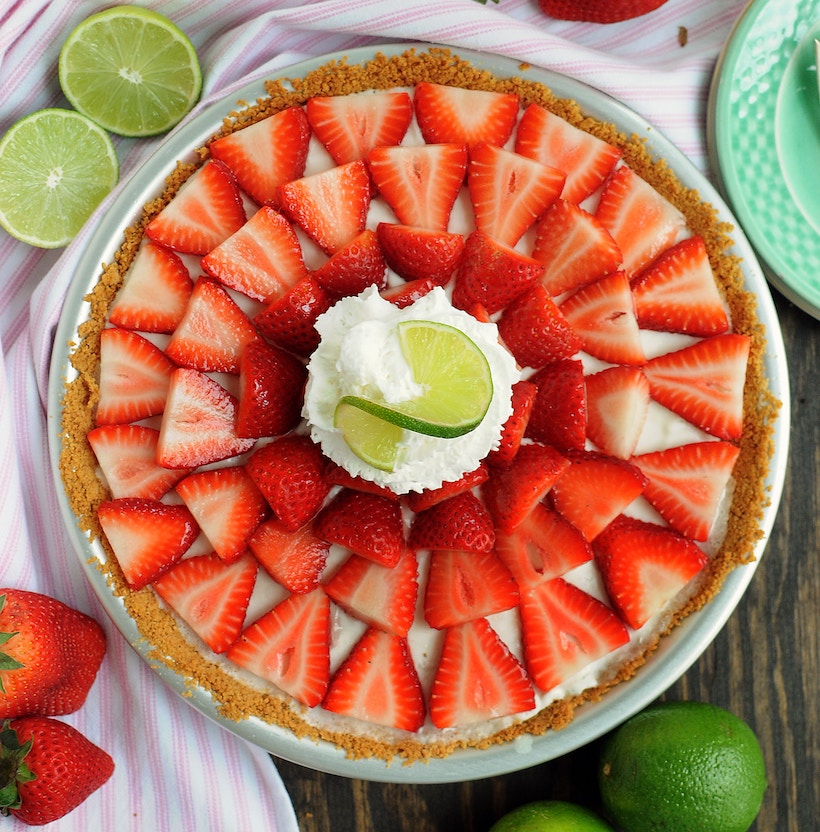 Springform Pan FAQ
Are springform pans waterproof?
Unfortunately, springform pans are not waterproof. The bottom and sides are generally just metal parts in close contact – and almost all pans will usually leak a little.
I suggest wrapping your pan with one to two layers of aluminum foil if you have a recipe which asks for you to put the pan inside a water bath. The above video shows you how to use foil to do this.
Can you bake a cake in a springform pan?
Yes, you can bake cake or anything else you'd use a standard cake pan for in your springform pan.
However, before you throw away your other pans: read the waterproof section above. Particularly runny recipes or recipes where you submerge the pan in water can pose a challenge with the springform pan.
So yes, the springform pan substitutes for other pans in many places but isn't always the best choice.
How do you remove a cake from the bottom of a springform pan?
First, make sure you have a plan of attack for removing your cheesecake. I suggest you line your pan with parchment paper. (I included a section below explaining how). This will help your pan release when you do go to present the cake.
Second, I suggest you use a butter knife to cut around the cake's edges just before you are ready to remove it. Even better: use a plastic knife, which makes it a little easier to avoid scratching the pan.
By doing both these things, you'll minimize the amount of cake you lose to the side of the pan… and it'll look great!
How do you line a springform pan with parchment paper?
Cut out a circular section of parchment paper which exactly fits the middle of the pan
Measure your pan's height, then cut a strip of parchment paper that wide which is long enough to wrap the pan
Brush or otherwise coat the sides and bottom of the pan with an oil, such as melted butter
Stick the bottom, round parchment paper cut-out to the pan
Stick the strip of paper to the sides of the pan
You're ready to bake!
This video shows how to do this well:
What can you substitute for a springform pan?
The best substitute for a springform pan is a single serve aluminum pan. You can use these pans similarly to a springform pan: when you are done baking cut the sides away from the cake.
If you're cooking a delicate cake like cheesecake, you can try to bake it in a regular pan, then flip it out of the pan once to remove it, then flip again to serve it. This… usually won't end well on the presentation side. (But it will still taste great!)
Best Springform Pan for Cheesecake
Hiware's 9 Inch Nonstick Cheesecake pan is a charcoal-colored springform pan with an excellent nonstick surface and a textured bottom. Hiware claims the nonstick surface is "PFOA, BPA, and PTFE free". Always keep the temperature below 450 degrees fahrenheit.
Hiware constructed this pan from aluminum, and the top rim of the sides is rolled to prevent the sides from warping. The sides of the pan are 2.5" tall, which might be a bit shallow for some bakers but is perfect for 2" tall dishes.
It has a very good latching mechanism, and a fair number of users didn't experience leaks. Always still wrap your springform pans if you do cook with a water bath or runny ingredients, however.
The Hiware is a great springform pan and it's easy to see why it's so popular.
Pro:
Good nonstick coating which releases from food and cleans easily
Users found the latch very good and easy to operate
Owners were really thrilled with the quality of cheesecakes it can cook
Cons:
Some users had issues where the latch was not tight enough
For some, the bottom didn't seal tightly and it leaked more than expected (I always suggest using aluminum foil with springform pans and runny recipes or water baths)
---
Most of the pans I am reviewing today are 9", so for a wildcard meet this set of 3 Nonstick Springform Pans from Hiware. This set has a 4", 7", and 9" diameter pan, and all are charcoal-colored with a textured bottom. The nonstick surface is safe up to 450 degrees fahrenheit.
The three pans are different heights, approximately:
9-Inch diameter: 2-½" tall
7-inch diameter: 2" tall
4" diameter: 1-¾" tall
All three sizes are made of aluminum and feature a rolled top edge which resists warping.
As a bonus, the 3 pans also include an 11-inch long angled spatula which is designed to slide whatever you make with your pans. Also, the package includes an "icing smoother", which is a thick card with a textured edge that you drag over frosting to shape it.
The Hiware set is an amazing value for the money. If you want to make delicate cakes, quiches, and other dishes in various sizes you should take a look.
Pros:
Very good value for the money
Includes a bonus frosting edging tool and an angled spatula
Makes very good cake and cheesecake
Easy-to-clean surface due to the nonstick coating
Cons:
Smaller pans are a bit shallow
Pans could leak more than expected (if you have runny ingredients or use an ice bath, wrap your springform pans with aluminum foil)
---
The Nordic Ware Leakproof Springform Pan is a charcoal-colored 9-inch springform pan with an flat bottom. It features a nonstick coating and Nordic states: "bakeware coatings are and have always been PTFE and PFOA-free". Keep it under the recommended 450 degrees fahrenheit when baking.
The pan is constructed of carbon-plated steel and weighs around ¾ of a pound. The sides are 2.5" tall, and the tops are rolled to prevent the pan from warping. The pan is very good at preventing leaking, and better than most other springform pans.
Nordic cautions you should not wash your pan in the dishwasher as it can hurt the nonstick surface.
The 9-inch Nordic is my top pick for a springform pan, and I highly recommend you take a look.
Pros:
Users found the nonstick coating extremely good, which means it releases well from food and it is easy to clean
The tight seal on the pan's bottom resists leaks much better than other springform pans
Users report their cheesecakes bake up beautifully in the pan - our main goal!
Cons:
A 2.5" side is a bit shorter than other pans
Some users scratched through the nonstick coating quickly
A dark surface color can speed up baking or cook outsides unevenly if you are used to a lighter one
---
The 9-inch Calphalon Nonstick Springform Pan is a mid-grey, heavy-duty aluminum springform pan with a flat bottom. It has a nonstick surface and a maximum baking temperature of 500 degrees fahrenheit.
The pan is extremely easy to clean and releases from food easily. Calphalon even claims it is dishwasher safe, although I don't recommend washing your pans in the dishwasher.
It wasn't my favorite pan in the roundup, but has a very easy to use nonstick surface. Make sure to check it out.
Pros:
Light colored heavy-gauge steel bakes evenly and resists warping
The nonstick surface means the pan is easy to clean and releases well from cheesecake and other food
Owners found it sturdy and a good weight
Cons:
The latch was an issue for some users where it broke off or didn't seal tightly
For some users, the latch rivets on the pan fell out
Users found it leaked more than other springform pans
---
The Wilton 9-Inch Round Springform Pan is a silver, aluminum springform pan with a textured bottom. It does not have a nonstick coating, and I would recommend coating the sides and bottom with parchment paper to make cake easier to release.
The sides are 3" tall which is good to make 2" - 2.5" tall cakes and bakes. It has rolled aluminum edges on top which are important to help the pan not deform over time.
If you're avoiding nonstick surfaces and want the best bake, the Wilton is an excellent choice.
Pros:
Anodized aluminum surface gives an even bake so your cheesecake and quiche cook evenly
Light colored pans prevent browning better than dark
Spring holds up well to heavy-duty use
Nonstick surface if you'd prefer to avoid all surface treatments
Cons:
Some users found the bottom didn't fit well out of the box, or it excessively leaked
Sides bent easily for some users
Crumbs or runny ingredients can get stuck in the grooves, making it hard to clean
---
My Pick for Best Springform Pan for Cheesecake
For best springform pan for cheesecake, I like the Nordic Ware Leakproof Springform Pan. The non-PFOA nonstick surface, textured bottom, easy care, and quality construction make it an amazing addition to your kitchen. I highly suggest you take a look.