In a hurry? My pick for best rotomolded cooler is the RTIC 65.
Rotationally-molded – rotomolded, or roto-molded – coolers are (and there's no getting around it) a more expensive cooler option. Of course, there are a variety of scenarios where they are vastly superior to their standard cooler counterparts: fishing adventures, camping trips, long picnics, and emergencies of different types.
Apart from keeping your food cold, these coolers extend the life of your food and drinks by a considerable amount. Protective, portable, and efficient, the best ones out there can make your outdoor experiences a lot better.
In this guide, I'll go over seven of the best rotomolded cooler products on the market. In addition, I'll provide useful information on what to consider when looking at rotomolded coolers.
Let's roll to it!

Top Rotomolded Coolers Reviewed
Rotomolded Coolers - A Buyer's Guide
Before reviewing our featured products, this guide will provide some general information about rotomolded coolers.
What is a Rotomolded Cooler?
Simply put, a rotomolded cooler is a device that uses rotational molding to maintain low temperatures for extended periods. By using a mold to shape hot molten plastic, manufacturers acquire an even wall thickness across the cooler's entire surface, enhancing ice retention efficiency and durability as a result.
For these reasons, rotomolded coolers perform a lot better than regular coolers. If you need the extra ice retention over a styrofoam or a traditional hard-walled cooler.
When (and Where) Should a Rotomolded Cooler Be Used?
Due to their portability, rotomolded coolers can be used in a wide range of scenarios.
Some of the most common are fishing experiences, camping trips, picnics, and long travels.
However, they can also be of vital help in difficult situations where fresh food, drinking water, or resources are not as abundant as usual. Their usefulness might include times when you are without power, and your traditional refrigerator won't work for a few days – such as California during fire season.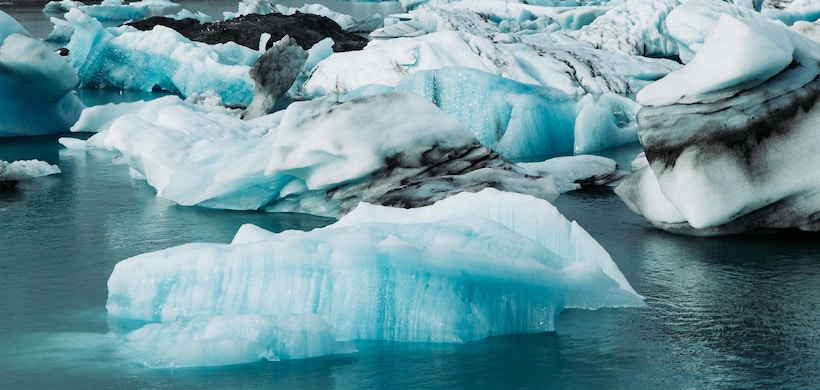 Advantages of Using a Rotomolded Cooler
Sometimes you will experience a bit of sticker shock with rotomolded coolers. I mean, you can get a styrofoam cooler for pretty cheap at the local gas station.
However, there are some major advantages and benefits to using a rotomolded cooler.
Durability: Because they are made out of a single piece of molded material, rotomolded coolers do not have linings, seams, zippers, or joints that can easily break. As a result, they are incredibly sturdy, durable, and resist air leaks. In addition, they are resistant to impact and high temperatures.
Ice retention: Due to their advanced design and air sealing abilities, rotomolded coolers have excellent ice retention capabilities. Some of the best models can keep your food and drinks cold for up to two weeks(!) without relying on an external power source.
Capacity: Made with high-quality materials, rotomolded coolers can offer a large storage capacity without sacrificing efficiency or reasonable portability. Without a doubt, this can be incredibly advantageous during long trips or extended scenarios of any other kind.
Stability: Rotational molding provides a lot more precision than other molding methods for coolers. As a result, rotomolded coolers tend to be a lot more stable and balanced in their structure – we've all struggled with goofy wheeled coolers. Also, many of them use rubber feet to prevent slippage even on uneven surfaces.
Security and protection: High-quality rotomolded coolers tend to have latches that keep the lid firmly and securely in place. This serves a dual purpose: On one hand, it gives an excellent seal against (probably hot) air. On the other, it keeps your food and drinks safe from unwanted attention – vastly reducing those animal-attracting food odors that would otherwise emanate from the cooler.
Cleaning ease: Regular coolers can be challenging to defrost and clean due to their shape. In contrast, rotomolded coolers tend to be spacious and geometric – and of course, sport the one smooth internal surface – providing easy access for cleaning. Also, many models include a drain plug that helps you easily bleed out the water after defrosting.
Weight Resistance: Rotomolded coolers are sturdy and resistant enough to support a great deal of weight. As a result, they can be stacked or even used (temporarily) as a chair.
Disadvantages of Using a Rotomolded Cooler
Cost: Without a doubt, rotomolded coolers tend to be a lot more expensive than traditional ones – that's the sticker shock. However, if you consider how much more durable they are, plus their enhanced insulating abilities, this price is easy to justify.
Weight: Compared to less-advanced coolers, rotomolded coolers can be a bit heavy. Some of the largest models can weigh anything between 15 and 20 pounds on their own – before you load them up with ice, food, and drinks. Sometimes the 2-pound styrofoam cooler is all you need!
Rotational Molding vs. Blow Molding
Before going any further, it's essential to differentiate the two main types of plastic molding out there: rotational molding and blow molding.
First, let's talk about blow molding. Derived from the process established by glassblowers, this method consists of using a focused stream of air to shape the molten plastic gently using pressure. Without a doubt, this is a cost-effective and practical process. However, it's not as efficient or precise as rotational molding.
Rotational molding is a more advanced form of molding. Using high temperatures and continuous rotation, this method allows manufacturers to produce any shape required with fantastic precision and accuracy.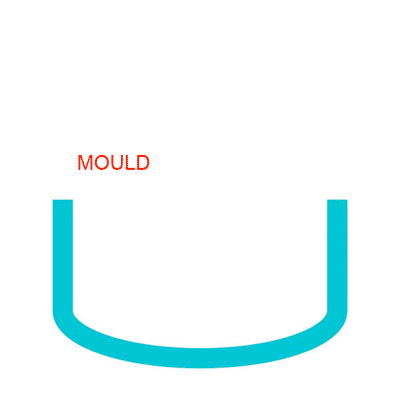 The rotational molding process, illustrated (Wikimedia)
Rotational molding has the following advantages:
Speed: By enabling manufacturers to create different parts of a single product at the same time, rotational molding dramatically reduces the time it takes to make the product.
Toughness: Rotational molding allows manufacturers to produce thick, uniform, and stable plastic structures. As a result, products made using this method tend to be more robust and durable than those made through blow molding.
Complexity: Because it is an automated, advanced method, rotational molding allows manufacturers to create complex shapes with high precision and total consistency.
Things to Consider Before Buying a Rotomolded Cooler
Ice Retention Time
Depending on their size, materials, construction, and design, rotomolded coolers have a stated ice retention rate. This ice retention rate can range from a couple of days to two or three weeks. Before making a decision, consider what you need in a cooler and the types of adventures and scenarios where you'll be using it.
Size
Without a doubt, size and volume are essential considerations in a cooler. On the one hand, bigger coolers have a higher capacity for ice, drinks, and food. On the other hand, the bigger it is, the less portable... and harder to carry when full. Even more than that, having a cooler that is too large can make it difficult to store, particularly in situations where storage space is a problem.
Carrying Method
If you want a portable rotomolded cooler, make sure its carrying method is efficient, ergonomic, and comfortable. In particular, the type of handle can be of great importance when it comes to this issue.
Without a doubt, the most common design is the side handle. Often retractible, this type of handle is effective, although sometimes slightly uncomfortable.
Some coolers also have shoulder straps that can help you carry them more comfortably and without strain. Unfortunately, however, this type of carrying method is only suitable for medium and small coolers.
Materials and Construction
To acquire a product that is efficient and durable, it is of vital importance to take its materials and construction into account.
You should always look for high-quality plastics that have gone through a tempering process that optimizes their resistance to impact, heat, and other external elements. Also, take a look at the cooler's joints, latches, and seams, making sure they are resistant and durable. Moreover, take a look at the hinges, handles, and straps to discard flimsiness or weakness.
The Best Rotomolded Cooler - Seven Reviews
If you are looking for a cooler that is practical and protective at the same time, take a look at the Cascade Mountain Tech Heavy-Duty Cooler. Featuring an 80-quart capacity, it can help you keep large amounts of food fresh for extended periods. Its thick walls and tight construction make it incredibly secure and protective against external elements. Meanwhile, its advanced insulation is capable of a fantastic performance in terms of ice retention.
Made with high-quality materials and expertly constructed, the Cascade Mountain Tech Heavy-Duty Cooler is nothing if not tough, resistant, and durable. Its construction is capable of resisting hard impacts – and likely even bears – without losing structural integrity. In addition to a sturdy main body, this rotomolded cooler features heavy-duty rubber latches that ensure it will stay closed no matter what. What is more, its rope handles can resist enormous amounts of weight without breaking.
Its design is perfectly conducive to maintaining temperatures at a stable degree for prolonged periods. Of course, that wouldn't be possible without an efficient insulation system. Inside its rotomolded walls, this cooler has three inches of insulating foam that, quite amazingly, claims to help keep food fresh for up to two weeks.
Even though it is not the largest or flashiest rotomolded cooler out there, there is no doubt that the Cascade Mountain Tech Heavy-Duty Cooler can be of great help during family trips, tailgates, and fishing adventures. It should be mentioned that its design focuses mostly on drinks and ice. However, it includes a dry-good basket that can help you keep food fresh as well. All in all, this is a product worth checking out.
Pros:
Extremely tough
Rope handles are durable and ergonomic
Heavy-duty latches are very secure
Includes dry-goods basket
Cons:
It does not include a drainage system
Users found it difficult to carry
---
Without a doubt, the Pelican Elite 50 Quart Cooler is eye-catching and sleek. That is not all, however, as it also performs its duties well. Capable of holding up to 50 quarts, this rotomolded cooler is perfect for short and medium-length activities such as tailgates, barbecues, and fishing expeditions. What is more, it has a variety of features that can help make your outdoor activities more enjoyable.
Made in the USA with state-of-the-art rotational molding, the Pelican Elite 50 Quart Cooler boasts an incredible level of quality. Its construction is precise and solid, resulting in a high level of durability overall.
The Pelican Elite 50 Quart Cooler also has excellent ice retention capabilities. Without a doubt, this has a lot to do with its advanced insulation system. The cooler also makes the most of its ultra-tight sealing capabilities, preventing air and other elements from altering its internal temperature.
Pros:
Precise and solid construction
Ultra-tight sealing capabilities
Built-in bottle opener
Built-in cup holders
---
Despite its understated looks, the YETI Tundra 65 Cooler is remarkably efficient when it comes to keeping your food and drinks cold and fresh. Compact and lightweight, this rotomolded cooler is portable and convenient. At the same time, its advanced construction makes it remarkably protective.
The YETI Tundra 65 Cooler's low profile works to its advantage in various ways. For one, it enhances the product's balance and solidity, preventing falls and other accidents that could ruin the cooler's contents. In addition, it makes its storage a lot easier, allowing you to carry it in vehicles with limited space.
In order to keep its contents cold and safe for prolonged periods, the YETI Tundra 65 uses a couple of different technologies. On the one hand, its proprietary FatWall provides enough toughness and thickness to claim to withstand bears with no problems. On the other hand, the cooler's three inches of PermaFrost insulation helps maintain temperatures down for up to ten days.
Pros:
Low profile
Easy storage
Very portable
Cons:
Some users reported difficulty lifting it when full
---
The RovR Wheeled Camping Rolling Cooler takes the basic concept of a cooler and expands its possibilities by including easy-transport capabilities such as wheels and retractable handles. As a result, despite its large size and capacity, it can be easily carried without lifting – even through difficult terrains.
With a capacity of 60 quarts, the RovR Wheeled Camping Rolling Cooler is useful in a variety of situations ranging from tailgating to fishing expeditions. Its wagon bin can be pulled up at any time, making the process of taking out items (or putting them back in) remarkably easy and convenient. After use, this wagon bin can be easily rolled down to facilitate portability and maneuverability.
Using high-performance, puncture-resistant tires, this rotomolded cooler can be dragged through all types of terrains with incredible ease. To drag it, you can use the cooler's retractable handle. Alternatively, you can attach it to your bike using the optional bike attachment.
The RovR Wheeled Camping Rolling Cooler also has a dual-storage feature. In addition to its regular insulated section, the cooler features a deep-freeze storage that can help keep foods fresh for up to ten days without breaking a sweat. If you only want to keep your beer cool, however, the main section of the cooler will do the trick just fine.
Pros:
It features high-performance wheels
Features a deep-freeze storage section
Features a pop-out wagon bin
Cons:
Some users complained about the price being higher than other options
---
Made of high-quality materials and expertly built using rotational molding technology, the REYLEO Rotomolded Cooler is one of the toughest and most durable options on the market. In addition to keeping your drinks cold for prolonged periods, it has various additional functions that help make it an excellent option for tailgating. It has a pressure-relief valve that helps drain water conveniently. Additionally, the cooler features a bottle opener, a cup holder, and even a 16-inch fishing ruler up top.
Made of plastic of the highest quality – and fully rotomolded – the REYLEO Rotomolded Cooler is very tough and resistant to impact. It is so tough that it can withstand up to 700 pounds of weight without any problems whatsoever. In addition to its durability, the cooler's material has advanced capacities such as UV ray-resistance and anti-slippage, enhancing its strength even more.
Unfortunately, the REYLEO Rotomolded Cooler does not have the best ice retention capabilities on the rotomolded cooler market. This, combined with its lower capacity, might make it unsuitable for activities such as long trips or extended outdoor activities. However, it's capable of keeping its contents at a stable temperature for up to three or four days.
Pros:
Includes a bottle opener
Includes cup holders
Capable of resisting up to 700 pounds of weight
Cons:
Some customers found it on the pricey side
Not as suitable for extended experiences
---
RTIC 65 - Best Ice Retention
Rugged, tough, and robust, the RTIC 65 is a cooler that you can use in a variety of demanding situations. Featuring a large capacity and an ergonomic design, the RTIC is convenient and practical. It's enhanced by additional features such as a dual drain system and retractable handles of the highest quality.
When it comes to construction and durability, the RTIC 65 is up there with the best. Despite not being the bulkiest cooler out there, it is capable of supporting up to 225 pounds of weight. Meanwhile, the product's thick rotomolded walls are sturdy and highly impact-resistant. Also, they are resistant to high temperatures and even open flames.
Where the RTIC 65 stands out is in its insulation capabilities. Even in temperatures of over 100 degrees Fahrenheit, this insulation is capable of maintaining an interior temperature under 40 degrees for up to six days. Without a doubt, the cooler's freezer-style gasket and well-insulated walls have a lot do with this – they keep the unit extremely airtight.
In terms of handling and portability, the RTIC 65 surely makes a statement. Instead of using typical retractable plastic handles, the unit features two extra-stretchy rubber handles. Apart from being comfortable and ergonomic, these handles can resist a great deal of pull without breaking. Unfortunately, however, the lack of wheels and its sheer size makes the RTIC 65 difficult to carry independently of the type of handles it features.
Pros:
Great ice retention
Freezer-style gasket
Comfortable and ergonomic handles
Cons:
Some customers found it to be heavy or hard to move
There are reports of drain plugs being defective
---
If you are looking for a cooler that can keep consumable items cold and fresh for long periods of time, the Landworks Rotomolded Enhanced Ice Cooler may be a great choice. With a capacity of 45 quarts, this unit can be used for long camping trips or survival situations with great success. In addition, it's remarkably sturdy and safe for food storage.
Undoubtedly, a large portion of this cooler's success has to do with its construction. Three-inches thick and remarkably dense, its plastic walls are tough, rugged, and resistant to external elements. In addition, they are UV-resistant and capable of withstanding elevated external temperatures. More than anything, though, these extra-thick walls help with ice retention.
The Landworks Rotomolded Enhanced Ice Cooler is incredibly efficient with its insulation. When kept in ideal conditions, this rotomolded cooler is capable of maintaining ice in its solid-state for up to 10 days. To make this possible, the unit uses a freezer-style 15mm gasket and a dual latch with magnetic and clasp-based closures.
On top of the core features, this unit includes extra features like built-in bottle openers and cup holders.
Pros:
Built-in bottle openers and cup holders
Ice retention for up to 10 days
UV-resistant exterior
Cons:
Users found the drain valve becomes unscrewed with ease
---
My Pick for Best Rotomolded Cooler
Having gone through the features and characteristics of these seven products, I was impressed by their quality and efficiency. Across the board, these rotomolded coolers will help you keep food and drinks fresh and delicious no matter where you are.
However, there is one product that stands out above the rest. Expertly constructed and incredibly well-designed, the RTIC 65 offers superior portability, protection, and ice retention.
Of course, though, any of these coolers would be an excellent choice. At any rate, it's up to you to choose the perfect rotomolded cooler for your particular needs.