In a hurry? My pick for best popover pan is the Nordic Ware Grand Popover Pan.
Popovers are light, egg-based rolls that a muffin tin won't do justice. Say it with me: for the perfect popover, you need the perfect popover pan.
Popover pans are dedicated to their craft; their walls are steep, deep, and precisely poised for popovers.
The market is flooded with thousands of these pans, making it so hard to filter out the good from the bad. To help you out, I've narrowed them down to five. Today, we're going to figure out which is the best popover pan.
Best Popover Pans Reviewed Today
What to Look for in the Best Popover Pans
Like with most cookware, a lot of shopping comes down to personal preference. The best popover pan for you may be somebody else's worst.
You might be looking for something to get as many popovers popped at once as possible. In that case, you'll want a 12-cup pan. But beware, those 12 cuppers only make minis!
Generally, you'll want something sturdy and easy to clean. It should have somewhere to grip for ease – you don't want to spill your meticulously crafted batter everywhere.
Something non-stick is always easiest, so there's no trouble popping out your perfect popovers. You wouldn't want to leave any remnants on the sides.
Even heat distribution is another big plus. You don't want those popovers feeling heavy in the bottom and barely cooked on top.
What Material Is Best for a Popover Pan?
Any material that won't overheat is fine in a popover pan. A mix of aluminum or steel is standard across popular popover pans. The best popover pans always advertise their non-stick coating.
A non-stick coating, regardless of material, is essential in my opinion. It makes releasing the popover easy – and makes cleanup a breeze. With a non-stick popover pan, if the popover sticks, you know it's the fault of the baker, not the equipment!
How Should I Clean My Popover Pan?
There are some popover pans deemed dishwasher safe. This is great! It's the perfect option for us busy folk who don't have time to dedicate to cleanup.
However, most of the time, hand-washing is recommended. Hand-washing your cookware extends the life of the product. Interestingly, a habit of hand-washing might also protect your kids from allergies.
Does Spending More Mean I'm Getting a Better Quality Product?
In short, no. How much a product costs depends on various factors.
Big brand names will always charge you more because of marketing expenses and reputation. The materials used in the pan also play a critical role in cost. The more durable it is, the more expensive it is.
What you should really look for is value. The product with the best value isn't necessarily going to be the cheapest one, but it might not be the most expensive, either. Look at the pros and cons, not the price.
Does Size Matter?
The best popover pan for you should fit neatly into your oven. It shouldn't touch the sides of the oven — this damages both the oven and pan. Know your measurements – there's nothing more annoying than sending back a pan because of dimensions!
As for the size of the cups themselves, it's all up to you. The dimensions are pretty standard, rarely exceeding 3 inches in diameter. What matters most is the baked follow-through: whether the popovers cook evenly or not.
Why Is a Popover Pan Better Than a Muffin Tin?
Muffin tins are made for muffins, which have their own unique dimensions and shape. Muffins have large, spongy tops and short bottoms. Popovers are long with puffy tops and crispy sides – an entirely different baked good!
Yes, the type of batter plays a part in how the baked goods turn out, but so does the cookware. The long, steeped sides of popover pans encourage the mixture to rise, pop and puff.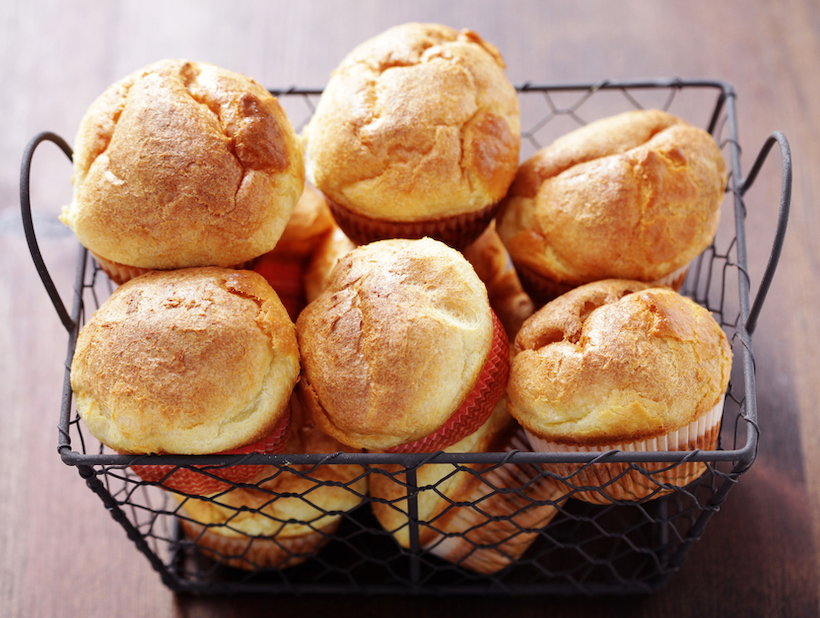 Should My Popover Tin Be Welded to a Wire Rack?
Though many popover pans come this way, it's not vital. Being spaced so far apart on their rack, it encourages even air circulation.
Even air circulation is achievable without the wire rack. So long as the pan is made efficiently, you shouldn't have problems.
Can I Use My Popover Pan for Other Baked Goods?
Although popover pans are explicitly made for popovers, you're not limited to that one tasty treat. Muffin and cupcake tins may work better for their target snack, but popover pans aren't off-limits.
If you use your popover pan for something else, it might look a little untraditional. What matters is what's on the inside — the deliciousness.
Will the Popovers Pop Too Much?
You might be worried that your popovers will over-pop and weld into one. Don't worry – the popover cups should be placed far enough apart that the popped tops will never touch. Don't overfill each cup, and you should be fine.
The skill of the baker is just as crucial as the cookware's quality. Trial and error is your friend, especially when trying new recipes or new equipment.
Caring for Your Popover Pan
To allow your pan to live its life to the fullest, treat it gently. Hand-wash it when you can, using gentle sponges and non-corrosive soaps. If that non-stick coating starts to chip – the end is nigh.
To give your pans an extra life boost, you can use non-stick cooking spray liberally when you bake. This way, the pan isn't doing all the work.
Pan Durability
Most of us head straight for pan durability as our deciding factor. Be careful not to shop on this alone, though. If your pan is hard as a rock but has terrible heat distribution, you've made a mistake.
I've learned the hard way that most durable doesn't always mean the best quality or best value.
Reviews of the 5 Top Popover Pans
The Nordic Ware Grand Popover Pan is perfect for making popovers and over-sized muffins. Made of heavy cast aluminum, it'll heat things evenly with exceptional durability.
The non-stick coating makes for a smooth release and subsequent cleanup. The popovers should slide right out into your eager hands.
This pan makes six popovers at a time. It's also fantastic for crown muffins or molded desserts. The heat vents in the center allow for all-around cooking, even and perfect.
This pan is unlikely to warp as it's heavy cast aluminum and weighs 2.2 pounds.
As a sign of confidence, the manufacturer offers a lifetime warranty with each purchase.
Pros:
Solid, long-lasting craftsmanship.
Multi-purpose.
Non-stick.
Handles for easy gripping.
Comes with two sizes — grand and petite.
Cons:
Not dishwasher-friendly.
The cups are very deep. Owners report needing to adjust their recipes for the popovers to pop.
---
The Bellemain makes six popovers at a time in a sleek, non-stick pan with a rack already equipped. It's made of a durable, welded metal, and the rack is as easy to grip as the Fox Run model below.
The dark-colored metal absorbs heat faster, shortening your baking time, so be cautious of over-cooking your popovers with this pan.
The product's dimensions are 13.6 X 10.3 inches, with cups that are 2.25 inches in diameter and 3 inches deep. The sizing means you'll be getting evenly cooked, ample popovers with this pan.
It's a little on the heavier side at 2.05 pounds, but that's no matter if all you care about is the tasty treat inside. It's sturdy, so it carries that extra weight!
Pros:
Dark pans heat faster than lighter-colors.
It is advertised as dishwasher-safe.
Non-stick.
Heavy-duty.
Very large, deep cups.
Cons:
Users found that although it's said to be dishwasher safe, the non-stick coating peels after a few runs in the dishwasher.
You may need to update your recipe to accommodate the large cup size — users reported needing to up the number of eggs they use to get their popovers perfect.
---
The Chicago Metallic Professional Popover Pan comes in a six or twelve cup model. The six-cup option comes in a neat 15.5 x 9-inch pan made of heavyweight aluminized steel.
This material promotes superior heat conduction when compared to others. The popovers will bake evenly in this non-stick pan, coming out light and fluffy.
Chicago Metallic boasts a line of professional bakeware, with the popover pan coming in its specialty line. It's designed to work for you like you're a professional baker.
This pan is also great for baking other treats. Traditional muffins and cornbread will come out well, being self-contained and delicious.
Pros:
Wire rack.
Dishwasher-safe.
Non-stick.
Multi-purpose.
Heavy duty, but weighs less than 2 pounds.
Middle-range prices for top-range quality, providing high value.
Although you can make muffins in this popover pan, popovers come out much better in this than they do in muffin tins.
Cons:
Owners find the cups may come away from the wire rack if you handle the pan too aggressively.
Some owners find the pan has a lifespan of fewer than three years.
---
The Fox Run 4756 is a well-received popover pan. It cooks 12 delicious popovers at a time and is attached to a wire rack, evenly spaced and gorgeous. 
The pan is neatly sized at 10.75 x 14.5 inches, so it should fit well in most ovens. The 2-inch deep cups will provide you with a depth of delicious popovers to enjoy.
The wire rack's slight dip at the edges is perfect for grabbing with your clumsy, oven glove-covered hands. Your protected fingers should fit neatly underneath and against the cups.
The Fox Run 4756 is made of durable carbon steel. Its non-stick coating should last you quite a while.
Pros:
Wire rack for even heat distribution.
Durable.
Non-stick coating, so the popovers slip out easily.
Lightweight but heavy-duty, weighing in at 1.8 pounds.
Carbon steel holds heat better than aluminum.
Cons:
Users found the non-stick finish started peeling off sooner than expected.
May not be dishwasher safe.
It's a mini, so your popovers may be smaller than you want them to be.
Some owners found the cups have very sharp edges — be careful!
---
The Norpro 3971 makes 12 mini, mouth-watering popovers that are 2 inches deep. It comes with instructions and recipes, which can't be said for every pan!
The Norpro weights 1.68 pounds with dimensions of 14.5 x 10.5 inches. A little on the larger side, it should still fit into most standard ovens.
Each cup is isolated, allowing heat circulation around all of them.
It's made of pro-grade steel, is durable, and coated with non-stick materials. You know you're getting the best from this list when all the pans are non-stick — there are some nightmares out there you want to avoid.
Pros:
Grips for easy holding.
Individual cups at the bottom.
Durable, non-stick material.
Comes with recipes, which is a huge bonus. You won't need to try and adjust your recipe to fit the size of the cups.
Cons:
Not dishwasher-safe.
Mini, so not suitable for people who want full-sized popovers.
No wire rack or venting holes — the tops usually need love and air too.
---
My Pick for the Best Popover Pan
My pick for best popover pan is the Nordic Ware Grand Popover Pan. 
This product has managed to find a way around the welded wire rack problem. If not appropriately welded, cups can come away from the wire rack quickly. There's no such issue with this beauty, and it should be durable enough for your kitchen.