In a hurry? My pick for best pasta pot is the Gotham Steel 5-Quart Multipurpose Pasta Pot.
It has to be said: a good bowl of pasta can make your day better. But there's nothing that pierces the dream worse than terribly cooked pasta. That's why you want a dedicated pasta pot.
Nowadays, you'll find endless options in the market that could leave you overwhelmed and a little confused. That's why, in this post, you'll find all the answers to your questions when it comes to pasta pots – I'll help guide you to the best pasta pot for your kitchen.
Top Pasta Pots Reviewed
Advantages of Getting a Pasta Pot
Before investing in a pasta, I used to believe a specialized pot wasn't necessary. You can cook pasta in a regular pot, right?
However, after getting a dedicated pot, I realized how mistaken I was! Don't fall into this trap.
Here's why you, too, should invest in a pasta pot.
Perfectly Cooked Pasta
You may think that pasta is a quickly cooked meal, but have you ever found your pasta too dry or overly cooked although you followed all the right steps? That could be a symptom of your pot failing to distribute heat evenly.
Fortunately, today's high-quality stainless steel pasta pots regulate their temperature inside naturally, leaving you with the perfect consistency of pasta.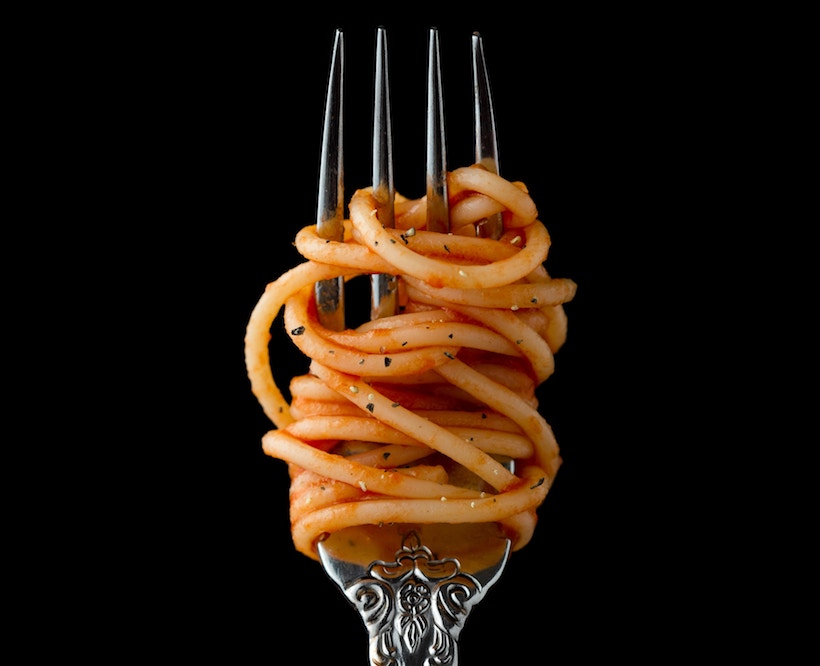 No Burns
How many times have you burnt your arms while trying to drain the boiled water? (My hand is raised, haha.)
No matter how careful you are, you pour the scalding water, and it splashes back. I've always gotten away with just little burns, but if the pot slipped, it could cause severe damage.
Modern pasta pots come with a strainer or a basket that protects your arms and hands by eliminating the risk of getting burnt.
No Wasted Pasta
Grrr! Those dreaded stray pieces of pasta that fall out when straining. If only there were a way to stop this from happening.
Oh, wait… there is!
When using a pasta cooker or a pasta pot, you'll be able to remove the pasta before draining the water, or keep the pasta in place while straining it, which reduces all the chances of wasting any pieces of pasta. You wouldn't want to leave any behind!
Not Limited to Pasta
I know I said earlier that it's best to have a dedicated pot. But – if you think that the pasta pots are limited to pasta, you're in for a surprise.
You can use pasta pots for cooking rice, meat, or really any food that requires draining boiled water at the end. You may even find a pot set that includes separate strainers for other purposes.
How to Efficiently Use a Pasta Pot
No matter the design or set you choose, your pot will come with instructions and guidelines on how properly use it.
However, in case you don't want to read the instruction manual, here are some of the critical tips that you should know before using your pot:
Ratios: The water/pasta ratio is different between one brand and another. You do need to read the instructions here. Make sure you use the right proportion.
After you add water (and it starts boiling), add the recommended amount of pasta to the basket and insert it inside the pot.
While placing the basket, you should ensure that the water covers all the pasta. Even if you catch it, it might leave you with a consistency change.
According to the pot you chose, the pasta will either float on the top or settle at the bottom. Search the instruction manual to know what to expect with yours.
Keep stirring the pasta with a wooden spoon so it doesn't stick together.
Once the water starts boiling again, reduce the heat so it can simmer.
If the water level decreases before the pasta cooking time is over, top it up so you have enough to finish the batch.
When you feel that your pasta is cooked, take a bite to see if it's cooked. (I like to put it on a fork and blow on it first – careful you don't burn yourself!)
Once the batch is fully cooked, remove it from the pot. Based on the type of pot you have, either remove the basket or drain the water per the instructions.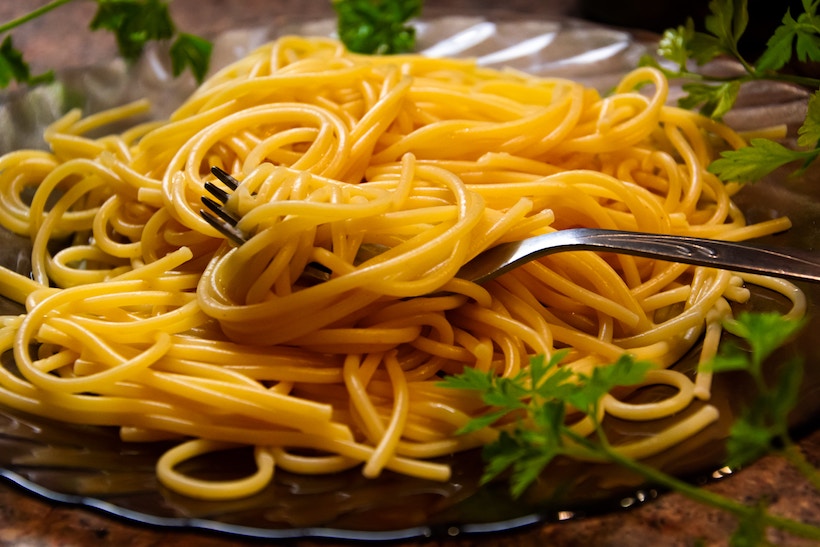 How to Choose the Best Pasta Pot for You and Your Family
Investing in a pasta pot means you're ready to take the next step to improve the quality and consistency of your pasta dishes for you and your family.
Before buying one, you should know that not all types and products will meet your expectations. This means that you should know what you want and need before buying a pasta pot to narrow down your options.
Here are some essential points you should take into consideration before buying a pasta pot:
Budget.
Material.
Size.
Included accessories.
Set a Budget
Like with all cookware (and let's be honest – everything in life), you need to consider your budget.
When you're searching for a pasta pot, you'll find various pots at different price points — many of which will seem like they meet your needs. That's why it's vital to set a budget before going shopping. You can then immediately narrow down your selection from a massive list of products.
Setting a budget also means that you'll be limited to certain specifications and features, which can remove the frustration of trying to buy a pot.
Choose a Material
After setting a budget, consider the material of the pot. Before you randomly buy a pasta pot that fits your budget, look for the material and specifications that meet your needs.
Common materials are:
Copper.
Stainless steel.
Aluminum.
Each material has its strengths; for example, stainless steel is a good conductor of heat, while copper and aluminum are ideal for low-heat cooking. You'll need to choose the material according to your cooking techniques and preferences. Read my reviews below for some more pointers on pot characteristics.
Size of the Pot
The size of the pasta pot mainly depends on you. Larger pots are perfect for big families (or if you always have guests!), but these increase your cooking time.
On the other hand, smaller pots are ideal for small or medium families who want a quick dinner.
Pasta Pot Accessories
Although the extras differ from one product to another, you'll often find these accessories:
Steamer.
Removable strainer.
Heatproof handles.
As per your needs, budget, and cooking style, factor in these when further narrowing down your list.
Reviews of 9 Top Pasta Pots
Now you know what aspects to look for in your ultimate pasta pot, we're at the fun part of checking out the products.
I've taken into account customer reviews and opinions of industry experts to come up with this shortlist. I've also used my own experience and viewpoint to rank them in my order of preference. When I did cook in my younger years, pasta was one of my go-to foods – I've got a lot of pasta eating under my belt.
The Gotham Steel 5-quart model allows you to experience the easy pasta cooking life, with built-in strainers and a tempered glass lid. You will be able to check your food without opening the lid.
The Gotham Steel brand is known for its reliable products, and this pasta pot takes cooking pasta to a whole new level. You'll be able to smoothly drain the water without burning yourself using the lock and twist handles.
The glass lid has two different sized strainer options for all types of food – not only pasta.
I like that it's made from thick aluminum and is coated with titanium and ceramic, which makes for hassle-free cleaning and prevents food from sticking and burning.
Pros:
Twist and lock handles for safe cooking and draining.
Easy to clean.
Materials prevent food from sticking and burning.
Tempered-glass lid to see the contents while cooking.
Dishwasher-safe.
Modern design.
It is coated with titanium and ceramic, a naturally non-stick coating.
Titanium and ceramic to ensure your food doesn't stick.
Different sized straining holes for different types of food.
Perfect for cooking pasta, meat, and other ingredients.
Lifetime guarantee.
Works on ordinary gas.
Cons:
Some users found that it might rust after a short period.
If you're not taking care while you're draining, there might be a chance to get burnt. Use the handles as designed to prevent this.
---
If you're looking for a sizeable family-sized pasta pot that retains that yummy pasta taste, the Cuisinart 77-412 could be the one.
The Cuisinart Chef's Classic offers a pasta set that makes cooking pasta easier than ever. With a firm grip and reliable strainer, draining and cooking pasta for your family will only take a few minutes and be a joy.
A handy feature is the built-in measurement markers, which allow you to fill the pot with the required amount of water without guessing.
It's made entirely from stainless steel with an encapsulated bottom, significantly improving heat distribution. The material also prevents any kind of acidic reactions that may occur inside the pot while you're cooking.
Pros:
Oven safe up to 550 degrees Fahrenheit.
Dishwasher-safe.
Fast and even heating.
Cool-touch stainless steel handles.
12-quart capacity, making it ideal for large families.
Protection against acidic food reactions.
Perfect for gas ovens.
High-quality material.
Reduces the chance of burns.
Flavor-lock lid.
Drip-free pouring.
Suitable for pasta, veggies, and other ingredients.
Cons:
Some owners found that it rusts in time.
Expensive for its material compared to other options.
Some customers disliked the quality of the strainer.
---
The Cook N Home 0241 includes all the pieces you might need to cook the perfect pasta without complications.
It comes with a tempered-glass lid that allows you to see the food while you're cooking it, so you don't need to remove the cover to check the food.
It also has a pasta drainer and is known for its comfortable and straightforward use. This allows anyone to use it safely, even those with minimal cooking experience.
The Cook N Home 02401 pasta pot comes with a capacity of 8 quarts, which is ideal for small and medium-sized families who are looking for a quick dinner.
Pros:
Works on induction gas, electric, glass, and ceramic stoves.
Includes a pasta insert that fits inside the pot.
Aluminum disc at the bottom helps heat distribution.
Tempered-glass lid to view food while cooking.
Durable stainless steel riveted handles.
Cooks a variety of noodles, meats, and other ingredients and foods.
Dishwasher-safe for effortless cleaning.
Removes the risk of getting burnt by merely removing the pasta basket from the pot.
Set includes four pieces — stockpot, steamer insert, tempered-glass lid, and pasta pot.
Affordable compared to other stainless steel products.
Cons:
Handles need to be used with an oven mitt – they can get hot.
Users mention it can rust quickly if not cared for well.
Consumers have reported that the material can flake off over time.
---
Although Bialetti is well-known for its coffee products, their new Italian-style cookware range is considered one of the best out there.
The Bialetti 07265 has a creative and elegant style that takes cooking pasta to a whole new level. It's made from aluminum, which guarantees even heating while cooking, and comes in a few fantastic colors:
Black.
Pink.
Purple.
Pepper red.
The design has a twist to lock — this ensures that draining the water goes off without a hitch. The handles are also designed for comfort; you'll be able to grip it comfortably without getting burnt.
Compared to other products, the Bialetti 07265 is extremely high-quality and sturdy – it would be an enlightened choice.
Pros:
Stay-cool comfortable handles.
Non-stick interior.
Oval design ensures that noodles won't break.
Five-year warranty.
Variety of colors.
Distributes heat evenly.
Affordable.
Twist and lock lid for smooth straining.
Safe and easy to use.
Cons:
Not dishwasher-safe, so you'll need to hand-wash it to avoid any complications.
Not oven-safe
Some users found that the lid is more significant than the pot and, sometimes, it doesn't fit well.
Its small oval size restricts you to smaller servings (unless you cook batches), which is not ideal for large families.
Can't cook several food types; it's limited to only vegetables and pasta.
---
Rachel Ray is a famous brand known for its high-quality products, and the Rachel Ray 16348 is no exception.
It's unique in its shape and material as it's made from durable aluminum and hard enamel porcelain. The stand-out oval shape is a neat design, although you need to make sure you have room for it when cooking.
The 8-quart oval pot has a large cooking capacity that can handle 400 degrees Fahrenheit in an oven, which makes it ideal for several food types – and not only pasta.
Also, the Rachel Ray 16348 pot comes with an enameled non-stick interior that makes removing food from it easy and smooth.
Pros:
Durable.
It can handle high temperatures.
Shatter-resistant glass lid to see the food while cooking.
Suitable for almost all stovetops.
Easy-to-use.
A variety of colors to choose from – it'll fit in your kitchen.
Stylish and stable handles.
Best material for pasta pots compared to other products.
Oven-safe and can handle up to 400 degrees Fahrenheit
Not limited to pasta.
Cons:
Not suitable for induction cooking.
It only contains one piece.
Slightly expensive.
It doesn't reduce the risk of getting your arms burnt as it doesn't contain a separate basket.
---
The ExcelSteel 529 is capable of cooking different food types and isn't limited to pasta. You'll also be able to make soup, steam, vegetables, and rice.
It comes with four separate pieces:
Steamer basket for other food types.
Pasta basket to easily remove the pasta from the boiling water.
12-QT cooker pot.
Vented tempered-glass lid.
I like that the ExcelSteel 529 is constructed with 18/10 stainless steel with a sturdy design and construction that doesn't allow the pot to rust. If you're looking for an affordable pasta pot that has an array of purposes, this one will be the ideal choice for you.
Pros:
Encapsulated base provides fast cooking, and the heat will be evenly distributed.
Firm handles.
Pasta basket can be removed, which means that you'll not need to drain the water first.
Tall pot, which makes it perfect for steaming and boiling large quantities of food.
Steamer and basket are the same lengths as the pot.
Affordable compared to other products with the same features.
Cons:
Customers found that the glass lid isn't durable under high heat and may shatter if you aren't careful.
Some report that the pot rusts after using it a couple of times.
---
 This Calphalon pasta pot is one of the preferable pasta pots on the market as it has everything you need to cook a wide variety of foods, including pasta, vegetables, lobster, and other seafood.
When looking for a sturdy stainless steel pot that can provide you with delicious meals, then this Calphalon model is a great contender. You'll be able to steam and cook large amounts of food in no time at all.
The pot is made using stainless steel materials along with an aluminum disc attached to the bottom, to prevent your food from excess heat.
The set contains an 8-quart stockpot, pasta insert, steamer lid, and a glass lid.
Pros:
Stylish and durable.
Can steam vegetables separately.
Dishwasher-safe for easy and quick cleaning.
Durable clear glass lid allows you to monitor your food while cooking.
Glass lid and pot are oven-safe.
Durable aluminum core lives for a lifetime and distributes heat evenly inside the pot.
Aluminum disc at the bottom of the pot provides fast heating.
Cook multiple foods at once.
Detailed instruction guide.
Cons:
Must follow the instructions and cook on low heat.
It is not recommended for all cooking methods.
It is not made for an induction cooktop.
---
With a fitted pasta insert, this Viking stainless steel pasta pot transforms cooking pasta into a fun and safe experience.
You can easily lift the pasta insert without draining the water, and you can also use the boiled water for several rounds of cooking.
There's no question on durability with this model — it's made of three layers of metal that combine to one solid piece of cookware. It's constructed of 18/8 stainless steel that makes it durable without affecting the quality of food.
I particularly like that this product comes with a multi-pot steamer, giving you the ability to multitask. You can boil water, steam vegetables, and cook delicious pasta, all at once!
Pros:
Dishwasher and oven-safe.
High-quality materials.
Easy to grip.
It can be used for soups and stews.
Ideal for almost all cooking methods.
Evenly transfers heat from the bottom and sides of the pot.
Three layers of metal are designed to be highly responsive to heat changes.
Easy to clean.
The surface material doesn't react with food.
It can quickly help you measure volumes – even if you're filling from the faucet.
Volume markings show both imperial and metric units.
Cons:
Must use a towel or an oven mitt while grabbing it.
Slightly expensive compared to other brands.
Some users found that its color changes after a while.
---
The All-Clad E414S6 will be able to provide you with the original pasta consistency and quality you desire.
This model is entirely made with stainless steel, which makes it durable and gives it a polished appearance. It also has a thick aluminum base for quick heating.
The pot's large capacity allows you to add meat or vegetables along with your pasta to make it extra delicious.
Extra-large handles are included to promote ease of cooking and maneuvering, which should assist in reducing common cooking accidents and spills, especially avoiding getting burned when draining.
Pros:
It can be used on standard and induction gas hobs.
It has a polished appearance that makes it look elegant.
Large handles make it easier to carry.
High stick resistance.
Durable thanks to the stainless steel.
Dishwasher-safe.
Reduces the chances of getting burnt.
Distributes heat evenly inside the pot.
Cons:
Customers found that it might rust quickly.
Relatively expensive for its material.
You won't be able to see your food through the lid as it's made from stainless steel and not glass.
Some users found it hard to add the required amount of water while cooking pasta.
---
My Choice for the Best Pasta Pot
After taking a look at all the best products and their pros and cons, my pick for best pasta pot is the Gotham Steel 5-Quart Multipurpose Pasta Pot.
Although it might be smaller than other pasta pots, the internal titanium and ceramic coating and built-in strainers make it such a breeze to use, and its quality shines through. On top of this, it's versatile. You buy a pasta pot but instead can make all sorts of tasty food.