In a rush? My pick for the best steak pan is the Moss & Stone Griddle Aluminum Nonstick Stove Top Square Grill Pan.
Quality, material, and cooking ability are all vital elements that go into choosing the best pan for steak. Don't leave yourself starving with wasted meat because your pan decided to fail on you at dinner time!
When I'm starving, I love nothing more than a good steak — and don't worry, I like my steak rare but we'll find a pan for you that does steak well.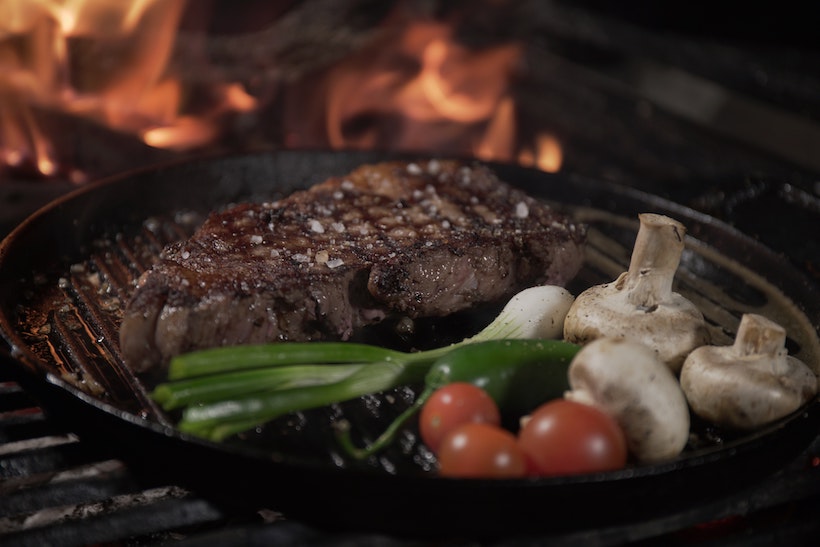 Top Steak Pans Reviewed Today
Benefits of Using a Steak Pan
You probably know that it's possible to cook a decent steak in any old frying pan or on the barbecue. What happens when it's raining? What about when the regular pan just doesn't give you the taste or the sear you're looking for with your meat.
There's always the indoor grill – if you have one. But then the steaks are sitting in their juices, and if you do it wrong, you'll face a puff of fire when you open the oven door. I should know — I've done it before!
So let's look at those steak pan benefits.
Easier and Safer to Use
Sure, outdoor grills aren't hard to use, but they could be easier. Outdoors, you need all that charcoal or propane, you need to deal with the flame, and you have to worry about ambient temperature and wind.
Indoors, you do end up dumping heat and (often) smoke into your kitchen, which hopefully your exhaust fan can fix. However, your environment is well controlled, your burners are consistent, and with the right pan, you'll be browning your steak like a pro, without worrying about the environment cooperating.
Healthier
Grilling, done right, is a healthy way to cook all-round. There's not as much oil as there is in frying, for one. If you're concerned about fat, it tends to fall away – although if you're into fat (especially with those burgers look at standard or copper grill mats for the outdoors.
As for steak pans, they generally have grooves for fat and other liquids to collect in. They also give your steak that classic grilled look — those infamous lines down your meat.
All in all, grilling is up there for health. Keep the added oil low, choose your cuts wisely, and have a great meal!
Durable and Low Maintenance
Whether they're cast iron or anodized aluminum, all the best pans for steak are made of durable materials. These high-quality pans also won't bleed out those chemicals that are toxic while you cook — PFOA being the main one.
If you play your cards right with a grill pan and clean it with only soft sponges and warm water, it will outlast you. The material is sturdy, just make sure if you go with a non-stick coating you don't scratch the surface. That flaking will be the main reason you'll have to replace your pan one day.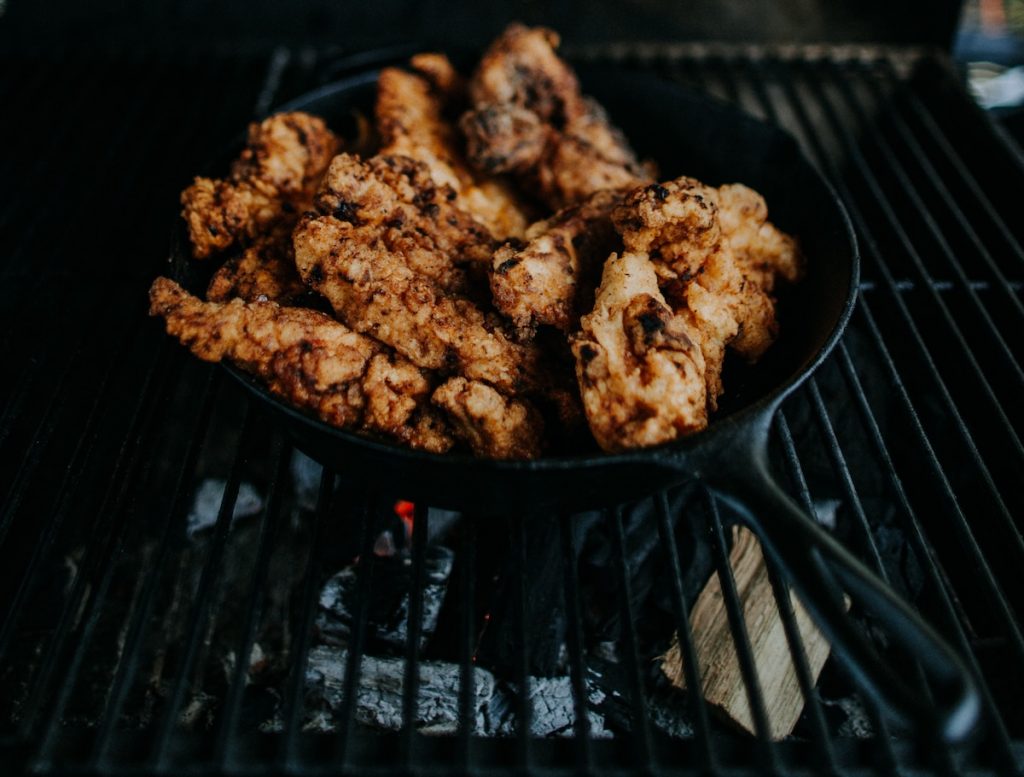 What to Look for in a Pan for Steak
Many of these pans are already at the top of their category. However, there are a few key things to look for that'll benefit you in the long run.
Material
Cast iron pans are good, as well as anything made of sturdy material, and possibly with a non-stick coating. Every pan I'm going to review fits this criteria, so you're all set there. They're all easy to clean, too.
A well-seasoned coating is great on a cast iron skillet — it keeps it all non-stick and helps it last longer. I have some instructions on ManyEats on how to clean cast iron pans and how to season them. It's easier than you think, and you'll reach for your pans over and over again once they're in good shape.
Grooves
Every good grill pan will have grooves, but – are they deep enough?
Some pans still allow your meat to sizzle in its juices without leaving those nice grill lines that you so enjoy. (Unless that's your target – you can do a flat bottom, too!).
Size
Size isn't as important as some other factors, but let's be honest — do you really want to have to cook two or three loads of steak or other food?
A big pan that cooks for everyone all at once is key.
Heat Distribution
Look for a pan that promises you even heat distribution. If a steak is rare in spots and well-done in others, it's unlikely people will say nice things about your cooking behind your back. Don't let your equipment shame you!
Review of the Top 6 Steak Pans
This fabulous kitchen cloth and oven mitt set comes with a pan included for your trouble. Or is that the other way around?
The multifunctional pan by Moss & Stone is built to spread heat evenly throughout your food — and for the grease caught in the grooves, two spouts make ridding yourself of it as efficient as ever.
The pan is light — 3.15 pounds — and made of die-cast aluminum with two layers of coating, inside and out. These layers encapsulate a pan deep and wide enough to cook for the whole family in one swift flavorful flourish.
You can shake everything up for the crowd while gripping the unique handle. The grip is comfortable on the heat-resistant Bakelite handle, which is 8.1 inches long so that you can keep your hands well away from the flames. It will stay cool from top to bottom, though, no matter how close to the heat.
Pros:
PFOA-free.
Versatile, for stovetop or campfire use.
It comes with a cloth and oven gloves.
Lightweight with a fantastic handle for easy lifting and holding.
Pour spouts.
Cons:
Despite being useful, the long handle may be easy to knock into when moving around.
---
The Lodge 10.5" grill pan is a solid cast iron grill pan, and wide enough for your biggest cuts. It features a nice set of grooves, elevating your steak and collecting all the drippings. This keeps all the right juices sealed within the steak, and the unpleasant grease far from it.
The pan is excellent to use and even comes pre-seasoned, which makes all the difference. You'll find no chemical coatings on this cookware, only pure vegetable oil. The seasoning gets better the more you use the pan — it's made to last, with quality.
Offering frying, searing, sautéing, braising, broiling, and baking through the decades — this is a pan that's made to last on the stove, grill, in the oven, or even over a campfire. No matter how you cook your meat, it will heat evenly, and the pan will stay scorching throughout the cooking experience.
Pros:
Cast iron and made to last.
Versatile — use it for multiple forms of cooking.
It is seasoned with no synthetic coatings.
Cons:
It may be hard to clean if there's a lot of grease — you're not supposed to use much – or any – soap.
It's a bit heavy at 6.5 pounds.
---
If you're looking for a durable pan with a handle that won't heat up, the Calphalon Contemporary Square Grill Pan is for you. It's light at 2.75 pounds, but the hard-anodized aluminum construction is a heavy gauge with a brushed stainless steel handle attached.
The anodized coating is triple-layered, two for durability, and one for letting you slide out your succulent steaks with ease. This is after the ribbed bottom lets your food cook authentically and healthily.
Cook using it on the stovetop or in the oven — this pan has versatility!
Also, it's dishwasher safe. Of course, pans are better cleaned by hand for durability's sake – but if you wash it there a few times, it'll be okay.
Pros:
Made to be durable.
PFOA-free.
Oven and dishwasher safe.
Lightweight.
Cooks steak better than a flat bottom skillet.
Cons:
The grooves aren't that deep.
---
The Cooks Standard grill pan is a large 11-inch pan complete with all you need for beautifully seared meat. The heavy gauge aluminum heats everything evenly and is durable throughout.
The pan is fit to work on almost every stovetop. It's oven-safe up to 500 degrees Fahrenheit, and it's dishwasher safe too. The only stovetop it won't work on is induction.
This stylish skillet features a curved handle for easy holding when you're cooking. It weighs only 3.2 pounds, adding further ease to the searing experience.
Pros:
Light.
Curved handle.
Oven and dishwasher safe.
Cons:
Users reported that the pan tends to warp.
Won't work with an induction stovetop.
---
This pan by Sky Light is a practical 4-pound product fit for every stovetop. It has a broad base and tall sides, great for all kinds of cooking techniques.
A pair of spouts featured either side of the pan let you drain those unwanted liquids caught by the classic grooves with ease.
The midcoat on this pan is lightly reinforced, allowing the heat to filter through with ease. And the ergonomic handle is designed not to heat up with the rest of the pan — no oven glove hassle!
This anti-scalding handle is handy for cooking over a campfire, where this pan shines. It's also oven-safe if that's what you're into, so there's something for everyone. (Make sure to detach the handle before sticking it in the oven.)
Then, at last, when you're done, the pan is dishwasher safe. Of course, I always suggest you hand wash your pans, but sometimes it's just easier!
Pros:
Oven and dishwasher safe.
Anti-scalding handle.
Spouts to drain away the fat.
Fabulous for campfire cooking.
Cons:
The handle is very long, so it's easy to bump when moving around the kitchen.
Pricier than other models.
---
The first round pan I've reviewed today, the Cuisinart, is throwing us that variety with a 12-inch circumference weighing just 1.25 pounds. A non-stick interior is protected by a durable anodized exterior, with a cool-grip handle attached.
The rim of this pan is tapered for easy, clean pouring. Get that grease right out of the grooves and avoid a splattering mess.
An added perk for when you're cooking is that you can use metal utensils for cooking with this pan — especially great if you already own a bunch of metal utensils or tongs.
Pros:
Light, for easy, mobile cooking.
Round, so if you're storing it stacked with other frying pans it won't stick out of place.
Cool-grip handle.
Tapered rim.
Compatible with metal utensils.
Cons:
Some customers found the pan may warp.
Very long handle, which can be easy to bump.
---
My Pick for the Best Pan for Steak
Honestly, every pan above seems fantastic. But if I had to pick, which I do, I'd go with the Moss & Stone Griddle Aluminum Nonstick Stove Top Square Grill Pan. I just love a product that comes with extras!
The cloth will be fantastic for washing or drying, and the gloves for touching the sides or bottom of the pan if I have to.
One thing you'll notice looking at this pan is that the grooves are edge-to-edge. That's not the case for every pan on the list. It's not a huge downer if they're not edge-to-edge, but it doesn't hurt.
A lot of this comes down to personal preference though, so if you don't agree, no worries! You can't go wrong with any of the pans on this list, but this one is it for me.