In a hurry? My pick for best oyster knife is the Dexter-Russell New Haven Style Oyster Knife.
Crafting healthy meals with unique flavors and ingredients makes cooking fun and creative. Promoting a safe and efficient meal prep experience involves having the right utensils in your kitchen. 
When preparing a meal with oysters, that means having the right oyster shucking knife for the job. That's right – don't be shucking oysters with a flathead screwdriver.
For this post, I researched many oyster knives on the market. Then, I choose my top selections to help you find the best oyster knife for your needs.
Top Oyster Knives Reviewed
Oyster Knife Buyer's Guide
As you read about the different oyster shucking knives, note that because oysters vary quite a bit, so do oyster knives.
Things break down (mainly) upon these lines:
type of oyster knife
blade material
handle construction
comfortable grip
price
Let's look at all of these categories, and more!
Types of Oyster Knives
Oyster knives categorize into one of four different types or styles of knife. The four main "types" or "styles" of oyster knives on the market are:
Boston
Galveston
New Haven
Providence
Amongst those four, shape and length are the main differentiating attributes.
Boston vs. Galveston Oyster Knives
A Boston Style oyster knife has a longer, narrower blade and rounded tip at the end. The Boston style is typically preferred when shucking oysters from the sides, rather than from the back.
A Galveston Style oyster knife has a longer blade with a rounded tip at the end but rather a wider blade than the Boston style knife. The Galveston style generally is the preferred go-to knife to shuck medium to large-sized oyster shells.
New Haven vs. Providence Oyster Knives
A New Haven Style oyster knife has a shorter, wider blade with a pointed tip at the end that curves upward. The New Haven style is preferred when oysters plan are served in the shell – this style knife helps prevent any damage to the meat while shucking.
A Providence Style oyster knife has a shorter, wider, straight blade with a pointed tip, unlike the curved tip of the New Haven style. The Providence style is the preferred knife when using the hinge method to shuck smaller to medium-sized oysters.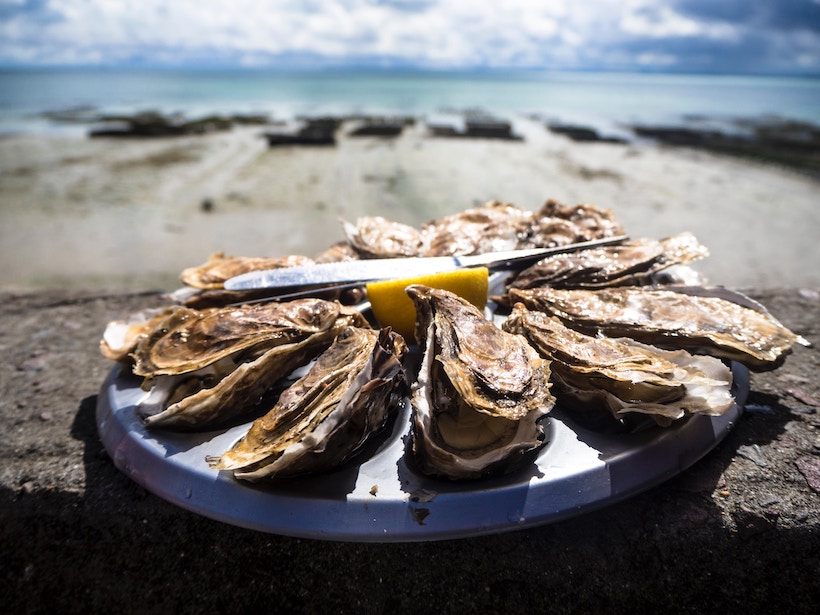 Material of Oyster Knife Blades
Oyster knife blades are commonly constructed using stainless steel. Brands vary a bit depending on the exact blend – you'll note that some brands patent their exact blade formula.
Handle Material and Grip Construction
The handle of an oyster knife commonly is made from wood or polypropylene, a synthetic resin. Polypropylene is comparable to the plastic often used to make other usual household products.
Depending on the material used to make the handle, the knife may also feature specific design elements to the handle, such as a comfort grip. A comfort grip is contoured like your hand, in essence, an ergonomic design. The ergonomic design of the handle is a common artistry feature of wood-handled oyster knives – I really like the look of a contoured handle.
Oyster knives frequently provide a non-slip agent as part of the grip feature of the handle's material of the handle.
Oyster knife manufacturers tend to elaborate on the grip elements of their knife product – the grip provides both comfort and safety to the user of the knife while shucking. If the purpose of the oyster knife is to use in a commercial setting or engage in long sessions of oyster shucking, the grip is extremely important to get right.
Price
Oyster knives typically range anywhere from approximately $10 -30 dollars in price. There are outliers for both extreme value and quality knives.
Lower price oyster knives generally provide kitchen-grade efficiency of use and basic features intended for shucking. On the other hand, more expensive oyster knives provide commercial-grade, higher proficiency of use, and often artisan design or craftsmanship specific to the brand at hand.
Keep in mind that a lower-priced oyster knife doesn't always mean it is of lower quality – or not of commercial grade.
How do you choose the best oyster knife?
The easy decision regarding your knife selection is whether you need a kitchen or commercial grade knife.
Familiarize yourself with the attributes that differentiate oyster knives – this gives you a great start in helping to clarify which oyster knife is best for your needs. In terms of narrowing for your selection, I'll point out some key of the features commonly present on oyster knives in the following section of the article.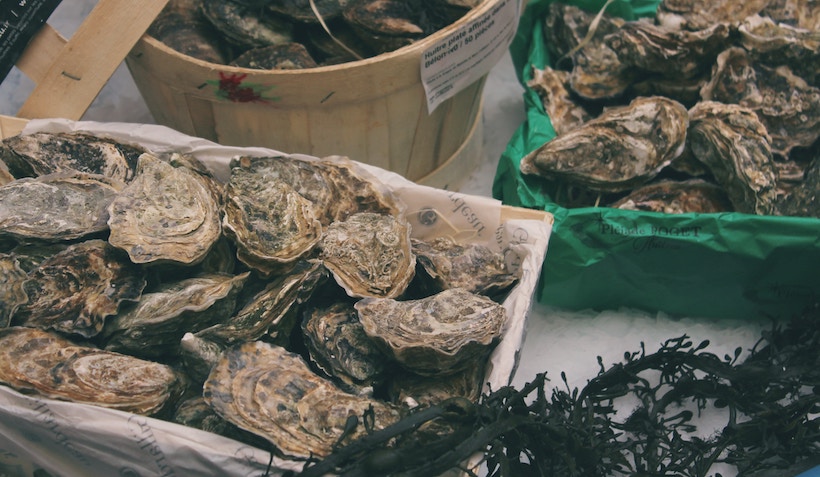 Package Features
You will notice some oyster knives are sold individually, whereas other oyster knives come in sets. Some oyster knives come as a package deal offering bonus features in addition to the knife, such as a carrying sheath, or cut-resistant gloves.
Safety Features
Safety features will vary depending on the knife and are particularly crucial for specific occasions.
If you need an oyster knife for commercial-grade kitchen work – or a large event – you'll have different needs than for the occasional family dinner. If you are planning to host a shucking party for a large group, you also need to take into consideration the age of the group.
In terms of safety features, I have yet to come across an oyster knife that hasn't featured a non-slip, or at least, slip-resistant handle grip.
Another variant in terms of safety is the sharpness and rigidness of the oyster knife's blade. Overall, straight tip blade designs tend to be the sharpest. If the shucking crowd is on the younger end, perhaps a straight knife isn't an ideal choice.
(Or, just leave the shucking to the adults.)
Straight or Bent Tip Blade Feature
Regardless of the oyster knife you select, the knife must serve its purpose – opening oyster shells. The Oyster knives on the market feature either a straight blade with a pointed tip or feature a bent or curved tip at the end.
The curved or bent tip feature of an oyster knife blade can help for a more comfortable and efficient opening of the shell. People often (including myself!) favor a design with a bent or curved tip blade, as it helps to catch the lip at the top of the shell while leveraging against the bottom.
Versatility
Keep the versatility of an oyster knife in mind. You want a durable knife that'll hold up to different cooking environments. The most versatile oyster knife will be multifunctional and labeled commercial-grade.
Oysters also come in many sizes. You also want to consider the size of the knife and blade so it can appropriately open the size of shells you plan to shuck.
Dishwasher Safe or Hand Wash Only
The materials used to craft the oyster knife determine whether the knife needs only washed by hand, or if the oyster knife is dishwasher safe. If this is an essential feature for you, pay close attention to whether the knife is safe to clean by hand only.
In general, though, I suggest you try to hand-clean your knives (even if dishwasher safe). It just keeps them sharp longer if you can spare the hand-wash time.
What's the best way to use an oyster knife?
People tend to shuck oysters using one of two methods:
The hinge method
Front-door method
(Experts also employ a "side-door" method, but I'll skip it today.)
Once you locate the hinge of the oyster, the point where the shells and tightly joined, you can use either the hinge method or front door method to shuck the oyster. The hinge method uses the knife between the shells near the hinge in the back, whereas the front-door method uses the knife right in the front where you use finesse to cut the muscle holding the shell.
Here's a demonstration of the hinge method:
And this shows how the front door method works:
Whether you prefer to work on a flat surface or hold the oyster steady while you insert the knife is up to you. The way that feels most natural and safe to you is usually best.
Selection of Top Oyster Knives
The Dexter-Russell New Haven Style Oyster Knife, part of their Sani-safe Series, is my favorite oyster knife. The blade is 2 3/4" long and is great for tough oysters and clams – you'll quickly dispatch them with this blade.
The New Haven Style Oyster Knife blade constructed with Dexter-Russell's unique high carbon, stain-free, patented DEXSTEEL, with a curved tip, particularly helpful in finding and separating the oyster's hinge.
Pros:
Highly Recommended
Made in the USA
Professional-grade
Unique patented DEXSTEEL blade with a curved tip
Cons:
May not be suitable for large oysters due to blade size
---
The OXO Good Grips Oyster Knife provides a soft, non-slip handle contoured to rest comfortably in your hand. The knife is an all-around affordable, high-quality product that is a great value for the money. Like its name implies, it has an excellent non-slip grip which should be safe for even long shucking sessions.
The OXO Good Grips is a well-crafted knife that features a durable stainless-steel blade with a bent/curved tip (my preference for shucking). The bent tip is designed to penetrate the tightest oyster shells, for efficient and easy opening.
Pros:
Soft Non-slip Handle
Affordable
Durable
Bent tip for easy and efficient prying of shell
Dishwasher safe
Cons:
Users report blade may bend with frequent, heavy use
---
The Aedgoye Oyster Shucking Knife offers an ergonomic, non-slip textured handle designed with comfort and flexibility in mind. The handle and blade make for easy and efficient use of time while shucking. As a bonus, you get two of this excellent blade with your purchase.
The Aedgoye Oyster Shucking Knife also offers good safety in its design, sporting full finger guards. It also comes with a pair of cut resistant gloves in your choice of size.
Pros:
Comfort and flexibility
Included safety cut resistant gloves
Great for beginners
Cons:
Might be a bit short depending on what type of clam or oyster you are opening
---
The Wendom Oyster Shucking Knife is an ideal knife for the beginner shucker, providing all-around safety to the user.
The Wendom Oyster knife actually comes as a set of two knives. The blade of the knives are constructed of thick, high-quality stainless steel and professionally sharpened.
The Wendom knife handle is constructed using a soft non-slip black plastic for a comfortable and safe grip. The knife comes with a bonus pair of cut-resistant gloves made with some of the highest cut resistance level material on the market.
Pros:
Affordable
Durable
Professionally sharpened blade
Easy, safe, and efficient to use
High-Value Set
100% Money Back Guarantee (replacement or full refund)
Great beginner knife
Cons:
Some users might like a sharper blade
---
The HiCoup Kitchenware Oyster Knife features a classic, yet artisan-style design showcasing the unique craftsmanship of the knife versus others on the market.
The knife features a skid-free grip handle made of premium quality pakkawood, a durable blend of resin and wood. The blade of the knife has a mirror finish and bonus sheath. The blade is made of high-carbon stainless-steel and is elegantly crafted with the precise rigidity and width to easily slip between the lips of oyster shells and make them easy to open.
Pros:
Affordable
High Performance/Commercial Grade
Easy to Use
Durable
Compact Design
Large guard for added safety
Versatile (can open any sized oyster shell)
Dishwasher Safe
Cons:
Straight tip blade (no bent tip), which some don't like as much as curved
Razor-sharp blade (may not suitable for beginners)
---
The Melocean Professional Oyster Shucking Knife Set comes as a pair of two of the same knives and packaged in a special box, with bonus items included: an ebook, an oyster shucking brochere, a clam shucking guide, and a nice box.
Melocean strives to deliver the utmost durability and strength in their products and proudly back a lifetime warranty on their products. The Melocean shucking knife pair both feature an ergonomically designed handle carved from solid wood that is polished with a unique agent to prevent slipping during your shucking experience. The wood handles feature an ergonomic design.
The 6.3" full-tang oyster & clam shuckers are specifically aimed to fit firmly in your hand and deliver the highest level of comfort and safety during your usage.
Pros:
 Durability and Strength
 Lifetime Warranty
 Bonus Package Materials
 Comfort and Safety
Cons:
 Straight blade tip (no bend), which some don't like as much as curved
 More expensive, as compared to other brands/models
---
The Zyliss Oyster Shucking Knife is my budget pick for being a high-quality kitchen-grade knife and necessary safety features to get the job done. It has a quality stainless-steel blade, allowing you to insert and twist the knife easily when penetrating the shell. It makes the process easy so you'll be able to keep the juices when opening the shell.
The stainless-steel blade has a serrated edge and curved tip on the end of the blade. This helps make things easy, safe, and efficient when you're opening the shell. The Zyliss offers good safety with a non-slip knife handle and a protective guard as an added safety measure. 
Pros:
Cost-effective and efficient 
Durable construction
Safe and easy to use
Serrated edge blade featuring a bent tip
Dishwasher safe
Cons:
Not commercial-grade
Functionality limited due to size
---
My Pick for Best Oyster Knife
With many high-quality oyster knives on the market, it was a difficult decision to crown the best oyster shucking knife.
The Dexter-Russell New Haven Style Oyster Knife was my top pick – it features commercial-grade durability and a bent tip blade. I prefer the stability and safety the bent tip blade provides during my shucking of oyster experience.