In a hurry? My pick for the best omelet pan is the Iwachu 410-556 Iron Omelette Pan.
Any day that starts with a delicious breakfast is very good indeed!
If you're like me, then on days you eat breakfast, you start with a mouth-watering omelet.
In that case, you have no option—only the best omelette pans will make your omelets both golden brown from the outside, and creamy on the inside (for me, including tons of cheese).
Let's look at the options!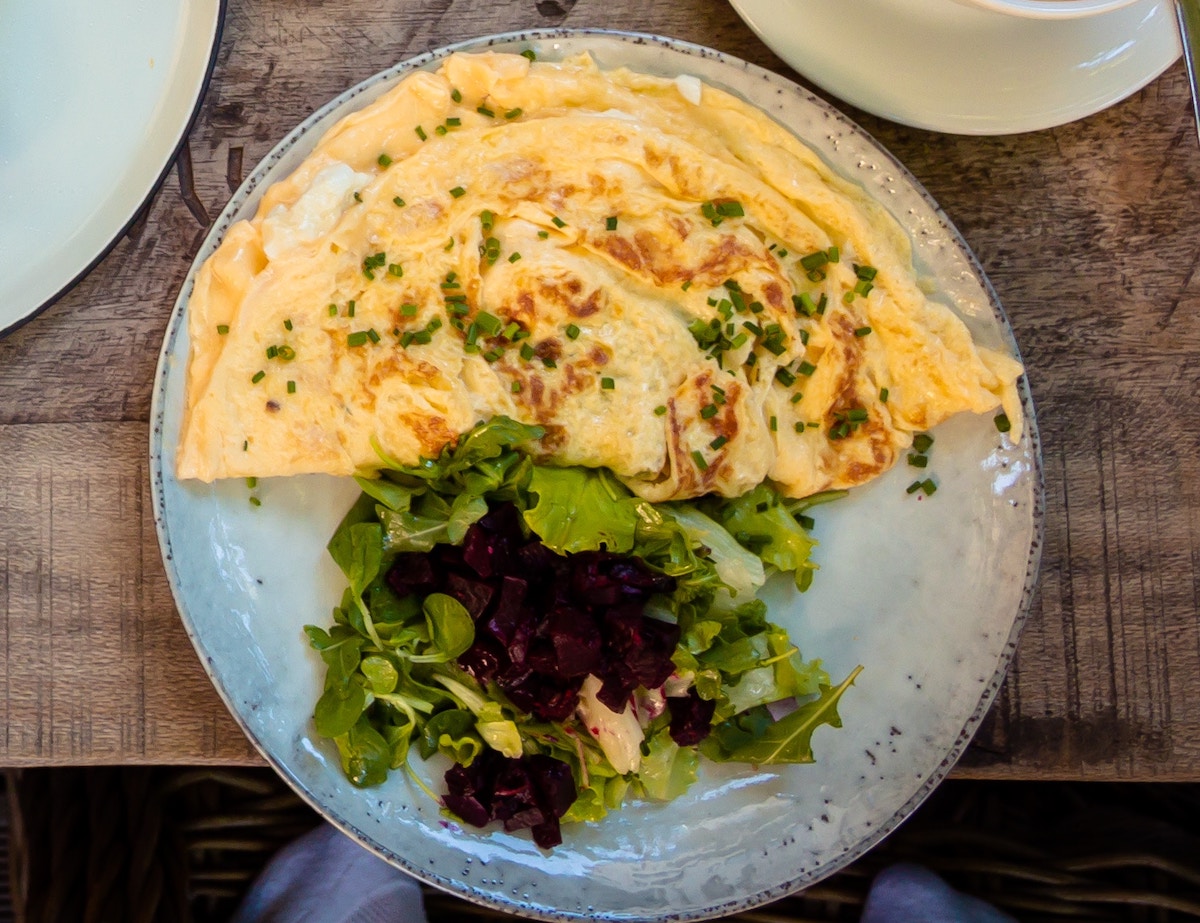 Top Omelette Pans Reviewed Today
Best Omelette Pans: A Buyer's Guide
Pans may all look similar, but that's far from the truth. Omelet pans come in different shapes, sizes, and features that you must put into consideration before committing to buy one.
Size Matters
The typical omelet pan's diameter ranges between 8–12 inches.
If you're only cooking for yourself, anything between 8–9 inches will do (around three eggs with typical fillings). For a two-person omelet, go for the 10–11 inches pans (~5-6 eggs).
Now, if you're shopping for a family of three or four, don't settle for anything short of 12-inches... you can make 7+egg omelettes on these options.
Keep in mind that cooking omelets in a big pan requires some degree of expertise. Otherwise, eggs cook too fast and lose all fluff and other textural appeal. (You might also like a thinner omelet – in that case, larger is better for you for a given number of eggs.)
On the other hand, small-sized pans limit your cooking options—you can't cook what won't fit into the pan, can you?
The trick is to balance each size's pros and cons and settle for the pan size that best addresses your unique cooking needs.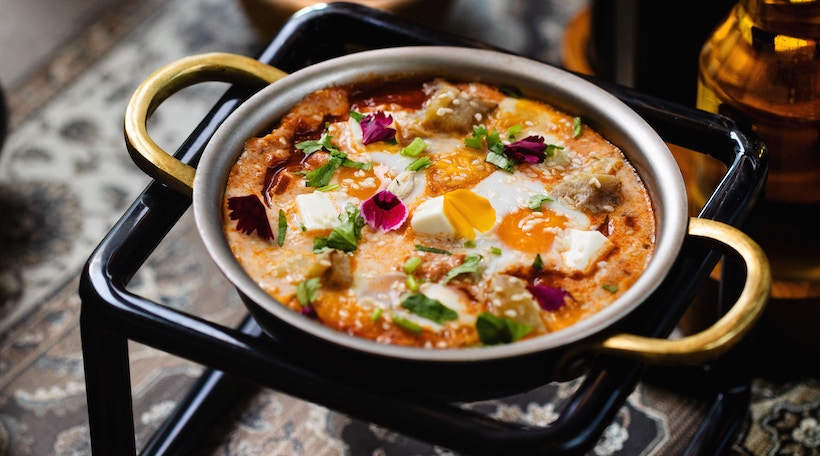 Different Shapes, Different Omelettes
Right off the bat, you can find pans of practically any shape in the market. Star and heart-shaped varieties are excellent options for a home with kids—plus, they come in handy during Valentine's season.
That said, the most common pan-shapes are:
Round is the traditional shape we all know.
Two semicircles compartments are ideal for making frittatas but can be used for other recipes.
Square pans for making Japanese omelettes.
Which Material Should I Choose?
When you're shopping for a new pan, you have to consider both make and material. The nature of material determines three critical properties: heat distribution, cooking time, and durability.
The most common materials are:
Traditional Aluminum
Aluminum has two main advantages: It's affordable and conducts heat evenly—and we all want our omelettes to cook evenly.
On the flip side, aluminum is a light metal. It's neither as durable nor as scratch-resistant as the other materials below.
Anodized Aluminum
Anodization is a chemical process that coats aluminum with the hardier and more durable aluminum oxide. Consequently, anodized aluminum is more scratch-resistant, more durable, and a bit heavier than conventional aluminum.
These new properties, however, come at a cost: Reduced heat distribution.
Carbon Steel
Carbon steel is both durable and light. This carbon and steel alloy is also documented to have excellent heat conduction and distribution.
Cleaning carbon steel pans can be challenging, however. This material is not nonstick, and most carbon steel pans are not dishwasher safe.
Stainless Steel
Pans made from stainless steel are known to be rust-resistant and very durable. In terms of heat distribution, though, stainless steel isn't the best material. That's why you find that, in kitchenware, stainless steel is almost always mixed with aluminum or copper to improve heat conduction.
Conventional Copper
Copper pans conduct heat both quickly and evenly. Copper is, therefore, an excellent material where the speed of cooking is important.
These pans are light and durable, but they are relatively pricy. Price aside, the biggest downside of copper is its reactivity. Copper cookware may react with acidic foods, spoiling the flavor.
Nonstick Coating
Nonstick coatings have raised many questions: Are they safe? Do they contain dangerous chemicals?
Let's look at the science behind these concerns:
The Science of Nonstick
Nonstick is a very old cookware technology. The chemical makeup of nonstick coatings is continuously being adjusted, however. Back in the '30s, a group of chemicals called per- and poly-fluoroalkyl substances (PFAS) were the main ingredients behind nonstick surfaces.
Over 3,000 chemicals are categorized as PFAS today. For the better part, each chemical is distinct from the others. A few PFAS, however, have been associated with adverse health repercussions—and this is where PFAS earn their bad rap.
The two most studied PFAS are PFOA and PFOS: Perfluorooctanoic acid and perfluorooctanesulfonic acid, respectively. According to the EPA, PFOAs are potentially carcinogenic, and PFOS are linked to thyroid hormone disruption and chronic kidney disease.
Nowadays, nonstick is predominantly free of PFAS, even though we aren't sure if all PFAS are harmful. If you want to turn up your precautions a notch higher, go for the GreenPan Chatham Ceramic Non-Stick Open Frypan. This pan has a nonstick surface that's 100 percent derived from natural extracts.
Why Nonstick for Eggs?
When omelettes stick to conventional pans, they lose all aesthetic appeal, and serving omelets off them becomes the stuff of nightmares. With nonstick coated pans, not only do you forego the horror of sticky omelettes, but you also get an easy-to-clean piece.
In the long run, it may even prove healthier and more economical to use a nonstick pan: Because you don't need to drown your omelettes in oil to keep them from sticking to the pan. Just be sure to use these pans with the right utensils—nonstick coats scratch easy.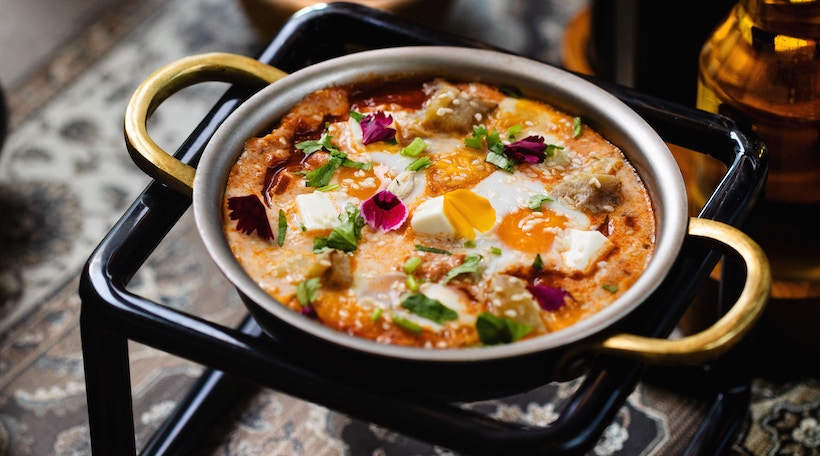 Is Thicker Better?
In a word, no!
There's a balance to be had when you're buying pans for omelettes. The bottom of the pan should be thick, even, and flat—to distribute the heat evenly. Otherwise, you risk overcooking your omelettes.
More thickness almost always translates into improved durability when it comes to pans. They shouldn't be too thick, however. Otherwise, it'll take more time and energy to heat the pans. If the pan is too thin, on the other hand, it'll heat up too quickly and burn your omelettes.
Aim for medium thickness for best results.
Gently Sloped Edges
How about earning some bragging rights the next time you're cooking for company? Are you ready to play with your pan like a 5-star chef? Then look for pans with sloped edges. They make it easy to move the omelette around the pan.
Pick up, flip around, and slide your omelets onto plates like a seasoned professional (pun intended).
Get a Handle on the Handle
Look for a handle that's both easy to wash and heat resistant. The shape of a handle determines how easy or hard it'll be to clean; material determines its heat properties.
Wooden handles feel good and can withstand heat, but they aren't easy to clean. Plastic handles are easy to clean, but they'll melt when exposed to high temperatures.
A Pan's Best Friends: Lid and Utensils
You MUST be very careful with the type of material and utensils you use on nonstick pans—as discussed earlier. I bought a silicone spatula, and it works perfectly with my omelette pans. The spatula withstands heat decently, and it's exceptionally gentle on the coatings. Wooden utensils also work well with nonstick coats.
Some people – like yours truly – prefer to use pans with lids – because the lids lock heat and moisture inside. The locked-in moisture and heat are what makes omelettes fluffy and tender, and it makes it easier to melt cheese. I use a glass lid, so I can see the progress of the cooking without having to remove the cover every couple of minutes.
Review of the 6 Best Omelette Pans
Now, let's take a look at six of the best omelette pans in the market:
We start our list with this 10-inch omelette pan from Calphalon. If you don't know Calphalon, they're experts in making cookware – this durable pan is made of hard-anodized aluminum, and it has three layers of nonstick coating.
Anodized aluminum is very durable, expect this pan to serve you for many years. It has fantastic heat distribution, so not only will it last, but it will also cook your omelettes evenly. The nonstick coating is perfluorooctanoic acid (POFA) free, so rest easy if you are concerned – they won't contaminate your food.
The pan has a thick flat bottom. Its sides have a gentle slope that makes it easy to slide your omelets onto a plate. Thanks to the nonstick coating, this pan is straightforward to clean.
The handle is made from brushed stainless steel. It's pleasant to the touch and stays cooler than most of the other handles on the list.
This pan is not limited to making omelettes. You can also use it for other food items—think anything that needs simmering, frying, and grilling.
The Calphalon Contemporary Omelette Fry Pan pan is dishwasher and oven safe—oven safe up to 450 degrees. To top it all, it comes with a lifetime warranty.
Pros:
Very durable.
PFOA-free three-layer nonstick coating.
Gently sloped edges.
Dishwasher safe.
Oven-safe up to 450 degrees.
Lifetime warranty.
Comfortable brushed stainless steel handle.
Even heat distribution.
Cons:
It takes a little longer to heat up—due to the three-layer coating.
Some users reported that the bottom of the pan comes off after heavy use.
It can feel too light to people who don't use a lot of aluminum utensils.
---
The thing that made the GreenPan Chatham Ceramic Pan stand out from its competitors was its patented ceramic surface, Thermolon. This ceramic coat is derived from natural materials and, therefore, extremely safe. 
GreenPan takes great pride in Thermolon because it is eco-friendly. It's not only free of all Per and Polyfluoroalkyl Substances (PFAS), including but not limited to PFOA, but it's also lead and cadmium free.
Thermolon is also dishwasher safe; therefore, easy to clean. However, you should hand wash these utensils as frequently as you can – dishwashers reduce Thermolon's lifespan.
The pan's body is made from hard-anodized aluminum, which makes it durable and scratch-resistant. At its base, the GreenPan Chatham Ceramic Pan has a ceramic lining. This lining conducts heat evenly, allowing the pan to heat up uniformly from base to rim.
The pan's handle is made of riveted stainless steel that'll afford you a firm grip. It is also raised at an angle for improved balance.
The GreenPan Chatham Ceramic Pan is available in four different sizes ranging from 8–12 inches. It also comes with a limited lifetime warranty.
Pros:
Free from PFOA, lead, and cadmium.
Available in different sizes.
Thermolon nonstick coating is easy to clean.
Scratch-resistant.
Dishwasher safe.
Well-designed handle.
Limited lifetime warranty.
Cons:
Not compatible with cooking sprays.
Some buyers found that the handle heats up if the pan's used on a stovetop.
Other buyers reported that the pan couldn't withstand very high heat—it gets black spots on the surface.
---
The Gotham Steel 9.5" Fry Pan combines the best of two worlds: ceramic and titanium. Ti-cerama coating offers you a nonstick surface that is scratch-resistant enough to use with metal utensils. 
It's also eco-friendly: Perfluorooctanoic acid (PFOA), perfluorooctanesulfonic acid (PFOS), and Teflon—also known as polytetrafluoroethylene (PTFE )—free.
The pan's body is made from solid aluminum that ensures even heat distribution. The Gotham Steel Pan is very light, perfect for you if maneuverability is important. The pan's long firm handle further helps maneuverability.
Like the other pans we review, it's dishwasher and oven safe up to 500 degrees—not for long periods, though.
This pan is available in three sizes: 9.5, 11, and 12.5 inches. Even the smallest size is big enough to prepare a meal for two.
Pros:
Ti-cerama coating is scratch-resistant and durable.
The aluminum bottom conducts heat evenly.
The coating is eco-friendly and safe—PFOA, PFOS, and PTFE free.
Oven safe up to 500 degrees.
You can use it with metal utensils.
Lightweight and well balanced.
Available in three sizes.
Cons:
Users complained that food still sticks to the pan, mainly when oil or butter is used conservatively.
Some users complained of poor after-sales services.
90-day guarantee.
---
Pans with two semi-circle compartments are specialized for making frittatas or omelettes with fillings. Cuisinart has revolutionized this design—the Cuisinart FP2-24BK has two fully round pans. The best part is that the pans are separate, increasing what you can do.
The handles of the two pans are interlocked and riveted. They are ergonomically designed, allowing you to maintain a secure grip while cooking your omelettes. The handles are also long and cool to the touch, no more worries about burning your hands.
This pan's aluminum construction heats quickly and evenly to cook the perfect omelettes for you. It's also safe to use on a stovetop or in an oven—up to 350 degrees.
A 10-inch pan is big enough for everyday use, and now you have two of them, think of the possibilities! On top of that, the pans have a durable nonstick coating for easier food release and cleaning.
It's also safe to clean it in the dishwasher, but to prolong its lifespan, I advise you hand wash it as often as is convenient.
Pros:
Specialized in making frittatas and omelettes with fillings.
Two round-shaped pans that offer more versatility.
Well-designed for a comfortable and secure grip.
Two pans for the price of one.
Easy to clean thanks to the nonstick coating.
An aluminum base allows for improved heat conduction.
The pan is durable.
Safe to use in an oven—up to 350 degrees.
Dishwasher safe.
Lifetime warranty.
Cons:
Some buyers found that the nonstick coating isn't too effective.
In some rare cases, the pans didn't fit together perfectly.
---
The Iwachu 410-556's sleek and stylish design isn't its only appealing feature. Iwachu is a Japanese brand focused on offering quality and performance with its products—this pan is no exception.
This Iwachu product is the first cast iron pan on our list. Your omelettes will benefit from this pan's even heat distribution—no more hot and cold spots to interfere with even cooking. Cast iron also makes this pan one of the most durable on our list.
Many owners have commended the Iwachu 410-556's nonstick coating. Food doesn't seem to stick to it at all, and you'll have no trouble whatsoever cleaning it.
I loved the handle's design and how it complemented the pan's overall design. The handle affords you a firm grip mitigating the ever-present risks of cooking accidents. Moreover, at 3.4 pounds, the Iwachu is light by any metric. This weight allows for exceptional pan maneuverability.
If you don't have much kitchen experience, then the Iwachu may just be the pan for you.
This pan is available in two sizes: 8.5 and 9.5 inches. It may be a little pricier than other pans in the market, but it's definitely worth the extra bucks.
Pros:
Excellent quality and performance.
Highly durable, thanks to its cast-iron composition.
Aesthetic, sleek, and stylish design.
Its nonstick coating surface lets omelettes slide off with ease.
A unique handle design that doesn't get too hot.
User-friendly and perfect for beginners.
Even heat distribution.
Cons:
Thinner than your typical cast iron pan—it may burn your eggs.
Some buyers complained of a chemical smell when heating the pan for the first time.
Pricier than most pans.
---
The South Korean based company—TECHEF—has been supplying the market with reliable nonstick cookware since 1982. With two 5.3-inch wide semi-circle compartments, this pan is self-descriptive: the TECHEF Frittata and Omelette Pan is designed for both frittatas and omelets
Whether you're a beginner or a professional, this pan will help you prepare perfect omelettes. Its body is made of high-quality aluminum, which conducts heat evenly while also making the pan very durable.
A Teflon coated interior allows you to slip your omelettes onto plates hassle-free. This Teflon nonstick surface also makes the pan extremely easy to clean.
The handle is 7.2-inches long and stays cool on the stovetop even after cooking for long hours. This handle is made from brushed stainless steel, and it's double-riveted—expect it to be both sturdy and durable.
The TECHEF Frittata and Omelette Pan is available in 2 colors: purple and black, but only one size.
Pros:
Built for making frittatas and omelettes perfectly.
Beginners can use this pan with ease.
The aluminum body conducts heat evenly and quickly.
Teflon coatings are nonstick, which translates into hassle-free cleaning.
The brushed stainless steel handle doesn't get too hot.
Available in 2 colors.
Cons:
Available in one size only.
It can't be used for cooking other foods.
There are some health concerns over the use of Teflon nonstick, especially if the surface gets too hot.
---
My Pick for the Best Omelette Pan
It isn't easy to settle for just one pan on this list because all the products therein are great. But, since I have to choose one, my pick for the best omelet pan is the Iwachu 410-556 Iron Omelette Pan. The pan is built to last and, with its sleek and beautiful design, it'll look nice in your kitchen.
You won't worry about the cleaning process because the nonstick material doesn't let food stick to the pan. It's also suitable for both novices and experts, because of how easy it is to handle.
What surprised me the most was its weight. Even though the Iwachu is made from cast iron, it's super light, therefore, combining two amazing features: durability and dexterity.