In a rush? My pick for best office coffee machine is the BUNN 33200.0015 VPR-2GD 12-Cup Pour-Over Commercial Coffee Brewer.
Boosting productivity in the office is much easier when you have a quality coffee machine. Nearly two-thirds of the American workforce consumes a cup of joe daily – and 25% of all coffee drinkers admit they're addicted to the beverage.
Apart from its immense popularity, coffee also has vast potential health benefits – including many cognitive benefits – when consumed in moderation. With so much at stake, it's downright criminal not to look into the best office coffee machine available.
Five Top Office Coffee Machines Reviewed
How to Pick the Best Office Coffee Machine
Picking the coffee machine for the office can be tricky because it's a complicated optimization problem. You're making a general selection for a mid-to-large-sized group of people.
Since it's complicated, let's walk through some factors to narrow down your search to the best-suited machine for your office space:
Coffee Type
Although you get some out there coffee makers, most fall under the brackets of making coffee within these two:
Espresso Machines
Espressos are extremely popular, and picking up an espresso machine – or a coffee machine that also makes espresso – gives you access to a wide range of options.
Since you make espressos from ground beans or capsules, you can brew a range of coffee types, including:
Cappuccino: Made by layering in this order: espresso, steamed milk, then foamy milk.
Latte: Made using steamed milk and coffee. Frothy and mildly-strong.
Mocha: A chocolate-enhanced version of the latte, and is often topped with whipped cream.
Americano: Simply made by adding hot water to espresso.
Flat white: Steamed milk poured over an espresso.
Drip Coffee
Brewing coffee with the drip method involves pouring hot water over ground coffee beans and draining through a filter into a carafe.
Drip coffee is more accessible than espresso, and the most common way to consume coffee in most areas. We can break drip coffee down into two major types:
Pod coffee: You can purchase almost all major types of coffees in pod form. These require forcing hot water through capsules that contain your favorite ground coffee beans.
Ground coffee: This is the natural and oldest way of producing coffee and uses ground beans in a filter. By adding hot water, out comes delicious black coffee.
Coffee Machine Types
Besides the many types and styles of coffees, there are also varying types of coffee machines. Let's talk through a few of them which are popular in an office setting.
Bean-to-Cup
This is one of the most convenient types of machines to make coffee. Bean-to-cup coffee machines produce fresh, authentic, and highly aromatic coffee.
Their secret? Freshly ground coffee beans.
Bean to cup coffee machines grind the coffee beans right before brewing, which allows the beverage to hit all the right flavor notes. Beans won't remain ground for a significant amount of time, causing oxidation and making coffee taste flatter (or even more acidic).
Bean-to-cup machines are an excellent choice for smaller offices with employees who cherish their coffee. Their main downside is complexity – there are more elements on the machine which may break as opposed to separating machines or making coffee starting from pre-ground beans.
Espresso Pod
Pod espresso machines are convenient and make a quick espresso shot – usually for a single user. Depending on the pods you get, you can vary the amount of caffeine in a finished drink.
They tend to have much shorter brewing times, and the espresso variants pack a severe punch of concentration and intensity. On the downside, they usually only brew a cup at a time – but the positive is they're easy to clean up.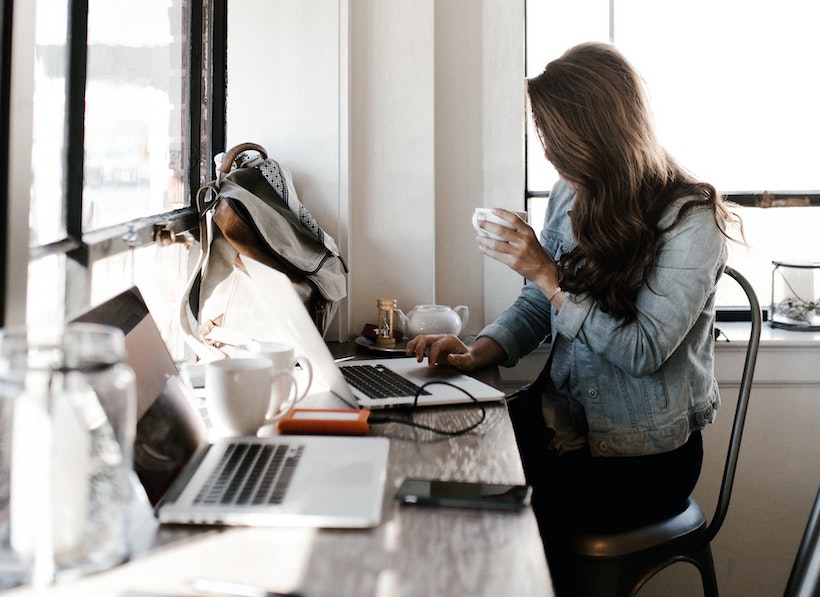 Drip Coffee Machine
A drip coffee machine is the general workhouse of the home and the office. By brewing coffee into (generally) a 10+ cup carafe, you can save time by making a double-digit number of coffees in parallel – serving a small group at the office.
They're a great compromise choice for an office, and brew decent coffee with high-quality beans. On the downside, sometimes they do cause friction: employees might argue about brewing the next cup or cleanup up after a just-finished batch.
Single-Cup Coffee Makers
These are the opposite of coffee pots—they can only produce one cup of coffee each time. Even though this may seem counterproductive when applied in large office spaces, single-cup coffee makers can dish out premium beverages in some cases in a short time.
On the pros side, they offer a variety of coffee so every user can pick the right coffee (if it's stored near the machine!). They also eliminate many mild office squabbles since they brew a cup at a time, and there is no ambiguity about who needs to make a new cup. On the downside, they only make that single cup – but no one said you have to get just one.
Features
Some of the features that you should look for while shopping include:
Timer/Auto Shut-Off
Having an auto shut-off function means that no one needs to babysit the coffee maker if left on too long. Some machines also shut off if they detect a fault; for example, water overflowing the filter.
Splash Guard
The hustle and bustle of an office atmosphere and a hot pot of coffee don't go together very well. Spills are almost a certainty in this environment, but a splash guard will help keep these to a minimum.
Pre-Programmed Features
Price and features go hand-in-hand, but that doesn't mean you can't get an affordable coffee machine for the office with some excellent features. Look out for features such as:
Serving size
Brew strength
Reviews of the Top Five Best Office Coffee Machines
The Bunn 33200.0015 is one of the top office coffee machines and is a great option when you want to brew large batches of quality coffee in a single session.
This model can brew 14.4 liters of coffee per hour, meaning no employee will ever go wanting when they need a cup – stat!
All the internal components of this product are stainless steel, which ensures greater durability in the long run. A completely black finish complements the tough interior and provides a great look.
The two large glass decanters come with splash guard funnels to help you pour a piping-hot cup effortlessly.
Pros:
Large brewing capacity.
Completely portable thanks to the pour-over brewer system.
Includes two large decanters.
Splash guard funnels enable trouble-free pours.
All internal components use stainless steel.
Cons:
This model tends to run loud, according to some reviewers.
---
The Technivorm Moccamaster 59616 is a great option if you don't want to have a barista in your office space. Instead, it gives the employees the chance to make their coffee whenever they want—it's straightforward to use, and anyone can master making the perfect brew on this machine.
Technivorm is a trusted brand by coffee lovers worldwide and renowned for high-quality machines that make good coffee quickly. This machine helps the case – its one-push system can create a hefty brew of 10 cups within just four to six minutes. It just can't get any easier than that!
The internal design of this model relies on copper elements. Copper is an excellent conductor of heat and electricity, which improves the durability of the coffee maker over time.
It also doesn't use a pump, which can be notoriously unreliable over time. This exclusion also helps to deliver perfectly brewed fresh coffee time and time again.
You can let this model run without overloading thanks to the auto-shutoff feature, which switches the machine off after 100 minutes of continuous use.
The Moccamaster comes with a five-year warranty.
Pros:
One-push button system.
Makes 10 cups of coffee in four to six minutes.
The use of copper elements and a lack of a pump helps create fresh brews.
Auto-shutoff feature after 100 minutes of use.
Five-year manufacturer warranty.
Cons:
More expensive than some other office options.
---
If you're in the market for a single-serve commercial-grade coffee maker with all the accompanying bells and whistles, then the Keurig K155 Office Pro Commercial Coffee Maker won't disappoint you.
This state-of-the-art model comes with an advanced full-color touchscreen to help you efficiently access its many features with remarkable ease. Some of these features include an adjustable brew temperature and a programmable auto-shutoff function.
With this machine, you can choose to produce coffee in four sizes:
4 ounces.
6 ounces.
8 ounces.
10 ounces.
You can customize the brew strength from strong to mild to help every user achieve their ideal taste. The best part? It takes only takes a minute to brew each mug.
If you find the need to transport this coffee maker, you can quickly drain and remove the water from the internal hot water tank. This is a feature unique to the Keurig brand.
Pros:
Short brew time of one minute.
It can create four varying quantities of brews.
Advanced full-color touchscreen.
Customize brew strength.
Easy to drain and remove water for increased portability.
Cons:
The warranty period is just one year, a bit shorter than some other options on this list.
---
Offices with a large number of employees need multiple batches of coffee to be ready simultaneously, and this is precisely the Wilbur Curtis Commercial Pour-Over Coffee Brewer shines. This particular model has three coffee stations to deliver coffee to your employees whenever they please.
These coffee stations divide into two lower reservoirs and one upper. The upper deck has a warmer built into the design to keep the coffee in the carafe at the right temperature, while the lower two stations can switch off a continuous supply of your favorite brews.
Keep in mind that this is a pour-over system, which means that you won't need any kind of plumbing to install this coffee maker, making it versatile for office use – in theory, you can move it around as needed.
There's also a large water tank in this model, meaning it can produce 64 ounces of coffee in a single sitting. The internal heating elements used in this model are extremely powerful and well balanced between coffee-making and creating faster brews.
Note that this model doesn't come with a decanter – pick up a Wilbur Curtis carafe here.
Pros:
Three coffee stations enable large coffee batches.
Pour-over system requires no plumbing.
Powerful heating elements.
Stainless steel construction enables greater durability.
Cons:
The three carafes aren't included.
---
This ESAM3300 model by De'Longhi is a premium selection in case you feel like treating your employees to a truly high-quality coffee and espresso maker that's packed to the brim with features.
In particular, the easy-to-use rotary and push-button control panel come with programmable settings to help you create the ideal cup of coffee.
Also, a large bean container capacity holds 8.8 ounces of coffee. This amounts to nearly 14 cups of coffee, which is ideal for mid-sized offices.
A patented direct-to-brew system allows you to use your favorite beans to create the ideal brew. Note that the brand recommends you use slightly less oily beans for maximum efficiency.
Pros:
Requires half the maintenance time compared to similar models in the segment.
Easy-to-use rotary and push-button control panel.
Can make 14 cups of coffee in a single session.
The Direct-to-brew system allows you to use your favorite beans.
Cons:
Customers have indicated that oily beans can be difficult to grind in this model.
---
Final Verdict: a Coffee Machine the Whole Office Will Love
Finding the best office coffee machine can be tricky business (pun intended) because you need to consider the needs of the many. Luckily, all of these models will leave the whole office happy.
For me though, the BUNN 33200.0015 VPR-2GD 12-Cup Pour-Over Commercial Coffee Brewer is my top pick because it's a tried and tested model that will serve as a coffee workhorse in your office.
It can produce large batches of up to 14.4 liters at a time and uses quality stainless steel construction. Everyone will love it, and it'll last a very long time.