Ready to go? In my opinion, the Krokori Rectangular Baking Pan set is the best lasagna pan set.
I love making homemade lasagna. My kids love it, and I can make so many slightly healthier variations. It's truly a win-win for the whole family! 
You may have grandma's recipe down to a T, but for you to get an excellent finished product, you should be using the best lasagna pan. No pressure — that's why I'm here.
In this post, I'll give you a breakdown of six great lasagna pans for you to take your pick. I'll also provide my favorite for your consideration.
Sound as good as biting into nice lasagna? I agree - let's do it.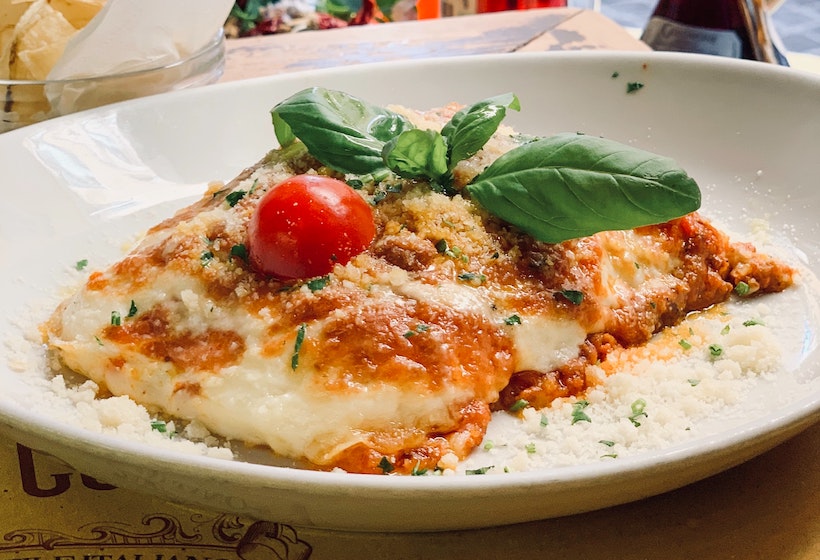 Top Lasagna Pans Reviewed
What Material Works Best for a Lasagna Pan?
With great variety comes... great confusion. However, I'm here to break it down for you. When it comes to the lasagna pan material, we have so many options: glass, ceramic, stainless steel, etc.
They all have their advantages and disadvantages – so you're welcome to pick what works for you – but I'll help you narrow it down here.
Glass/Ceramic
Glass and ceramic pans are poor heat conductors compared to their steel counterparts, but they do spread heat evenly.
It will take time for either to heat up, but once they do, the heat distribution is excellent. This provides even heating to your lasagna. And, as a side benefit, the slow warming works in reverse and keeps your lasagna warm out of the oven.
Stainless Steel
Stainless steel is a good pan material because it's rust-resistant. Pans made from stainless steel will heat up food quicker, and if you like your lasagna with a golden-brown crust, stainless is a good option for you.
Metallic pans, however, react to acidic foods so you may notice an unwanted metallic taste in your food – or it may have a tinge of color along the edges that come in contact with the pan.
Carbon Steel
Carbon steel is the halfway point between cast iron and stainless steel. These pans typically come with a non-stick layer, which helps when serving your lasagna on the dinner table.
Tips to Make the Best Lasagna
Before I dive in to give you my list of the best lasagna pans, I thought I'd give you a nice little cheat sheet so that you make the best out of whatever pan you choose.
To ensure that your lasagna recipe comes out perfect, here are a few tips that will help you get there.
Handle With Care
Your pan needs to be at least 2 to 3 inches deep. Anything shallower than that will have the top layer bubbling over the sides (and inevitably getting introduced to the bottom of your oven).
I prioritize exercising care – on numerous occasions, I've been the one cleaning the bottom of my oven after a major spill.
Always ensure you have a little sauce and a drizzle of olive oil at the bottom of all your layers. This helps the pasta not stick to the pan.
Your layers should adhere to this order: sauce, noodles, cheese mixture, more sauce, noodles, etc. The list continues in that sequence until you reach the top. Ensure that your final layer of noodles is wholly covered in a sauce so that the noodles don't become brittle. Finally, dust the top with some shredded cheese.
Use the Right Ingredients
I know this is a hard pill to swallow, but all-beef isn't really the best lasagna!
Ground beef is excellent with spaghetti sauce, but interestingly enough with lasagna, I find your best bet lies with either pork or sausage. A beef and pork combination gives you the best of both worlds and is packed with flavor.
Go all the way with whole milk mozzarella and ricotta if you can. Part-skim can do the job, but I find it a touch blander.
You Don't Always Have to Do Everything From Scratch
(All my DIY friends can skip this part.)
There's something about having kids running around the house that makes me always want to find the quickest possible way to do things. Scratch built pasta is, therefore, often a no-no for me. It's a lot of additional work, and sometimes the pasta ends up getting too mushy anyway. No-bake noodles or boiled lasagna sheets work just fine.
Cook the Lasagna to Perfection
Cover your lasagna with foil before you bake, then slide it into the oven for an hour. You can then remove the foil and bake for an extra 15 minutes.
This is done so that the cheesy top layer gets that sunkissed brown that we all love on our lasagna. Let it sit for an extra 10 minutes after you remove it. This helps to keep the layers from unraveling.
Reviews of the Top 6 Best Lasagna Pans
The ceramic Krokori Rectangular non-stick baking pan set has a high-quality glaze. It's easy to clean and is both odor-free – and flake-resistant. Because it is ceramic and not at all metallic-based, you can use the pans in your microwave, refrigerator, and oven. 
Other than lasagna, you can use this baking pan to make pizza, spaghetti, lasagna, roasted vegetables, bread – and even to reheat leftovers. The set has three baking trays that can comfortably nest within one another for easier storage.
Pros:
Attractive with a beautiful wavy design and a color that's easy on the eyes.
Great for dinner parties.
Non-slip handle design makes it easy to hold.
Three different sizes are available.
High quality.
Easy to clean.
Cons:
Not for direct fire.
Don't use metallic utensils to clean the pan.
---
This classic USA Pans 1111RC roasting pan is made from aluminized steel and is designed to create a deep, hearty lasagna. It measures 13.75 by 10.37 by 3 inches, making it easy to place lasagna noodles across the bottom. 
Its fluted surface makes it easy to clean by hand. However, it's also dishwasher safe, which is convenient for those busy days when the last thing you want to do is wash the dishes. Its easy to grip handles make the work of pulling it in and out of the oven less strenuous.
The pan has a steel wire in the rim, which gives it extra strength and reduces (some argue, eliminates) warping. Its heavy-gauge steel allows for even heat distribution. If you're into the classic metallic baking pan, the USA pan 1111RC will be a good pick for you.
Pros:
Americoat non-stick coating makes your baking experience hassle-free.
A distinctive corrugated surface that's specially designed to facilitate air circulation.
Pan fits six lasagna sheets perfectly.
Model available with a lid for transporting lasagna.
Sturdy.
Cons:
Being a metallic pan, it's not exempt from reacting with acidic foods. Its lifetime is limited if the sauce touches the pan often.
Some owners say the adhesive glue that's used on the product labeling is too strong and leaves behind marks.
---
The CasaWare 15x10x3-inch roasting pan works great for large dishes. It has a non-stick ceramic coating, which makes it durable and very easy to clean. Users are advised to remove all the materials it was packaged with before the first wash. 
The CasaWare pans have a blue granite ceramic surface that is durable and scratch-resistant. It's heat tolerant up to 450 degrees Fahrenheit and does not peel or blister under high temperatures. The size is perfect for large meals (like lasagna!), and you can easily roast a whole 20-pound turkey in it if you wish.
Pros:
Ceramic coating makes it easy to clean—you only have to wipe or gently scrub, and the food slides right off.
It does not peel or blister when exposed to high temperatures, so it's very durable.
Easy on the eye, making it both functional and fashionable.
Cons:
It would do better with handles for ease of removal from the oven.
You can't use metal utensils with this pan because they could easily scratch the non-stick surface.
If you're not a huge fan of handwashing, this may not be the pan for you – it's advised to handwash.
---
The HIC Oblong Rectangular Baking Dish is a ceramic dish that's designed to allow for layered recipes such as lasagna. The porcelain heats up slower than its metallic counterparts but allows for even heat distribution, meaning your meal will both cook evenly and stay hot for a while once removed from the oven.
The pan can easily move from microwave to oven or freezer without transferring odors. It can be used as a cooking pan or a serving dish because it's aesthetically appealing.
Pros:
Microwave safe, dishwasher safe, and easy to clean.
The easy to hold handles allow for better grip and smooth transfer from the oven to the tabletop.
Versatile and can prepare a variety of dishes from lasagna to casseroles, roasting, quiches, cakes, and so much more.
Cons:
Although the pan is 13 by 9 inches, these measurements refer to the outer circumference, the inside is slightly smaller.
Shallow compared to other pans on this list.
---
This 9x13" stoneware baker from Rachael Ray has extra-wide handles that provide a firm and comfortable grip. It is non-porous, safe to use in the microwave, dishwasher safe, and easy to use. 
The pan measures 9 by 13 inches, and can easily go from table to freezer and right back to the table thanks to its durable ceramic stoneware makeup and good aesthetics. You can place this rectangular bakeware in the oven as it's safe up to 500 degrees Fahrenheit.
A note on this dish: you should be familiar with stoneware or risk being significantly disappointed. Extreme changes in heat or cold could lead to cracks in the pan. Allow the pan to cool down before you put the pan in the freezer to avoid thermal shock. The same applies to it when you remove it from the freezer. Allow it to attain room temperature before thrusting it into the oven.
Pros:
Its playful ceramic design and vibrant color make it both fun and functional.
It comes in lots of different colors.
The shallow side assists in creating crunchy crusts when baking.
Extra-wide handles.
Cons:
You must take care with extreme temperature changes, like with all stoneware.
It may not be deep enough for those who like a deep lasagna.
---
The Cook Pro 561 pans and cooking racks are made of durable stainless steel with handles that make placing food in and out of the oven a breeze. They have a stylish mirror-like finish which makes them look as good as a serving dish as they are a cooking dish.
The depth is great for multi-layered lasagna and other dishes. The set comes with two pans and two chrome racks for those who would like to prepare their favorite roasts. Wash all the parts easily to keep the shine, either by hand or in the dishwasher.
Pros:
Affordable.
The pans are easy to use and clean and don't lose their shine.
The foldable handles are great for insertion in and out of the oven. They are also very convenient for storage because you can flap the handles and store the pans.
Two sizes for versatility.
Cons:
Depending on the type of food (especially acidic, such as with tomato sauce), the pan could stain.
Not microwave safe.
---
In Conclusion: My Pick for Best Lasagna Pan
All of these pans are very good, but it's only fair for me to choose my favorite lasagna pan. As I had mentioned earlier, glass and ceramic pans are excellent for even heat distribution. And as much as metallic pans are great, I'm skewed towards the more aesthetically appealing pans.
For that reason, in my opinion, the Krokori Rectangular Baking Pan set is the best lasagna pan set. Its versatility and the fact that I can pop it in the microwave with last night's leftovers seems to agree with my ever-busy schedule. The different sizes of pans and bright colors add that little extra to make it even better.