Rolling out soon? My pick for best knife roll is the Dalstrong Nomad Canvas and Leather Knife Roll.
Knife rolls aren't only great for traveling chefs, culinary students, and caterers.
Rolls also present a sensible and versatile storage solution no matter your current space or occupation. Plus, they provide proper protection for blades of all shapes, sizes, and quality.
In this post, I'll lay out what you should look for when picking a knife roll, then take you through 5 top knive bags, and finally pick my favorite. Let's dive in.
Roundup of Best Knife Rolls
The Knife Roll Buyer's Guide
Who Should Consider a Knife Roll?
Chefs
Foodies
Anglers
Hunters
Minimalists
Campers
Backpackers
Travelers and vacation use
Culinary students
Parents with young children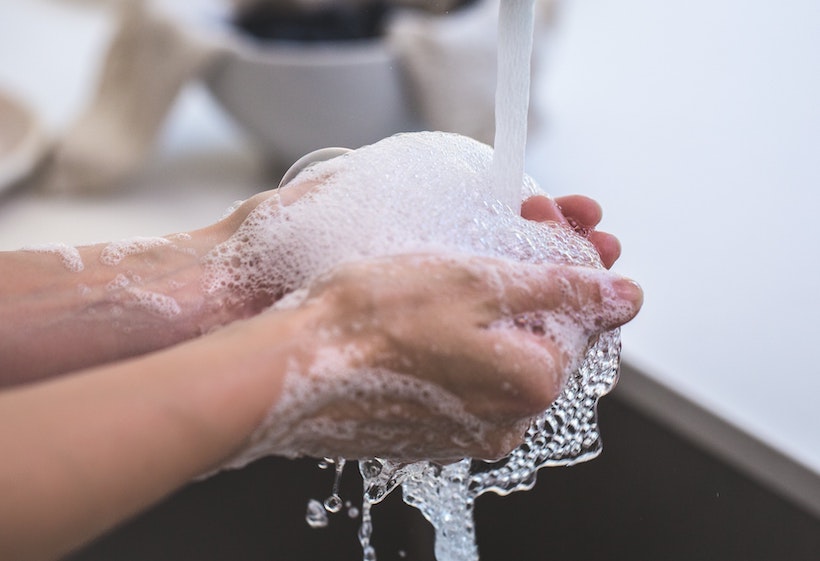 Rolls and Bags Promote Sanitary Knives
A major consideration when you invest in nice knives is the cost of replacing or repairing damaged knives from improper storage.
Most people leave their knives on the counter – or worse! – toss their knives into a drawer. Others have upgraded to a knife block or magnetic wall store. The usual solutions have serious drawbacks that a roll or knife bag can remedy.
For starters, a knife block limits you to the number of slots it has. Blocks can be unsightly and waste counter space too, which many of us are already short on. Fancy blocks are also notorious for dulling your knives. One test showed it only takes about 70 strokes, not including actual use, to dull knives to dangerous levels.
Other hidden dangers lurking in your knife block? Yeast, bacteria, and mold.
How many of us remember to clean our knife blocks? Did you know the National Sanitation Foundation recommends we do it monthly?
A roll or bag for storage means your knives stay sharp longer. It also means no more worrying about yeast, mold, and anything else growing inside a knife block. Another bonus is you'll regain some counter space.
Rolls and Bags Ensure Safe Transport
Transportation to me means any time you need to move your knives.
That might be taking a flight, train, bus, car, or moving them between locations in your home. Or, as the case may be, that might be bringing knives into your backyard.
Taking a cooking class that doesn't supply knives? Want to teach a neighborhood cooking class at your community center? Are you having a backyard BBQ where you'll need various knives?
A knife roll or bag helps in these common situations. No more worrying about dropping a knife or kids or teens carrying knives since they're securely tucked away.
Knife Bags are Excellent for Hunting, Fishing, Vacation Homes, and Camping Trips
A knife bag is a great solution for housing your hunting and fishing knives. They keep knives neatly organized while protecting the blades in and out of season.
Another great use of knife bags is for backpacking and camping utensils. You simply roll it up and slide it into your bag. While a knife bag and the knives within won't replace a utility knife on your belt, the knives and utensils in your roll do open up more meal preparation possibilities.
Knife Rolls – for Child Safety?
If you're not a chef or into professional food with preparation, you might have a tough time convincing yourself about a knife roll. For me, funnily enough, it boiled down to child safety.
My oldest daughter was rambunctious. She loved ramming into kitchen gates and getting into knife drawers (into everything, really). Yes, we tried fancy childproof locks – she figured those out too.
At the time, we lived in a smaller place with little counter space. I was at my wits end and thought I wouldn't be using my nicer knives until she was old enough to respect the danger.
Then, a chef friend showed me his knife roll.
A lightbulb went off! It was small enough when rolled that I could tuck it away into an upper cabinet. Boom – problem solved. My daughter couldn't reach those.
Even now that she's a bit older (and we have more counter space!), I still use one.
What to Look for in a Knife Roll
Total slot count and/or how many knives a bag holds
The sizes and types of knives that fit the roll
A secure closure and clasp
Sturdy materials such as heavy duty canvas, leather, or a mix
Understanding Slot Count
A knife bag or roll's slot count doesn't necessarily represent the amount of knives it will house. For example, the below Noble Home and Chef 14-slot model will hold 10 knives.
So what about the other four slots? The designer reserves those for cutlery and a cleaver. In fact, it actually has 15 if you count the utility pocket too.
A good tip is to simply count the slots yourself. Go bigger than you currently need if you anticipate a growing collection.
Dimensions and Max Blade Size Matter Greatly
Even the best knife roll or bag might be limited in dimension or the types of knives it'll carry. For instance, if you have an 18-inch knife, you won't want a bag that only stores a maximum knife size of 16 inches long.
Some styles of specialty pockets don't neatly roll up to the max size, such as for a cleaver pouch that houses the knife at an angle.
If you're unsure about the size of your knives, measure each one (and include the handle). Reference your list when looking at storage and portable solutions, our reviews, and before purchasing.
Closure Style
Safety is a top concern with everything when it comes to knives.
You want durable closures that won't break. Two is better than one for strap closures. Metal or high quality plastic zippers are great too. Some knife bags will combine multiple closures into their design.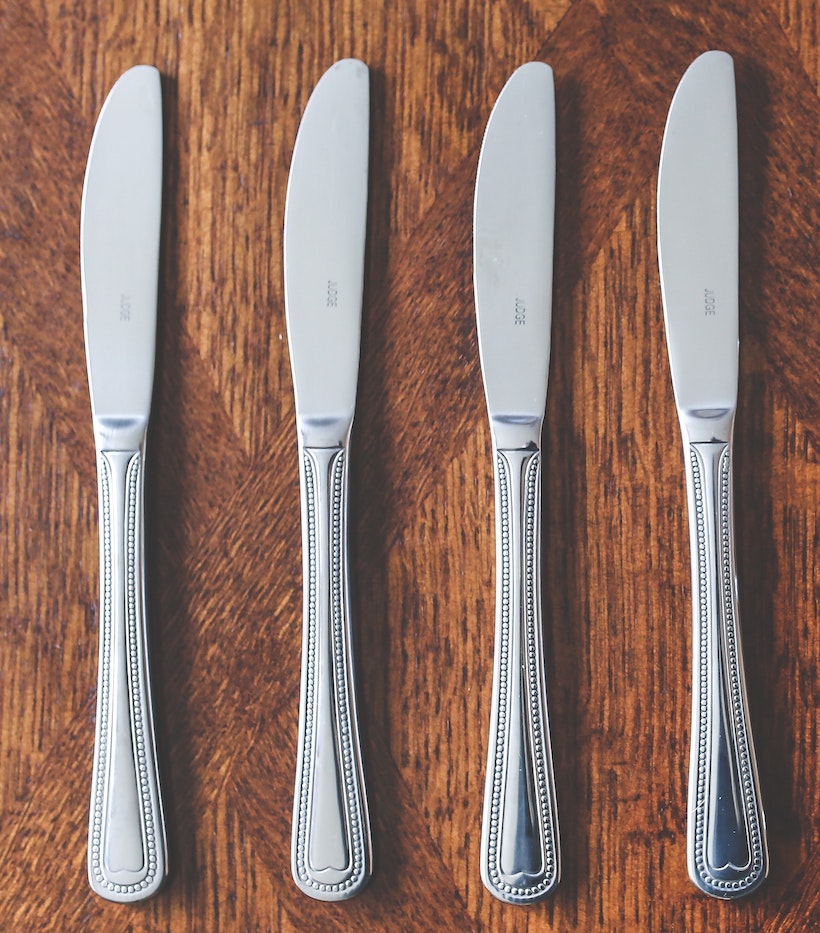 Material Choice
Pick your material for more than aesthetics.
Canvas, leather, waxed canvas, or mixed materials: your choices are abundant! Each has pluses and drawbacks, and you should understand them before you purchase a roll.
There isn't a right or wrong if it suits your needs and style. Let's look at some of the common options now.
Polyester Canvas
The most common type of canvas you'll discover is 600D/600 denier.
Denier is a measurement of a fabric's density, so the higher the number the denser. The material is waterproof polyester, and it generally features PVC backing for extra protection from moisture.
Polyester canvas is durable and washable. However, you should follow the manufacturer's cleaning instructions.
The downsides are mostly in look and available color options. However, many of the knife rolls on the market use this material.
Waxed Canvas
This style of canvas differs from polyester because it's made from cotton. The manufacturer treats thread with paraffin or beeswax to make it waterproof before weaving. This can be a fine fabric choice for the environmentally conscious chef if you choose a natural wax model.
A drawback to waxed canvas is in its care. They require both hand washing and air-drying. One upside is they're simple to spot clean with a little soap and water.
Leather
Leather construction provides a little more versatility in style. They look amazing and easily make a statement. You can even customize them a little more with leather working tools if you wish.
A major downside with leather is cleaning. If you can't do this yourself, you'll have to hire someone who understands food grade leather. This ensures nothing harmful to humans or food preparation touches your blades.
You also have to ensure any knife or utensil is 100% dry before you let it touch your bag. Leather can also rot if you don't properly maintain it.
Other Features Worth Considering
Removable straps and handles, which are helpful to store your bag or roll in a cabinet, drawer, or backpack
Padded models
Extra pockets not counted as slots
Specialty tool slots
Outer area for your name or a company tag
One feature you'll seldom find in a knife roll or bag is total blade protection. We strongly urge you to consider investing in knife guards to avoid cutting yourself. These greatly reduce accidents when removing and replacing your knives for storage or transport.
Our Top 5 Best Knife Bag and Roll Styles
Slot count: 5
Additional pockets: 0
Material(s): 600D nylon and foam core
Closure: YKK luggage strength zipper and Velcro
Max knife size: 18"
Unrolled dimension: not provided
When you want simplicity and durability, you should consider a Messermeister. Minimalists will appreciate the sleek design and compact case.
Quality 600 denier nylon surrounds a foam core and houses your knives during transport. Waterproof fabric makes it beneficial to anglers and for humid kitchen conditions. Durable, luggage grade zippers and Velcro keep your knives secure.
If you're after style and prefer bright colors and patterns, Messermeister offers the broadest selection.
Pros:
Padded
Available in 8+ colors
Strong all metal hardware
Removable strap
Cons:
No frills, bells, or extra pockets
Not the greatest model for cleavers and large knives
---
Slot count: 10
Additional pockets: 4
Material(s): leather body and canvas straps
Closure: metal closures
Max knife size: 18"
Unrolled dimension: 29.5"L X 19.7"T
Aaron Leather's handmade knife roll reflects the versatility every chef needs. Its high quality leather or waxed canvas (also available) provides an elegance suitable for men or women.
The 14-slot (total) interior delivers spacious utility. The 10 main interior pouches are made of snug but flexible elastic; the four smaller ones for cutlery or gadgets use leather.
The outer pouch measures 17.7" x 5.12", which would be helpful for storing keys, phone, and other personal items. Fill it up with your favorite 18" or smaller knives, attach the removable strap, and you'll be good to go.
Pros:
Has a classy, vintage look with multiple color choices, including leather or waxed canvas
Durable and functional
Excellent protection for knifes
Detachable strap
Cons:
Strap interferes with pouch, so you can't use both unless you contact them for a larger one
Might still prefer additional knife guards
---
Slot count: 10
Additional pockets: 5
Material(s): 600D canvas
Closure: two buckles and a metal zipper
Max knife size: 18"
Unrolled dimension: 19"L X 23"W
Noble Home and Chef combines usability with security in their large sized roll. I liked the 11x4 inch meat cleaver and 12x4 inch utility pouch that securely contains it.
The design offers upper pockets, measuring 4.5"L X 2"W, and lower pockets that are 5.75"L X 2"W. Additionally, the design has three extra 3.5"L slots for tasting spoons.
Durable polyester flaps provide another layer of protection for your knives. The roll has a metal zipper closure in addition to buckles. It also contains a small, clear name pouch for your business card or name tag.
Pros:
Double closure for extra security
Padded case
Large capacity ideal for home and professional use
Removable strap and handle
Cons:
Might want blade covers for additional safety, which you have to purchase separately
Straps can require frequent tightening when you carry it
---
Slot count: 5
Additional pockets: 4
Material(s): 600D polyester canvas
Closure: metal zipper
Max knife size: 18-inch
Unrolled dimension: 18"L X 10.5"W
Noble Home and Chef provides a compact design for smaller collections without sacrificing the size of knives it can hold. They have included a meat cleaver pouch too.
Seven pouches measure 5.75 inches tall and 2 inches wide. The upper pockets are 4.5 inches tall, which still provides plenty of storage beneath the cleaver pouch. Also included are three utility slots for tasting spoons or other cutlery and a slot for a name tag.
Aside from chefs, anyone limited on space can enjoy the compact design. Hobbyists, backpackers, campers, and outdoor use can benefit from its portability too. Simply attach the removable straps and handle for travel or slide into your gear.
Pros:
Holds a versatile assortment of knives and tools
Good for storing specialty knives, like serrated bread or cleavers
Makes a good choice for hobby and seasonally used knives
Cons:
Knives sometimes come loose
Additional knife guards recommended for personal safety
Might not be ideal for frequent use
---
Slot count: 10
Additional pockets: 4
Material(s): leather with wax treated canvas lining
Closure: metal zipper and buckles
Max knife size: 15-inch
Unrolled dimension: 30"W X 16.14"L
Dalstrong provides a gorgeous leather knife roll with ease of use in mind. Unlike a solid leather model, they line theirs with waxed cotton canvas. This crucial detail makes owning leather feasible if you only require occasional spot cleaning.
The two color choices and elegant design easily distract from the sheer functionality. The Nomad boasts four 5.5" slots and six 2" slots. The inner zippered pouch is a generous 6" wide. You'll find an additional three slots that are great for smaller kitchen tools too.
The Nomad is simple but professional, appealing to the beginner to the expert chef without risking functionality and storage. I think I would find it ideal for daily use in nearly any type of kitchen or transportation.
Pros:
Lined with hard waxed canvas for easier cleaning and moisture control
Zippered interior and exterior pouches for personal items or recipes
Handcrafted
Lifetime warranty
Great utility
Cons:
Requires professional cleaning outside of spot care
Knives can poke through the canvas liner
Not for anglers or use in prolonged wet conditions, such as camping in stormy weather
---
My Final Thoughts on Choosing the Best Knife Roll
Picking the best knife roll was difficult. However, my winner showcased portability, longevity, safety, and style.
The Dalstrong Nomad Canvas and Leather Knife Roll, with its leather exterior and waxed canvas interior, bridges the gap to bring you the best of all worlds: easy cleaning, functional storage, and clean aesthetics.
It boasts 14 total slots and pockets with enough room to house 10 large knives. The three smaller slots might be useful for paring knives, peelers, or tasting spoons and cutlery. Beautiful and durable leather surround and secure your knives and the Dalstrong will serve you well for years to come.