In a hurry? My pick for best all-around kayak cooler is the ENGEL Cooler/Dry Box.
A kayak cooler is essential for those long summer days spent fishing or out on the water with a cold drink. When looking for a kayak cooler, you'll need to consider size, shape, capacity, and protection from the elements.
We've put together five of our favorites so that your next big adventure will be smooth sailing.
Top Kayak Coolers Reviewed
What You Need to Know Before Buying a Kayak Cooler
To help you choose the best kayak cooler for your needs, I've put together some essential information about the benefits, uses, and features of kayak coolers.
Why Buy a Kayak Cooler?
A kayak cooler opens up a world of possibilities on the water. You could bring some cold drinks or a picnic lunch with you. Alternatively, you can store live bait and your catch of the day if you're out fishing.
Whatever you do on the water, it's important to have somewhere to keep things cold — especially on a hot day. Not only does a cooler keep everything at a more pleasant-to-eat temperature, storing food and drink at below 40℉ helps prevent the spread of bacteria.
If you choose a kayak cooler that doubles as a dry box, you can even use it to store personal items such as electronics, sunblock, a first-aid kit, a rain jacket, or your wallet. This is essential for keeping your belongings protected and secure.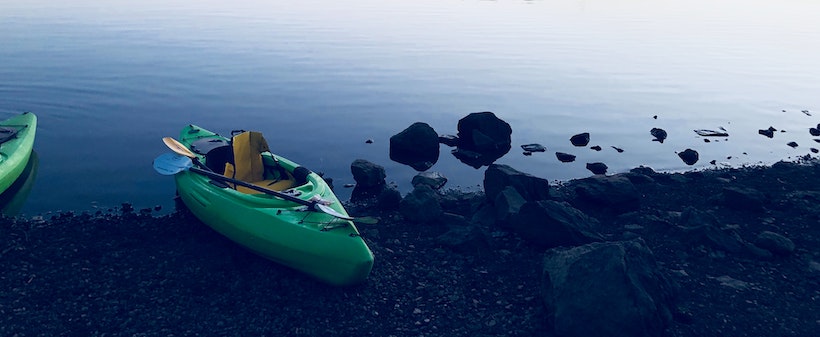 How to Choose the Right Cooler for Your Kayak
Kayak coolers tend to be compact — they have to fit in a kayak, after all! But kayaks come in a range of sizes — and you can go bigger if you have the space.
With small kayaks, storage is limited. You'll need something malleable that you can easily maneuver. A soft-shell kayak cooler is ideal for this. You can place it in your kayak's hatches or attach it to your vessel with rope or bungee cords.
Hard-shelled coolers or ice chests are designed for larger recreational kayaks that have more room. It's important to secure these to your boat with rope or bungee cords, as not to lose them in the water. Look for a design that you can tie from the corners so you can open your cooler even when it's secured in place.
The size of your kayak cooler will also depend on how much you want to store in it. Small 10-quart coolers are ideal for day trips where you just want to bring a few drinks and a pre-packed lunch. If you're kayaking to a campsite or going on a fishing trip, look for something with a bigger capacity.
Things to Look For When Choosing a Kayak Cooler
Look for a well-insulated cooler that can keep your food and drink cold for long periods of time. The longer they can keep your ice frozen, the longer they'll keep your food and drinks cold! Top kayak coolers can keep ice frozen for up to 72 hours, but make sure to follow the directions to get the most value for money.
If you're going out in rough conditions or tend to knock your equipment around a bit, a hard-shelled cooler is your best bet. They're typically more durable and waterproof — better for protecting your belongings. Soft-shell coolers, on the other hand, are ideal for day trips because they're lightweight and easy to carry.
Since you're going to be on the water for at least part of your trip, choose a cooler that's waterproof. This will protect your supplies from unpredictable weather conditions or splashback from the paddles.
To prevent messy spills, you'll also want something that keeps liquid in your cooler. Look for an airtight cooler with a built-in drain plug so you can get rid of unwanted liquids on your schedule. If you intend to use your cooler to store fresh fish, this is crucial for eliminating any melted ice that could diminish the flavor of your catch.
How to Get the Most Out of Your Kayak Cooler
The effectiveness of your kayak cooler depends on several factors, including climate, weather, and how you use it.
To get the most out of your cooler, I recommend following these steps:
Pre-chill your cooler by filling it with ice or frozen packs overnight. Dry ice works best, but may not be the most practical solution for a simple kayaking trip.
For multi-day trips, freeze the food you won't be eating on the first night and let it thaw over time. When planning shorter outings, chill the food and drink you'll be taking — store them in the fridge overnight. 
Pack your provisions between layers of ice to keep them cold.
Use containers or shelves to keep your food separated. This will make it easier to find and store.
Try to avoid opening your cooler too frequently — if you open it every few minutes, the outside air will creep in and start thawing your ice and food!
Keep an eye on melted ice — you'll want to drain this, so it doesn't melt your remaining ice cubes or make your food soggy.
Reviews of 5 Top Kayak Coolers
I reviewed five of the best kayak coolers on the market so you can choose one that suits your lifestyle.
The ENGEL Cooler comes in four compact sizes so you can pick one for a solo day trip or the whole family. The smallest weighs 2.5 pounds and can hold around eight cans, while the largest weighs 7.5 pounds and can carry up to a whopping 48!
This cooler doubles as a dry box — the airtight gasket creates a waterproof seal. There's a removable hanging tray where you can safely store your phone, speakers, cameras, or emergency kits. This makes it a great option for photographers wanting to snap some sweet pictures out on the lake.
Each cooler comes with four rod holders so you can bring fishing poles, nets, safety equipment, or even an umbrella to protect you from the rain or sun! The holders are probably not tall enough for long salt-water rods, but I think freshwater fishers will love it.
Dimensions: 12.25 x 8 x 10 inches/ 15 x 10 x 11.25 inches/ 16.5 x 11.25 x 12.75 inches/ 19 x 12.5 x 14.5 inches
Weight: 2.5 pounds/ 4.5 pounds/ 6.75 pounds/ 7.5 pounds
Pros:
Doubles as a dry box.
5-year warranty.
Waterproof seals protect your belongings.
Includes four rod holders for fishing equipment.
Available in various sizes.
Cons:
Shoulder strap isn't padded — some users found it uncomfortable to carry when fully loaded.
---
I feel the YETI Hopper Flip Portable Cooler is designed for the serious adventurer. Made from materials found in HazMat suits and whitewater rafts, this cooler is built to withstand even the wildest kayaking conditions. It's waterproof and will protect your belongings from mildew, punctures, and UV rays.
It's lightweight and easy to carry, making it a fantastic option for smaller kayaks. This cooler uses rubber foam to keep food and drink cold for the day. It can hold up to 12 cans plus ice and features a leak-proof zipper to keep your liquids where they should be.
The YETI Hopper has a range of accessories that you can purchase separately, including an ice pack and two bottle openers. There's also an optional waterproof case where you can store your phone, wallet, keys, and fishing license. This is a great option if, like me, you only carry a few things that need to be kept dry and secure.
Dimensions: 14 x 11 x 14 inches
Weight: 4 pounds
Pros:
Potential to customize — a range of accessories available as optional extras.
Made with durable materials to withstand a range of weather conditions.
Waterproof and leak-proof.
Lightweight and portable.
Cons:
Smaller than some other kayak coolers.
---
The Pelican Elite 20 Quart Cooler is sturdy, rugged, and packed with features. With 2 inches of polyurethane insulation, it can keep ice frozen for several days, depending on the conditions. The tall, narrow design is ideal for kayaking. Plus, it means you can store up to three wine bottles upright!
The contents of your cooler will be secure thanks to its sturdy locks and freezer-grade seal, which prevents the cooler from leaking. The rubber feet provide grip to keep the cooler in place and stop it from sliding around when you're on the move.
For extreme conditions, the four tie-down slots are a fantastic addition, allowing you to secure the cooler directly to your kayak. This means you shouldn't have to worry about it falling overboard.
The curved side makes it easy to carry against your leg when transporting the cooler to and from the kayak. Inside, you'll find four self-draining cup holders, and the built-in stainless steel bottle opener is a nice touch — one fewer item to forget as you're rushing out the door.
Dimensions: 18.8 x 12.6 x 17.7 inches
Weight: 14.9 pounds
Pros:
Tie-down slots, rubber feet, and locks keep this cooler secure.
Tall design accommodates wine or champagne bottles.
Includes four built-in cup holders.
Curved side makes it easy to carry against your leg.
Lifetime guarantee.
Cons:
Some users found it bulky and heavy.
---
With a soft-shell and foam insulation, the RTIC Soft Pack 20 is easy to fit into your kayak. It's made from lightweight materials, which makes it easy to carry and means it won't weigh your kayak down. 
It comes with a sturdy zipper to prevent leaking — to keep it running smoothly, maintain it by using the lubricant provided.
It has a decent capacity, holding up to 20 cans plus ice. This makes it ideal for a day out on the water or paddling to your favorite camping spot. Pack your lunch and some drinks on a layer of ice, and this cooler should keep them chilled for hours.
Despite being lightweight, this cooler is made from seriously strong materials. This could be a great option to withstand the knocks and scrapes that come with camping or more extreme water sports such as white water rafting.
Dimensions: 14.6 x 14.6 x 11 inches
Weight: 3.65 pounds
Pros:
Soft-shell construction makes it easy to fit into most kayaks.
Lightweight, durable materials.
Tough zipper prevents leaking.
Cons:
Some users found the zipper hard to open and close.
Lack of internal pockets to separate contents.
---
The K2 Coolers Summit 20 Cooler is a professional-grade ice cooler, which I feel is designed with the outdoorsy person in mind. Made from roto-molded polyethylene, this cooler is durable enough to take camping or kayaking.
The cooler provides ample storage space, holding 24 cans or up to 10 pounds of ice. It's fully insulated and should keep ice frozen for over 24 hours if you pre-chill it. This is great if you're going to be out on the water for the whole day — especially in high temperatures.
The padded shoulder strap makes it comfortable to carry and won't take up any extra space in your kayak. Rubber feet keep the cooler from sliding around your kayak, no matter the weather conditions.
Dimensions: 16.9 x 15.6 x 12.6 inches
Weight: 14 pounds
Pros:
Padded shoulder strap — convenient to transport.
Carries up to 24 cans.
Seven-year warranty.
Affordable — good value for money.
Cons:
Users noted that the inclusion of a drain plug would be an improvement.
Not leak proof — owners report the lid gasket leaks when not stored upright.
---
Conclusion: The Top Kayak Cooler
When choosing the best kayak cooler for your needs, be sure to consider size, shape, insulation, and internal storage.
If space is an issue, I'd suggest opting for a narrow cooler such as the Pelican Elite Cooler. On the other hand, if you want something that will hold up to anything the river throws at you, the YETI Hopper Flip Cooler is a great contender.
However, if I had to pick an outright winner, I'd go for the ENGEL Cooler/Dry Box. With ample storage space, four rod holders, and the ability to use it as a dry box, this cooler is versatile enough to suit most days out on the water.