Let's face it: guesswork and the "finger test" aren't always the best methods of seeing if your meat is cooked. With an instant read meat thermometer, you can elevate your cooking to the next level and apply a bit of science to your cooking.
This handy tool eliminates some of the hassle of cooking meat. If you want to enjoy your time in the kitchen and stop undercooking (and overcooking) your expensive cuts, check out my guide and reviews of six top-rated instant read thermometers.
Top Instant Read Thermometers Reviewed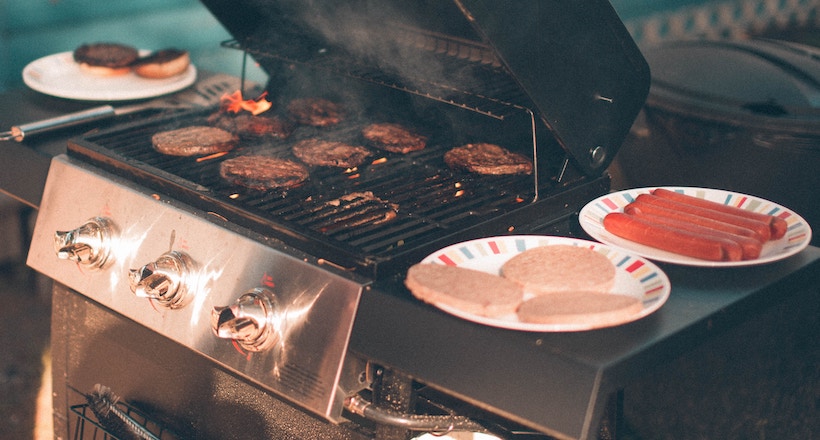 Picking the Best Instant Read Meat Thermometer – Factors to Consider
Now that you've decided to enter the wonderful world of instant read meat thermometers, it will help to understand more about them.
Benefits of an Instant Read Thermometer
Eating raw or undercooked meat products comes with several dangers. You can develop many different food-borne illnesses – everything from E. coli to salmonella.
Instant read thermometers can help you determine if the meat is cooked to the recommended temperatures inside. They work in any meat too, from roasts to seafood – anything with a recommended temperature range.
Keeping an accurate tab on your meals can keep you (and whoever else you're cooking for) safe. These thermometers also make things easier on you in the kitchen since you're not stressing over whether you've cooked the meat for too little time or too long.
Who Should Use Instant Read Thermometers?
In all honesty, I feel that every cook can benefit from having an instant read thermometer in their kitchen. You don't have to follow rules of thumb-hardness, guess, or cut open your meat in any way to see if it's cooked.
I know that you may be tempted to cut a little slice into that steak to make sure it's the right level of pink (or not at all). Trust me, most of us have been there. But a cut can take away that flavorful juice inside. A meat thermometer is just a small poke that won't hurt the flavors.
An instant read thermometer is quicker, too, especially compared to the traditional dial thermometers. If time is a factor and you don't want (or can't) leave a thermometer in the food, then instant read thermometers might be better for you.
Features to Look For
These digital instant read thermometers come in a few different styles, so if you want to cut down your choices to just one, consider some important features and whether they measure up to what you need in your kitchen.
Accurate and Fast Readout
The right instant read meat thermometer has both precision and speed. Check for accuracy ratings around ±1°F or ±0.9°F, which equals out to around ± -17°C. Those are generally safe ratings, so you know your meat is as close to accurate as possible.
Speed can be connected to accuracy because you don't want to sacrifice one for the other. Many quality instant read thermometers can tell you the results between 2-5 seconds. With this speed, you won't disturb the meat that long as it tries to cook.
What might be more useful is the ability to adjust between Celsius and Fahrenheit readings. This way, you can use your choice of metric or imperial units.
Temperature Range
A feature that has a connection to a thermometer's precision and speed is the temperature range it can detect. Wider temperature ranges can lead to more accurate results, allowing you to serve adequately cooked meat.
Quality instant read meat thermometers tend to have a range of -58°F - 572°F (-50°C - 300°C). I think this provides a healthy range for a variety of meats that need to be cooked at different temperatures.
Display
What good is a digital meat thermometer that you can't read? The display is just as important as the speed and accuracy of the thermometer.
It can help if the LCD is a bit on the larger side so you can read it after a quick glance. Some of these thermometers are even backlit. This way, you won't have to hover it under the light to read the numbers. It isn't a necessary feature, but it may be a useful one.
Another useful feature in an excellent display is a rotating function. This can help you look at the thermometer in different ways without having to crane your neck since the screen rotates itself for you.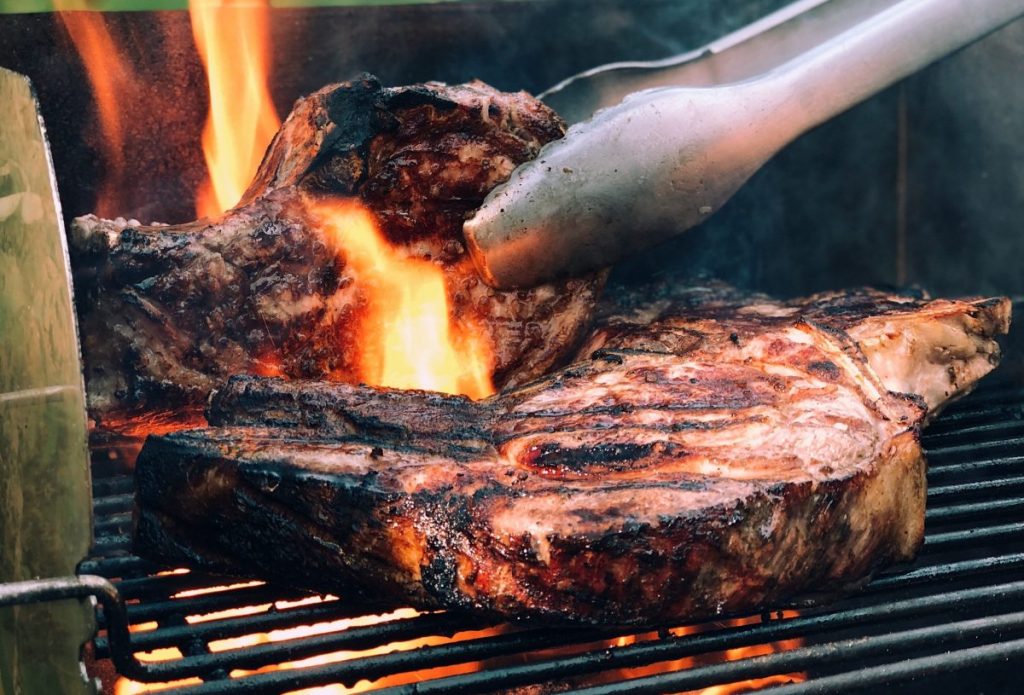 Probe
If you haven't looked at instant read thermometers before, you may be surprised to learn the probes aren't all made the same way.
You may see a thermometer with the ability to fold the probe in when it's not in use. This is usually the safer choice – there's no risk of you or anyone else accidentally poking yourself when you reach into a drawer or bag. As a father, I understand how vital it is to keep your kitchen as safe as possible with kids around, and looking for a foldable instant read thermometer can help with that.
With a folding design also comes a neat ability: reading temperatures at multiple angles. Some can turn 240° or so, allowing you to check the meat at really awkward angles – like if you don't want to pull it out of the oven or check multiple types of meat on the grill.
Of course, you can still find quality instant read thermometers with a traditional straight probe design. Just take caution when storing this type.
Reliable Construction
The best instant read thermometers are all well-designed. Being made from sturdy ABS plastic, for instance, will help keep your thermometer safe from accidental drops.
Also, an ergonomic design will allow you to keep a firmer (and more comfortable) hold on it to prevent those mistaken impacts. You want a good grip if you're going to (certainly, not recommended) try taking temperatures by reaching into a hot oven.
Some instant read meat thermometers even have a waterproof rating. You may not want to submerge them completely, but you can wash these thermometers under running water without worry about anything getting inside and ruining them.
Also, check manufacturer warranties. Some thermometers have lifetime warranties, while others come with 3-year warranties – or less. A protection policy can ensure that even if something does go wrong, you can rely on the company to set things right.
Battery
As with any digital, electronic product, a good battery is helpful. It keeps things working longer and spares you the annoyance of having to cycle through numerous batteries. Also, thermometers that use a simple, traditional battery type like AAA batteries may be easier to replace.
An auto-off function can help preserve the thermometer's battery life. Some shut off after 10 minutes or so of inactivity for those of you (like me) that may forget to turn it off.
Precautions to Using an Instant Read Thermometer
There isn't too much behind using one of these thermometers since they're meant to make your cooking easier.
Still, they may not have much use if not properly calibrated. Usually, instant-read thermometers come with instructions on how you can calibrate them – this way, you'll get accurate readings when you need them. Calibration most often involves boiling water or submerging in ice water.
This process is recommended when you first purchase a thermometer so that you can check its accuracy. Beyond that, you can use it now and then... or even before each use if you fancy.
Best Instant Read Meat Thermometer – Top 6 Reviewed
The ThermoPro TP03 Digital Instant Read Meat Thermometer is an affordable option that can provide you with accurate results to ±0.9°F. It's designed with a wide temperature range that goes from -58°F (-50°C) to 572°F (300°C). The wide range can help you use it with both indoor and outdoor cooking.
Although it claims the readout should finish within 3-5 seconds, some users have reported that it may take around 10 seconds or longer to display temperature. The display is a good size, though, and the LCD screen is even backlit so you can read it quickly.
The ThermoPro seems straightforward to operate: there are just two buttons to use, one to turn it on, and one to pop the foldable probe out. The probe offers a thinner tip to help keep you safe while using it since it is easier to insert in meat without slipping. You can also switch between Celsius and Fahrenheit.
The overall functionality is simple, and it requires just one AAA battery. There is even a 10-minute power-saving mode that will automatically turn the thermometer off to save battery life.
An issue you may encounter is with longevity. To some users, the build doesn't seem high-quality. It's made with a plastic casing that can seem flimsy, so it's uncertain how long it will hold up to frequent use. There is a 3-year warranty attached to it that can help if things go wrong, though.
Also, the food-grade stainless steel probe feels reliable. The probe rotates safely 180° for ease of use. Once you're finished and it's wiped clean, you can even stick it to your refrigerator for quick access thanks to its magnetic backing.
Pros:
Uses a common battery type
Easy to operate
Users praise accurate results
Cons:
Users mention a low-quality build
Some users report a slow readout
---
The OXO Good Grips Chef's Precision Digital Instant Read Thermometer is a straight stainless steel probe that has an ideal length to insert into your meat without you having to get too close.
It has a large head with an easy-to-read LCD screen. There isn't a backlight, so you may want to use it under the lights in your kitchen. However, it does pivot at various angles so that you can check it in multiple ways. There are some user complaints that the readout is lower than it should be, though.
If you think the readout is off, you can always take a peek at the storage sleeve. It's not just useful to keep the probe safe and clean in between uses – it also lists recommended temperatures for various types of meats.
You can alternate between Fahrenheit and Celsius, and this instant read thermometer has a temperature range from -40°F (-40°C) to 302°F (150°C). This is enough of a range to cook most meats. Combined that with its pivoting head, and you can use it with ease on various grills.
As for cleaning, it is recommended that you wipe it down by hand and not submerge it underwater. There is no water-resistance to the probe, so if it were to become wet, water might seep through.
The long-term use of this probe remains in question. Some users claim that the build doesn't seem that reliable from an accuracy standpoint, while others find it breaks easily. It is an inexpensive product, though, so it may be easy to replace if anything happens.
Pros:
Quality pivoting head
Display numbers are large and clear
Probe is a good length
Inexpensive
Cons:
Users report that the readout may be lower than the actual temperature
Long-term use seems doubtful to most users
---
The Smak Digital Instant Read Meat Thermometer has a good, ergonomic design so that you can get a firm, non-slip grip. It also has an excellent LCD for easy reading.
The numbers are just large enough that you can read things fast. There is also a backlight function, but some users report that it can turn off too quickly. A cosmetic note: you can choose from seven different colors. There is also a magnet on the back so you can stick it in various places for quicker access.
For safety purposes, the probe can fold into the body of the thermometer. The case is made using ABS plastic that feels reliable. However, some users mention there's a chance the probe can bend or snap from the body, but this might be more likely to occur under heavy use.
There is a 30-day warranty with this thermometer, but there's also a 3-year free replacement in case it breaks.
You may see some additional protection with this: it is water-resistant. This can make it easier to clean since you can use soap and running water to wipe it down. The battery life seems long enough, too, more so with the auto-off function that turns it off after 10 minutes.
As far as accuracy is concerned, this thermometer seems to be very reliable. It has the ability to switch between Fahrenheit and Celsius, and you get a wide temperature range between -58°F (-50°C) and 572°F (300°C).
Pros:
Backlight allows for an easier readout
Handle design can help you have a firmer grip
Has a good accuracy
Cons:
Backlight can turn off too quickly
Users mention the probe pulling away from the body
---
The Olivivi Instant Read Meat Thermometer is a low-cost option that doesn't take away value – and is easier on your wallet. It works well, no matter if you are cooking inside or outside at the grill.
It sports a 2-inch LCD that has a backlight so you can read it in low light conditions. The numbers are the right size for most users, too. Also, the display has an auto-rotating function. This can help you read the screen no matter which way you turn the thermometer.
In addition to that, the probe itself can go in at various angles, 235° in total. This may allow you to probe various meats easily, and it may even help the thermometer be more ambidextrous. As a bonus, the Olivivi has a bottle opener and auto-off function.
Concerning the readout mechanism, its speed seems fairly close to its stated estimation of around two seconds. The claimed accuracy is ±0.9°F with a total temperature range of -58°F (-50°C) to 572°F (300°C). This range will help you check a variety of different meat products with good precision.
There are reports though that the accuracy drifts over time. In that case, there is a simple button to help you with the calibration process. However, some users claim that the calibration function doesn't always work correctly, which can lead to inaccurate results.
Overall, the thermometer has a good build. It has a watertight seal so that nothing can get inside. Beyond that, it is rated IP67 waterproof to protect it further. The ABS plastic body is tough, as is the steel probe. Even with that, it still has a 30-day money-back guarantee and replacement policy on top of the 1-year warranty.
Pros:
Watertight seal to keep it safe
Thermometer has a fast readout
Display screen rotates automatically
Cons:
Accuracy might eventually drift off
Some users report issues calibrating
---
The Mister Chefer Instant Read Thermometer is touted as "ultra-fast," and according to plenty of users, it appears that it can show you temperature in fewer than five seconds. Thankfully, you can read it easily enough, too, as the display is wide, the numbers are large, and there's a backlight.
It has a precise accuracy rating of ±1°F, and there is an easy way for you to switch between Celsius and Fahrenheit as needed.
Calibrating it may not be as simple, though. Users report that the instructions for calibration are challenging to follow, so the Mister Chefer may have a learning curve when you're first using it.
As far as the probe goes, it is built from reliable stainless steel. It auto-rotates 180° so that you can place it inside the meat at many different angles. Some users have complained, though, that the probe may get stuck, which may force you to be more careful when pulling it out so that it won't break.
If anything were to happen to the thermometer, it comes with a lifetime warranty. Otherwise, it's well-built with a quality waterproof rating. A waterproof body also helps you clean it much easier, as there's minimal risk of water damaging the product. For safety, the tip of the probe is built with an antibacterial feature.
The ABS plastic body is robust, allowing it to fight off impact and accidental drops. To preserve battery life, it has an auto-off timer that shuts off after 10 minutes. It even automatically shuts off once you close the foldable probe into the body of the thermometer.
Pros:
Users appreciate the ergonomic hold
Easy to clean as it's waterproof
Probe is extra long for more comfortable use
Cons:
Calibration instructions seem vague to some owners
Some users report the probe may get stuck
---
The Kizen Instant Read Meat Thermometer, available in two colors, is a versatile thermometer – the probe can rotate 240°. It features an ambidextrous body that's ergonomic, which can allow a variety of users to operate it with ease. Even the LCD screen flips so that you don't have to turn your head in awkward angles to read it.
This screen is naturally bright, and it's large to further help you with reading the numbers. It should be able to read out in less than three seconds or so. Also, it has a backlight function, making it easier to read when you're grilling at night.
The accuracy of it is rated around ±1°F with a temperature range of -58°F (-50°C) to 572°F (300°C). However, some users have stated that the temperatures seem to be off by a few degrees. So, you might have to adjust to get a more precise temperature rating mentally.
The stainless steel probe has a rather sharp tip, which is great for penetrating cuts of meat. This way, you may not have to jam it in and risk puncturing a hole that's too big. The food-grade probe material helps it hold up to frequent use also. Even if it doesn't last, the thermometer comes with a lifetime warranty and even a money-back guarantee.
There is also an excellent waterproof rating. Rated IP67, you can wash this under running water without worrying that it's going to break down. The ABS plastic body seems durable, too, to survive any drops or falls.
The thermometer has a good battery life, too, with its 10-minute auto-off function. As it can retract, it has a built-in storage option. For quicker use, this comes pre-calibrated with the option for you to re-calibrate it according to your needs. Another handy feature is the built-in bottle opener and magnetic attachment, but there are reports from users that the magnet isn't that strong.
Pros:
Designed for ambidextrous use
Sharp tip penetrates meat with ease
Readout appears to be fast
Cons:
Users say readout might be a couple degrees off
Magnet attachment may not be strong
---
My Pick for Best Instant Read Thermometer
Instant read thermometers are a miracle in the kitchen. I know thermometers have saved me many a time from serving overcooked and dry meat. From today's roundup, the Kizen Instant Read Meat Thermometer is my pick for the best instant read meat thermometer.
It's not only an affordable option, but it has a durable build with an ABS plastic body that can resist impacts. The probe is a good length, and the tip is sharp enough for smooth penetration into food. There is a fast readout, and it has good accuracy, although you may want to practice some mental adjustments.
The temperature detection range is wide, and reading the LCD backlit is easy thanks to the wide screen. It even rotates along with the probe that can go in at different angles.