In a hurry? In my opinion, the best Hibachi Grill is the Marsh Allen Hibachi Cast Iron Grill.
While standard, portable grills can be convenient, most don't offer that char-grilled taste you seek from outdoor cooking. That's where a hibachi grill steps into the picture!
These old-style Japanese cooking machines can offer you both that satisfying flavor and the efficiency necessary for an "alfresco" experience. We've gathered up a few that are worth checking out.
Top Hibachi Grills Reviewed
What Is a Hibachi Grill, Exactly?
An image might come into your mind of a chef behind a piping hot iron plate at a Japanese-style restaurant referred to as "teppanyaki."
It's not quite the same thing, although people often use "hibachi" and "teppanyaki" interchangeably. The former are portable units that resemble your traditional gas grill for backyard cooking or camping.
However, they're usually made from cast iron, fired by charcoal, and come with adjustable height settings. The cooking area on these grills is small, but these grills are powerful. They feature a concentrated surface that sits directly above the coals, offering loads of heat and that grilled taste that everyone adores.
Hibachi grills aren't widespread on the market yet. But that isn't to say they aren't worth investing in if you appreciate life outdoors as much as I do. Amp up your hosting game and watch your friends get envious!
Features of Hibachi Grills
There are a few components that make some hibachi grills better than others, such as adjustable grates. Other specs might depend on your preferences, and I'm here to help you sort things out.
Affordability
For most of us, a hibachi grill will act as a secondary unit for travel purposes or a fun tool to bust out for backyard gatherings. You might look for a budget-friendly model in this case.
None of these grills will break the bank, but some are friendlier than others. Some cheaper units feature steel grates, for example, instead of cast iron. On the flip side, high-end options don't necessarily mean top-quality materials.
They range between $40 and $100, and you'll want to aim for the best in value overall.
Ventilation
You want to make sure that you can regulate airflow adequately when grilling. This helps manage the temperature and stops you from having to remove foods to rest – or kill the fire completely.
Some grills offer adjustable air vents, while others feature a more straightforward option, such as a draft door. I prefer the second style because there's less to fiddle around with, but it's not a must.
Height Options
One feature I love in a hibachi grill is the option to have adjustable grates. Without a choice in height, your food will cook at just one temperature, which is limiting if you want to enjoy a varied menu.
Let's use kebabs and chicken breasts as an example. Your beef can cook at a high temperature and close to the flame without drying out. With poultry, though, you're better off with some distance to allow for a slower process, ending with a juicier piece of meat.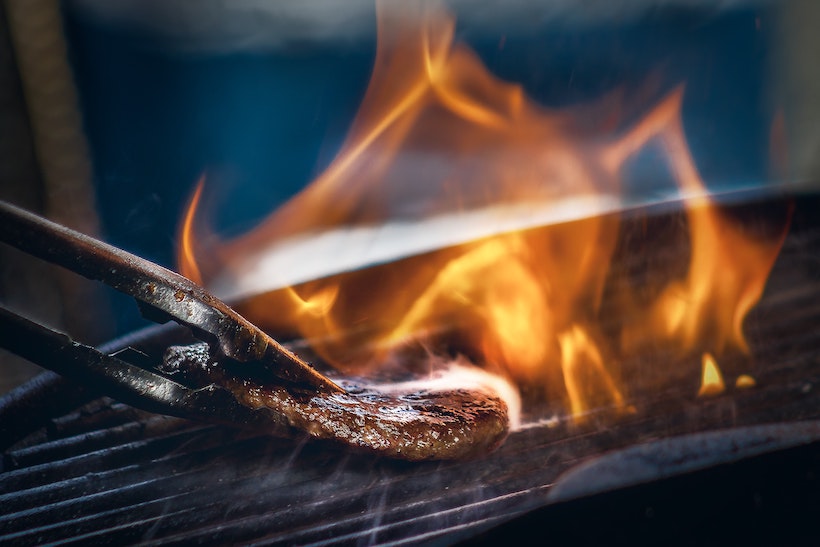 Hibachi Grill Tips
Keep these tips in mind when using your grill:
Stick with small items: We're salivating over things like kebabs or hamburgers here. This allows you to put down multiple servings at once.
Safety first: Like regular grills, you have to stay on guard. Keep a fire extinguisher nearby in case something goes wrong.
Be creative: Hibachi grills are versatile. Take advantage of this and experiment to your heart's content. They are perfect for introducing younger family members to grilling (responsibly, of course).
Travel plans: If you plan to camp with your hibachi grill, make sure it comes with comfortable handles for carrying and doesn't weigh too much.
For fixed-height grills: Does your grill of choice not offer adjustable grates? Divide your cooking area into two, with coals piled higher on one side than the other. This will allow you to cook separate items at once.
The Best Hibachi Grills Review
A new hibachi grill can add some fun and convenience to those memorable nights out in nature.
I've gathered up four of our favorites, so let's get sizzling:
This hibachi grill from Marsh Allen offers a ton of versatility. Not only do you get three adjustable height options to choose from, but the grates come divided into two sections.
You won't have trouble deciding what you need to cook when, or at what level. It's an excellent grill for varied meals and when you're serving a bigger bunch of people.
Another plus is that the grates curve up at the sides, providing some security when you're in a rush. (Nothing should slide off the end and into the dog's mouth below.)
There are two air vents that you can adjust, promoting an even cooking process. It has wood handles on each side for easy carrying.
It weighs 18 pounds and looks to be entirely cast iron, aside from the wooden bits mentioned above.
Pros:
Loads of versatility.
Easy to carry.
Curved grates for stability.
Two adjustable air vents.
Cons:
Some found the grill handles to be low quality.
---
This popular option – the Sportsman Hibachi – from Lodge is your quintessential, cast iron hibachi grill with traditional appeal. Lodge has been making iron cookware since 1896, so you know they mean business.
The unit comes pre-seasoned with 100 percent vegetable oil, which means it'll be ready to go straight out of the box.
Air ventilation comes in the form of a flip-down door, and there are two adjustable heights for you to choose from, depending on what's cooking up top.
Cast iron is the makings of this grill from start to finish, including the handles. The construction speaks for itself, and it should hold up for years to come.
Despite the quality, it only weighs around 27 pounds, so you shouldn't have difficulty taking it to and from your chosen location.
Pros:
One hundred percent cast iron.
Solid reputation.
Adjustable height.
Pre-seasoned.
Flip door for ventilation.
Cons:
Some complain that the grate doesn't last beyond a few years.
---
Standing out on our list is this Weber charcoal grill. It's the only option that's not cast iron, but there are other features worth mentioning.
Weber is a well-known company in the world of grills, and for a good reason, it makes quality products. This is a budget-friendly model that can hold up to around six burgers at once. The stainless steel cooking grate should be easy to clean and durable enough to last.
It features steel legs and an enamel lid with a "tuck-n-carry" lock for convenience. Speaking of that, it weighs a mere 14 pounds, which means it could be a perfect option for camping as it won't add much to your load.
You don't have to worry about windy conditions either, as this grill features a lid hanger that allows you to rest it on the side of the unit when cooking. It'll shield you from any gusts that could otherwise knock out your fire.
Pros:
Lightweight and easily portable.
Convenient locking system.
Budget-friendly.
Lid hanger for wind protection.
Cons:
There's no adjustable height option.
---
This Cajun Hibachi Grill makes for an unusual hibachi grill shape option. Instead of your typical rectangular model, it's a circle. I appreciate the design in that it's charming, though you may lose out on the size of your cooking area.
It's 15 inches in diameter and stands around 8 inches tall. Despite the compact size, it weighs more than others at approximately 42 pounds.
On the upside, it comes pre-seasoned and ready to use. As we know, cast iron seasons with time and ages well where taste is concerned. If the grate breaks down over the years, there's a replacement available, sold separately.
Be warned that this model is a little pricier than others on the market. While users enjoy the compact size, some note that the cast iron isn't as durable as you would anticipate for the price-tag.
Pros:
Compact.
Pre-seasoned.
Replacement grate available.
Customers note it's quick to heat.
Cons:
Some owners note poor quality materials.
---
Grill Away: My Pick for Best Hibachi Grill
There is so much to love about these units, but our top ticks include the looks, convenience, and flavor they offer. The best hibachi grill in my opinion should be easy to use and transport, plus made from cast iron.
In my opinion, the best Hibachi Grill is the Marsh Allen. It exudes versatility, comes with every height adjustment and tweak you need, and splits into two sections. With the Marsh Allen, you'll be able to make whatever you need and have a ton of fun doing it.