In a hurry? In my opinion, the best hard-anodized cookware is the Cuisinart GreenGourmet Hard-Anodized Non-Stick 12-Piece Cookware Set.
The world of kitchenware has gone through many changes over the years. Not too long ago, the use of non-stick coatings on pots and pans spread like wildfire — you'll now find non-stick cookware in almost every home around the world today.
More cooking innovations aim to make our tools better, and that's where hard anodized cookware came to life.
In this post, I'll talk about hard anodized cookware, and explain the process and its benefits. Then I'll look at six cookware sets and help you pick the best one.
Electrifying!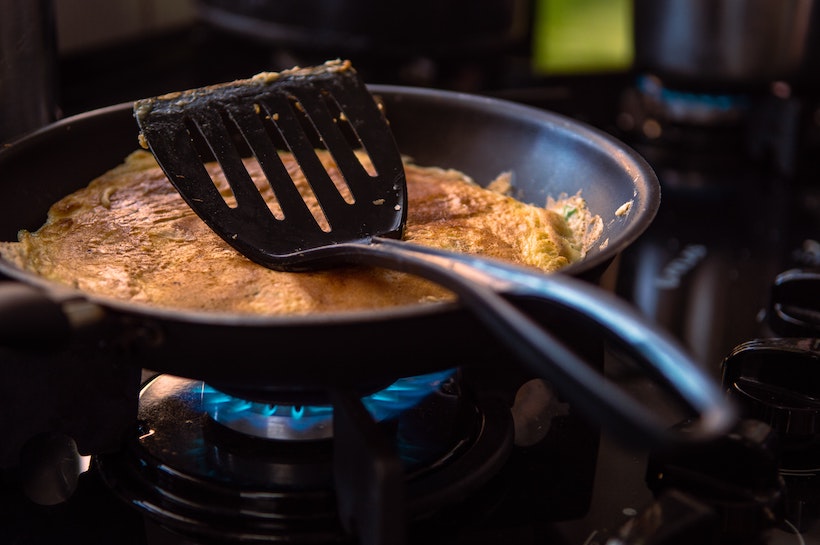 Top Hard-Anodized Cookware Reviewed
What Is Anodization?
Anodization is an electrochemical process where a metal is coated with a layer of oxides. It comes in two forms: mild and hard.
With hard anodization, a higher voltage, lower temperature, and a stronger acid are used to induce a rapid growth of an oxide layer around a metal (often aluminum). This gives many benefits to the treated metal, making it more resistant to abrasion and corrosion, increasing its hardness, and improving its lubrication.
Why Is Hard Anodized Cookware Better Than Other Options?
Pots and pans are frequently subjected to high temperatures and acidity from food. The combination of these things can eventually corrode a metal and cause it to leach into your food.
A lot of cookware is made of aluminum and various alloys. If your equipment becomes corroded with time and repeated use, aluminum in your food can have detrimental effects on your body. It is even worse if the quality of the cookware is inferior – other heavy metals such as lead or cadmium can find their way into your food with some low-quality cookware.
The case is not entirely different for stainless steel cookware. It, too, is vulnerable to acids in your food, especially at high temperatures. Depending on the makeup, it can leak iron, chromium, and nickel into your food.
While iron and chromium do have nutritional value to your body, nickel, on the other hand, can be quite harmful to some people.
Avoiding this leeching is where hard anodization becomes useful, and aluminum is often the best choice due to its abundance. It has been empirically shown that hard anodization dramatically increases the resistance for corrosion of both aluminum and its alloys.
Hard anodized cookware may be your best option when it comes to safety for those you cook for, especially with more acidic dishes. As soon as it became widely available, I replaced some of my cookware with hard-anodized pots and pans.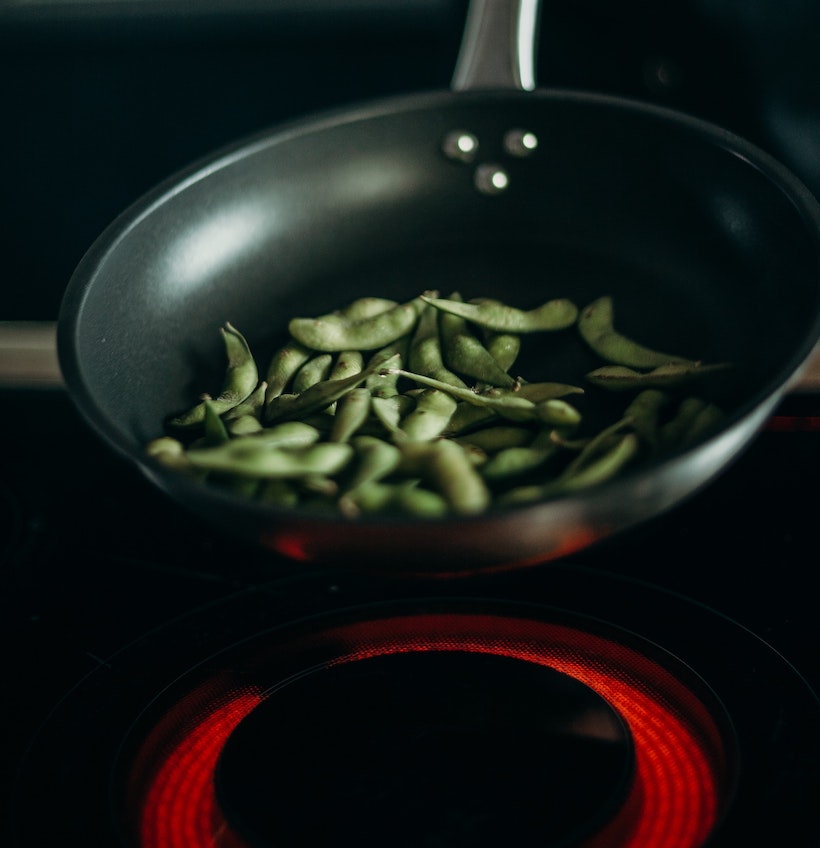 How to Choose the Right Hard Anodized Cookware
When thinking about what to get for your kitchen, there are several things you should keep in mind.
The best hard anodized cookware for you should meet most, if not all, of these criteria:
Budget: It's unlikely you need the most expensive set on the market, but good quality is still essential. Think about how much you'd want to spend on a new set of cookware.
What you cook: Your usual choice of meals is a determining factor in the types of pans and pots you require. Each method of cooking has its dedicated tools.
Quantity: A set of 10 pieces is usually enough to equip your kitchen fully. Or, perhaps you want to start with a couple of hard-anodized frying pans and invest in a full set later.
Glass lids: Having glass lids allows you to see your food with ease while it's cooking; however, they are also liable to break.
Oven safety: It's essential to check the specs of cookware and see how oven-safe it is. A pan designed for safe use in an oven can usually handle temperatures up to 350 degrees Fahrenheit, but some can go much higher.
Lack of PFOA: A chemical called perfluorooctanoic acid (PFOA) is involved in the process of making Teflon (PTFE). While it's mostly burned off entirely by the end of the application, some can remain, which is potentially dangerous for humans. I like to ensure what I'm buying is PFOA-free.
Reviews of the 6 Best Hard Anodized Cookware
The 12 piece Cuisinart GreenGourmet cookware set comes as follows:
1.5 and 2.5-quart saucepans with lids.
3-quart everyday pan with a lid.
6-quart Dutch oven with a lid.
10-inch deep frying pan with a lid.
8-inch skillet.
A steamer insert that fits the 2.5-quart saucepan.
This set is part of a line that's eco-friendly. It employs a non-stick technology based on ceramic – this also makes it entirely free of PTFE and PFOA.
The environmental awareness also extends to the riveted handles, as they're made of 70 percent recycled stainless steel and to the packaging, which is made out of recycled materials. Last but not least, the pans are oven-safe, withstanding temperatures of up to 400 degrees Fahrenheit.
Pros:
Eco-friendly product.
Includes a deep fry pan and steamer insert.
Free of both PTFE and PFOA.
Handles are comfortable and riveted solidly.
Cons:
Some users mentioned non-stick performance drops after continued use.
Lids are stainless steel — you can't see through them, plus they get hot.
---
The All-Clad HA1 set features a two-piece set of frying pans with a flat base and flared sides — ideal for easy tossing. It works well with electric, gas, and induction heat sources, making it fit for any kind of stove you use. You can choose between a set of 8 and 10-inch pans or 10 and 12-inch pans.
The handles are made of stainless steel and secured to the pan with stainless steel rivets. The frying pan is made of hard-anodized aluminum with a non-stick coating and a black finish on top. The non-stick surface works very well; the food slides right out of the pan, and cleaning is easier.
While it's rated as safe to use in the dishwasher, hand washing is recommended. Moreover, it's safe to use in the oven and can withstand temperatures up to 500 degrees Fahrenheit.
Pros:
The non-stick coating makes cooking on this pan very convenient.
Relatively cheap.
Choice of sizes.
Oven and dishwasher safe.
Limited lifetime warranty.
Cons:
Users report heating by induction seems to not work as well since the magnetic core of the pans is small in comparison to its diameter.
Users mentioned the handle is uncomfortable due to the weight of the pan.
No lids.
---
The Cook N Home Non-Stick hard-anodized set comes as a set of 12 pieces:
1.5 and 2.5-quart saucepans with lids.
3-quart sauté pan with a lid.
6-quart stockpot with a lid.
8 and 9.5-inch frying pans.
Nylon spatula and spoon.
This Cook N Home kitchenware has a surface that's hard anodized and more durable than stainless steel. It provides excellent heat distribution through its aluminum core.
The lids are made of tempered glass with steam vents and are protected by stainless steel rims. The handles are made of stainless steel and are very solidly riveted to the pans to ensure the cookware is durable.
This set is not compatible with stoves that heat by induction but works well with electric, gas, and other heat sources. The pieces are safe to use in ovens, withstanding temperatures of up to 350 degrees Fahrenheit. It's safe to wash this set using the dishwasher, but washing by hand is recommended if you have the time.
Pros:
High quality.
Food doesn't stick, and cleaning is straightforward.
Durable.
Good price.
Lids are protected with steel rims.
Cons:
Some owners were disappointed with the design of the utensils.
Not compatible with induction stove-tops.
---
This T-Fal Ultimate set has 12-pieces which features the following:
1, 2, and 3-quart saucepans with lids.
5-quart Dutch oven with a lid.
8 and 10-inch frying pans.
A spoon and slotted spatula.
This product also employs a unique heat mastery system, which is designed to conduct heat efficiently and prevent the warping of the base. A feature I love is the Thermo spot indicator that lets you know when the pan is hot enough to add ingredients — this will ensure even cooking and recipe repeatability. This happens via the spot, a ring in the center that turns red when the pan or pot is pre-heated properly.
The red handles are riveted and made of silicone for comfortable cooking, and the lids are made of tempered glass with vents. The pieces can be safely used in ovens at temperatures up to 350 degrees Fahrenheit or without lids up to 400 degrees.
Furthermore, the set is compatible with every kind of stove (except induction), and can be safely cleaned in dishwashers. It is also free of lead, cadmium, and PFOA, and comes with a lifetime limited warranty.
Pros:
Easy to cook with and easy to clean.
Thermo spots to signal when pre-heating is done.
Handles are soft and safe.
It does not contain any heavy metals or PFOA.
Lifetime limited warranty.
Cons:
Users mentioned the bottom of the pan could be slippery, making accidents more likely.
Some owners reported the non-stick texture is a bit rough, which can make eggs stick.
---
The 13-piece Circulon Acclaim set is composed of:
1, 2, and 3-quart saucepans with lids.
3-quart saute pan with a lid.
6-quart stockpot with a lid.
8, 10, and 12-inch frying pans.
Based on a technology called TOTAL Food Release System, this set features a triple-layer PFOA-free non-stick coating on raised circles, so that sliding any food off becomes an effortless job. It also boasts high-durability and very efficient heat distribution.
The stainless steel handles are dual-riveted for extra strength and safety, plus they're covered with rubber, which should make for a secure grip. The lids are made of tempered glass, making breaking them a challenge.
The cookware can also be used in ovens up to temperatures of 400 degrees Fahrenheit. However, you'll have to keep these pans away from the dishwasher — Circulon warns that you should hand-wash this set.
Pros:
The pots heat up pretty quickly, making for faster cooking.
Durable and very easy to clean.
Rubberized handles give a much better grip.
Premium quality and lifetime guarantee.
Handles are dual-riveted.
Cons:
Pricey compared to some other options.
Hand wash only.
Users mention food gets stuck in the circular grooves and can be challenging to clean.
---
This Rachel Ray Brights set is made up of 10 pieces:
1 and 2-quart saucepans with lids.
3-quart sauté pan with a lid.
6-quart stockpot with a lid.
8.5 and 10-inch frying pans.
With a non-stick layer on its surface and hard-anodized construction, the Rachael Ray set boasts durability and excellent heat conductivity. It features lids made of tempered glass with rims that are coated with stainless steel. The handles are double riveted with an appealing orange-colored coating.
You can safely put them in the dishwasher, saving you from hand washing (although hand washing generally extends the lifespan of things in your kitchen!). Additionally, it is also safe to use in an oven up to temperatures of 350 degrees Fahrenheit.
Pros:
Handles are comfortable with a bold color.
The rims of the lids are protected.
Double riveting adds more strength.
Dishwasher safe.
Cons:
Users report product sometimes arrives damaged.
A few owners said it could easily slide across the stove.
---
My Pick for Best Hard-Anodized Cookware
Now that we've looked at six of the best hard anodized pots and pans, it's time we announce a winner.
My favorite has to be the Cuisinart GreenGourmet Hard-Anodized Non-Stick 12-Piece Cookware Set.
While all the cookware sets are great, Cuisinart seems to me most concerned with the environment. Their set also includes a deep fry pan. Compared to other sets, you have more options when it comes to the types of cooking you can do. You're also guaranteed not to be exposed to any PTFE or PFOA.